Hamar
Hamar
is a city in
Hedmark
,
Norway
, facing the impressive Mjøsa lake. The city, which has a population of 31,000, was first established in the middle of the 11th century, but destroyed by a Swedish army in 1567.
In 1849 the city was re-established, and is now the largest city in the Norwegian inland (i.e. the counties not connected to the ocean). During the 1994 Winter Olympics three of the sporting events were held in Hamar: Figure skating, short track speed skating and speed skating.
Get in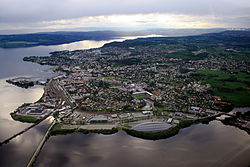 By car
Take the E6 national highway north from Oslo. Takes approximately 1.5 hours. From Oslo Airport it takes an hour.
By plane
Oslo Airport, Gardermoen
Oslo Airport, Gardermoen
(
OSL
) is Norway's largest airport, located in Gardermoen, 90 kilometres south of Hamar. Direct flights are available to 107 airports, including 24 airports in Norway. The largest airlines in Norway, Scandinavian Airlines (SAS) and Norwegian Air Shuttle, operate direct flights to many U.S., European and Norwegian destinations from Oslo Airport, as well as large domestic networks. Flights by about 30 other airlines make this airport easy to reach from most of the world. There is free wifi at the airport. Password is sent in an sms (a number from any country would do).
To travel between the city and the airport:

NSB operates trains via Hamar to Lillehammer or Trondheim. The trip takes 55 minutes, and trains depart every hour during weekdays. Tickets cost NOK 160.
By train
All trains between Oslo-Trondheim, Oslo-Røros and Skien-Lillehammer stop in Hamar. 1 hour 15 min from Oslo, about 1 hour from Gardermoen Airport. From Lillehammer a trip takes 45 min, and from Elverum 25 min.

Get around
By bus
There are five bus lines in the city, going from the suburbs and through the city centre. The cost is 33 NOK for a single ticket if you buy on the bus.

By taxi
Taxis are expensive. The minimum charge in Hamar is at least 97 NOK, increasing to 141 NOK late at weekend nights. The phone number for Hedmark Taxi is 03650.

See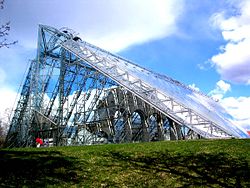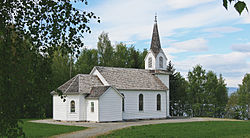 Do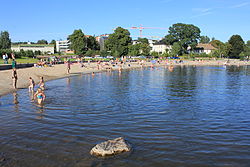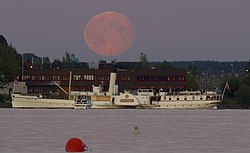 phone: +4746918000

address: Ankerskogveien 7, 2319

The main pool is one of Norway's largest, 25x50m. Part of this pool is roped off and has all sort of special floats for kids. There's also a specially heated pool for rehabilitation, a kiddie pool, and a hot tub (cost 10 kr per round), a shallow outdoor pool which is open in summertime. Also a 65 meter slide which kids love. There are huge windows all around the pool, so in the winter you can swim while you watch the snow blowing outside. The changing rooms have saunas. You need a 10 kr coin to operate the lockers, or bring your own lock. Ankerskogen also has indoor tennis courts and a Nautilus gym. You'll also find a cafeteria here. The center was due to be renovated starting in 2010, but they planned on staying open to the public the whole time.

KoigenBeach area close to the city. Excellent for bathing during the summer. Also possible to use the beach volleyball court or the skate park.

SkibladnerSkibladner is the world's oldest preserved paddle steamer, and sails on lake Mjøsa during the summer.

Gåsbu / VangsåsaA recreational area for the citizens. During the winter there are good possibilities for cross-country skiing. Check out ut.no for hike and trail routes.
Buy
Torggata, the pedestrian street in Hamar, got some shopping possibilities, with two small shopping malls connected to the street. Maxi Storsenter is the largest shopping mall, located a bit outside of the city. In 2014 a new mall will open closer to the city centre.
address: Aslak Bolts gate 48

This is the largest shopping mall in Hamar, with 70 stores.

CC Mart'nShopping mall with Hamar's only Vinmonopolet (wine and liquor store).

address: Løten Brænderi

Norway's largest distributor of hand-made candles.
Eat
Cafes
Alle Tiders

phone: +47 625 30 145

address: Torggata 73

This cafe has the best cakes in all of Hamar. Great for lunch and light dinners. Outdoor seating overlooks the pedestrian street. Centrally-located.

phone: +47 413 27 903

address: Strandgata 53

Cafe and vintage store combined.
Restaurants
Drink
address: Kirkegata 3

Shows football matches on multiple screens. Can play dart there..

Hamar SportsbarShows football matches on multiple screens. Possible to play dart and shuffle board.

Casanova

address: Strandgata 71

One of the few places to go for people between 18 and 20. Young crowd.

address: Strandgata 31

Pub for a bit older crowd. The backyard is a good place to be during the summer.

Nellie

address: Torggata 23

Formerly known as Dirty Nelly. Cozy place with occasional dancing.

address: Grønnegata 34

Rock and metal pub.

Svare og Berg

address: Strandgata 71

Nightclub and a good place for dancing.

address: Grønnegata 70

Bar and concert scene.
Sleep
Stay safe
Norway
is a fairly safe country in general, and
Hamar is no exception
.
Go next
Lillehammer, another olympic city located close to lake Mjøsa.
Trysil, Norway's largest ski resort.
Elverum, has one of Norway's most visited museums in Skogmuseet (the Forest museum).