Hamelin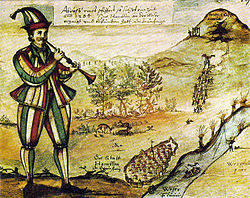 Hamelin
(German: Hameln) is a town in
Lower Saxony
, 50 km southwest of
Hanover
. It is the scene of the Pied Piper story (German:
Rattenfänger von Hameln
), about the man who expelled rats from the town by playing the pipe, and subsequently abducted the town's children when the citizenry refused to pay him what was initially agreed. The town is visited by some three million visitors each year and is easy to reach from Hannover by train (S-Bahn).
Get in
By airplane
The nearest airport and high-speed train station are in
Hanover
. From there you may transfer to Hamelin thrice an hour using suburban line S5 or S51 in 40–45 minutes.
By train
Since the year 2000, the S-Train Lines and have offered connections every half hour from Hannover's train station. Likewise, since 2002 hourly connections to
Paderborn
have been available. Every hour connections to the Bünde-Löhne-Rinteln-Hameln-Elze-Hildesheim route are available via the "Weser train" (line RB 77).
On Foot
The European far-distance
hiking trail E11
passes through Hamelin on its way from the Netherlands, Osnabrück and the Porta Westfalica, continuing to the Harz mountains and Berlin.
See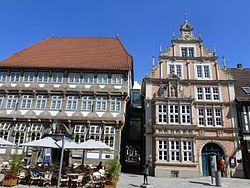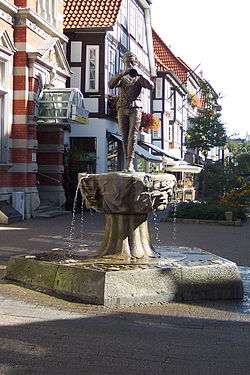 Several romantic 16th-century half-timbered houses with lavish ornaments, e.g. Stiftsherrenhaus (canons' house) and Bürgerhaus (house of the citizenry)

Pied Piper's House

address: Osterstraße/Bungelosenstraße

Renaissance building from 1602/03, with an elaborately decorated main façade and an inscription reminding of the Pied Piper legend.

HochzeitshausRenaissance-style sandstone building dating from 1610–17. Pied Piper-themed carillon.

Schloß Bückeburg and Hofreitschule

phone: +49 5722 9558-30

address: Fürstliche Schlossverwaltung Schlossplatz 1 31675 Bückeburg

Castle and riding school/horse stables. Very beautiful and elegant. Tours available in English

Site of the Nazi Reich's 1933-1937 ErntedankfestenInteresting for history fans, to see the site where the Nazis celebrated their harvest festivals, on the Bückeberg hillside. To get to the top requires quite a few stairs, but the views and historical value are rewarding.
Churches
Garrison Church

St. Boniface Minster Church

Market Church of St. Nicholas
Museums
phone: +49 5151 202 1215

address: Osterstraße 8-9

Museum of local history in two neighbouring historic buildings (Renaissance-style sandstone Leisthaus and half-timbered Stiftsherrenhaus)
Do
Weser Cycle RouteAward-winning bike path named one of the most beautiful and scenic rides in all of Germany.
Eat
phone: +49 5151-3888

address: Osterstr. 28

One of the more famous buildings in Hameln's old-town area. A beautiful example of the architectural style of the Weser Renaissance.

phone: +49 5151 92 47 04

address: Tündernsche Warte 1, 31789 Hameln, Germany

Lovely little restaurant and beer garden a short bit away from the bustle of the main town and city center.
Sleep
Nearby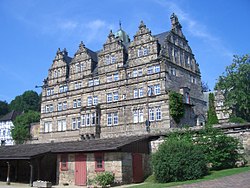 HämelschenburgRenaissance-style sandstone chateau in the Weser Uplands, one of the best examples of Weser Renaissance architecture, housing an art collection, surrounded by an ensemble of gardens, church, outbuildings and a watermill.
Go next