Hami
Hami
(哈密
Hāmì
) or
Kumul
, now
Yizhou District
, is a town on the Northern branch of the
Silk Road
in
Xinjiang
Province in
China
.
Understand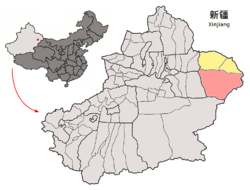 To most Chinese Hami is very well-known for its melon (Hamigua).
Get in
By bus
Take about a seven-hour bus ride from
Urumqi
to a village where there is a muddy salt lake. Trip to the Hami area is available only through chartered services. Numerous stopovers can be had at the petrol kiosks, even in the middle of nowhere. The road for most of the way is single lane. The trip there passes through a number of villages and towns. When a part of the road is undergoing maintenance, a bumpy detour has to be made on extremely uneven dirt track. Lots of dust will be stirred up. Remember to shut the windows tight before entering the detour tracks.
By train
Hami is on the Urumchi-Xian line and can be easily reached by daytrain from Urumchi. Departure 9:53AM, arrival 4:31PM (2008).
By plane
Hami Airport is located east of the city and can be accessed by taxi and has direct flights to and from
Beijing
and
Urumqi
.
See
Tomb of Hami kingRoyal nine generations along with three Arabian preacher were buried there, tomb is made of four typical ethical architecture.

Hami MuseumTwo mummies are exhibited: their clothes, hair and blood vessels have remained in good condition due to immediate dehydration and dry climate.

Ghost CityFamous for special geographic speciality. It is absolutely a natural region formed by strong wind and dry climate for thousands of years.
Do
SongshutangA golden place for skiing during winter and summer resort. The ski run is not sharp but very good for beginners. It is a cool place during summer time, you could stay there for few days to enjoy the most quiet and natural life. Cheese is always available for all year long, fresh mushroom could be found after rain in Tian Mountain, BBQ is quite welcome in night life. If you have already arrived at Songshutang, it is great opportunity to tour MingShaoShan, takes less than two hours by car from Songshutang. In this non-polluted natural small town, hundreds and thousands of sharing stars are quite close to you. Surely you will enjoy a delighted and memorable stay.
Buy
Dry fruit is a special snack in Hami. Raisins at ¥10 per kg, tasty cheese at ¥10 per bag (around half a kg), and dry fig, a favorite of local people at ¥15/kg. The most nutritious one is dried jujubes, priced at ¥80/kg; dried mushrooms are another good choice. The local white wine is quite strong, so be careful.
Jade - there is a workshop street in Dashizi (哈密大十字), delicate jade and all shape of sculpt can be found there.
Hamigua The famous melon, can be found just across the street from the station.
Eat
You can not miss kabob (roasted mutton barbecue) if you visit Hami, that is traditional food made by minority of Uigur, and fried rice(zhua fan in Chinese) is made by rice, mutton and radish, main dish of local people. If you prefer noodle, you will love delicious beef noodle, the soup is special for 40 kinds of spice. Hami is famous for Hami melon throughout China for it sweet taste thanks for huge difference of temperature from day to night and longer time sunlight during summer time, besides Hami melon, grape, water melon, apricot and mulberry are both enjoy good taste, dried fruit is on market with inexpensive price from all year long for dry and windy climate, Hami is worth of visiting for typical food and local people's gracious hospitality.

Sleep
Only a few hotels take foreigners. Prices in those hotels start around 300 ¥

Go next
Bus to Urumqi 7-8h, 126 ¥, very bumpy ride. 11.00, afternoon and 20.30