Hamilton (Ontario)
Hamilton
is a port city in
Ontario
with a population around 520,000, at the westernmost end of Lake Ontario—the city wraps around the lake and continues towards the Niagara Escarpment, referred to by locals as "the mountain".
Understand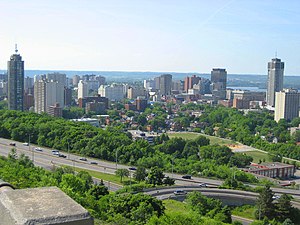 Conceived by George Hamilton when he purchased the Durand farm shortly after the War of 1812, Hamilton has become the centre of a densely populated and industrialized region at the west end of Lake Ontario known as the Golden Horseshoe. The city limits of Hamilton used to be bounded by approximately Horning Road in the west and Centennial Parkway in the east, but a continuous urban or suburban area had grown around the city, in the towns of Dundas, Ancaster, Stoney Creek and the community of Greensville in the town of Flamborough. In 2001 the new City of Hamilton was formed through amalgamation of the former City with the constituent towns of the Hamilton-Wentworth Regional Municipality. Residents of the city are known as Hamiltonians. Since 1981, the metropolitan area has been listed as the ninth largest in Canada and the third largest in Ontario.
Traditionally, the local economy has been led by the steel and heavy manufacturing industries. Within the last decade, there has been a shift towards the service sector, particularly health sciences. The Hamilton Health Sciences corporation employs nearly 10,000 staff and serves approximately 2.2 million people in the region.
Hamilton is home to the Royal Botanical Gardens, the Canadian Warplane Heritage Museum, the Bruce Trail, McMaster University and several colleges. The Canadian Football League's Hamilton Tiger-Cats play at Tim Hortons Field. The same venue is also home to Forge FC, the city's pro soccer team that started play in 2019 as a founding member of the Canadian Premier League. Partly because of its diverse locations, numerous TV and film productions have been filmed in Hamilton, regulated by the Hamilton Film and Television Office. There is a growing arts and culture sector including local art galleries, recording studios and independent film production.
Visitor information
Tourism Hamilton
is the city's official tourism website, with a free "Experience Hamilton" Visitor's Guide and current info on local events and attractions.
Get in
By plane
John C. Munro Hamilton International AirportAccommodates major air carriers and tour operators, offering frequent flights to Canadian, American, Caribbean and European destinations. Hamilton Airport is fast and efficient due to its relatively small size. The single terminal building can be navigated in two minutes and there is very little chance of confusion for passengers boarding or disembarking. A tactic employed by many Hamiltonians, Torontonians and other nearby Ontario residents is to use Hamilton Airport instead of Pearson in Toronto. Doing so can potentially save a busy traveller valuable time while parking, and promises far less of a headache during boarding procedures. A single baggage turnstile makes retrieving luggage painless.
There is a
ground transportation page
for Hamilton Airport. Here are some options:
A-Line ExpressThe HSR's route 20 A Line Express is an express bus providing rapid service between Hamilton Airport and the downtown core. The route passes by Hamilton GO Centre where one can transfer to a GO Transit bus to Toronto. Total trip time about 30 minutes and costs a regular HSR fare ($3).

phone: +1 868-488-4452

Effective March 31, 2019, Megabus will operate daily bus service between the Toronto Coach Terminal in downtown Toronto and Hamilton International Airport. Pre-book tickets online or buy them directly from the driver when boarding.
Taxis between downtown Hamilton and the airport cost about $25.
By public transit
Hubs
Here are the hubs for inter-city public transit in and near Hamilton:
phone: +1 416-869-3200

address: 36 Hunter St E

Hamilton GO Centre, a handsome art deco structure, hosts GO Transit buses, Megabus, Greyhound and four rush-hour, peak-direction GO Transit trains. (During the morning rush hours, four trains leave Hamilton GO Centre to Toronto, and return during the evening rush hours.) GO Bus 16 runs express to Toronto Union Station, and GO Bus 40 stops at Toronto Pearson International Airport. Within the station, GO Transit has a ticket counter and fare vending machines, and the Hamilton Street Railway (local buses) has its Customer Service Centre.

address: 1199 Waterdown Rd, Burlington

Aldershot GO station serves GO Transit buses and trains, plus Via Rail trains. GO trains run between Toronto and Aldershot every half hour (or better) everyday including weekends, holidays and evenings. Most GO trains from Toronto terminate at Aldershot, where passengers can transfer to GO buses to continue to downtown Hamilton. GO bus 18 (Hamilton Train Meet Service) runs to Hamilton GO Centre while 18E stops at Hamilton GO Centre before continuing on to West Harbour GO. (Do not take HSR bus 18 which also stops at Aldershot GO.) GO Transit has a ticket counter and fare machines at the station. Via Rail tickets can be purchased at a self-service kiosk.

address: 353 James St N

West Harbour GO hosts two rush-hour, peak-direction GO Transit trains: one running between West Harbour GO and Toronto, and the other running between Niagara Falls (Ontario) and Toronto stopping at West Harbour GO. The two trains head to Toronto during the morning rush hours, and return during the evening rush hours.
Operators
Here is a list of inter-city public-transit operators serving the city at one or more of the above hubs:
By car
Main thoroughfares into Hamilton include the Queen Elizabeth Way, Highway 403, and Highway 6. Hamilton is roughly 1 hour from
Toronto
and from
Niagara Falls
.
By boat
When approaching Hamilton Harbour from the east- Lake Ontario- remember that the lift bridge opens every half hour on the hour.
Hitchhiking
It is illegal for a pedestrian to enter any 400 series highway or the QEW. It is also very unsafe due to the high velocity and dense volume of traffic. If you should choose to do so anyway you can expect the police to pick you up and remove you within a short time.
A safe and legal alternative is to hitchhike on the on-ramp, providing there is sufficient space for a vehicle to pull over without endangering the driver or passing traffic.
Hitchhiking on other roads in Hamilton (and Ontario) is legal so long as you do not stand in the roadway.
Get around
By car
Hamilton is divided into two main sections—"The Mountain" and downtown. The Mountain refers to anything on the escarpment—access to the mountain is limited to a few roads, which often arrive on a different street than when you started. If you're going up the mountain, take a second to learn which access you need to take.
Driving on the mountain accesses in the winter can be treacherous
, and even many locals avoid it if possible due to icy road conditions. During severe storms many and sometimes even all of the accesses can be closed by the city, making travel between the two major districts nearly impossible. The Sherman Access changes to one-way traffic during rush hour, to get traffic down the mountain in the morning and up the mountain in the afternoon. If you aren't aware of this, it can mean having to take a long detour if you've committed to taking the Sherman but can't. Even outside of rush hour the signage on this access can be confusing.
Hamilton has many one-way streets throughout its downtown core. Be aware of what intersection you're heading for, and what streets precede it, or you may overshoot.
Rush hour traffic can be problematic like in any other large city. Try to avoid driving down Upper James Street in the mornings or between 4-6PM unless you're content to watch pedestrians overtake you on the sidewalks. The nearby street of West 5th (next major street to the west of Upper James) generally has a far lower volume of traffic and can save you upwards of 10 minutes of driving time. It also sports a mountain access that can get you down to (lower) James Street in no time at all.
The Lincoln Alexander Expressway (known locally as the Linc or Link) is a city by-pass that runs across the mountain from Ancaster to Stoney Creek. If you're trying to get past the city be sure to avoid the major roads (Mohawk, Fennell, Stone Church or Rymal) at all costs and take the Linc, which will save you ample time and gas.
There are some duplicate street names between Hamilton and the surrounding areas it amalgamated with; for example, there is a King Street in Dundas, Hamilton, and Stoney Creek.
By bus
Hamilton Street RailwayThe HSR operates public transit buses in the city and the surrounding suburbs. Service is more frequent downtown than in outlying areas. On Sundays and holidays, many routes have 30-60 minute frequencies.
A fare is valid for two hours of travel on HSR buses. If paying by cash, ask the driver for a "transfer" as a receipt to show the driver when changing buses. If paying by Presto, the transfer info is electronically recorded on your card when you tap on.
Burlington Transit
routes 1/1X serve the
Royal Botanical Gardens
from King & James streets (BT Stop #679) and King & Bay streets (BT Stop #827). Burlington Transit accepts HSR transfers only at these two stops in downtown Hamilton.
For Presto card holders: If transferring between a
GO Transit
(GO) train and HSR to complete a trip, you become eligible for the GO co-fare discount on your HSR fare. Just tap your Presto card on both transit systems to get the discount which is calculated after the transfer.
HSR MacNab Street Bus Terminal

address: 1 MacNab St S

The main hub for the HSR has several bus platforms serving routes 20, 21, 22, 23, 26, 27, 35. The hub is about 400 metres from the Hamilton GO Centre.
Historical note: Despite having terminated all streetcar service by 1951, the Hamilton Street Railway has retained its quaint name to this day. Today, the HSR operates no rail services, but in 2019 construction started for a light rail line through downtown Hamilton.
By taxi
phone: +1 905-525-0000

phone: +1 905-777-7777
See
phone: +1 905 525-9140 ext 23081

address: University Av at Sterling St (Lee building)

Houses a nationally significant collection of more than 6,000 works of art, featuring a permanent collection and contemporary exhibitions, lectures and events.

phone: +1 905-546-2872

address: 610 York Blvd

Canada Day to Labour Day: Daily 10AM-4PM; Labour Day to Canada Day: Tu-Su noon-4PM. One of Hamilton's most-recognized landmarks, Dundurn Castle is a National Historic site, illustrating the life and times of Sir Allan Napier MacNab (1798–1862). More of a stately home than a "castle", the still-impressive structure was completed in 1835. Features year-round programming, tours, restaurant and an on-site military museum.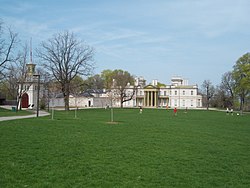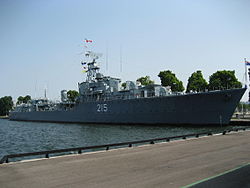 phone: +1 905-526-6742

address: Pier 9, 658 Catharine St N

At Pier 9, visit the HMCS Haida, the "Fightingest Ship in the Royal Canada Navy" - a World War II destroyer that is maintained faithfully and can be explored in its entirety, either by a self-guided tour or simply by wandering around.

Princess PointAt the very end of Lake Ontario, Princess Point is one of the most beautiful sections of Hamilton. Bike or rollerblade along excellently maintained paths encircling the lake, or relax at the adjacent park. Harbour cruises are also available.

WaterfrontHamilton is in the midst of a major waterfront reclamation project, and has already restored the beautiful Pier 4 Park at the bottom of Bay St. This continues to the west with a waterfront trail to Princess Point, and to the east with a beautiful marina, waterfront cafe, boat and trolley tours, and a lovely playground.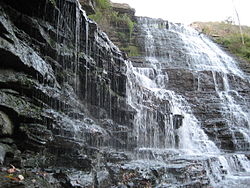 WaterfallsThe combination of many creeks and the Niagara Escarpment makes Hamilton, now sometimes referred to as "The City of Waterfalls", an excellent place for seeing waterfalls. Over 100 waterfalls and cascades are known (several were found in 2008 and there's likely some that haven't been discovered yet). The one drawback of Hamilton's waterfalls is that half of them do dry up in dry seasons. The good news is that most are on or near the Bruce Trail as it winds through the Niagara Escarpment (a UNESCO World Biosphere Reserve) in Hamilton. Some of the more popular ones are:
Albion Falls

address: Mountain Brow Blvd

A scenic 19-m cascade waterfall, blasting for 12 months a year. It took over thousands of years of freezing, melting, growth, decay and tidal changes to create the Niagara Escarpment region. Named after the former village of Mount Albion in which it resides.

Borer's Falls

address: Rock Chapel Rd., Dundas

A relatively small but picturesque waterfall in Borer's Falls Conservation Area. The escarpment in this area is quite scenic as well.

Devil's Punch Bowl

address: Ridge Rd., Stoney Creek

One of the taller waterfalls in the area. It's in Devil's Punch Bowl Conservation Area.

Great Falls

address: Mill St.

A picturesque waterfall in Waterdown, easily viewed. Can be quite striking in winter after it has frozen. This is also the location of the former industrial community of Smokey Hollow, remnants of which can be found around the site.

Tew's Falls

address: Harvest Rd., Greensville

The tallest waterfall in the city, at 41 metres only slightly shorter than Niagara Falls (although the volume of water going over Tew's Falls is much smaller and shrinks to a trickle in the summer; spring is a better viewing time).

Tiffany Falls

address: Wilson St. E., Ancaster

Tiffany Falls is a 21-m ribbon waterfall. It is just off the former Highway 2.

Webster's Falls

address: Fallsview Rd., Greensville

Among the most beautiful waterfall in Hamilton, at 30 m wide it is the widest in the city. The surrounding area in Spencer Gorge/Webster's Falls Conservation Area is a popular picnic spot in the summer. The staircase down to the base of the falls is treacherous but the view from down there is beautiful. While you are there, check out the cobblestone arch bridge near the falls. You can walk to Tew's Fall.
The view from the escarpmentThere are many beautiful views of the city to be found from the escarpment. Especially when looking west, it is difficult to see streets or the roofs of houses under the thick canopy of trees (although it is easier to see these in winter). The Bruce Trail offers many excellent views, such as that at Dundas Peak. If you are driving around Hamilton, Mountain Brow Boulevard. is a good place to stop for a look down.
Downtown NeighbourhoodsLike many cities, Hamilton is home to many traditional neighbourhoods, including Locke South, Concession St., James St. South, James S. North, International Village BIA, and Ottawa Street. James North has an exploding arts scene, with several galleries opened in the past few years.
Theatre AquariusUsually puts on many good plays and musicals. Starring local talent, it generally offers quality entertainment at an affordable price. The surrounding area provides several dining opportunities.
Doors Open HamiltonIt offers an intimate experience of various historic landmarks around the city normally off limits to visitors and tourists: various place of worship, estates, museums, wineries and government buildings. A division of Doors Open Ontario, it is an annual opportunity to discover the City, the Province of Ontario, and Canadian Heritage.
Canadian International Military Tattoo

phone: +1 905-546-3100

address: 101 York Blvd

Held annually each June in Hamilton. Started in 1992, to celebrate the 125th birthday of Canada, the Region of Hamilton-Wentworth presented The Greater Hamilton Tattoo.
Historic architecture in WaterdownThere are many beautiful old stone buildings in Waterdown. Mill Street is a good place to start.
Do
phone: +1 905-577-0074

address: 1014 King St W

The Westdale is a non-profit movie theatre built in 1935 and reopened in 2019 after an expensive restoration largely financed by donations. Its main attraction (other than the movies) is its beautifully restored Art Deco interior.

Parks and trailsDespite its commonly-held industrial image, Hamilton has some 1,077 hectares (2,662 acres) of parkland, 549 ha (1,356 acres) of natural areas and 137 km (85 miles) of trails. The Bruce Trail runs right through the city. Bayfront, Pier 4 Park, and the Waterfront Trail offer panoramic views of the Hamilton Harbour and northwest shoreline.

Golf at one of Hamilton's 18-hole public courses: Chedoke or King's Forest. There are numerous private courses including the 2003 home to the Canadian Open, the top rated Hamilton Golf and Country Club, in Ancaster. The Hamilton Golf and Country Club is an exclusive club that dates back to Hamilton's industrial glory days. Unless you know a member, or someone that knows a member, forget playing here.
Confederation Park offers lakefront camping, a waterpark with wave pool and tube rides, and Adventure Village with go-karts, batting cages, mini golf, etc.

Haunted Hamilton Ghost WalksExplores the dark alleys and haunted buildings where voices of the past are said to still linger to this day. Haunted Walks of Downtown Hamilton, the Historic Customs House, the Hermitage Ruins in the Dundas Valley Conservation Area (Ancaster), as well as a historical tour of Hamilton's Dark Past, are done regularly throughout the year.

Christie Lake Conservation Area

phone: +1 905-628-3060

address: 1000 Highway 5 West, Flamborough

Centred on the beautiful Christie Reservoir, this conservation area features a 360-m long beach and a chlorinated swimming area separate from the reservoir. Also contains several ponds stocked with fish and large natural areas accessible by hiking trails.

Crooks Hollow Historical Trail

address: Crooks Hollow Road, Greensville

This trail traverses the site of Crooks Hollow, once the largest industrial community in Upper Canada but now a ghost town. Many of the buildings are now just grassy fields, but the Darnley Grist Mill is a spectacular ruin. A few buildings, now private residences, also still stand. Connects with the Optimist Park walking trail, which winds along the picturesque Spencer Creek and passes near Greensville Falls as well as more ruins, ending near the Spencer Gorge/Webster's Falls Conservation Area.

Workers Arts and Heritage Centre

address: 51 Stuart St

Preserving, honouring, and promoting the culture and history of all working people. Their mandate points in the social justice direction, the union direction and the community activism path.
Buy
Hamilton has numerous shopping districts. While fewer brand-name retail items are available in Hamilton than in neighbouring Toronto, several districts host a successful spot for antiques, art and specialty boutiques.
King Street - the city's main urban destination for restaurants, cafes, and of course, shops.

James Street NorthA redeveloped sector in the city's core, James Street North is widely-praised for its flourishing art galleries, various restaurants and cafes. The street hosts an Art Crawl on the second Friday of every month.

Locke Street SouthJust west of downtown, Locke Street is home to a large number of antique shops. Prices tend to be lower than in Toronto.

Ottawa StreetHome to innumerable fabric, home decor and furnishings stores. The street had fallen on hard times earlier in the decade, but is undergoing a resurgence and has become one of the city's most popular destinations for antiques, fabric and home furnishings.

Old Ancaster - On Hamilton Mountain, at the west-most section of the city, Old Ancaster has several specialty boutiques and historical monuments.
Dundas - As west as Ancaster, but down the mountain, Dundas is a small heritage town with a European feel that offers most of the good shopping opportunities in Hamilton such a Picone Fine Food, a 100 year-old grocery store that sells fresh produce and high-end food items. Dundas has a great drive-in park that is popular amongst locals for summer picnics. Dundas is home to numerous festivals throughout the year.

address: 35 York Blvd

Founded in 1837, it has since moved indoors. It features the usual mix of local farm produce and ethnic specialties. It is older than the city and is one of the best farmers markets in Ontario.

Concession StreetAt the beginning of the 20th century, it was an African-American neighbourhood. Many slaves escaping the U.S. via the Underground Railway settled in this urban neighbourhood at the edge of the escarpment. It boasts the best views of the lower city and features many parks, some with fantastic vistas overlooking the downtown and heavy industrial areas. The neighbourhood offers many shopping, dining and entertainment opportunities. The housing is an eclectic mix of million-dollar estates and 1920s cottages. Stairs to the lower city are available on Mountain Avenue, traversing the 91-m (300-foot) escarpment. Many buses travel along Concession, making it one of the most public transit accessible areas of the city. Once considered run-down, it may be one of the most underrated areas of the city. A 1920s movie house has been renovated and is showing first-run and art films.

WestdaleAdjacent McMaster University keeps this neighbourhood healthy, with its many boutiques, groceries, eateries, pubs and bakeries and even a movie cinema specializing in foreign and art films. Westdale Village is accessible by bus and is walking distance to McMaster University and Hospital. It was Hamilton's first master-planned community in the 1920s.

phone: +1 905 387-4455

address: 999 Upper Wentworth St

Over 200 shops and services. Easily on-par with most major malls in larger Canadian cities. It's the most popular hang-out spot on the mountain for younger and older people alike, partly due to the total absence of a night life outside of downtown.

Upper James StreetUpper James is a lengthy street that was at one time known locally as "Oilcan Alley" due to a prevalence of autobody shops and car dealerships. Most of the major dealerships in Hamilton are still located on Upper James around the Ryckmans Corners area between Stone Church and 20 Road. A huge number of stores and family restaurants exist to service the needs of most shoppers, including a Walmart Supercentre at Fennell Avenue. Beware of traffic during rush-hour periods.
Eat
It's not difficult to find a superb variety of foods in Hamilton. Having a large minority and immigrant population, many people in Hamilton can and do take the opportunity to eat exotic cuisines.
Budget
Vida-la-Pita

address: 217 King Street West

Small basic eatery. Amazing chicken shawarmas, inexpensive, and fast/friendly service.

Bronzie's Place

address: 201 James St. S

Small basic Italian eatery. Large portions, inexpensive, and fast/friendly service. Nearly everyone goes home with another meal's worth in a doggybag.

Steve's Open Kitchen

phone: +1 905 529-9913

address: 149 James St. S

Since 1975. A nice little hole-in-the-wall breakfast diner where you can watch the friendly chefs prepare your meal. Will set you back the change in your pocket - most meals are around five bucks. Not particularly healthy, but few good breakfasts are.
James St. North Multicultural Community - You can find affordable restaurants serving food from multiple nationalities along James North from King Street all the way to the Harbourfront.

My Dog Joe

phone: +1 905 777-8100

address: 1020 King Street West

A pleasant, bohemian cafe in the heart of Westdale. Serves organic fair-trade coffee, baked goods, soups and sandwiches at a reasonable price. Displays work from local artists in a cozy atmosphere.

Westdale Delicatessen

phone: +1 905-529-2605

address: 893 King St. W

Traditional Jewish deli. Hamilton's only kosher restaurant. Closed during Passover.
Mid-range
Hamilton is a large city and therefore enjoys almost every mid-range dining chain. Examples include Kelsey's, Montana's, and The Keg. Hess Street, in addition to housing some newer upper-scale establishments, has several mid-range places that offer fantastic food (Ceilidh
House being an example).
phone: +1 905-628-1681

address: 57 King Street West

Dundas. Authentic Thai cuisine in the beautiful downtown valley of Dundas.

Hutch's

address: 325 Bay St N.

Offers what many consider the best fish and chips in town and, like its sister restaurant (a 1950s diner on Van Wagners Beach), offers a scenic location to munch them. Hutch's is a famous local institution which once could vie for having the best hamburgers in Canada. Urban renewal has forced Hutch's beach strip location into a boring government building. Cruise nights often held here in the summer. On the beach trail, so you can walk off your Sportsmanburger.

Tea Hut

address: 100 Main St. E

In the Landmark Place building (tallest building in the city, hard to miss). Tea Hut is a Taiwanese restaurant known for its bubble tea. A popular hangout for the local Chinese community, and has very friendly staff and owners who will welcome you. Excellent food at affordable prices, and a huge selection of bubble tea. Enjoy a game of XiangQi (Chinese chess) or Jenga, or relax on your laptop with their free wi-fi.

Jade Garden

address: 113 James St. N

A hidden gem and a must-visit for lovers of authentic Chinese and Szechuan cuisine. Very generous portions at an affordable price. Impossible to leave hungry. Massive menu and great dim sum. Not your average "chicken balls and fried rice" Chinese restaurant. You can also purchase fresh fish here for home cooking.

Cora's Breakfast & Lunch

phone: +1 905-648-2672

address: 73 Wilson St. E

Ancaster. This bright and sunny restaurant serves visually stunning breakfasts combining typical Canadian breakfast fare with mountains of fresh fruit. Most menu items $10-20.

Karolina's Restaurant

phone: +1 905 548-0306

address: 757 Barton St E

East End. Polish. Excellent food at reasonable prices. Small and sometimes hard to get in. Don't let the rundown area prevent you from eating here. Just west of Lottridge. For an after-meal adventure you can drive north on Gage and check out the Hell's Angels clubhouse. You'll know it when you see it.

Capri

phone: +1 905-525-7811

address: 25 John St N

Downtown. Italian. First restaurant to serve pizza in Hamilton. Gangster movies filmed here. Real gangsters ate here too. Like the mafia in Hamilton, this restaurant is now somewhat faded. Try the pizza bianco.

phone: +1 905-528-3538

address: 255 King St E

Downtown. German. The Black Forest is another Hamilton institution. Full of cuckoo clocks, this restaurant.and its army of servers in Bavarian costume move the crowds through with Germanic precision. Eat there and you'll find out why Hamiltonians keep coming back.
O Marineiro (The Sailor), a traditional Portuguese restaurant on James St. North, serves a wonderful seafood platter.

My ThaiCorner of John St. and King William. A stellar Thai restaurant.

Golden Grain Bakery - A large variety of imported foods and European baked goods.

Mimi's Bistro

address: 931 Queenston Rd

Stoney Creek. Offers patio and serves excellent quality Canadian food at affordable prices. Serves all-day breakfast. Beautiful decor and atmosphere.

Sapporo Japanese Restaurant

address: 96 Main St. East

In the same complex as Slainte. Possibly the best Japanese food in Hamilton, and the only Japanese restaurant that isn't a sushi bar.

phone: +1 905-524-2815

address: 163 Main St W

A past reputation as one of the most popular Indian restaurants in the city, with excellent all-you-can eat buffet selection of curries and other staple Indian dishes. Recent reports say the buffet is no longer offered.

phone: +1 905-664-5900

address: 21 Jones St

Stoney Creek. Casual fine dining is unique in any of the six historic dining venues offered at this historic site.

phone: +1-905-818-351

address: 29 King St W

Raw and vegan cuisine. Meals and snacks.

phone: +1 289-246-9222

address: 295 Ottawa St. North

100% vegan burgers, poutine, salad, and desserts. Part of a chain with outlets elsewhere in the GTA and in Winnipeg.

The Hearty Hooligan

address: 292 Ottawa St. North

Vegan café. Offers vegan calzones, baked goods, and shakes, in addition to coffee and tea.
Splurge
Drink
Hess VillageA "bar" in the classic sense, Hess is a couple blocks of pubs and eateries. Highlights include the Gown and Gavel, Che Burrito Bar, Sizzle/Koi, and The Lazy Flamingo. Located roughly between King and Main Street, on Hess Street. Typically pub-type bars and night clubs, but it runs the gamut. Hess Village is where the patio action is in Hamilton on warm summer nights. Dance clubs have opened in neighbourhood, adding to the entertainment mix. This is the summer place to be in Hamilton. One of the best bar and nightclubs in Hess Village with the best music fantastic accommodations is Sizzle's Ultra Lounge.

phone: +1 905-524-5626

address: 25 Augusta St

This is the best place in Hamilton to get a tasty pint. With over 20 taps dedicated to microbreweries, they're sure to have something you like. This bar does not sell popular, mass-produced beers like Molson, Labatt, or Sleeman. This was original location of the Winking Judge, which later moved to Hess Village.

The Rebels RockThis Irish pub may be the only truly authentic Irish pub in the city. If you want to stay away from the bars and have a pint in a friendly living room setting, this is the place. Live Irish music every Wednesday, with some of the city's best Celtic and east coast musicians, and great home style food at a good price. Founded by Toronto cop.

The Coach and Lantern

address: 384 Wilson St. E., Ancaster

Dating from 1823, the former "Union Hotel" has survived various incarnations and even a 1878 fire in its stables. During the War of 1812, it was purportedly the site of the Bloody Assize, and the spot where four traitors were condemned to hang outside Dundurn Castle. It's rumoured to be haunted, and not just by the Ancaster set. Has a good selection of draft beers and single malt scotches, typical pub grub, and nightly entertainment of the karaoke/trivia/open mic sort. Atmosphere is as you'd expect: exposed stone walls, beams, dark, cluttered and windowless, but it has a cobbled courtyard the claustrophobic may enjoy in the summer.

Collins Brewhouse

address: 33 King St. West, Dundas

Serving locals since 1841, this "food and beverage warehouse" has 12 beers on draft, including its own Brewhouse Red and Lager. Specializes in Cajun fare. Unique decor includes plank flooring, galvanized steel, 6-seater booths, garage doors opening to a patio and a concrete bar top. Live bands, poker tournament and other shenanigans make this a popular spot for all ages. Attracts a younger crowd, particularly Mac students. This is the oldest tavern in Ontario.

Bar on Locke

address: 178 Locke Street S

Hamilton. Offers a cozy atmosphere in the Locke Antique district with a creative menu and about 7 beers on draft.

The Embassy Nightclub

address: 52 King St. East

Downtown Hamilton is the largest gay nightclub in the city and is an institution with the locals. It plays a mix of house and hip-hop, has drag shows on Thursday and Sunday, and is busiest on Fridays and Saturdays.

The Phoenix

address: 1280 Main St. W

This is McMaster University's graduate student-run pub. It is an excellent place to meet local students and to enjoy microbrewed beers. They also have an excellent selection of pub food at reasonable prices. In the spring and summer their huge outdoor patio is very popular for students and faculty at lunch and the end of the day.

The Whistling Walrus

address: 1508 Upper James St. Hamilton

Fabulous pub. Great food and very friendly prompt service.

address: 20 Augusta St

address: King West at Queen

Best mid-sized live music venue in the city. A large selection of craft beers are available in both rooms. Friendly atmosphere everynight.
Sleep
Budget
Super 8 Motel

phone: +1 905-679-3355

address: 2975 Homestead Drive, Mount Hope

Affordable rates ideal for overnight stays. This is the closest hotel to Hamilton Airport and right on the direct route into the city core. Also provides easy access to nearby Caledonia and the Region of Haldimand Norfolk.

Airport Inn

address: 118 Upper James St

Close to Hamilton's John C. Munro International Airport, the Airport Inn has 30 renovated rooms, free parking, provides Airport Shuttle Bus Services. Across the street from the Pastacino Restaurant.
Arrival Inn, At the corner of Caroline & Main Street West. Clean, comfortable moderately priced accommodation.

Holiday Inn Express

address: 51 Keefer Ct

In Stoney Creek (QEW & Centennial Pkwy. Exit 88). Standard accommodations one would expect from a Holiday Inn chain. Rates from $89 per night.

Days Inn

address: 210 Main St. E

Affordable rooms without much in the way of luxury. Good for overnight stays. Rates from $72 per night.

Hamilton Downtown Family YMCA

phone: +1 905 529-7102

address: 79 James St. S

The YMCA offers short-term residency for male students/adults and is the closest thing Hamilton has to a backpacker's hostel. The entire facility is smoke-free and offers nightly rooms for $52.50. Rooms are also available weekly for $105 and monthly for $395. Expect to pay a $45 key deposit. On-site fitness facilities for members only. A central location minutes from major transit hubs.
Mid-range
phone: +1 905-560-4500

address: 183 Centennial Pkwy. N

Rooms from $100 per night. Good central location allowing easy access to most of Hamilton's attractions.

phone: +1 905-527-1001

address: 20 Caroline St South

129 suites including kitchen facilities and spacious room. Fairly new, and the facility is clean and friendly.
Splurge
phone: +1 905-528-3451

address: 150 King Street East

214 guestrooms including 9 luxury suites and 30,000 sq. ft. of convention space, 2 magnificent ballrooms, 370 seat theatre.

phone: +1 905 529-5515

address: 116 King Street West

A relatively fancy hotel with nice rooms and great service. No free parking.
Stay safe
Hamilton resides on a highly polluted area of Lake Ontario. High levels of E. Coli bacteria usually prevent the beach from being open for swimming season. In addition, the city suffers from high
air pollution
including fine particulate matter, consistent with most of Southern Ontario from Windsor through Oshawa.
Like most cities, there are unsafe areas which should be avoided. Some of the areas that may be problematic after dark due to black market activities (i.e. sex trade and illegal narcotics) are Barton Street from around Lottridge to James Street and Cannon and Wilson Streets between Wentworth and Victoria, along with the general downtown area including Gore Park and Jackson Square, but again, only at night. Additionally, Ferguson Avenue between Cannon and Barton is home to a large transient population, as is the rest of the Beasley neighbourhood.
Hess Village can and does experience the usual amount of drunken bar fights (typically outside of the bars), but this is no different from any other large city. Several uniformed police officers typically patrol the small area on busier nights.
Use common sense
and avoid walking around alone at night. Police presence is usually infrequent in less-busy neighbouroods, so it can be best to avoid them unless you have business.
The rate of violent crime is moderate compared to other similarly-sized Canadian cities.
The beautiful trails along the Niagara Escarpment can sometimes run quite close to unfenced, unmarked cliff edges. Stay on the trail and use caution and you'll be fine.
Emergency services
Police, fire, ambulance: 911
Hamilton Police
Connect
Go next