Hammond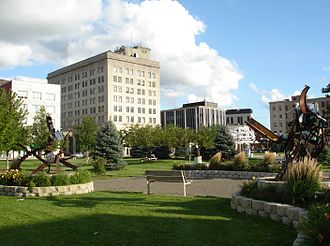 Hammond
is a
Chicagoland
city of some 80,000 people in
Lake County
,
Indiana
—bordering
Chicago's Far Southeast Side
.
Understand

It may come as a surprise to other Hoosiers that Hammond is the state's sixth largest city. Its history and culture, as with nearly all of Indiana's Lake Michigan coast, is inextricably linked to a big blue-collar industrial workforce. While the industrial economy is not what it once was, Hammond is still in decent shape, with a big new casino drawing in visitors from the Chicagoland area. Most visitors will find themselves passing through or on business, but Chicagoans would do well to include it in a close-in Lake County day trip, if for no other reason than to get some good food, perhaps stock up on fireworks, and realize that Chicagoland doesn't stop at the state line!

Get in
By car
The
big
highways cutting east west across the city are I-90 and I-94/I-80, both of which head east towards
Gary
and I-65 towards
Indianapolis
, and west towards
Chicago
and its south suburbs. The biggest north south streets are Calumet Ave (US-41) and Indianapolis Blvd (IN-152). Both lead into the city coming from Chicago in the north, and are a far more interesting drive than the big highways.
By train
The
South Shore Line
, which stretches from
Chicago
's East Loop to Indiana's
South Bend
, has one stop at , located at 4531 Hohman Avenue, and another literally on the
East Chicago
/south Hammond border. Tickets are $4.75 per way.
Amtrak
offers a limited service on it's
Wolverine
route between
Chicago
and
Pontiac
via
Detroit
. These trains calls at station, located in the Robertsdale neighborhood of north Hammond at 1135 North Calumet Ave.
By plane
The closest airport is certainly
Gary/Chicago International Airport
GYY
, but there are a lot more flights coming into Chicago Midway MDW, which is about a 30 minute drive without heavy traffic.

Get around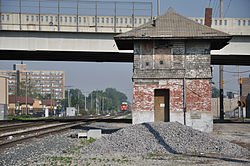 See
The Venue at Horseshoe Hammond

phone: +1 219 473-6060

address: 777 Casino Center Drive

This performance hall has hosted national and international comedians, singers, musicians, etcetera. You must be 21 since it is in the casino.
Do
Hammond Lakefront Park & Bird SanctuaryBeautiful Lake Michigan beach access and woodland walking trail. Great for observing birds. Plenty of people swim here, and there are lifeguards in the summer. You can gaze out across the lake and see the Chicago skyline.
Buy

Hammond and the rest of the cities immediately bordering Chicago across the state line are well known among Chicagoans for fireworks and far cheaper cigarettes. Indeed, here you'll find big box stores selling cases of either—the easiest to reach being on Calumet Ave just north of I-94/I-80.

Eat
phone: +1 219-933-9314

address: 735 Gostlin Street

Cavalier Inn serves many good Polish dishes, and many good burgers and roasts too. The bar has Polish beers and liquors. The inside is very pretty and there is a lot of parking adjacent. The restaurant is a pleasant, two-block walk from the Hammond South Shore Line train station, for those who want to take a day trip from downtown Chicago.

Madvek's Dog House

phone: +1 219 932-1060

address: 6923 Calumet Ave

Best known for serving great hot dogs, 50-year-old Madvek's also makes a hard-to-find "loose meat hamburger," where the hamburger meat is sauteed with onions and butter, and served loose in the bun, somewhat like a sloppy joe. It's an unassuming-looking place, but you'll be glad you stepped inside.

Nick and George's Restaurant

address: 5850 Hohman Avenue

This legendary Hammond institution once existed downtown, just across State Line Road from Calumet City's famous nightclub strip. Now it is just south of the historic downtown across from beautiful Harrison Park. They do sell bottled beer. They have the best $25 steak dinner you could ever hope for. The pork tenderloin is half the price and maybe more delicious. The hamburgers and Italian sausage sandwich are great too, and their fries are famous. On a nice day, walk across the street and eat in the park.

phone: +1 219 845-7090

address: 7235 Indianapolis Blvd

A Northwestern Indiana chainlet, Schoops has pretty great handmade burgers in another rare style you probably haven't seen before. The patty is thin, crisp, crunchy—almost sort of caramelized!

Taco Real

phone: +1 219 932-8333

address: 935 E Hoffman St

Probably the restaurant to go to for Mexican in the region, this place has great chicken in mole, pork tacos, and queso fundido. It is a little on the pricey side, though—for Mexican in Northwest Indiana! Very surprisingly, they have good micro-brews on tap at the full bar.
Drink
Dodo's Firehouse Tap

address: 521 Conkey Street

Dodo's is a fine place to drink alcohol. Old Style is on tap, and a small pitcher is $3.50. There is a jukebox, and you will hear many different tastes of music. There is a pool table and dart boards, and also refrigerated cases for take-away alcohol sales. The decor is the best Elvis memorabilia you can hope to see.

Billy Bear's Bar & Grill

address: 1225 169th Street

Billy Bear's is also a good place to drink draft beer. They have Old Style and MGD, and a small pitcher is only about $3.00. There is also a pool table, and dart board, and jukebox that plays mostly Classic Rock. Decor is Harley motorcycles and bikers. Sometimes they close early so be sure to call ahead.

Flat Rock Tap

address: 6732 Calumet Avenue

The Flat Rock Tap has a wider variety of beers on tap, although they charge much more per glass. They have fancy local beers like those from the Three Floyds Brewery, but also have European beers on tap and bottled. There is usually live music on Thursday nights.
Sleep
The following hotels are located along Interstate 90, the Indiana Toll Road:
address: 4141 Calumet Avenue

address: 4111 Calumet Avenue

address: 4000 Calumet Avenue
The following hotels are located along Interstates 80/94, the Borman Expressway:
Go next
Chicago
is the obvious nearby destination, but if you are up for staying far off the beaten path, exploring Lake County a bit can be quite rewarding. Check out the historic planned industrial-utopian community of
Marktown
, Meyer's Castle in
Dyer
, the confounding ruins of
Gary
, or even the far-off-the-beaten-path parts of Chicago just west, in the city's
Far Southeast Side
.