Hanoi
Hanoi
(
Vietnamese
:
Hà Nội
), the capital of
Vietnam
and its second largest city, is a fascinating blend of East and West, with Chinese influence from centuries of dominance, and French
je ne sais quoi
from its colonial past. It was largely unspoiled by the modern architecture of the 1970s and 80s, and is now undergoing a rapid transformation that makes it a rising star in
Southeast Asia
.
Understand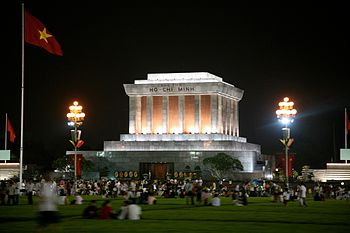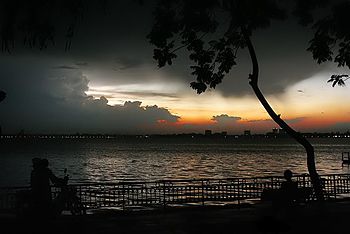 Invading forces from every direction agree: Hanoi makes a fine capital. It has held that title for more than a thousand years, through several invasions, occupations, restorations, and name changes. The Chinese conquered the imperial city of Đại La in 1408 and renamed it Tống Bình. Le Loi repelled the invaders in 1428 and applied the name of Lê Thái Tổ (黎太祖). For his efforts, he received the crown and a slew of legends about his heroic exploits, many centred around the
Hoan Kiem Lake
in the Old Quarter. The Nguyen Dynasty gave the city its modern name of Ha Noi in 1831, but they had transferred power to
Hue
by then. Hue remained the capital until 1887, when the French made Hanoi the capital of all Indochina. It changed hands again in 1954, when it was ceded to Ho Chi Minh and the Viet Minh after almost a decade of fighting, and it became the capital of North Vietnam. Upon reunification in 1975, it assumed that title for the entire country.
The first Western-style universities in Vietnam were founded in Hanoi, and today, it is the leading centre of scientific study and research in the country. Hanoi retains much of its older colonial charm, despite the battles that have raged over it. Conflict had the effect of making it largely oblivious of modern architecture, and as a result, few buildings in the city centre area are higher than five stories. The Old Quarter is second only to
Hoi An
for uninterrupted stretches of colonial and pre-colonial architecture, well-preserved on dense warrens of narrow, wonderfully atmospheric streets. It trades the commercial boom and sprawl of
Ho Chi Minh City
in the south for a more understated charm, worth enjoying for an extra day or two, and with countless transport options and travel agents, it makes a perfect base for exploration of the North. See also
Indochina Wars
.
As you walk along the street, you may find that people start talking to you. It is a cultural norm there to make conversation with strangers. They might ask you where you are from and other general questions. But if you are a man, be cautious if a comely young lady approaches you and initiates a conversation as she is likely after something. It may take a while to get used to such overt friendliness, however there are times when this could be useful, such as when you are lost or need help.
Tourist Information Centre

phone: +84 4 926 3366

address: Dinh Tien Hoang

Can provide a fairly useful map (bewilderingly, the blow-up of the old town is missing) and other English-language advice, as well as limited free Internet.
There are self-help information booths around the Old Quarter, but their purpose mostly is give the impression that Vietnam "has arrived" technologically.
Climate
The Tet holiday (Lunar New Year) is in the spring. Flowers are most beautiful during this time of the year. The weather warms up, with occasional light rain during the week. Locals believe that these light rains bring prosperity and luck in the new year.
Summer, on the other hand, borders on intolerable. The heat alone would be alright, but it's coupled with oppressive humidity. At this time, visitors should be wary of mosquitoes as they abound. Hanoi has a perfect climate for the proliferation of insects.
There is something unique about Hanoi's autumn. The weather is perfect, with less humidity in the air. The temperature drops, allowing people a chance to flaunt their sweaters and jackets. There is a species of tree, "cay hoa sua", which only flowers in autumn. The flower has a very distinct odour. If you visit Hanoi during the fall, ask locals about this tree and where you might sniff its distinct aroma.
Winter can be uncomfortable because it is not only cold, but also humid. Winter in Hanoi feels even colder than it is because Vietnamese houses lack central heating. Many houses have no heating at all.
January is a drizzly month, and it may rain for one or two days or all week long.
Get in
By plane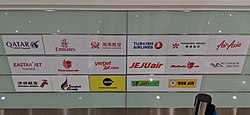 Noi Bai International AirportThere are direct international flights to all the major SE Asian cities, also to Doha, London, Frankfurt, Istanbul, Paris and Moscow. Nothing direct to North America: Seoul will usually be the most convenient interchange. International flights use Terminal 2, opened in 2015 and modern and spacious. Domestic flights, by Vietnam Airlines and by Vietjet, serve HCMC, Can Tho, Da Nang, Hue, Nha Trang, Vinh, and Phu Quoc island. There is a shuttle bus between the two terminals, or it can be walked in about 15-20 minutes.
International departure tax should be included in the price of your ticket, but check with the airline if it's not clear from your receipt. The tax (sometimes called "passenger service charge") is US$14 or the equivalent in dong.
One can generally transfer through Hanoi airport to another international location without a visa as long as you do not leave the international terminal. There is the ability to get boarding passes for already purchased tickets for major airlines and some budget including VietJetAir.
Vietnam Airlines
downtown office is at 25 Tràng Thi (corner of Quang Trung), phone +84 4 934 9660.
From the airport
Taxis: There are taxi stands just outside Arrivals; turn right from the domestic terminal, or left from international. The taxis are provided by various taxi companies, and all should run on the meter. Have the address you want to go to ready and written down - the chances of you speaking it in a way the driver will understand are slim. Maybe print out a map beforehand: since every street in Hanoi has clearly visible street signs at both ends, you should be able to discern which street you are in. A ride into the Old Quarter should cost between 300,000 and 350,000 dong (Mai Linh taxi, July 2015) and come up somewhere around 27-28 km in distance on the meter. The French Quarter or south side of Hoan Kiem lake might be a little more, but still under 400,000 dong. Many taxis, including Taxigroup and ABC accept credit cards (ask first - show them the credit card). You might also get offered a fixed price of US$20 by the driver, which works out as about a 25% premium - so not a terrible deal if you don't fancy the hassle of haggling and don't have any dong. Some drivers will ask something like 800,000 dong, especially if they see 3-4 foreigners - just ignore them. Make sure that the meter starts shortly after the taxi moves off, and if you want to be sure the meter's not running fast, then from the international terminal it should have reached about 0.7 km by the time you reach the airport toll booths (taxis don't pay the toll), and around 2 km by the time you pass the domestic terminal (the distance will be displayed in km, often along with the speed). A ride into the city should take about 30-40 minutes on the new highway depending on traffic.
If you already have a hotel booked, you might ask the hotel to dispatch a driver. The nicer hotels will do this and put the fare on your room bill.
Express buses to the city centre take around 45-60 minutes. Bus 86 takes the expressway non-stop to the Tay Ho area, continuing limited stop to the Long Bien bus station, Opera House, Melia Hotel and Rail Station. Every 25 minutes, 30,000 dong, from about 06:20 - 23:00. From the International terminal it departs from the arrivals level, second road, at pillar 2 (turn left having exited the terminal). From the Domestic Terminal it leaves from between the Vietnam Airlines and Vietjet terminals. Towards the airport, buses run 05:05-21:40 from a booth at the south end of the main railway station.
Public buses to the city centre take about 90 min. Bus 07 crosses the Thang Long Bridge and goes to the Daewoo Hotel in the west Hanoi (almost an hour on foot to the historical centre of Hanoi). Bus 17 crosses the Chuong Duong Bridge and goes close to the old quarter, to Long Bien (just a few blocks from Hoan Kiem Lake - the destination of most tourists). Prices are 9,000 dong (Feb 2017). To catch Buses 7 or 17, go to the 1st floor of the terminal, go outside and walk past the taxis to what looks like a bus parking lot. This is the end stop of the routes. Follow the continuously incoming buses if you can't find it. Baggage is not permitted aboard the buses, so you may need to wait a few minutes to try your luck several times or give the conductor a small bribe, i.e., paying for the baggage as well. Don't listen to taxi drivers or shuttle bus operators who claim the stop for the public buses is a few kilometres away or that service has been terminated. Public buses operate from 05:00-22:00.
Shuttle-buses from the airport to Hanoi stop at the Vietnam Airlines Office on 1 Quang Trung (a bit south of the old quarter but conveniently stocked with taxis and motorbike drivers). Tickets are sold in the building in front of which the minibuses park, or you can give the fare directly to the driver. The cost is USD2 or 40,000 dong for foreigners (insurance reason), and 35,000 dong for Vietnamese (which includes ethnic Vietnamese from overseas),which rate is indicated on the sticker fixed to the bus's body. The driver will potentially give you trouble if you have additional bags, but if you push, you will get the same USD2 rate. They also try the 'typhoon in Ha Long Bay' scam whereby they take you to a street where you cannot see the hotel name and tell you that the Ha Long Bay guests are still in the hotel and they will take you to their other hotel for the same price. This place is a complete dive facing the highway. You should also beware the drivers trying to offer you a ride to your hotel for USD5, claiming the Old Quarter is 5 km from the office - it is much cheaper to go to the Vietnam Airlines office and switch to a taxi (or walk, it's a maximum of 2 km to anywhere in the Old Quarter). The taxi will not cost more than the USD3 price differential and if it does, you should refuse to pay as the driver has somehow cheated you. The shuttle buses are also available to get to airport hourly.
By train
Gia Lam StationTrains from Nanning in China run to Gia Lam Station. The southbound train departs from Nanning Main Station - all announcements and signage here and on train are in Mandarin Chinese, but look out for the number of the train, T8701. It departs nightly just after 18:00 and arrives at 05:30 - that's over 12 hours later as there's a one-hour time switch at the border. The northbound train (badged as MR1 to the border, then T8702) leaves Hanoi at 21:20 to reach Nanning at 10:10. Both ways take four hours to the border, then a tedious two hours on each side for exit & entry, then another four hours to destination. A ticket for a soft sleeper berth (4-berth compartment) costs ¥215 per person. The train accommodation is basic, with no catering, and the only stops along the way are the two border stations. E-visas, if you need one, are not accepted at this border crossing. You'll have to take the standard Vietnam 15-day visa waiver, of which Day One will be bust before it even starts: the southbound train lumbers into Vietnam shortly after midnight, then the time goes back an hour and you're stamped into the country around 23:45. Similarly, on such a waiver make sure you're on the northbound train by Day 14, as it will be Day 15 before you exit Vietnam. Twice a week, a direct sleeper carriage runs from Beijing. As Train Z5, it departs Beijing West around 15:40 on Thursdays and Sundays, taking 24 hours via Guilin to Nanning Main Station. There it's coupled onto the Friday or Monday T8701 overnight train to Hanoi. Going north, it's attached to the Tuesday and Friday train from Hanoi, continuing (as Train Z6) from Nanning next day to reach Beijing by 10:00 Thursday and Sunday. Of course you can travel this route any day by changing in Nanning.
A taxi between Gia Lam and downtown should not exceed 70,000 dong. If you decide to hike it (since you've arrived at 05:30 and lack alternative amusements), you may only cross the river by the northern (Long Bien) bridge.
phone: +84 4 825 3949

address: Ga Hang Co, 120 Le Duan

All other trains use the main Hanoi train station for daily services from cities in the south including Hue and Nha Trang. The Reunification Express goes all the way to Ho Chi Minh City ("Saigon"), although there is very little 'express' about it. There are ten trains a day to HCMC taking 31-38 hours, but five of them are slow and are overtaken by faster trains - only use them for destinations north of Da Nang. There are also train services to the northwest (including Lao Cai, from which you reach Sapa. To board trains bound for these destinations, you have to enter the railway station compound through the "backdoor" at Tran Quy Cap station. Just tell your driver which destination your train is heading to. Be mindful of any "helpful" stranger who offers to carry your luggage. He probably has a sum more than the cost of the ticket in mind for the help.
Tickets for all destinations are sold in the main station, though there are two counter halls, north and south, serving the respective destinations.
There is a queuing system in place to buy tickets at Hanoi Station which involves obtaining a numbered docket and waiting to be called up to one of the ticket counters. In practice, however, the process is chaotic and many locals disregard the system altogether, often pushing their way to the counters to be served. If you are travelling to Nanning, China, ask a staff member where to go, as not all counters can sell these tickets.
Buy your tickets as early as possible, especially since sleeper tickets can be sold out several days in advance. If you can't get a ticket anymore, try a travel agent who still might have stock. You may also try your luck in the station just before boarding time: agents still holding tickets will be eager to sell as the departure draws near. Nevertheless, travel agencies in Hanoi are known for their bad business practices. Some of them will try to overcharge you up to 300%, so it is better go to the train station by yourself and find out about the prices before you agree on any deal.
By bus
Public buses serving southern destinations (e.g.,
Ninh Binh
, 2 hr, 70,000 dong) leave from Giap Bat bus station. To get from the Giap Bat bus station to the old quarter and Hoan Kiem Lake, leave aside all the hassle of taxi and motorbike drivers and take public Bus 8 towards Đông Mỹ (7,000 dong, pay on the bus). To find it head towards the main road inside Giap Bat station, you will see signs with numbers indicating the stops of different bus lines.
Most of the "open-tour" bus itineraries either begin or end in Hanoi, with
Hue
the next (or previous) stop (12-14 hr, USD8–9), and from there to
Hoi An
,
Nha Trang
,
Dalat
,
Mui Ne
,
Ho Chi Minh City
, and other cities in
Vietnam
, depending on the bus company. Most seem to stop at their office which could be right next to the old district and most backpacker hotels. Check when booking ticket.
Many of the same companies also sell tickets to
Vientiane
and
Savannakhet
in
Laos
(USD16–18). Do some research before you buy a ticket as rattle-trap scam buses abound on this route.
See
Ho Chi Minh City to Shanghai overland
if you're interested in crossing over to
China
by bus or train.
Get around
Walk
This is the best way to traverse the maze of little streets in the old quarter and Hoan Kiem lakeside (which is traffic-free at weekends). From there it's a 1.5-km stroll to the Ho Chi Minh complex, 2 km to West Lake; follow usual local rules on traffic safety.
Of the two bridges across the Red River, the southern (Churong Durong) is for vehicles only and has no sidewalk. The northern (Long Bien) is for trains, bikes & motorbikes and pedestrians. It's an impressive old structure, almost 2 km long, also serving a river island of small plantations.
By taxi
Taxis
ie proper cars, are small 4-seaters or larger 7-seaters. (Motorbike & cyclo taxis, described below, are notorious for scams.) Within the city, three companies are generally reliable: CP Taxi and Hanoi Taxi are actually two brands of Taxi Group, in white cars, and Mai Linh are in green cars. Taxi NoiBai specialise in airport transfers. Your hotel will call a reliable firm, and leave them in no doubt where they are supposed to be taking you.
If you prefer a flat fare, use the app GrabTaxi, which will display the agreed price and taxi details, you pay the driver cash. Otherwise, use the meter, flag-fall will be 20,000 dong for the first two km. Tips are not expected but naturally appreciated.
Good-spirited haggling, and a bit of language confusion, are all part of the experience.
Common scams
are more serious: these include crooked meters, roundabout routes, and outright robbery. And even the nicest driver somehow never has change for your big bill: always hoard small bills.
By motorbike taxi
Motorbike taxis can be found on virtually every corner, especially in the Old Quarter: don't look for them, they'll accost you, so show only faint interest at first. The driver has a second helmet for you. You
must
haggle and firmly fix a fare in advance: the app GrabTaxi will always be cheaper than haggling. Always write down the fare (with all the zeroes) and get an unequivocal "okay" from the driver. A ten min ride (say from Hoan Kiem lake to Ho Chi Minh's tomb) should not exceed 20,000 dong; US $ are often accepted.
Common scams
here include (when you re-emerge from the tomb in reverent thought) claiming that you'd asked him to wait, that'll be two million dong please.
By cyclo
Negotiate first or avoid using the
cyclos
services. They can demand 200,000 dong for a short ride of less than 100 m (330 ft). At the end of the journey, a few men will come over to translate, and they will pretend to help and later insist that you pay the demanded amount.
Motorbike rental
Motorcycles can be rented for around USD6–7 a day, and can be arranged by most hotels. This is good for making lots of trips around the city for individuals or duos, but be careful: Hanoi traffic is very difficult place to sharpen motorbike skills. Park on the pavement with other bikes, and be sure to lock the front wheel. Locals will help arrange the bikes near their stores. Many shops that have bike attendants will give you a ticket in exchange for parking your bike. This may or may not come with a fee typically ranging from 2,000-5,000 dong. The ticket will either have your license plate number written on it, or the ticket itself will be numbered, with that number subsequently chalked somewhere on your bike. In such cases, where you've been given a ticket, the attendants may ask that you not lock the steering column or front wheel of your bike so that they can rearrange the bikes as customers come and go.
By electric vehicle
'Green' electric vehicles now operate 3 fixed routes around the Old Quarter taking tourists past the main market, a couple of 'heritage houses', St. Joseph's Cathedral and the opera house. The tours start and finish at the northern end of Hoàn Kiếm Lake and cost 200,000 dong for 35 minutes or 300,000 for an hour.
By bus
Scam-free, cheap but a bit difficult to comprehend at first, the
buses
in Hanoi are relatively fast and surprisingly comfortable. Pick up a map with printed bus lines at the Trang Tien street (the book street by the Opera house) and spend a few minutes to identify the over 60 bus lines, find your bus stop, wait for the bus, pay 7,000 dong (as of October 2015) and off you go. If you are unfamiliar with the city, make sure to inform the mostly helpful conductor where you want to get off. Or, use your phone's GPS and Google Maps - it works well with most bus lines, just keep in mind that traffic jams make schedules unreliable.
Web: http://www.tramoc.com.vn/index.php?newlang=english is the website, but linking to it can be tricky; it's prone to losing track of what link you clicked. If lost, go to home page, click the "Tiếng Anh" link in top right to switch it to English, and use links on the left-hand side to navigate:
List of bus routes:
"Bus network" in English
Bus maps:
"Download bus route diagram"
,
direct link to PDF
The above pages do not include airport bus route 86. Information on its route can be found
online
; in Old Quarter, the bus stops at other stops along the route in addition to those marked. Find a bus stop on Hàng Tre, Hàng Vôi, or Đinh Tiên Hoàng (marked with standard bus signs), wait for a 86 bus, and flag it down to board.
By car
Hanoi's traffic is extremely chaotic, with seemingly perpetual traffic jams, and a large number of almost suicidal motorcyclists, cyclists and pedestrians. Vietnamese drivers are among the most aggressive in the world, and lanes are effectively non-existent. As such, driving yourself around is not recommended, and you should leave your transportation needs in the hands of professionals.
By metro
The city's long overdue, over-budget metro is due to start running in April 2019. But it won't be of much relevance to tourists: from the main railway station the red line runs to western burbs, the blue line to southwest burbs, neither line passing close to sights or hotels. The line to the airport is still being dreamed about.
See
Museums
Vietnam Military History Museum

address: Dien Bien Phu St

Vietnam's military history extends back some two millennia, and this museum covers it in four buildings. Item descriptions on museum exhibits are in Vietnamese, French, and English. On display outside are the ubiquitous MiG-21 jet fighter, T-54 tank, and many bombs and articles captured in the Indochina and Vietnam wars. The flag tower is also on the museum site.

phone: +84 24 3733 2131

address: 66 Nguyen Thai Hoc St

Only party-approved art is shown here and there is no information in English and not much in Vietnamese. But it is an interesting museum, on three floors of a colonial building, with another 3 galleries in the west wing. Pieces include soldiers on boats depicted on prehistoric bronze drums, Buddhist art, and revolutionary art of the 20th century wars. Also some interesting silk paintings.

Ho Chi Minh MausoleumThe city down south may have his name, but only Hanoi has the man himself, entombed in distinctly Lenin-esque fashion. Against his wishes, but that's how it goes. No talking, revealing clothing (shorts should be knee length and no exposed shoulders), or other signs of disrespect allowed while viewing; photos are allowed only from outside, in the grand Ba Dinh Square. Purses are allowed into the tomb, but expect them to be searched by several bored soldiers along the way. Left luggage is handled in a complicated scheme: there is an office near the street for large bags, with separate windows for Vietnamese and foreigners, and a further office for cameras, which will be transported to a third office right outside the exit of the mausoleum. Items checked in at the first office, however, will stay there. The mausoleum is closed for a couple months around the end of the year, when the body is taken abroad for maintenance. It is closed in the afternoons for maintenance.

One-Pillar PagodaVisitors find this either charming and lovely or utterly pointless, depending on how many tour groups are crammed into the small grounds at the time of their visit. It has a long history attached to it. Regarded as one of Vietnam's iconic temples, it was built by Emperor Lý Thái Tông. The emperor was childless and dreamt that he met the bodhisattva Avalokiteshvara, who handed him a baby son while seated on a lotus flower. He then married a peasant girl that he had met and she bore him a son. The emperor constructed the temple in gratitude for this in 1049 having been told by a monk to build the temple, by erecting a pillar in the middle of a lotus pond, similar to the one he saw in the dream. Before the pagoda was opened, prayers were held for the longevity of the monarch. The temple is built of wood on a single stone pillar 1.25 m in diameter, and it is designed to resemble a lotus blossom, which is a Buddhist symbol of purity, since a lotus blossoms in a muddy pond. In 1954, the French Union forces destroyed the pagoda before withdrawing from Vietnam after the First Indochina War, it was rebuilt afterwards.

Ho Chi Minh Museum

phone: +84 4 846-3572

address: 19 Ngoc Ha St, Ba Dinh

This gleaming white museum and its gloriously ham-handed iconography is the perfect chaser to the solemnity of the mausoleum. The building, completed in 1990, is intended to evoke a white lotus. Some photos and old letters are on display on the second floor, but the main exhibition space is on the third floor. It includes cars crashing through walls to represent the chaos of post-war American capitalism, soldiers charging around with electric plugs, a cave hideout re-imagined as the inside of Ho Chi Minh's brain, and several other postmodern confections integrated with the detailed main story of the man's life and his country's struggle. There are plenty of photographs, prison documents and newspaper cuttings tracing his life along the way. The tour ends with a burnt bridge signifying the separation of Vietnam, followed by a reconstructed bridge showing the unification of Vietnam after the war. One of the more informative museums in Vietnam. Free guides are available in English, French, Chinese and Russian. The displays are labelled in English and French.

Ho Chi Minh's Vestige in the Presidential Palace Area

phone: +84 4 0804 4529

address: 1 Bach Thao, Ba Dinh

The exit from the mausoleum takes you right into the grounds of the, uh, vestige, where Ho Chi Minh lived and worked from 1954 until his death in 1969. The nicely landscaped complex includes two of Ho Chi Minh's houses, kept shiny and "as he left them" by the authorities, as well as a garage with two of Ho's "used cars" and a carp-filled pond. You also get to see Ho Chi Minh's work room and politburo meeting room The presidential palace is nearby, but it's not always open to visitors. Pamphlets are available in English, Chinese, French and Korean. Guided tours are usually available if you wait.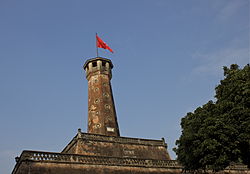 National Museum of Vietnamese History

address: No 1 Trang Tien Street and 216 Tran Quang Khai Street

Actually two museums: one covers Vietnam from prehistoric times to 1945 and the other covers 1945 to present. This museum gives a very informed and detailed account of the Vietnamese struggle against first the French (starting in 1858—on the first floor), then against the US, ending on 30 Apr 1975 (on the ground floor). It is housed in a colonial French building which was completed in 1932. The building, designed by the architect Ernest Hébrard is considered as a successful blend between the colonial French architecture and traditional Vietnamese architecture, called Indochina architecture. He created double-walls and balconies for a natural ventilation system and protection from sunshine.

phone: +84 4 3825 9938

address: 36 Ly Thuong Kiet St, Hoan Kiem District

This often overlooked museum has benefited from an extensive renovation of its permanent exhibitions. The modernised interior is well laid out with information in Vietnamese, English and French, and contains a huge amount of information on the fearsome female heroines of Vietnamese history. There are also exhibitions on the rituals and traditions surrounding women in family, as well as a beautifully presented collection of intricate hand-made ethnic costumes. A highlight is the regularly updated special exhibitions on a diverse range of subjects, from contemporary issues such as single mothers and street vendors to traditional medicine and Mother Goddess worship. English language tours are available on request.
====Further out====
address: Nguyen Van Huyen St, Cau Giay District

Exhibitions cover mainly the culture and ritual practices of the various ethnic groups in the whole of Vietnam. One of the key attractions of the museum is the open-air exhibition, which has houses of some ethnic groups, which even comes with inhabitants in costumes. The museum features actual explanations of the exhibits in Vietnamese, French and English. There is an excellent café on the premises.

Hanoi Museum

address: Pham Hung St, Cau Giay District

Local natural and human history down the ages.

Air Force Museum

address: Truong Chinh St

There's a UH-1 helicopter, Soviet-built MiG fighters, a huge Mi-6 helicopter and other aircraft. Unfortunately they've been exposed to the elements for some time and local children climb over them.
Parks
Hoan Kiem LakeA pleasant park in the centre of town, an easy walk from anywhere in the Old Quarter. It's the locals' favorite leisure spot, and a great place to watch people practising tai chi in the morning or to sit and read in the afternoon. At weekends the park becomes even more popular as the normally busy road around it is pedestrianised, and instead filled with children driving electric cars or riding hoverboards. Hoan Kiem means "returned sword", and the name comes from a legend in which King Le Loi was given a magical sword by the gods, which he used to drive out the invading Chinese. Later, while boating on the lake, he encountered a giant turtle, which grabbed the sword and carried it down to its depths, returning it to the gods from whom it had come. (You can see a version of the legend at the Water Puppet Theatre.) The giant soft-shell turtles, whom Vietnamese biologists assigned to a separate species, Rafetus leloii, resided in the lake until the early 21st century. One of them, who died in 1968, has been preserved by the wonders of taxidermy, and can be viewed in a glass box (sarcophagus?) in a pavilion adjacent to Ngoc Son Temple on the island in the lake.

Ly Thai To Statue & ParkThe park faces Hoan Kiem lake with a beautiful view of the busy Hang Bai St and the serenity of the willows on the bank of the lake. Many locals view this mini-park as their favourite place because it is a symbol of the integration of modernity and tradition. One might encounter a group of youths practising hip-hop, break dancing, or playing foot-badminton, while at the same time seeing a three-generation family enjoying a walk in the park.

Ho TayMostly a residential hub of the well-to-do. Hotel Intercontinental and Hanoi Sheraton are on this lake front.

Lenin Statue & ParkYou can always feel the diversity and liveliness of Hanoi there. In the morning, there are low-energy aerobics class for elders and aerobics class for the young in the morning. During the day, one can enjoy the tranquility in the park since everybody is either at work or in school. In the afternoon, it becomes a playground for children, students, soccer teams, and badminton players.
Temples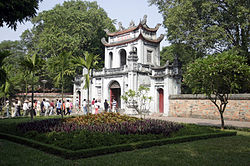 Bach Ma Temple

address: 76 Hang Buom St, Hoan Kiem District

Time: the 12th to the 13th day of the second lunar month. Objects of worship: Bach Ma God (the symbol of the sun god), Long Do God ("the god who defends the east"), confer a title of "Thang Long Capital of Nation royal tutelary god". Xuan Nguu presenting rite.

Ngoc Son TempleLocated on a small island in the Hoan Kiem Lake, connected with the mainland by a bridge. With small but attractive grounds, the temple displays on Vietnamese history and, more memorably, displays on the giant turtles, including a mummified specimen (who died in 1968). The two on-site gift shops vend a variety of souvenirs, many of them turtle-themed.

Temple of Literature

address: Quoc Tu Giam St

The Temple was founded in 1070 and became the country's first university six years later. The overall design is somewhat similar to the "original" Confucian Temple in Qufu, with 5 courtyards. Most of the architecture is named with titles indicating reverence to literature and language itself. The showpiece of the complex is the third courtyard with eighty-odd stone tablets, each mounted on the back of a tortoise (known as bixi in Chinese), inscribed with the names of graduates. Another courtyard is full of gift shops, which also sell stamps, coins, and books. A reduced-size replica of the famous giant softshell turtle (the original being at the Ngoc Son Temple at the Lake of the Returned Sword) can be seen in one of the pavilions as well; it was made by Vietnamese artisans out of ceramic, and gold-plated. The fourth courtyard contains a temple and statues devoted to Confucius and his four disciples. The fifth and last courtyard, which was recently built, contains a mini-museum showcasing information on Emperor Lý Thánh Tông and his successors who built and renovated the temple. You may find a Vietnamese band playing local instrumental music in front of this museum. There are explanatory wall-hangings in English and French all along the way, and you don't need a guide.
Miscellaneous
Hanoi CitadelBuilt as a residence for the Vietnamese king, the citadel was mostly destroyed by the French, used as a military headquarters during the Vietnam War and nowadays it is described on the UNESCO World Heritage list as "Central Sector of the Imperial Citadel of Thang Long - Hanoi".

St. Joseph's Cathedral

address: Nha Tho, Hoàn Kiếm District

A late 19th-century Gothic Revival church that serves as the cathedral of the RC Archdiocese of Hanoi. Built in 1886, the exterior is gaunt and grey, but within is light and peaceful. Mass is held several times a day, and for Sunday evening mass at 18:00 the crowds are huge: the service is broadcast to those outside who can't get in.

Presidential Palace

address: 2 Hùng Vương, Ngọc Hồ, Ba Đình

Completed in 1906 as the residence of the French Governor-General of Indochina. It became the official residence of the President of North Vietnam following independence in 1954, and later of the President of Vietnam following reunification in 1975. Ho Chi Minh was said to have refused to live in the palace for symbolic reasons, though he used it to receive state guests. The building itself is not open to the public, but you can view it from the outside and take photographs.
Wartime sites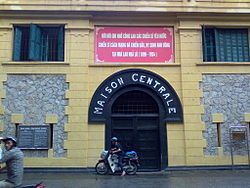 B-52 Lake

address: Ngoc Ha Precinct, Ba Dinh District

Until 19 Dec 1972, this was just a small brackish pond just off Hoang Hoa Tham St, about 1 km west of the mausoleum. On that day, in a twisted retelling of the Hoan Kiem legend, Vietnamese anti-aircraft missiles blasted the enemy's eight-engine, 100-ton aircraft and sent it to the shallow bottom of the lake, where it remains today.

Downed Aircraft MemorialA stone plaque commemorating the shooting down of a US Navy (not "USAF" as depicted) aircraft in 1967. Read the Vietnamese script and you can pick out the name of John McCain, the late U.S. senator, one of the airmen.

Hoa Lo Prison

address: 1 Hoa Lo, Hoan Kiem

This prison was built by the French at the turn of the 20th century, in classical French prison design. This is where the French imprisoned and executed Vietnamese freedom fighters. It is now a museum since two thirds of the prison was torn down to make way for the Hanoi Towers, the museum exhibits the plight of the jailed political revolutionaries, their plight under the French colonial regime and the struggle of the Vietnamese people against imperialism in chilling detail. The prison was also known as the "Hanoi Hilton" during the Vietnam War as it held US POWs. Little emphasis is given to this period however, and to some the exhibits may seem to be propaganda, such as showing photos only of prisoners being treated well and playing basketball and playing chess. The museum claims to have John McCain's flight suit from when his plane was shot down. Most of the exhibits are self-explanatory in English and a guide may not be required. You can still get one for 25,000 dong.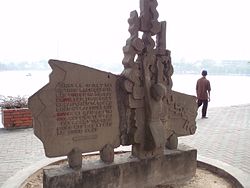 Do
phone: +84 979 545 707

address: 11A Nam Trang, Truc Bach

An alternative tour experiences platform, they enable locals to offer authentic and unique activities to tourists such as silk weaving, wood carving workshops, paper stencilling, traditional music instruments and even a course where you can make your own traditional paper masks or leather products with local craftsmen. A social enterprise, they work with many underprivileged people who either serve as hosts or facilitators/guides. A great way to interact with local people and take in the culture.
Cinemas
August Movie Theater

CGV Cinemas (formerly Megastar)

address: 191 Ba Trieu

The movies are relatively new, perhaps one or two months later than in the US. The movies are not dubbed although there are subtitles so both non-Vietnamese speakers and locals can enjoy them.
Cooking classes
address: 49 Lane, 49 Huynh Thuc Khang St

address: 94 Lane, 49 Lo Duc St

phone: +84 4 3715 0088

address: 44 Chau Long St

Cooking school, retail outlet and beautiful courtyard cafe with an excellent menu of Asian and Western favourites. Hands-on cooking classes and short courses in a relaxed atmosphere.

address: 137 Nghi Tam Rd (aka Duong An Duong Vuong), Tay Ho

Hidden Hanoi runs walking tours and cooking classes. There are many options including the 1 hr walking tour of the local market, followed by the 3 hr cooking class. Cooking class menus change daily, and there are other walking tours available. They also run language classes, and there is a dance school in the same building.

Vietnam Culinary SchoolFully equipped facilities to learn Vietnamese cooking. A typical day will commence with a visit to the morning market accompanied by an instructor to select ingredients for your cooking lesson. The class will be followed by a meal in a restaurant sampling your own cooking as well as traditional Vietnamese dishes.

address: 60 Tran Nhan Tong
Gym
No Name

address: 88 Hang Buom St

If you want to do some mild weight training on a budget. Locals apparently pay 130,000 dong/month. Be aware, however, that the gym is in very poor condition. The floor is hazardous and no one will spot you while benching so ensure your last rep you are able to place the bar back or go with a friend. The front of the gym is full of scooters and the rear wall has pictures of Uncle Ho exercising. Drinks are 10,000 dong.
Pampering
SF Salon and Spa

phone: +84 4 926 2032

address: 30 Cua Dong, Hoan Kiem

Nice, not too expensive spa with a range of services, including massages, manicures/pedicures, facials. They will pay for your one-way taxi fare to the spa. Friendly staff.
Rock climbing
phone: +84 9 1454 8903

address: So 40 Ngo 76 An Duong

200 m² climbing surface, a 50 m² café & terrace to chill out, and a climbing pro-shop. Also a great place for finding out where to climb immediately outside of Hanoi.
Theatre
Thang Long Water Puppet Theatre

phone: +84 4 824 9494

address: 57 Dinh Tien Hoang St

Musicians accompany folk legends from Vietnamese history, told with wooden men, women, and dragons, dancing and splashing on the face of the water. The narratives are sung in Vietnamese, but lyrics are available in several languages. Or just ignore the dialogue and narration and focus on the special effects. There are several performances throughout the day. Don't worry about getting wet, but the seats are very small, and visitors with above-average height will have to squirm a bit.

Hong Ha Theatre

phone: +84 984545228

address: 51 Duong Thanh Street (Inside Old Quarter)

Hát tuồng (Hanoi: ) or hát bội (Saigon: ) is a form of Vietnamese theatre. Hát tuồng is often referred to as classical "Vietnamese opera" influenced by Chinese opera which combines acting, singing, and dancing. Tuồng employs the use of stock characters who are recognizable from their make-up and costumes, which are typically very elaborate and extravagant.Usually, a character's personalities can be revealed through three features: the color of the face, the eyebrows, and the beard.
In this 1 hour show, the artists will perform most interesting, unique and typical recitals from famous Tuongs (which typically last 1-2 hours). The show starts at 18:00 but from 17:30 the theater is open so the guests can interact with the artists, observe the performance preparation and try to sing, dance, play drum with the artists and enjoy traditional royal tea. The english leaflets will be provided for every guest which will introduce the content of each recital throughout the show.

phone: +84 90 219 5650 (VI), +84 90 703 3553 (EN)

address: 42 Trang Tien street

"Four Palaces" refers to the belief in the worship of Four Mother Goddesses, including Mother Goddess of Heaven, Mother Goddess of Forest, Mother Goddess of Water and Mother Goddess of Earth.The late 19th and early 20th centuries were the most flourishing periods of Mother Goddess religion in Viet folklore. There are times when Mother Goddess religion is considered as a manifestation of superstition and thus prohibited. However, the rituals of "Tứ Phủ" (Four Palaces), known by several other names, for instance, Tứ Phủ Công Đồng or Four Palaces Council, hát văn, chầu thánh, etc., still have a remarkable presence and strong reflection in Viet folk arts for several reasons:
1. Four Palaces is considered as a medium of lively communication of humans with Gods or Saints, divine beings who are familiar to Vietnamese both spiritually and in real life. The communications are organized as rituals by psychics or mediums who play roles of middlemen connecting people to divines. As such, it connected with Vietnamese in general.
2. Four Palaces is a lively form of art which collected many materials of folk arts, for example, hát chầu văn or chầu thánh (a traditional folk art which combines trance singing and dancing) and rites (ceremonies) as well as music with drum, flute and folk instruments; ritual dancing, rites of hầu đồng (hiển thánh) or ritual dress of sorceresses, etc.
You can buy ticket online via website https://viettheatre.com/en

phone: +84 4 3943 7361

address: 15 Nguyen Dinh Chieu Street

Chèo (Vietnamese: ) is a form of generally satirical musical theatre, often encompassing dance, traditionally performed by Vietnamese peasants in northern Vietnam. It is usually performed outdoors by semi-amateur touring groups, stereotypically in a village square or the courtyard of a public building, although it is today increasingly also performed indoors and by professional performers. Chèo stage art is one of the great cultural heritage of the Vietnamese folk treasure. Chèo has been a popular art form of the Vietnamese people for many generations and has fostered the national spirit through its lyrical content. Show Long Thanh Dien Xuong introduces to the visitors different types of folk arts/performances which used to be common in the history, when Hanoi was the royal capital of Viet Kingdom: cheo, ca tru, chau van, xam, water puppet.
Buy
Many places accept US dollars, and cash is king. Most shops quote much higher prices for tourists (including Vietnamese people from other regions) than for locals, and the belief that tourists are rich and hence should pay more than locals is firmly entrenched in the local culture. As such, most vendors will insist that as a tourist, you pay the tourist price and will refuse to let you bargain the price down to the local price even if you know what it is. If you have a trusted local friend, you can save a fair bit of money by getting your friend to buy the item you want in your absence.
ATMs
ATMs are common but the vast majority have a transaction limit of 2 million dong. They charge varying fees and a single ATM can charge different fees for different cards - once you've found a cheap one, stick with it.
Exceptions to the low transaction limit include the local Techcombank and Military Bank, and the international (and rarer) ANZ (
ATMs
), HSBC (
ATMs
) and Citibank, with higher transaction limits of 5,000,000-7,000,000 dong for MasterCard and Visa. You should expect to pay an ATM fee of around 40,000 dong, but reported fees range from 0 to 150,000 dong (both for HSBC). HSBC ATMS in the Old Quarter have limits of 8,000,000 dong with a 150,000 dong fee, which is still more economical than making multiple withdrawls (April 2017).
The airport, top end hotels such as the Melia, Sheraton and Sofitel Metropole, and expat-oriented shopping centres such as Hanoi Towers and the Syrena Centre in Tay Ho are a good place to find international ATMs. Google Maps is also reasonably accurate.
Books and maps
phone: +84 43 715 3711, +84 912 561800

address: 44 Chau Long (Hanoi Cooking Center)

New and used books.
Small Vietnamese bookstores (nhà sách) line Phố Đinh Lễ St, just south of the large post office east of Hoan Kiem Lake. Most of them stock a variety of bilingual dictionaries, but hardly any books in English. Among them, as of 2016, Nhà Sách Lam seemed to have the best selection of maps (both Hanoi City and Vietnam regional).
Most of the numerous souvenir shops inside the Temple of Literature (see under Museums; admission fee needs to be paid to get in) also carry a selection of books about Vietnam in English and other foreign languages (French, Spanish, Japanese, ...), as well as culture- and history-oriented books in Vietnamese. Not a good place to shop for dictionaries or maps, though.
Markets
Cho Hom

address: Pho Hue

A huge range of goods, and famous for the fabric market on the second floor. There are many kiosks selling different types of fabrics ranging from cheap, affordable to best quality with a high price. When shopping, take your time and never rush into buying anything. Sellers often quote a very high initial price that you can bargain down considerably.

Dong XuanFamous for being the market for wholesalers. They have school supplies, stuffed animals, clothing. It is quite an experience to spend some time in the market observing the sellers and buyers.

Hang DaA 6-storey building to house the market is under construction. All the kiosks are now in the neighbouring area, either on Phung Hung (second-hand clothing), Duong Thanh, or Ly Nam De Streets. Sell a huge range of goods including pets, groceries, prepared foods and fabrics. It is now mostly empty.

Night MarketThis market gathers on a walking street in the old quarter. Has anything from pirated DVDs to traditional ornaments. Prices are negotiable, but watch out for the "foreigner pricing" which is fairly common.
Supermarkets
Although most grocery shopping still happens in street markets (see above), supermarkets and convenience stores are becoming more common. As well as local mid-level and luxury brands, many supermarkets stock imported products such as California pistachios and almonds, European cheese, chocolates and wine, Korean kim chi, or Japanese seaweed snacks. Consumer staples, such as fresh produce or tofu may be considerably more expensive than in traditional markets.
Vinmart
is a fast growing chain of convenience stores and by far the most common brand in Hanoi, offering a selection of fresh products (including the "clean" Vineco range with less pesticides) as well as the staples you'd expect at similar stores worldwide.
L's Place
has a few branches, including one just south of the Hoa Loa prison on Ly Thuong Kiet and focuses on the expat market.
Aeon Fivimart
is a large supermarket with a central branch east of Hoan Kiem Lake (27A Ly Thai To, at Tran Nguyen Han). The similarly named but separately owned
Aeon Citimart
is in Hanoi Towers on the site of the former Hoa Loa prison. Meanwhile the huge but further afield
Lotte Mart
, located in the basement of the Lotte tower (a high-rise building at the corner of Kim Ma and Sanh Lieu, a few blocks south of the West Lake - the word "Lotte" on the tower makes it easy to find), may be one of the best of the breed, with a good bakery and cafeteria section. Open 08:00-22:00.
If you've a particular desire to spend two or three times the usual price on a selection of boutique imported Western goods (French Comte cheese, Iberico ham, British ale),
Annam
have a store in the Syrena Centre on Xuan Dieu in Tay Ho.
Money changers
Money changers found in most guest houses and banks give bad rates. Jewellery shops consistently offer a better rate, the best ones are located along Ha Trung Rd (5-min walk from Hoan Kiem Lake) and Hang Bac. Just walk into the shop and ask them if they change money. Ask 5 or more shops to see which one gives the best rate. Don't exchange money from the black market people on the streets.
Miscellaneous
Contact lens solution is rare in Vietnam, and many pharmacies don't stock it. The pharmacy at the corner of Trang Tien and Dinh Tien Hoang (southeast corner of Hoan Kiem Lake) may have some in stock.
Eat
Since the mid 1990s, Vietnamese cuisine has grown in quality and variation. Most famous remains "pho ga" (chicken noodle soup), "pho bo"(beef noodle soup), or "pho chay" (tofu noodle soup). There are various dishes including chicken, beef, fish and seafood, and there are hundreds, if not thousands, of restaurants nowadays in Hanoi catering to everyone's taste.
In Hanoi, there are hundreds of
street restaurants
in small kiosks on the sidewalk, with plastic tables and chairs on the pavement. Eating at these restaurants is a great way to experience the local food and culture. It is worth mentioning that food quality, freshness, and hygiene can vary greatly. A bowl of noodle soup goes for 30-40,000 dong (Apr 2015) and market food stalls offer fruit portions, sausages, doughnuts and other foods for 10,000 to 20,000 dong (Jan 2011). Check your change as a few vendors seem to forget to give it, and learn a little Vietnamese because vendors often will not speak any or much English.
Exotic treats
Next to Beijing, Hanoi is probably the second in the running to the world's exotic food paradise.
Snake RestaurantsThe suburb of Le Mat (aka Snake Village) has numerous restaurants specializing in cobra foodstuffs. Live cobras are stored on the premises much the same way one would find live lobsters at a Western seafood restaurant. If one orders cobra blood wine from the menu, the waiter will take a live cobra, kill it on the spot, drain the blood into a shot glass of rice wine and top it off with the cobra's still beating heart for you to gulp down. Not for animal lovers or the ecologically-minded. Cobras are not cheap, at around 400,000-1,000,000 dong (USD50+), but one snake becomes a dozen unique dishes, and enough to share between 3-4 people. Rượu rắn is cobra steeped whole in rice wine – or, especially in tourist areas, perhaps a cheaper, non-poisonous snake with similar coloring whose body has been stretched to give it the expected shape. Carefully investigate customs restrictions before deciding to bring a few bottles home, as some of the snakes used are endangered species.
A local delicacy in the Hanoi area is
dog meat
(
thịt chó
), which is especially popular in the winter. There are a number of dog restaurants in the Tay Ho district. Another exotic regional taste is
ca cuong
, an extract from the
belostomatid
or
giant water bug
. Just a few drops are added to noodles for the unique aroma.
Boiled duck foetus eggs are sold by pedlars almost everywhere, and cost about 5,000 dong. The experience consists of the vendor cracking the egg in front of you, and peeling the shell and dropping the contents in a plastic bowl, then garnished with julienned ginger, basil leaf and sprinkled with chili sauce. You can see the severed head and beak of your chick that fell off if you are lucky enough to have your first bite from a different spot.
Budget
phone: +84 16 9777 6666

address: 1 Hang Manh, 67 Duong Thanh

Some rate this as one of the best examples of bun cha in Hanoi, and therefore Vietnam (apparently in the south, bun cha is specifically advertised as Hanoi-style). For 100,000 dong each, you'll get a bowl full of tiny minced-pork rissoles that have been char grilled over an open flame and a massive plate of pork rice paper rolls that have been fried in oil twice. With this you also get a phenomenal dipping sauce (fish sauce, made from sugar, garlic, peppers usually), a massive plate of greens and herbs and more bun (rice noodle) than you can handle. It is now more touristy than it used to be. Great food, but expect rude service.
Bun Thang (noodles in chicken broth) No. 32 and 48 Cau Go Street. It would be a shortcoming if you skip Bun thang. Bun thang looks simple but the way of processing it is very complicated. The main ingredients to make this noodle include fried chicken eggs, chopped chicken breast, pork pie and the rice noodles.

Cafe 69

address: 69 Ma May St

Good place to eat Western food in the heart of the Old Quarter, although some visitors have found it expensive and the food inferior.

The Cart Nghi Tam

phone: +84 4 3718 6967

address: 8B, Lane 1 Au Co, Nghi Tam Village, Tay Ho

Good for an early breakfast or a takeaway coffee. Their bacon baguette with back bacon is a rarity in Hanoi. Try the meat and potato pie or the veggie cheese, onion and potato pasty.

Com Binh DanInexpensive, home-cooked Vietnamese meals.

Com Chay Au Lac

address: 277 Ngo Van Chuong

Typical local vegetarian restaurant like you'll find everywhere in Vietnam except Hanoi, a little off the beaten track in an atmospheric alleyway.

Com Chay Nang Tam Vegetarian Restaurant

phone: +84 9 36 42 41 40, +84 24 39 42 41 40

address: 79A Pho Tran Hung Dao

This excellent restaurant is a good vegetarian option, and will please both vegetarians and non-vegetarians with its wide range of innovative dishes, which include fake meat dishes. Restaurant is comfortable with good ambience, and is good value. Well worth the short walk out of the old town.

Hebe Cafe

address: 33 Luong Van Can St

Cheap local and Western food.

Huy Café & Pizza Inn

address: 32 Dinh Liet St

Large Italian dinner combo (garlic bread, soup/salad, pizza/pasta, drink).

address: 22 Ly Quoc Su, & 54 To Ngoc Van

Fair-trade certified, organic coffee. A good range of freshly made sandwiches, other savouries and cakes. Excellent breakfast menu and lunch/dinner options.

Kem Tràng Tiền

address: 54 Phố Tràng Tiền

Popular spot for ice cream on a hot day. Beware of motorbikes when entering the establishment, since it is sort of a drive-thru/drive-in ice cream shop. Recommended is the local cóm or đậu xanh flavours.

Papa Joe's Coffee

phone: +84 4 926 2544

address: 112 Cau Go

Despite the name, this is a restaurant, serving pasta, soup, salads, sandwiches and burgers including vegetarian option. Pizzas leave a lot to be desired. Drinks and desserts. A small balcony affords a view over the frantic traffic square and the shores of the Hoan Kiem Lake below.

PhoAll of the soups and sides include beef (bo), so this isn't for vegetarians.

Pho Tu Lun (Au Trieu)

address: 10 Ly Quoc Su

Many pho varieties.

Quan An Ngon

address: 18 Phan Boi Chau St

Wide range of choices of dishes from everywhere in Vietnam at reasonable prices. Limited seating and many customers, so a wait is certain. Fortunately, they have a large seating area so customers do not have to wait long. Serves both lunch and dinner.

Quan Bia Minh (Minh's)

phone: +84 4 3934 5323

address: 7A Dinh Liet

Popular restaurant with lovely casual upstairs terrace. Minh speaks English well and keeps her staff attentive. Variety of Western, vegetarian and Vietnamese food. Reasonably priced.

Sen (Lotus)

address: 10 Lane 431, Au Co Rd, Tay Ho District

Buffet-style restaurant. They have a wide range of dishes from many regions in the country. The dishes are divided into stations where customers can order noodles, rice cakes or rice vermicelli. Serves both lunch and dinner.
Tinh Dau Vape, 266/17 Nguyen Van Cu st, Long Bien, Hanoi
Mid-range
Cam Chan Quan

phone: +84 12 3259 7696

address: 108 K1 Giang Vo St & Ciputra Entrance

This eatery has 2 outlets. The one at Ciputra Estate entrance has staff that speaks English, Chinese, and Vietnamese. A good pit stop for those craving for Asian food upon arrival or before departure, as they are at the mid-point of the city and airport. They serve Asian fare, Singaporean-influenced. Free Wi-Fi. Clean toilets. Their noodles as their not the usual pho, but a more typically Singaporean.

Cha Ca La Vong

address: 14 Cha Ca St & 107 Nguyen Truong To St

This establishment is so famous, the street is named after it. There's only one dish on the (Vietnamese-only) menu, fried fish in grease, but they've been serving it now for five generations. The traditional shrimp paste is now an optional extra. If you really love fish and shrimp, this experience might be for you. Authentic as it may be, it is a rip-off according to the locals. For the same price, you could eat 3 meals at a decent cafe street-side.

Ciao Cafe

address: 2 Hang Bai St

Cosy place for coffee and cake. Not full of cigarette smoke Unlike many other cafes in Hanoi.

Huong LyThis is a fantastic bar and restaurant on the ground floor and top floor of a building. The middle floor is a clothes shop. Fantastic food, serving anything from traditional noodles to salmon steak, beautifully presented and delicious. Friendly staff.

Huyen Houng Restaurant

phone: +84 4 828 8430

address: 20 Bao Khanh

Choose from a wide variety of seafood dishes (many of which are swimming around in tanks) and other Vietnamese specialities. Friendly staff complements the tasty food.

Kaiser Kaffee Restaurant

address: 34A Ba Trieu

Interesting little place which has excellent Vietnamese and Western food.

Little Hanoi

phone: +84 4 928 5333

address: 21 Pho Hang Gai

Upscale cafe serving mainly Westerners in a pleasantly lit restaurant.

MediteraneoAuthentic Italian food, probably the best you'll get in Hanoi. Prices are steep and portions small.

Moka CaféExcellent selection of Western and Vietnamese food served in a coffee shop environment.

phone: +84 4 39974861

address: 7 Nguyen Sieu

Small, warm restaurant with both local Vietnamese and Western food. Good quality and affordable prices. You can have traditional Vietnamese food: cha ca, bun cha, pho, nem (spring rolls), also can have very good crepes. All very good quality in a nice decor.

Paris DeliOffers delicious European fare for hearty appetites.

Pepperoni'sPart of a small international chain of pizza restaurants. Locally run, they do regular special offers such as free desserts, eat-all-you-can buffets and loyalty schemes, whereby collecting tokens with each take-out entitles you to a free pizza. Pizzas, burgers, ice cream and apple crumble.

La SalsaFrench food and expat hang-out.

phone: +84 4 926 0580

address: Ma May 80

Has a menu full of inventive vegetarian dishes, lots of fresh fruit juices, and a relaxed, stylish interior. Don't come here if you're hungry as the portions aren't very big, and it's a tad pricey.

phone: +84 4 3938 1451

address: 61 Hang Gai

One of the Hanoi's best shops for fashion where you can also get nice Asian and Western foods in a cosy ambience.
Splurge
Drink
Bia Hơi
is abundant in the streets of the Old Quarter. At the crossing of
Ta Hien
and
Luong Ngoc Quyen
five separate venues fill up with travellers in the evenings, but you can get more local atmosphere on some of the side streets.
Hanoi is a lively city on the weekends, but the Old Quarter closes relatively early (at midnight) on weekdays, so you might want to start your night early. Other places outside the Old Quarter stay open later and vary in closing times. Local young people gather around the cathedral located in Ly Quoc Su to have lemon ice tea (tra chanh) and sunflower seeds in street bars. After dark it gets quite crowded.
Sit on a plastic chair in front of one of the bia hoi (fresh beer) establishments which are invariably situated on the corners of many of Hanoi's Old Quarter streets. This preservative-free light beer is the perfect drink to sip as you watch the city's frenetic bustle. The beer costs less than 5,000 dong and gives you an excuse to relax and take photos of the passing local characters: should not be missed. In the Old Quarter, you will find that almost every corner is filled with stalls selling pho (Vietnamese noodle) and cafe (the name is not limited only to coffee, but also tea, sweets and grocery items, and even to pho).
On
Tô Tich
, a small street connecting
Hang Quat
and
Hang Gai
, you can help yourself to a refreshing fruit milkshake (
sinh tố
) at one of the stalls (~7,000 dong).
Breweries
If you are looking for something less watery than Bia Hoi, excellent freshly brewed Czech or German-style beer is available at several breweries, including: Hoa Vien (Czech), Goldmalt (Czech), Legend beer (German), with several branches around the city; prices are around 45,000-60,000 dong for 0.5 L. The craft beer revolution that's been simmering in Ho Chi Minh City since 2014 has been slow to reach Hanoi, but a few breweries are now coming online, although prices are higher still and 100,000 dong might not even get you 0.5 L.
Bars
Green Lake (Ho Guom Xanh)

address: 32 Le Thai To

A crowded bar with weekly performances by popular local singers. A place for the definitive Vietnamese entertainment scene. Has an 80,000 dong cover charge on the weekends. Seems to combine part live singing with drag performances and a host club.

Mao's Red Lounge

address: 30 Ta Hien, Hoan Kiem

Small, but lively bar in the heart of the Old Quarter. Has two levels, the top floor which is usually packed with Westerners smoking loads of cigarettes. Mao himself is usually in presence, playing all kinds of music from his iPod. He's extremely friendly and will strike up a conversation with anyone willing to listen. Daily specials and LaRue for about 20,000 dong.

address: 1 Trang Tien, Ha Noi

This longtime institution of the Hanoi music scene is still run by the same Mr Quyen Van Minh. It seems to move venue every couple of years, so worth checking in advance. In 2015 it was in an alley behind the opera house. No cover charge, beers get more expensive (around 75,000 dong) shortly before the music starts at 21:00, but cocktails are the same price (around 100,000 dong). Offers food.

Standing Bar

address: 170 Trấn Vũ, Trúc Bạch

Wide variety of Vietnamese craft beer, mostly from the south, but with a limited selection from the local Long Bien brewery. Despite the name, seats are available upstairs.
Coffee
Highlands CoffeeOn the 3rd floor in a ship-shaped 5-storey building overlooking Hoan Kiem Lake and Vietnam's "Piccadilly Circus". Great spot to relax in scenic location where you can watch all the traffic and pedestrians go about their business below you along their outside balcony or stay inside their comfy air conditioned interior. They also serve food and beer.

Cong CapheSeveral locations across the city, although the most central is probably the one at 54 Ma May. Serves various coffees, chocolates and teas including their speciality coconut coffee smoothie (around 45,000 dong). Popular with a young and relatively hip but well off crowd, and open late.
Sleep
Budget
See
common scams
; they're more prevalent at the budget end of the market, but no more in Hanoi than in other cities.
Old Quarter North of Hoan Kiem Lake
The heart of the Old Quarter - potentially noisy and busy - but closest to the bars on Ma May and Ta Hien.
Around the Cathedral
The narrow streets around St Josephs cathedral offer a (relatively!) quieter and less hectic option than the main part of the old quarter, which is still only a five to ten minute walk.
Mid-range
Splurge
Stay safe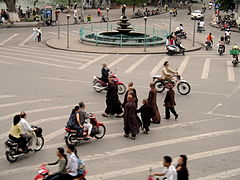 Walking the streets of Hanoi is not for the faint of heart. As is the case everywhere in Vietnam, traffic in Hanoi is dominated by an incredible number of motorbikes, all of which seem to be making a mad, desperate dash for something just out of reach, all of the time. The simple act of walking can be intimidating for visitors, especially in the narrow streets around the Old Quarter.
There is no such thing as one-directional traffic in Vietnam. When you leave the curb, look not only left and right, but to the front and back. Even up and down would not be amiss. Take each step deliberately but resolutely. Patiently allow the motorbikes to pass. Don't rush. Do not make any erratic movements. This way the drivers are aware of you, and can anticipate your vector (along with all of the other motorbikes). It may look chaotic, but be patient and pay attention when you're crossing any street, large or small, and you will be fine.
Be vigilant when taking a taxi. Drivers have been known to jump out at the destination and remove most of the bags from the trunk. While the passenger is busy putting on a rucksack the driver takes off with the remaining bags. Ask your hotel which taxi companies are reliable.
Be careful of hustler hawkers. In Vietnam, there is a two-tier pricing system, for locals and for foreigners. No other place in Vietnam is this practised more emphatically than in Hanoi (and in Ho Chi Minh City's Ben Tanh Market) where vendors charge differently according to how they gauge your net worth.
Pickpockets
You've read warnings about pick pockets a hundred times, but in all of Asia, it's rarely as true as for Hanoi's busy and narrow Old Quarter or the Dong Xuan Night Market. The crowd, the loads of tourists, the distraction of heavy traffic and the narrow confines guarantee opportunities for thieves. And the general belief that tourists have too much money creates a moral climate in which thieves abound. Even if you're attentive, you'll get some pockets of your backpack opened, maybe even twice a day. Expect female pickpockets. Don't let them surround you. Approaching you with "Hello, I'm a student" seems to be a quite popular pick-up line for them, so be forewarned.
Stay healthy
Public hospitals are generally poorly equipped and overcrowded, and staff tend to speak little to no English. As such, foreigners are highly advised to rely on private hospitals instead.
Vietduc University HospitalIs Vietnam's best-regarded private hospital with treatment standards that are on par with the West, and also staffed by doctors and nurses who are able to speak French and English.

Bác sĩ chuyên khoa Thận - Tiết Niệu

phone: 0846 138 138 (domestic)

address: 138 đường Khương Đình, Phường Hạ Đình, Quận Thanh Xuân, Hà Nội

expatriate-oriented private hospital with international accreditation and English-speaking staff
Connect
Telephone
Hanoi code: 4. Note the "3" that has been added in front of all local numbers. Examples:
Old dialling style: 1234567 (from within the city) or 04 1234567 (inter-provincial) or +84 4 123456 (from overseas)
New dialling style: 3 1234567 (from within the city) or 04 3 1234567 (inter-provincial) or +84 4 3 123456 (from overseas)
Internet
There are plenty of Internet cafés all over the city. Most are used by Vietnamese teens playing online dance or battle games. Rates vary, but can be as low as 3,000 dong/hr. Some of the better cafés, particularly in the Old Quarter, have computers that are Skype-capable for international phone calls. The cafes that charge you for using the Internet usually provide desktop computers. There are also cafes where they have free wireless. All you have to do is order something from their menus and use their Wi-Fi for as long as you want. The Wi-Fi cafes are concentrated around Hoan Kiem Lake.
Cope
Embassies
Argentina

phone: +84 4 3831-5262

address: 4F, Sentinel Pl, 41A Ly Thai To St

phone: +84 4 3774-0100

address: 8 Dao Tan St

phone: +84 4 3845-3736

address: 46 Hoang Dieu Rd

phone: +84 4 3845-4131

address: 13 Chu Van An St

phone: +84 4 3823-1888

address: 19 Dien Bien Phu St

phone: +84 4 3829-4999

address: 63 To Ngoc Van St, Tay Ho

phone: +84-4-3826 6788

address: Central Building, 31 Hai Ba Trung

phone: +84 4 3944-5700

address: 57 Tran Hung Dao St

Greece

phone: +84 4 3715 2254, +84 4 3715 2263

address: 28 Thanh Nien Rd, Tay Ho District

India

phone: +84 4 253409, +84 4 252310

address: 58-60, Tran Hung Dao

phone: +84 4 825 3353, +84 4 825-7969

address: 50 Ngo Quyen St

phone: +84 4 3825-6256

address: 9 Le Phung Hieu

phone: +84 4 3846 3000

address: 27 Lieu Giai, Ba Dinh District

Malaysia

phone: +84 4 3734 3849

address: 43-45 Dien Bien Phu

phone: +84 4 3831-5650

address: 6F, Daeha Office Tower, 360 Kim Ma St

phone: +84 4 3974-8900

address: 10F, Vincom City Towers, 191 Ba Trieu St

Pakistan

phone: +84 4 375-62251

address: Villa 44/2, Van Bao Street, Van Phuc Diplomatic Compound

phone: +84 43 8452014

address: 5 Le Hong Phong St

phone: +84 4 833-6991

address: 191 La Thanh St

Visa application for foreigners on long-term visa only (3 months+)

phone: +84 4 3848-9168

address: 41-43 Tran Phu St

phone: +84 24 3771 52 07 (08/09)

address: 4 Le Hong Phong, Ba Dinh District

phone: +84 4 3934-6589

address: 15F Hanoi Central Office Bldg, 44B Ly Thuong Kiet St

phone: +84 24 38335501

phone: +84 4 382-35092

address: 63-65 Hoang Dieu St

phone: +84 4 3734-4484

address: 6 Le Hong Phong St, Ba Dinh District

United Kingdom

phone: +84 4 936-0550

address: Central Bldg, 31 Hai Ba Trung

phone: +84 24 3850-5000

address: 7 Lang Ha Street
Immigration office
Immigration Department

phone: +84 4 826-6200

address: 40A Hang Bai

For visa extensions.
Go next
If you are the adventurous type or simply bored temporarily of the city atmosphere, then consider a circuit through the northern countryside. A round trip will take you to a lot of charming villages and through hills and valleys with charming views. Main roads are generally in good condition and you can easily do a couple of hundred kilometres a day. The villages and provinces are generally safe at night, and you get to see a lot of Vietnamese culture such as various tribespeople. While bus services are available (albeit not always reliable), a recommended alternative is to rent a bike or car and make the trip on your own. Motorbikes in decent quality can be rented for as little as USD5 a day, and many places have suggestions for routes.
Ha Long Bay's spectacular ocean karst topography is the most popular side-trip from Hanoi.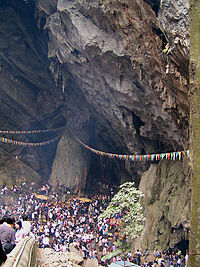 Perfume PagodaAn ancient Buddhist pilgrimage site about 60 km southwest of Hanoi. A full-day excursion that involves a boat trip to the main site, where you will hike (30-45 min) or take a cable car up a mountain. Near the top is a large limestone cave containing Buddhist shrines and statues. There are various other temples and grottoes along the way.

Bat Trang, a village famous for its pottery, 9 km southeast of Hanoi. It is accessible by taking Bus 47, which originates at Long Bien. Just hop on (the bus will be clearly labelled with the number 47 and the text "Long Bien - Bat Trang"; bus fare is ~5,000 dong one-way. Take it to the last stop, which is directly opposite the pottery market (haggle for lower prices, and insist on paying in dong). Head back up the street to the factories to the products being made.
Cao Bang, featuring the beautiful Ban Gioc Waterfall, is five hours away by bus, near the Chinese border.
Cuc Phuong National Park, is the largest national park in Vietnam and an easy day-trip from Hanoi.
Co Loa is the oldest ancient capital in the region; a little-visited site slightly northeast of Hanoi.
Tam Coc/Hoa Lu in Ninh Binh Province, is a day trip is combining heritage tourism and natural landscape tourism. Hoa Lu is the site of the first capital of Vietnam in the 10th century, and was home to two kings, Dinh Bo Linh (Dinh Tien Hoang) and Le Hoan. There are now two shrines dedicated to these two kings. About 30 min away from Hoa Lu is Tam Coc , also known as Halong Bay on land. It features karst landforms surrounded by paddy fields, and is accessed by little wooden boats. Boats are for hire at USD3.50/trip, which takes about one hour. This is an excellent alternative to Halong Bay for those who have short attention spans, as the boat trip takes a mere hour versus Halong Bay tourist boats which take 5 hours. One minor annoyance involves peddlers on boats hawking their wares, and your boat rower trying to sell you embroidery. A trip can be booked in Hanoi for about USD20.
Laos, long haul buses to Laos leave from Hanoi daily and can be booked at any travel agent. Buses to Vientiane, USD30, 24 hours; Luang Prabang, USD40-45, 27-30 hours; Vang Vieng, USD37 plus USD8 to transfer to a Lao bus at a junction, 27-30 hours. You will be on the same bus as Luang Prabang, but changes buses at a small town in Lao. Going directly to Vang Vieng is a good choice for travellers looking to skip Vientiane, and just go to Luang Prabang and then onto Thailand. Buses to Southern Laos are available as well. All buses are double-bed sleeper buses.