Haparanda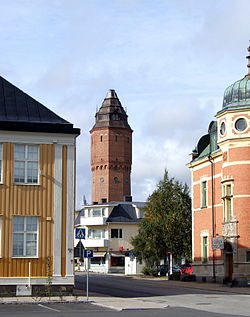 Haparanda
(Finnish:
Haaparanta
) is a city in
Norrbotten
, on Sweden's easternmost point. The
Finnish
town
Tornio
is just across (part of) the Torne River.
Understand
Haparanda has been the easternmost outpost of Sweden since 1809 when Finland was lost to Russia. Haparanda has always been an important trading post, this continues until this day with the world's northernmost IKEA store, bringing customers from all across the
Barents region
. It is a great gateway to the wild north of Scandinavia. Most people here speak all of
Swedish
,
Finnish
and English.
The two towns Haparanda and Tornio are a showcase of cooperation across the border. Not only is the border more or less invisible, with people living, shopping and working on either side, regardless of the other two, or nationality, but there are also e.g. shared police patrols, with one in a pair taking command and responsibility depending on what side of the border they happen to be at.
Get in
By plane
Haparanda has no airport of its own, the nearest one being
Kemi-Tornio airport
on the Finnish side (24 km from Haparanda), where Finnair runs scheduled flights from Helsinki. From there you'll have to continue with the bus service (see
Matkahuolto
), the nearest bus stop of Kemi airport is named
Kemi lentoasema th
. From elsewhere in Sweden, fly to
Luleå
and take the bus to Haparanda.
By train
Although Haparanda has a train station, passenger services won't restart until late 2020. Two daily night trains operated by
SJ
, one from
Stockholm
and one from
Gothenburg
, terminate in
Luleå
with a connecting express bus to Haparanda waiting. If you arrive from Finland, there are seasonal overnight trains by
VR
from
Helsinki
that call in
Tornio
, just across the river. Otherwise your best bet is
Kemi
, with quite frequent connections from all parts of Finland – from there you can take the bus to Tornio and walk across to Haparanda.
By car
Arriving by car is easy since Haparanda is on the E4 with roads in good shape (and close to E8). It is a border town so there is a fair share of heavy duty traffic coming through; see
E4 through Sweden
.
By bus
Express coaches from Sweden are handled by
Länstrafiken Norrbotten
, there are daily connections from cities like
Kiruna
, Luleå and
Umeå
, while some buses come all the way from
Stockholm
.
Resrobot
finds the best public transport routes.
From Finland there are frequent bus connections to Haparanda from
Tornio
and
Kemi
, but some lines extend even to the bus station in
Oulu
. Beware that all buses going to Finland
depart according to Finnish time
, which is one hour ahead of time in Haparanda. The central organization for intercity bus traffic in Finland,
Matkahuolto
, provides schedule and ticket information on their website.
Get around

Ringlinjen connects most part of Haparanda and Tornio, fares are 15 kr for a single trip.

See
Haparanda Archipelago National Park

phone: +46 70 552 7636

The beautiful park includes two large islands, Seskarö and Seskar Furö, and a number of smaller islands and skerries. There is a boat going to Sandskär Island in June . Ringed seals and grey seals can be seen in the waters of the national park.

Church of HaparandaChurch constructed in 1963 to replace the old church of Haparanda that was burned down. Sometimes called the ugliest church in Sweden due to the copper sheet that has darkened over the years.

Stone Age settlementsAt the northern outskirts of Haparanda.

Hermansons Handelsgård

address: Storgatan 74

Hermansons trading house was built in 1832 and it is one of the best preserved buildings in Northern Sweden.

Haparanda Railway StationThe station building was constructed in 1918.

The old water towerLike Paris and Pisa, also Haparanda has a tower overlooking the city!
Do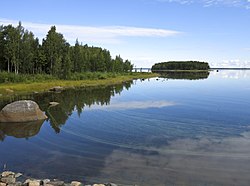 Kukkolaforsen Turist & Konferens

phone: +46 922 310 00

address: Kukkolaforsen 184

Different types of saunas and a fantastic view to the rapids. Local products from Meän Baakeri-bakery. A great restaurant and a café. In the summer time you can participate in long-handle net fishing and river rafting.

phone: +46 70 539 6392

address: Matkakoski 138

Net fishing, fishing from a boat. Try the different saunas and have a barbecue at the grilling area! Also camping places for caravans and campers.

Mattila bärodling

phone: +46 922 102 74

address: Mattila 235

3 km north of Haparanda. Try the local strawberries, black currants and broccoli! You can also buy these delicacies home, and even pick them yourself.

phone: +46 922 601 77

address: Vojakkala 137

Guided nature trips, trips to the forest for mushrooms and berries. Hunting, tractor safaris, clay-pigeon shooting, go-kart track and a smoke sauna. Also a summer café and restaurant. On the premises there is a hostel in a former a gardening and agricultural school. Rooms start at 200 kr.

phone: +46 70 3335 5723

address: Vojakkala 167

An exciting go-kart track situated 9 km north of Haparanda.

Björkagård

phone: +46 70 658 3897

address: Almarksvägen

A small animal farm with a donkey, a shetland pony, mini pigs, reindeers, a goat, rabbits and cats.

address: Norrskensvägen 4

The largest candy store in Europe! A new playground for children.
Events
DiggilooA music event in Haparanda with top Swedish artists.
Buy
Swedish krona and euro are accepted in most stores.
address: Norrskensvägen 2

The northernmost IKEA in the world, Iit and attracts people not from northern Sweden, Norway, Finland and Russia. The largest candy store in Europe among other interesting shops can be found in the IKEA operated Ikano mall next to the furniture store.

Butiken på landetIn a beautiful country environment 35 km north from Haparanda, in the Hulkoff manor (Hulkoffgården). The name translates to "The shop on the countryside"

Taavolagården

address: Mattila 218

3 km north of Haparanda. You can buy tasty strawberries, fresh black currants and other local products or have a coffee in a beautiful early 19th-century environment.

address: Köpmansgatan 17

Furniture and othe locally made wooden objects.

phone: +46 922 101 71

address: Storgatan 88

Very well stocked for fishing supplies.
Eat
Budget
There are several cheap restaurants scatterd in the city center, some serve only lunch. For cheap crub, head out the in-store IKEA restaurant.
phone: +46 922 688 00

address: Torget 3

A cosy café and lunch restaurant. Lunch is served M-F 11:00-13:30.

Pizzeria Amanda

phone: +46 922 109 99

address: Repslagaregatan 57

Pizza, grilled food, kebab, tex mex and salad.

MAX

address: Norra Esplanaden 8

A hamburger restaurant with all sorts of freshly made hamburgers and salads, free WiFi and view towards Tornio.
Mid-range
Seskarö Wärdhus

phone: +46 922 202 44

address: Industrivägen 1

During summer time à la carte and bistro every day until 21:00 o'clock. Buffet Sa-Su 13:00-18:00.

phone: +46 922 320 15

address: Korpikylä 197

An ecological restaurant where they serve food produced at the farm. Also offers high standard Bed and Breakfast accommodation. Possibility to fish and hunt.
Splurge
Drink
Café Maya

phone: +46 922 137 46

address: Storgatan 92

Coffee and tea products.

Café Station

phone: +46 922 125 57

address: Järnvägsgatan 21

A youth café where you can surf the Internet and play pool.

Nya Konditoriet

phone: +46 922 612 80

address: Storgatan 73

Fresh bakery products.
Sleep
Budget
phone: +46 922-61171

address: Strandgatan 26

Situated by Tornio River in Haparanda centre. 23 rooms. Book ahead of time, as the reception desk is not always open during the advertised hours (16:00-19:00).

phone: +46 922 320 94

address: Harju 131, Karungi

35 km north of Haparanda. Comfortable rooms for 2-4 people, cottages, saunas.

phone: +46 922 520 08

address: Lappträsk

25 km west of the Swedish Karungi village. Rooms and cottages for rent. Several saunas, a large hut, a scooter café and food.

Revonsaari Camping

phone: +46 922 600 07, +46 70 690 1406

address: Revonsaari 409

Tent and caravan/camper spots and a large cottage.

phone: +46 498 203 300

address: Tromsövägen 1, Seskarö

The camping site is open during the summer. Various cottages and camper/caravan/tent spots. A beach, mini golf track, campfire places and possibility to fish. Kiosk and grill-café.
Mid-range
phone: +46 922 123 01

address: Mattila 233

phone: +46 922 688 00

address: Torget 3

In Haparanda centre. 23 hotel standard rooms and cooking facilities. In summer time also 28 hostel rooms.

Älvagård

phone: +46 922 310 00

address: Vojakkala 287

Situated 8 km north of Haparanda in charming countryside surroundings.

phone: +46 922 320 00

address: Korpikylä 224

35 km north of Haparanda. A well equipped cottage for 7 people. Farm animals.
Splurge
phone: +46 922-61490

address: Torget 7

Old-time glory in Haparanda centre. 92 rooms, a restaurant, game cellar, sauna compartment. In the center of the city.

Kukkolaforsen Turist & Konferens

phone: +46 922 310 00

address: Kukkolaforsen 184

15 km north of Haparanda next to beautiful rapids. Cottages, different types of saunas and a restaurant. Also places for tents, campers and caravans.
Connect
As with most places in the Western World, Wi-Fi is readily available at hotels, as well as a variety of other places.

Go next