Harar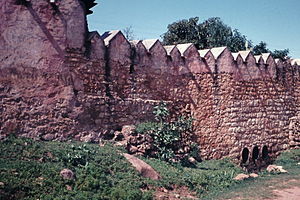 Harar
(sometimes spelled
Harrar
or
Harer
) is an ancient city in eastern
Ethiopia
with a population of about 75,000. For centuries, Harar has been a major commercial centre, linked by trade routes with the rest of Ethiopia, the entire Horn of Africa, the Arabian Peninsula, and, through its ports, the outside world.
Harar Jugol
, the old walled city, was included in the
UNESCO World Heritage List
in 2006 in recognition of its cultural heritage. It is considered
the fourth holiest city of Islam
by Sunni Muslims (after
Mecca
,
Medina
and
Jerusalem
, with 82 mosques, three of which date from the 10th century, and 102 shrines.
Get in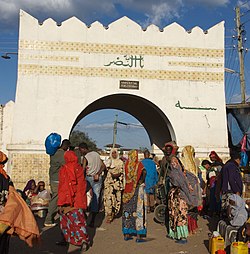 By bus
There is a bus service from Addis Ababa (the capital) and Dire Dawa. From Dire Dawa there are minibuses for 30 ETB.
By car
Harar is 54 km by asphalt road from Dire Dawa.
By plane
Harar is served by Dire Dawa international airport.
Get around
The blue and white minibuses and rental vehicles are available.
In the old town - Jugal - there is no need to take rickshaws, etc., as it is very walkable, and also as the alleyways are very narrow and crowded it is probably easiest to walk.

See
A mansion that once housed the renowned French poet Arthur Rimbaud. The mansion is now converted to a museum.
The old town is home to ninety-nine mosques and many more shrines, centred on Feres Magala square.
Notable buildings include Medhane Alem Cathedral and the sixteenth century Jamia Mosque.

phone: +251 25 666-2017

address: Harar Jugol
Do
A long standing tradition of feeding porridge to hyenas one night a year on a shrine on the hill, developed in the 1960s into a nightly feeding show for the benefit of tourists. For a 100 birr fee (Sep 2016; as of July 2019 100 ETB for locals, 200 ETB for tourists) you can watch the Hyena and feed them yourself with rotten meat. Any bakjaj (tuk-tuk) or taxi driver knows the current place and can take you there at 7 o'clock for 100-200 Birr. There are two feeding sites. The eastern one you can reach on foot (see google maps for the exact location). You do not need a guide (100 ETB, July 2019) but it might be nice to have someone to tell you info in English.
Get lost in the old town of Harar (Jegol) and wander around brightly colored houses and small vendors. Some local houses can be visited, the guides will show you which one- or try to find them on your own.
At the meat market inside the old town one can see birds of prey sitting around, where they wait for their moment to snatch a piece of meat. (Not during the summer).
Buy
Handicrafts are available at the market.
The spice market (just outside the walls near the bus station) has a huge variety of coffee and spices and is worth a visit.

Harar coffee
Eat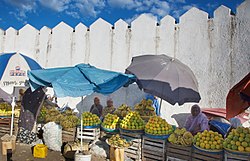 Sleep
There are very few mid-range accommodations.
Dire Dawa
has a better selection of hotels and restaurants.
Tewodros Hotel, from 250 birr (double), a friendly, bit rundown place next to the main road just outside the wall. The owner is a friendly guy who knows everybody as he is working as a guide for a long time.
Tourist Hotel, from 40 birr (single), very noisy (disco-cum-brothel), try to get one of the rooms which are furthest from the disco area.

Amir Redwan Guesthouse

phone: +251 912 601 956

A traditional Harari house founded by tourist guide Amir Redwan.

Sherif guest house

address: Jegol

A cozy and clean place, bathroom inside, running water, friendly staff. Located near eastern hyena feeding site.
Go next
To Addis Ababa there are buses leaving daily early morning (4.30 or 5 am). Tickets for 350 ETB (July 2019). Buy your ticket a few days in advance. There are a few companies and most of the offices are located at Charleville Ave, near Bank of Abyssinia. The ride takes 11 hours and takes you to Meskel square in Addis.