Hardanger
Hardanger
is a traditional region in
Hordaland
,
Norway
. It comprises the Hardangerfjord, the surrounding shores and valleys, and related uplands, mountains and glaciers. Despite its location below the glacier and the rough highlands, Hardanger enjoys a mild climate and has for centuries been a centre for fruit production in Norway. Hardanger also include wild waterfalls, alpine summits, high plateaus and major glaciers.
Hardangerfjord is 180 km long and about 850 meters deep. This the second longest and second deepest fjord in Norway, only surpassed by Sognefjord, and outside Norway these are only surpassed by fjords in Greenland. Hardangerfjord is complex with branches and underwater thresholds. At Utne/Kvanndal the fjord makes a u-turn and with Åkrafjord in Sunnhordland district it creates a penninsula. The highest parts of this penninsula is covered by the Folgefonna glacier.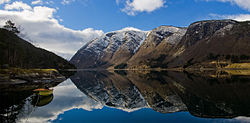 Regions
Towns
- The only real town in the region. Industrial centre at the far end of Sørfjorden branch of Hardangerfjord.
- Commercial center of the region. Entrance point when arriving from Bergen.
- Commercial center. Almost merged with Norheimsund.
- Small village that is a popular stop among tourists. Famous for Norway's only barony, dated back to 1665.
- Small village in the far end of the Hardangerfjord.
- Small village. Entrance point when arriving from Voss.
- Small village. Entrance point when arriving from Oslo.
- Small village. Home to the annual cherry-festival
Other destinations
- Largest mountain plateau in Europe and the largest national park in Norway.
- Glacier located on the east side of the Hardangerfjord, mostly protected as national park
- Upland area with several ski resorts.
Understand
When thinking of Norway, most people think of fjords and mountains, and to that degree, Hardanger is one the most stereotypical Norwegian areas in Norway. The region covers the area from
Kvam
in the west, up north along the Hardangerfjord to
Granvin
and
Ulvik
in the north,
Eidfjord
in the east, and down along the Sørfjord to
Odda
in the south. Roads cling to the mountainsides along the fjord, and there are three ferries crossing the fjords. Apart from the grand nature, the region is most famous for it's huge fruit production. Apple growing was probably introduced by monks in the 13th century. Farms growing apples, pears, cherries and plums cover almost all the fields along the fjords. This makes the region a lovely place during the fruit blooming in May and early June. The region is also home of several notable artists, musicians and writers. The mountain-areas of the region are good locations for skiing and winter sports. The
Folgefonna
glacier also has a summer-ski center.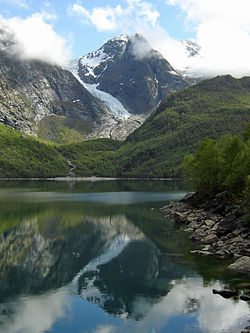 Get in
By car
From Bergen
Follow E39 to Arna where you enter E16, which will take you all the way to Norheimsund. 74km.
From Voss
Follow RV13 south to Granvin. 26km.
From Oslo and East Norway
From Oslo there are several routes.
Route 7 from Hønefoss (E18 to Sandvika, E16 to Hønefoss). This is the shortest route and includes a drive through Hallingdal and across Hardangervidda. 330 km to Eidfjord
Instead of road 7 through Hallingdal follow E18 to Drammen, then E134 to Kongsberg and from Kongsberg road for about 150 km to road junction with 7. 350 km
Route E134 from Drammen via Røldal connects to road 13 from the south
From Stavanger
Road 13 from Sandnes near Stavanger via Suldal to Odda. Slow but scenic
Road E39 to Haugesund, then E134 towards Odda and road 13.
By bus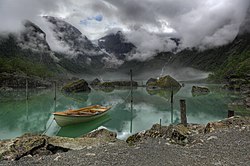 From Bergen
From Voss
From Oslo
By train
Bergen and Voss are the nearest railway stations. Finse station is at the high plateau and without road connections, but excellent starting point for hiking (summer) and skiing (winter until May).
By boat
There are no regular boat lines serving Hardanger, however you can easily sail here in your own boat. Follow the Hardangerfjord to Norheimsund where you will find a well equipped guest-harbor.
Hardangerfjordekspress is a sightseeing trip by fast catamaran from Bergen to Rosendal and back.
Get around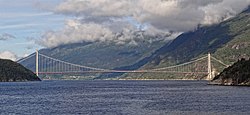 If you bring a bicycle, the area is well suited for biking trips. Hiking in Hardanger is also recommended.
By car
The easiest way of getting around once you reach Hardanger, is by using a car. Because the mighty Hardangerfjord and its arms cuts through the area roads continue onto ferries across the fjord, these ferry crossings are part of the road network and road numbers include the crossing. There are 3 major crossings, the fourth crossing near Eidfjord is now replaced by a huge bridge.
The two key roads are # 7 from Geilo via Eidfjord and Norheimsund (east-west), and # 13 Odda-Granvin-Voss (north-south). Folgefunntunnelen is a short cut under the glacier from Odda to the western part of Hardanger.
By bus
If you would like to travel by bus or coach, the national coach operator is called
NOR-WAY Bussekspress
.
Further regional and local buses are managed by the public transport authority in Hordaland,
Skyss
on Public Service Obligations.
In Hardanger, you may find some lines to be rather infrequent. Some lines run only a handful of times per day, some only on schooldays and so on. Even so, the network does cover most areas.
See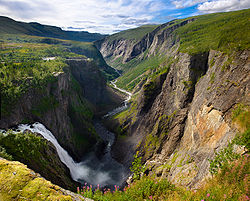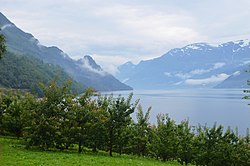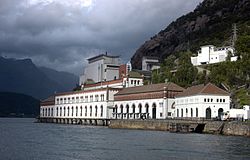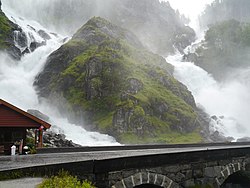 address: Aga (west shore of Sørfjorden)

Museum showing traditional west Norway buildings and village settlement.

Vøringsfossen waterfall and Mabødalen canyonAbout 180-meter fall into a wild canyon. The waterfall has been a major tourist attraction and icon since it was first described by visitors in the 1800s. Mabødalen canyon is a geological wonder. Road 7 along the canyon is a masterpiece of engineering and offers convenient access to this highlight. The road makes a full circle within the bedrock in order to make the steep ascent. Two previous generations of bold road construction are intact. Note: Viewing platforms are free of charge except one has to pay for parking in front of the hotel. Nearby Sysendammen (Sysen reservoir) is part of the large Sima hydro power plant. The Sysen dam regulates the flow of Vøringsfossen. Hardangerjøkulen glacier can be seen in the distance. Vøringfossen is Norway's most visited natural tourist attraction. It has a total fall of 182 meters, including a vertical fall of 145 meters. The best location to see the waterfall is by Fossli Hotel, which lies 20 kilometers from Eidfjord at the top of Måbødalen.

Hardangerjøkulen glacierOne of the largest glaciers on Norway's mainland. The glacier rests on an elevated plateau above Hardangervidda plateau. Most of the year covered in snow and even in summer mostly seen as a "cream cake" slightly higher than Hardangervidda.
Hardanger bridge

address: Between Vallavik and Bu

One of the longest suspension bridges in the world (longer than Golden Gate bridge in California), the longest two-lane suspension bridge. Towers are more than 200 meters high. Fascinating tunnel system connects the bridge to the roads on either side. Impressive engineering. Excellent view from the bridge, 60 meters above the water. Free for pedestrians.

Skjervet waterfall

address: Skjervesvegen, Granvin

It's a steep valley with hairpin bends and waterfall. At the top, you are able to park the car and enjoy the view.

Folgefonna (glacier)One the large glaciers in Norway, Hardanger's main glacier, between Sørfjorden and main Hardangerfjord. Visible from a long distance because of its elevation above the deep fjords around. On clear days it is visible from Bergen and from the ocean. Arms of the big glacier stretch into the valleys below, for instance at Odda (Buerbreen) and Mauranger (Bondhusbreen in Sunndal). The glacier and some surrounding area is protected as a national park. There is a summer ski resort on the glacier. Warning: Hiking the glacier is only for experts, do not attempt a hike outside marked trails at the ski resort on your own.

Tyssedal power plant and museum

address: Tyssedal at Odda

Monumental and stylish power plant building from early industrialization, now hosting the Norwegian museum of industry and hydro power. The architects were inspired by Italian cathedrals. The building is protected cultural heritage and is nominated to the UNESCO world heritage list. Named "building of the century" in Hordaland county.

Tokagjelet gorge/road 7

address: Norheimsund

Legendary road construction through Tokagjelet gorge above Norheimsund village. Old road construction still available from new tunnel deeper in mountain.

Låtefossen

address: Odda

Striking waterfall. Road 13 runs on a fine bridge (constructed 1859 and still in use) across the waterfall. The road is constantly wet from the cascade.
Eat

Hardanger is famous for its fruit. Small fruit stalls can be found along all major roads from late summer 'till mid-fall. Most of these stalls are not manned, but rely on the honesty of the customer. Most often there is a small jar where you leave the money for the purchased products. Stealing from these jars would be considered extremely rude.

Drink
The Hardanger apple-cider is famous, and you should try it. The cider comes in alcoholic and non-alcoholic variants. However, due to national law, the variant containing alcohol can no longer be sold outside the state-owned liquor store, where it is only rarely available. If you are in the inner part of Hardanger, you may try the
Vinmonopolet
shops in Nordheimsund, Odda and Voss. To save yourself a lot of driving call +47 22015000 in advance or browse their website. The non-alcoholic variant is sold from the fruit stall along all major roads from August 'till early October. The price ranges from kr 50-80 per litre.
Stay safe
Visitors should keep a generous distance to glaciers. Hiking on glaciers is only for experts and visitors must join a guided tour for a walk on the ice. Waterfalls are surrounded by slippery and treacherous areas.
Itineraries
Go next