Hargeisa
Hargeisa
is the capital of the self-proclaimed republic of
Somaliland
. It is one of the safest places in what the rest of the world still officially considers to be Somalia.
Understand
Hargeisa, with 1,200,000 inhabitants (according to a 2000 estimate), is the capital of the self-declared republic of Somaliland. Apart from the occasional couch surfer, there is very little tourism (and no tourist industry), as almost all visitors are working for an NGO or other organization. The city is a peaceful and friendly place, but does require some planning to ensure a successful visit.

Get in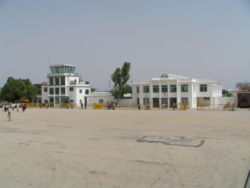 Hargeisa International Airport (HGA)
connects the city with a variety of locations in East Africa, all of which are subject to change. Destinations can include
Addis Ababa
,
Djibouti
,
Dubai
,
Bossaso
,
Mogadishu
,
Dire Dawa
,
Wajir
and
Nairobi
. Some flights (especially those which "connect" in
Berbera
) begin with a three-hour bus journey to Berbera, followed by the flight. It's best to confirm that the airline you use flies in and out of Hargeisa.
Hargeisa airport has a very comfortable departure lounge, equipped with a cafe, toilets, television and Internet access. Buy a copy of the local English language newspaper from the paper boy for local news while you wait.
A Somaliland visa is required for foreign travellers. These can be obtained at the Somaliland representative offices in
Addis Ababa
(in person) or London (in person or by post). See the
Get in
section of the
Somaliland
page for further information. There is very little diplomatic representation in Hargeisa, so you should have your onward travel plans arranged (and visas in hand) before you travel to Hargeisa.
All arriving foreigners are required to exchange US$50 to
Somaliland shillings
, though this is not always enforced at land borders. The exchange rate at the airport is intentionally poor, so the exchange functions as an arrival tax. You will not be able to change your shillings back to US dollars at the airport when you leave, so make sure to use all of your shillings during your trip. The only notes in widespread use are the 500-shilling notes. Because of the exchange rate, you will end up with a large stack of notes when you change money at the airport.
You will also be required to pay an additional arrivals tax in addition to the money exchange. This is frequently an odd number, such as US$3 (in April 2011), so it would be a good idea to bring a lot of small notes with you (if you bring a bunch of US$100 notes, for example, you will have great difficulty finding change). The cost of the arrival tax appears to vary depending on the type of visa you have and where you got it. Some foreigners report having to pay US$60 tax (in December 2018).
Some air tickets can be reserved at the site of
Jubba Airways
. Some flights are expensive.
Get around

Hargeisa has an informal shared bus service which costs 1,500 Somaliland shillings per journey (as of April 2011). Ask a local for instructions. Hargeisa used to have working traffic lights, but now the only traffic control is by the occasional police officer. All residents entitled to drive must hold a photo driving licence, and all cars bear Somaliland licence plates.
Taxis can be booked via your hotel (not hailed on the street) but are quite expensive. For example, a taxi from Maan-soor Hotel to the airport cost USD $25 in April 2011.
Women must wear long dresses or skirts, to the ankle (no trousers), and must cover their hair and upper arms at all times. Men should not wear shorts or sleeveless t-shirts. It is not polite to take pictures of people (male or female) without obtaining their permission beforehand, and you will make people upset if you take pictures without permission.
US dollars and Somaliland shillings enjoy equal status in Hargeisa, so you can pay for anything with either dollars, shillings, or a combination of both. Ask what the de facto exchange rate is when you arrive. The de facto rate will be better than the rate at the airport.
There is no postal service in Hargeisa. The only courier company which serves the city is DHL.

See and do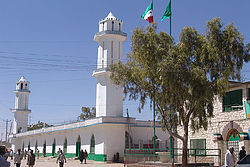 There's very little in the way of tourist sights and activities in Hargeisa. Often, the best activity in Hargeisa is soaking in the surroundings and enjoying a bite to eat with the locals, who will be more genuinely interested in your story and your reasons for visiting their country.
Some of the local landmarks that may be worth visiting include:
Central Market

address: Independence Rd

Somaliland's main shopping district is a expansive, chaotic, typical Somali market. The capital's liveliest market sells a huge variety of items, from electronics to cereals, meat to handbags, clothing to perfumes. Each category of items has its own section of the market. Hours can be spent exploring the nooks and crannies, observing the daily ritual of grocery shopping in Somaliland. You're unlikely to be hassled, but some stallholders may object to photography, so do ask first.

Jama Mosque

address: Independence Rd

The city's central mosque, painted a bright white with two tall minarets from which the call to prayer is made. Hundreds of worshippers overflow into the streets at around midday on Friday for prayer. Non-Muslims are not allowed entry but are welcome to observe.

Livestock MarketHundreds of Somali farmers come to buy and sell their livestock daily, including sheep, camels, goats and cattle. It was renovated by UK Aid and the UN Food and Agricultural Organization. The market is best visited in the morning, and make sure to ask before taking photos of animals.

MiG Jet memorial

address: Independence Rd

The memorial displays a Somali Air Force MiG jet that was shot down while it bombed the city during the Somali Civil War; murals and mosaics display scenes from the war below.
Eat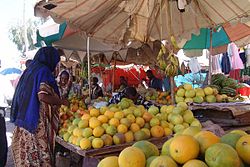 As the Somali heritage is pastoral, most modern food is inspired by neighbouring countries, with Ethiopian cuisine being particular popular. There is rice, spaghetti, cheeseburgers or salad. There are doughnuts, cakes and tropical food. Call into a restaurant and ask for what you want, but not pork as it is forbidden (
haram
)!
At breakfast you could try Somali pancakes, a little like a fluffy pancake a fluffier version, and "small meat", which is similar to sausage meat except served loose on a plate). Somali tea is good, and is similar to Indian chai (a bit spicy and made with lots of milk).
Food at the "nicer" restaurants is generally safe, as the climate is so hot and dry that it is difficult for most diseases to survive here. The same goes for water: The government-supplied piped water is generally clean, though you might want to avoid drinking it if you are on a short trip. The filtered water bottle is produced locally, and generally is safe.
Abtiyo Fastfood has nicer murals than grub, but then you're not exactly spoilt for choice where budget "International style" food is concerned.
Drink
You will not find any alcohol in Hargeisa in official outlets, but it is still available in the Black Market. Men congregate in cafes with glasses of tea, coffee or fruit juice.

Sleep
The accommodation options in Hargeisa are surprisingly numerous, with large, Western-style establishments down to family-run, budget-friendly hotels. Most hotels provide transport to/from the airport, visa assistance and mosquito nets, although mosquitoes are rarely an issue in the arid climate.
phone: +252 256 6666

address: Airport Rd

One of only two Western-style hotels in Somaliland, the Ambassador is where foreign ambassadors stay when visiting the country. The facilities are top-notch by African standards, with a 24-hour gym, laundry, restaurants, non-alcoholic bar, room service, free Wi-Fi and a mosque. Additionally, the English-speaking hotel staff can organise visas, flights and tours to major Somaliland sights. Safe for solo female travellers.

phone: +252 225 3639

address: M Warsame Rd

Slightly closer to the city centre than the Ambassador, and also of Western standards. Has a restaurant, cafe, Wi-Fi and a sports centre, all set in sprawling grounds. Staff can organise flights and visas. There is a similarly named hotel in Berbera.

phone: +252 251 4999

address: Arwada Rd

One of the oldest hotels in Somaliland, it's a decent budget choice right in the centre of town, adjacent to the gold market. Rooms are clean with working fans, though nothing flash. It's a good deal for independent travellers and backpackers. The English-speaking hotel owner, Abdi, is happy to arrange visas, transport, tours and soldier permits. There's also a pleasant, cheap restaurant in the courtyard.

Red Sea HotelAnother budget option, with clean, but basic rooms and services and no hot water. The helpful manager will often offer to personally drive guests to their destination.
Stay safe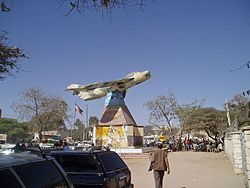 In recent years, Hargeisa has generally been safe, with little crime against the few tourists and foreigners, and little swindling or "ripping off". It is possible to walk around by yourself in the urban areas of Hargeisa in the daytime or at night, but make sure that you know where you are going, as there are no street signs, and no street lights at night. While the main roads have some rudimentary paving, most roads are sand and dirt and populated by goats and stray dogs.
In some areas (e.g. livestock market) people may throw rocks or bottles at you, similar to what happens sometimes in rural Ethiopia.
The local residents are extremely friendly and will greet foreigners in the street. Unlike some other places in Africa, they will not try to sell you anything and are often genuinely interested in having a conversation.
However, in May 2011, threats of violence were made against Christians and NGO workers in Hargeisa. Some NGOs responded by removing their staff. It is not yet clear whether or not these threats are serious.
If you leave the city, you will be required to take a government security guard with you (known as an "SPU"). It is also possible to get an exemption from this requirement, but you must have the required paperwork or you will be stopped at the checkpoints on the edge of the city and not permitted to go further (this is for your own safety, as the countryside is not as safe as the city). See the
Somaliland
page for further information.
Go next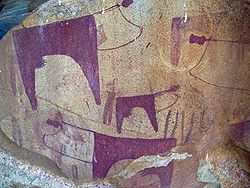 Located in the countryside outside Hargeisa, Laas Gaal (Laas Geel in Somali) is a definite must-see. It is a complex of caves and rock shelters that contain excellently preserved cave paintings. The paintings represent some of the earliest known art in the Horn of Africa and the African continent, dating back to 9,000 BCE. To visit this place, a letter from the ministry of tourism must be obtained and a fee of US$20 must be paid. An SPU may be required for this trip. Check the little museum with maps in the entrance building. Maps show that park contains 20 shelters with paintings, with shelters 2, 3 and 10 being the main ones. Guides will often take you to shelters 2 and 3 only (and turn back before proceeding to shelter 10 which is a bit further) - so worth discussing the route beforehand.
There's plenty of wildlife in the Sheikh mountains and the Daallo mountains near Hargeisa. You may spot kudu, wildebeest, gazelles and different species of birds. An SPU would be required for this trip.
The Red Sea beaches at Berbera are a three-hour drive away and could make a nice day trip, or a relaxing weekend away. The Maan-soor hotel branch in Berbera offers scuba diving. For this trip, you could apply for an exemption from the SPU requirement and take a shared bus.