Harrisburg
Harrisburg
is the capital of the Commonwealth of
Pennsylvania
, a state in the
United States of America
.
Understand
The Susquehanna River runs along the western edge of the city. It is the largest non-navigable river in the eastern USA, but has numerous small islands, and is an excellent recreational resource.
The city began in 1710 when John Harris built a trading post and later his son started a ferry.

Get in
By plane
Harrisburg International Airportis located just outside of Harrisburg, in Middletown, you will need to complete the journey to the city by rental car, taxi, bus, or hotel shuttles which are accessible via the Multi-Modal Transportation Facility (MMTF).

Capital City Airportis across the Susquehanna river, in New Cumberland. Similar to the Harrisburg International Airport, you will need to complete the journey to the city by rental car, taxi, bus, or hotel shuttles. This is a general aviation airport with no scheduled flight, so you have to charter or fly your own plane into it.
By train
Amtrak
has up to ten daily services from
Philadelphia
on the
Keystone Service
, with some services originating in
New York City
. Also, the once-daily
Pennsylvanian
between New York and
Pittsburgh
serves Harrisburg. All trains call at located at 4th and Chestnut Street, which also serves as a hub for local and inter-city buses.
By car
Harrisburg is served by a rather extensive highway system for a city of its size. Interstate 81, 83 and the Pennsylvania Turnpike, Interstate 76 all travel through or near the city. The Capital Beltway is comprised of I-81 to the north, I-83 to the east and south and PA-581 to the west of the city. U.S. Routes 22 and 322 also pass through the city and U.S. 11 and 15 pass just to the west.
By bus
Capitol Area Transit
(CAT) is the regional bus service for the greater
Harrisburg area
. Travelers to Harrisburg from Cumberland and Dauphin Counties can travel via CAT. CAT is also a convenient means of transportation from Harrisburg International Airport (HIA)
By foot
The Appalachian Trail is just west of the city.
Get around
By car
Parking
- Monday through Saturday, from 8AM-7PM, meter parking is enforced. The typical cost is $3 per hour with 15 minutes increments. Parking garages charges around $4 for 30 minutes or less and then escalating beyond that. Garages and metered parking are run by the
Harrisburg Parking Authority
.
By foot or bike
Harrisburg is a very walkable city, especially the downtown, midtown and uptown sections which are laid out in a simple grid without much change in grade. There are many beautiful walking and biking trails that run along the Susquehanna River. You can also walk or ride your bike across the Walnut St. Bridge to City Island without worrying about safety because it is blocked off to cars.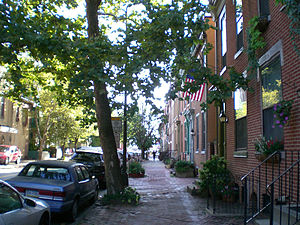 By bus
Capital Area Transit
provides bus service in and around Harrisburg.
By taxi
American Taxi (717) 901-8294.
By limo
See
Harrisburg has been an important location for statewide transportation since selected as the capital of Pennsylvania in 1812. The canal system and subsequent development of railroads, highways and airlines in the early century played a key role in transforming Harrisburg into a commercial and distribution center for Pennsylvania and the East. The city is centrally located 80 miles north of Baltimore, 100 miles west of Philadelphia, and 100 miles north of Washington D.C.
State Capitol BuildingThe Capitol was designed in the American Renaissance Style by Philadelphia Architect Joseph-Huston (1866-1940), who envisioned the building as a "Palace of Art". Built and furnished at a cost of $13 million, the Capitol features paintings, stained glass and furnishings by some of the best artisans of the day - Extract Out of A Centennial Celebration 1906 - 2006, Pennsylvania General Assembly. The state capitol of Pennsylvania is a beautiful architectural masterpiece that encompasses many artistic designs and marvels. The capitol building is an Italian Renaissance-style statehouse. It includes collections of art, sculptures and large murals. On the floor of the main hallway are tiles that show Pennsylvania's history, symbols, insects and animals. The capitol dome rises 272 feet, and was modeled after St. Peter's Basilica in Rome, and it's magnificent staircase looks like one from the Paris Opera. Over 100,000 people per year enjoy a free tour of Harrisburg's Capitol building.

The State Museum of Pennsylvania

phone: +1 717-787-4980

address: 300 North St

Walnut Street BridgeThe Walnut Street Bridge is an historic truss bridge connecting the east side of the city to the center of City Island. The bridge is a popular tourist destination even for those not interested in bridges. It has a complex and interesting history. See the Wikipedia article for more information. Because it is so popular, it gets busy frequently. For those looking to tour the bridge, either in part or in full, it is recommended that you do so during the mid morning hours (9 AM-12 PM) on Sunday and Monday. Tuesday-Saturday tend to be busier days as there are more activities on City Island midweek. Pedestrians should walk on the bridge on the steel grid grating section of the deck and bicycles should use the paved concrete side of the deck.

Three Mile Island Nuclear Generating Station

address: 3 Mile Is, Middletown, PA

The worst commercial nuclear accident in the United States happened here on March 28, 1979, when Reactor #2 suffered a partial meltdown. Look for the historical marker and take some memorable photos before the remaining reactor shuts down in 2019.
Theaters
Galleries and Art
Do
Champion Ship Performing Arts Space

phone: +1 717 612-9306

address: 52 Rear Market St Lemoyne

Champion Ship is a DIY, all ages, drug, alcohol, and smoke free performance arts venue located in Lemoyne, PA right outside of Harrisburg the state capital. A great place to see your favorite band, an art show, or flea market. There is also a fully stocked independent record store primarily featuring, Punk, Hardcore, Emo, and Indie Rock CD's and records.

Capitol Tours and Welcome Center

address: East Wing Entrance

Advanced reservations are suggested and required for groups of 10 or more. Group size is limited to 80. The tour is about a half hour long, and takes you through some of its most impressive rooms, including Italian in the House Chamber, French in the Senate Chamber and the English in the Governor's Reception Room. These are just a few of the capitol's over 600 rooms. The Welcome Center at the Capitol teaches about Pennsylvania's Government by displaying 18 informative exhibits allowing visitors to read, listen, touch, and interact with the displays.

phone: +1 717 260-1861

address: 1 Lincoln Circle

The only museum in The United States that portrays the entire story of the American Civil War. Equally balanced presentations are humanistic in nature without bias to Union or Confederate causes. Open 7 days a week April 1 through Labor Day.

phone: +1 717 214-ARTS

address: 222 Market St

The mission of Whitaker Center for Science and the Arts is to serve as the center for scientific, artistic, cultural and educational activities to enhance the region's quality of life and economic vitality.

Pennsylvania National Fire Museum

phone: +1 717 232-8915

address: 1820 N 4th St

The Sights, sounds and history of firefighting come to life at The Pennsylvania National Fire Museum. Housed in the 1899 Victorian firehouse Reily Hose Company No. 10, the museum houses an outstanding collection of artifacts from the hand-drawn equipment of yesterday to the modern tools of today.
Riverfront Park and City Island. Along the banks of the Susquehanna you can enjoy a scenic bike ride, cruise the river on the Pride of the Susquehanna, or rent a canoe, paddleboat, or jet ski to experience all the Susquehanna River has to offer. Riverfront Park is also popular for afternoon lunches and provides an unbeatable view of Harrisburg's July 4th fireworks and Labor Day Weekend's Kipona Celebration, which includes a street festival, chili Cook-Off, boat race, and amusement rides.
City Island, . A unique park that sits in the center of the Susquehanna River, accessible by the east side of the Walnut St. Bridge, and is home to small shops, miniature golf, a restored carousel, train, carriage rides, and the Senators, a minor league baseball team. Home games for the Senators usually start at 6:35PM, and Sundays at 1:05PM, with box seats only costing $8 and general admission $5. The Riverside Village Park offers a variety of food from crab cakes to ice cream and is open daily from 11AM-8PM after May 13th. Water Golf, City Island's 18 hole miniature golf course costs $5.50 for adults and $4.50 for children.

The Pride of the Susquehanna Riverboat

phone: +1 717 234-6500

Harrisburg's authentic paddlewheel riverboat is docked on City Island and offers 45 min public cruises throughout the summer for $9 for adults and $4 for children. The Pride also hosts dinner cruises once a week or you may rent the boat for a private party. City Island also gives horse drawn carriage rides that tour the island and can be reserved for special occasions. Or you can choose to tour the island on The General, City Island's Civil War-Era steam train that is located next to the carousel. Harrisburg and City Island also have two working marinas to dock your boat, a sandy beach for swimming, volleyball courts, and a multipurpose grass field for sports and concerts that is available for rent.

address: 2300 North Cameron Street, 17110

Usually held about the second full week of January, the Pennsylvania Farm Show is the largest indoor agricultural event in America. See Champion Horse Pulling Contests, Sheep-to-Shawl Contest, Square Dance Contest, Arena Carriage Racing, Livestock judging and more. Many Pennsylvania Farm products are on display. Parking is offsite, often for a $5-10 fee. P.S: The best reason to go is the food!
Festivals and Parades
Harrisburg is known for its many parades and street festivals that take place, especially in the summer time.
American MusicFestRiverfront Park and City Island, Harrisburg's Fourth of July celebration

KiponaRiverfront Park and City Island, a three day festival of food, arts and family fun around Labor day.

Patriot-News ArtsfestRiverfront Park,

Italian Lake Concert SeriesItalian Lake, Sundays throughout the summer.

3rd in the BurgDowntown and midtown, the third Friday of every month Harrisburg's art galleries and shops stay open late and serve entertainment.

Pride Festival of Central PADowntown and Riverfront Park, Central Pennsylvania's LGBT Pride Festival, held the last weekend of July
Learn
Buy
address: 11 N 3rd St

A major shopping complex in downtown Harrisburg, that has an open air feel with many food and specialty shops.

The Shops on ThirdA little more upscale shopping than Strawberry Square. They include such shops as the famous Sparky and Clarks, as well as other one of a kind boutiques.

Broad Street Market

address: 1233 N 3rd St

Comprised of two large historic buildings that house an array of foods from Amish produce and meats, to an international deli and cheese shop, to organic and whole foods. Located on Verbeke St and 3rd St.

Midtown Scholar Bookstore and Cafe

phone: +1 717 236-1680

address: 1302 N 3rd St

Large bookstore and cafe, also contains largest academic used bookstore between New York and Chicago.
Eat
During the week, you should have no problem finding a place to eat without much wait, but the weekends (especially in the summer) may require a bit of a wait at the popular restaurants during their prime time dinner crowd.
Restaurant Row and Downtown
Neato Burrito

phone: +1 717 232-7467

address: 209 N. 2nd St

Best mission style burritos outside of California. Has 5 locations around the Harrisburg area.

Cragin's Brick Haus Restaurant

phone: +1 717 233-4287

address: 229 N 2nd St

The Brick Haus offers authentic German and American cuisine including goulasch, sausages, seafood, and steaks.

phone: +1 717 233-3202

address: 310 N 2nd St

Ceoltas provides an authentic taste of Ireland. Ceoltas also attracts bands from all around to play at their venue.

address: 50 N Cameron St

ABC serves fresh innovative cuisine to match their handcrafted ales and lagers. Brewery tours every Saturday at 1PM.

phone: +1 717 233-1202

address: 525 South Front St

Passage to India serves excellent Indian cuisine, open seven days a week, with a great view of the river while dining.

phone: +1 717 724-0222

address: Corner of Third and Chestnut Streets

Restaurant is run by and for culinary students of the local community college. Gourmet food at a very reasonable price. Also has an outstanding wine list!
Midtown
Alvaro Bread and Pastry Shoppe

phone: +1 717 238-1999

address: 236 Peffer St

Authentic fresh made Italian dinners, breads, pastries and desserts. An Olde Uptown neighborhood favorite.

Anastacia's Restaurant and Bar

phone: +1 717 233-2394

address: 1535 N 6th St

Cozy, great neighborhood spot for authentic Puerto Rican food and daily specials.

Breads 'N Spreads

phone: +1 717 695-7713

address: 1419 N 3rd St

Delicious home made soups, sandwiches and pastries. Daily specials and weekend brunch.

phone: +1 717 236-7923

address: 1233 N 3rd St

Nearly 40 vendors serving up fresh, local organic produce, meats, baked goods and freshly prepared meals.

phone: +1 717 695-9449

address: 1004 N 3rd St

Cozy coffee shop with great assortment of specialty coffees, teas and pastries

Ciervo's Pizza

phone: +1 717 238-5530

address: 1435 N 2nd St

Pizza, subs and sandwiches.

Mercado's Pizza

phone: +1 717 238-2280

address: 937 N 3rd St

Great authentic pizza, a neighborhood favorite

Nonna's Deli Sioso

phone: +1 717 232-6150

address: 263 Reily St

One of a kind Italian deli and restaurant. Creative menu and very popular lunch spot and BYOB.

Uptown Chicago Grill

phone: +1 717 233-7487

address: 2101 N 2nd St

Uptown Chicago Grill, formerly Da'Pits, is a Chicago-style grill is known for their delicious ribs. Everything is cooked over an open flame.
Drink
Harrisburg has a small, vibrant night life for those who enjoy good food, good company, and good drinks.
phone: +1 717 221-1080

address: 50 North Cameron St

Local Brewery.
Cafe Fresco is the only spot in Harrisburg so far that is completely smoke free. Unlike other bars in downtown Harrisburg, it has a chic modern atmosphere with Asian inspired cuisine that goes along with their extensive wine and drink menu. The music has a laid back lounge feel and on occasion Cafe Fresco has a live jazz band trio that performs in the back corner. The decor matches a sountern California look that gives the place an upscale feel. Level 2 is an upscale lounge and bar above Cafe Fresco that features DJs, drink specials and a small menu.
Molly Brannigans is a small chain of Irish Pubs with 4 other locations in PA besides the one in Harrisburg. They have an impressive menu that includes steaks, seafood, and salads. The happy hour crowd is older from 5-7, but later on the crowd turns younger and a band usually hits the stage, while people dance in front. It has a great authentic Irish feel.
The Red Door is Harrisburg's only wine bar that is situated in the heart of downtown. They feature an array of wines both in varietal and price and a cozy atmosphere for a few friends or a date.

phone: +1 717 232-1297

address: 800 Paxton St., 17104

Local Brewery.
Harrisburg's downtown atmosphere dynamically changes throughout the day. During the day, you can explore the coffee shops and quickly prepared meals designed to accommodate the government and downtown workforce. Early evening you can hop between restaurants during their happy hour specials (typically 5-7PM). Stay downtown for dinner and you can enjoy a nice sit-down meal.
Sleep
Accommodations in the Harrisburg area give you plenty of options at reasonable prices compared to larger metropolitan areas. More expensive hotels are located in closer proximity to Hershey and Baltimore.
Budget
phone: +1 717-774-8910

address: 200 Commerce Dr
Mid-range
Splurge
Stay safe
Keep in mind that Harrisburg's crime rate is higher than the national average. However, most areas that tourists and out-of-towners frequent are completely safe. Typical street smarts should keep most people out of trouble.
Harrisburg is within range of Three Mile Island nuclear reactor. If you hear a siren, turn your radio on.

Go next
Nearby destinations suitable for day trips include: