Harrison (Arkansas)
Harrison
is in the
Ozarks
region of
Arkansas
.
Get in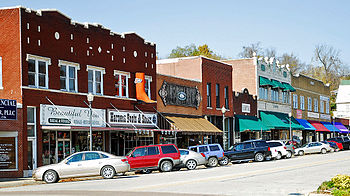 By plane
See

Harrison has one of our nation's disappearing treasures an active, living downtown square anchored by the county courthouse and surrounded by local businesses. Old men meet on the park benches to woodcarve and shoot the breeze; young people flock to My Best Friends Closet to look for hip secondhand clothing. You can have a fancy dinner at Bottini's, buy your medicine at the Alexander's drugstore (they live just above it!), and shop for anything from furniture to antiques to health food.
The 1929 Lyric Movie Theater on the downtown square was purchased in 1999 and renovated into a performance venue by the Ozarks Arts Council. You can regularly catch classic movies, musical acts, musical theatre, and college activities and classes being held there. You can rent it for your own special events as well (phenomenally cheaply).

Do
Many visitors and residents enjoy the Ozark Mountains and the
Buffalo National River
nearby. Hiking trails, canoe rentals, camping and RV areas, and the like are all located within just a few miles.
For hiking information, check out Tim and Pam Ernst's hiking guides.
Branson, Missouri
is located just a half hour to the north of Harrison. Whether you want to see a show, go outlet shopping, visit a theme park, or eat at a great restaurant, there are many options there.
Buy
address: P.O. Box 1301 Harrison, Arkansas 72602

Tucked away in the rolling hills just north of the Buffalo River (and Pruitt, AR), these are two caves (about 150 feet under the ground).
Sleep