Harrogate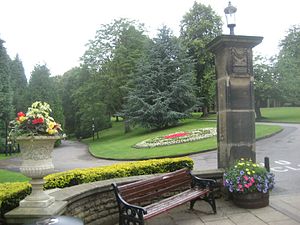 Harrogate
is a beautiful Regency / Victorian spa town in the English county of North Yorkshire. It's home to the famous Betty's tea rooms, Harlow Carr Gardens and Harrogate spa water. In addition to being a charming floral town Harrogate is a popular conference venue, with a large convention centre. As a result it has many good restaurants and hotels and a pleasant, walkable centre.
North of Harrogate are the scenic Yorkshire Dales.
Get in
By plane
Leeds-Bradford International AirportThis is actually more accessible from Harrogate than it is from Leeds or Bradford, as it lies north of those cities and you dodge most of the traffic on the approach; so flying to London (by BA to Heathrow LHR5) can beat the train. LBA has good connections to western Europe, e.g. Dublin, Amsterdam, Düsseldorf, Paris and Brussels, as well as domestic flights to Southampton, Exeter and Belfast. The budget carrier Jet2 is based here. Bus 737 connects LBA to Harrogate town centre.
For destinations beyond western Europe, use
Manchester Airport
(
MAN
). This has global connections, competitive fares, and an hourly train from Leeds.
Otherwise use the London airports, principally Heathrow (LHR) and Gatwick (LGW). These will involve a one hour journey into London Kings Cross then a 3 hour train ride north.

By train
Harrogate station sits on a loop of line connecting Leeds (35 minutes, two per hour) and York (40 minutes, hourly); Northern Rail run this service. Almost anywhere else will involve a change at Leeds or York, but there is one direct train to London Kings Cross per day (not Sunday). This goes south around 7.30 am, taking 3 hours, and returns north around 5.30 pm; connections via York are almost as fast.
Note that at Leeds station, the loop train may be shown as going to Poppleton, a small halt just outside York, to avoid travellers for York going the long way round. Likewise at York, the train will be shown as going to Burley Park, in the Headingley / University quarter of Leeds.

By car
From the north, follow the A1 then A59 west then bypass Knaresborough via A658 and A661. From the south, the signed route is the same, but consider leaving A1 sooner at Junction 45 into Wetherby and going via A661. From the south end of Leeds use the new A63 to join M1 which merges into A1 then heads towards Wetherby; but from northern or central Leeds just go straight up the A61.

By bus
From Leeds take Bus 36, which runs every 15 minutes (20 on Sundays) taking just over an hour. This bus takes the direct route up the A61 past Harewood House, and from Harrogate continues to Ripon. It's operated by Transdev, a plum-red bus with "Harrogate Bus" emblazoned on the sides.
Transdev bus 770 goes a longer route from Leeds via Wetherby to Harrogate. Buses also connect via Wetherby to York (X70 then 412), but train is better.
From Bradford take Arriva Bus 747, which runs hourly via the airport.
Two National Express services call at Harrogate. NX425 runs from London Victoria via Leeds then Harrogate to Newcastle and Ashington. NX537 runs from Glasgow and Edinburgh via Newcastle, Durham, Harrogate, Sheffield and Nottingham to Corby. Both services are one coach per day in each direction. Megabus doesn't call at Harrogate.
Harrogate bus station is just north of the railway station.

Get around
Walking is best for town centre, and cycling will quickly get you to outlying attractions. Avoid driving in town, as it can be very congested.
There are frequent bus services around Harrogate and its neighbouring towns and villages, most of them operated by Transdev /
Harrogate & District
using modern low-floor buses. Bus Route 1 plies the main road between Harrogate and
Knaresborough
every 8 minutes during the daytime.
All trains from Leeds continue to Knaresborough, with alternate trains going on to
York
.
See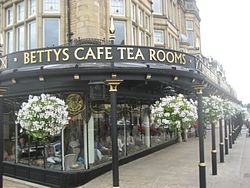 Simply strolling the central streets and arcades is a joy.
address: 1 Parliament Street HG1 2QU

Famous, so there will be long queues to eat in at weekends, even if the Queen isn't visiting. Still, you could get everything for a picnic from the onsite bakery, then head into one of the green spaces to enjoy: in all but the dead of winter there are excellent floral displays.
The Valley Gardens are the town's main park, with floral displays, open spaces and a small cafe. Many of the historic town springs emerge in this area, though they're nowadays mostly capped off or bottled. Daytime it's a genteel area to stroll, and the obvious walking route to Harlow Carr Gardens. After dark it's poorly lit and can attract sleazy denizens.

Royal Pump Room Museum

address: Crown Place HG1 2RY

This celebrates the town's spa heyday. The original "Spa" is in Belgium: Harrogate's natural spring waters were discovered circa 1571 to have similar composition. Add in a Regency / Victorian social scene, the invention of railways and leisure travel, and oodles of publicity, and here you are. The mineral-rich springs are variously of "chalybeate" (iron) and of sulphur. Do taste some: it's the sulphur that you're long going to remember.

RHS Harlow Carr Gardens

address: Crag Lane HG3 1QB

Some of the best blooms in the North of England. It has its own branch of Betty's Tea Rooms.
Further out:
Knaresborough is a charming market town 4 miles east, perched on the gorge of the River Nidd.
The underlying millstone grit crops up here and there in striking rock formations. The best of these are at Brimham Rocks, 10 miles north off the B6165 beyond Summerbridge (HG3 4DW). Free, open all daylight hours. Smaller outcrops include Almscliff Crag off the A658 to Bradford and the airport, and Plumpton Rocks off the A661 to Wetherby and the A1.
Harewood House is a palatial 18th C mansion built by Carr & Adam with extensive grounds by "Capability" Brown and an exotic bird garden. 7 miles south of Harrogate on the A61 main road to Leeds, frequent bus # 36. Open April-September.
Do
phone: +44 1423 556746

address: Parliament Street HG1 2WH

These offer a splendid Moorish-style sauna and soak. Guided tours midweek at 09:00 (£3.75).
The Great Yorkshire Show is an agricultural show held over three days in July. The next event is Tu 9 - Th 11 July 2019. The showground is two miles east of city centre on A661 towards Wetherby. A free Transdev shuttle bus runs between the bus station and showground. This is in addition to regular Transdev buses 770 and 771 from Leeds and Wetherby towards Harrogate, which stop outside the showground. Driving, please follow signs and not Satnav, as access roads will have a temporary one-way system.
Buy
It's where not what you buy: be sure to visit the Victoria Shopping Centre, a splendid arcade facing the railway station (parking available). The familiar chains and a good few independents are here. Continue through the pedestrianised Montpelier quarter until your arms can carry no more.

Eat
phone: +44 1423 502650

address: 5 Montpelier Gardens HG1 2TF

Seafood with French influence.

phone: +44 1423 505041

address: 30 Cheltenham Parade HG1 1DB

Different menus or a la carte at different hours, check website. It's also a hotel.

phone: +44 1423 521510

address: 6 Cold Bath Road HG2 0NA

British classics.
Drink
Harrogate Spring Water is a very drinkable commercial brand of local spring water, low in minerals, and not to be mistaken for the concussion inflicted by high-mineral Harrogate spa water.

Sleep
As a spa town, many Harrogate hotels date back a century or two, and you can aim to stay somewhere with real character. These include the Old Swan, St George (both listed below), Hotel du Vin, White Hart and The Crown, all in the centre. Familiar chains within a mile or two include Britannia Lodge, Best Western Cedar Court, and Travelodge. There are plenty of smaller hotels and B&Bs, mostly just north of the centre along the Ripon Road (A61) and Kings Road.
Harrogate does a lot of corporate and event accommodation and can become booked out, eg for the Great Yorkshire Show held here each July. Big events in York can have the same effect. If you can't get in, consider staying in central Leeds and day-tripping by train. With your own car, you can stay out in the North Yorkshire countryside.
address: 1 Ripon Road HG1 2SY

An Edwardian Hotel in the city centre offering restaurant and leisure facilities. Until 2017 it was owned by Shearings Group, with many coach parties and much in need of repair. It's now been taken over by the group behind Country Living Magazine and moved upmarket.

phone: +44 1423 50055

address: Swan Rd

200 year old and full of atmosphere. Now part of Classic Lodges Group. When Agatha Christie's first husband went off with another woman in 1926, she faked a "suicide" disappearance but ten days later was spotted staying here.
Further out, splurge at

phone: +44 1423 871350

address: Follifoot Lane HG3 1JH

Luxurious spa hotel in Georgian mansion with 90 bedrooms, spa, 2 restaurants, golf course and parkland.
Connect
Good Wi-Fi connectivity in the town centre, but some of the surrounding countryside is patchy or altogether dead.

Stay safe
Harrogate is mostly a very safe town. Even at night, drunken anti-social behaviour isn't common. Stay away from Valley Gardens at night, where the low lighting occasionally attracts dubious characters.

Go next
Ripon is the site of must-see Fountains Abbey.
Ripley Castle in the village of Ripley is a 15th-century castle and stately home of the Ingilby family.
The Yorkshire Dales and North Yorks Moors are scenic national parks easily reached by car.
Veterinary practice in Thirsk inspired the tales of James Heriot, and his house there is now a museum. Learn more about his profession at Yorkshire Farming Museum outside York.
York is a charming walled city. Within the Yorkshire Museum there is the "Harrogate Hoard", a collection of almost 700 Viking coins, discovered locally in 2007.