Hartlepool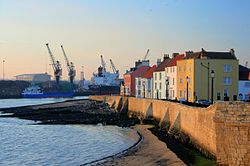 Hartlepool
is a town in
County Durham
, in the
North East
of England.
Understand
Hartlepool was founded in the 7th century, around the monastery of Hartlepool Abbey. The village grew in the Middle Ages and its harbour gained importance. The port expanded in the early 18th century to handle coal from the South Durham coal fields. Hartlepool was a shipbuilding centre in the late 19th century and was bombarded by the German Navy during World War 1. Shipbuilding declined in the later part of the 20th century, and there was high unemployment until redevelopment in started in the 1990s.
It is claimed that a shipwrecked French monkey (in uniform) was executed during the Napoleonic wars (1803–1815). The legend lives on in the mascot of the football and rugby teams.
Historically part of County Durham, from 1974 to 1996 Hartlepool was part of a new county, Cleveland. This was then abolished and Hartlepool returned to County Durham.

Get in
By train
There are five direct trains per day between Hartlepool and London Kings Cross, taking 3 hours. There are other frequent services but taking around 4 hours, with changes at York and Thornaby, or back-tracking from Newcastle. Hartlepool lies on the coastal line with hourly trains to
Sunderland
,
Newcastle
and
Middlesbrough
. Other destinations such as Leeds or Manchester involve changing, and
Durham
(20 mins by car) and
Darlington
(45 mins) have better services.
Hartlepool railway station is central in town, near the junction of A689 and A178.
By plane
Newcastle airport has good connections across Europe. It's an hour away by train and metro, changing in central Newcastle.
For anything beyond Europe, head for Manchester or the London airports.
Durham Tees Valley airport only has a couple of flights per day to Amsterdam and Aberdeen, has no public transport, and slaps a £6 "facility fee" on departing passengers.
Get around
See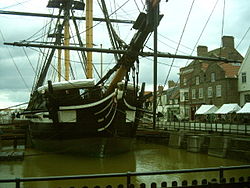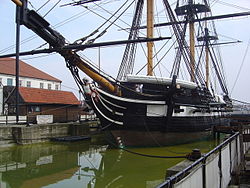 National Museum of the Royal Navy

phone: +44 1429 860077

address: Jackson's Wharf TS24 0XZ

Museum recreating life in an 18th harbour. The standout exhibit is HMS Trincomalee, the oldest Royal Navy warship still afloat (HMS Victory is older, but is in dry dock). Trincomalee was a frigate, launched in Bombay in 1817 and brought to Portsmouth, but then mothballed until 1845. She thereafter served in the seas around North America, including anti-slavery patrols. (Her sister ship HMS Unicorn, mothballed from launch and never in service, can be visited in Dundee.)
The oldest part of town is on the Headland north of town centre. Its 7th C settlers noticed that deer came to drink here, hence the name "Hart-le-Pool".

St Hilda's ChurchDating from the 12th C, overlying the former Hartlepool Abbey founded in 640.
Do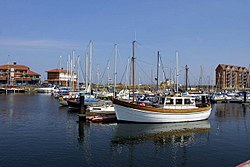 Walk the beaches - plenty of sand at low tide, but lots of industrial remnants, eg from the limestone-processing era. Further south, the Tees estuary is a nature reserve, where seals may haul out.
Eat
Portofino

address: Maritime Ave TS24 0XZ

North African and Med food with marina views.

Mary Lambert

phone: +44 1429 279077

address: 1 Villiers Street, TS26 9DD

Bakery/café/restaurant, seating for 98, a traditional log fire, does fish and chips.

phone: +44 1429 222244

address: Navigation Point, Middleton Rd TS24 0UH

Cafe bar does take-away and sit-in dining.
Sleep
phone: +44 1429 266345

address: Swainson St TS24 8AA

3-star chain hotel, okay but showing its age.
Go next