Hartsfield–Jackson Atlanta International Airport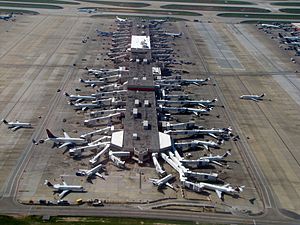 Hartsfield–Jackson Atlanta International Airport
(
ATL
) ("Hartsfield," "ATL," or just "the airport" to locals), is located about 8 miles south of downtown Atlanta. Hartsfield–Jackson is Delta Air Lines' main hub and headquarters as well as a focus city for Southwest Airlines, and has been the world's busiest airport by passenger traffic and aircraft movements since 1998.

Understand
By the numbers
* ATL has flights to 256 destinations, including 75 international destinations in 50 countries.
In 2018, ATL had 895,682 departing and arriving flights, handling well over 200 flights per hour during daily peaks.
That same year, ATL accommodated 107 million passengers, an average of 294,000 per day. Atlanta was the first airport ever to serve 100 million passengers in a year, which it first did in 2015.
12.5 million of those passengers (11%) are on international flights, while the other 94.8 million (89%) are domestic. Atlanta is within a 2-hour flight of 80% of the U.S. population.
73% of ATL's passengers fly Delta Air Lines to or from one of their 225 direct destinations on over 1,000 flights daily, making it the world's largest airline hub. Another 9.5% fly Southwest to or from 39 destinations.
Atlanta is one of the South's two regional hubs, and most of its passengers begin or end their journey in the region, but it also offers international nonstop services to every continent except Australia and Antarctica. As the old saying goes,
"It doesn't matter whether you go to heaven or hell—to get there, you will have to connect through Atlanta."
Atlanta was a rail hub before it ever became a major city, and as travel shifted from rail to air, Atlanta transformed into an air hub (as did the other American rail hub, Chicago). Atlanta is within quick reach of most major population centers of the U.S., and its climate is mild: it has few storms, little fog or snow, and isn't "hot and high" like some desert airports. Northwest Airlines and Delta Air Lines (who would ultimately merge) established their main hubs here, funneling countless passengers through Atlanta. And as "the city too busy to hate," Atlanta was one of the more attractive southern business destinations during the Jim Crow and early civil rights eras.
Despite its busyness, compared to other hub airports it's
easy to navigate
and
not usually prone to delays or cancellations
, thanks to its efficient layout and comparatively mild weather. When they do happen, it's usually because a severe summer thunderstorm brings a halt to all operations for anywhere from 15 minutes to several hours.
Flights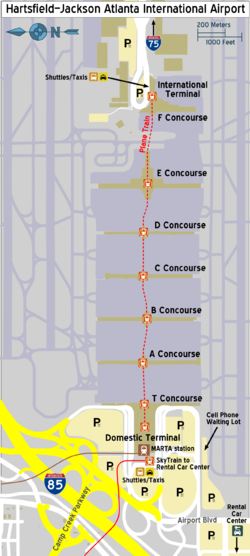 ATL names things a little differently than other airports. The boarding gates are in "concourses" or " Gates", while at either end of the airport the "terminals" are the entry and exit points with check-in, baggage claim, and ground transportation. The
Domestic Terminal
is one large building separated into the South Terminal (Delta and its partners) and the North Terminal (all other domestic airlines), connected by a central Atrium with a smattering of restaurants and a few other amenities. The
International Terminal
on the opposite end of the airport is used for foreign airlines and arriving international flights.
Checking in
If you already have your boarding pass and don't have to check bags, you can skip directly to security. Otherwise, go to the check-in desk for your airline.
Delta is in both Terminals
as the largest airline here; rather obviously,
all other domestic airlines are in the Domestic Terminal
while
all foreign airlines are in the International Terminal
. (Note that Southwest handles check-in for their international flights to Cancún and Punta Cana from their desk in the Domestic Terminal.)
For a Delta flight, you can check in at either Domestic Terminal or International Terminal, regardless of whether your flight is domestic or international. This can be convenient to avoid a lengthy trek to the International Terminal, although the International Terminal is much less busy and usually has much shorter security wait times (see below).
Delta also offers self-service check-in that's highly streamlined. To print your boarding pass, change your number of checked bags, or even handle non-routine tasks like changing flights, use the automated kiosks. Rather than digging up a confirmation number or other booking details, the fastest and easiest way is to swipe your
ID
, whether that's a credit card (only your name is pulled from it, so it doesn't matter whether you used it to book the ticket), a U.S. drivers' license, or a passport. Answer the questions on the kiosk, pay for any changes with your credit card, and you're done. To check baggage, enter a nearby line for check-in agents labeled "Bag Drop".
Security
You can enter security at any of the four checkpoints. (You can even use the security checkpoint in the Domestic Terminal if you're on an international flight, and vice versa.) You'll never have to leave and re-enter security to get where you're going.
You can
check the current wait times online
or by looking at signboards, but be skeptical:
"less than 15 minutes" may not actually be true
. Wait times have grown longer in the past few years, and can reach up to 1 hour during peak times (and even longer during busy holiday periods). It's also become more difficult to guess which checkpoint will be the fastest, since delays can occur for no apparent reason.
Mobile boarding passes
are accepted at all security checkpoints; this lets you pull up your boarding pass on your mobile phone to get through security and board the plane, bypassing the check-in desks and saving paper.
Security checkpoints use new
automated screening lanes
which avoid backups from slow passengers, but can be confusing the first time. When you get to the screening area, go to one of the five individual stations. Take a bin from beneath the station and put
everything
in it,
including your luggage.
You don't need separate bins for laptops/electronics, clothes, etc., but you do have to remove all electronics larger than a cell phone.
When the TSA agent tells you to,
push your bin forward onto the conveyor belt. (Don't push your bin as soon as there's an opening on the conveyor, because you may be cutting off someone at another station who was already waiting.) Then walk through the checkpoint and collect your belongings as usual. Be sure to return the empty bin to the automated return system.
In the Domestic Terminal, there are three security checkpoints: the main one accessible through the central Atrium, and smaller ones near the end of North and South Terminals (walk behind and past the check-in desks; the entrances are marked but there aren't many signs to guide you to them). Keep those smaller checkpoints in mind in case the wait at the main checkpoint is long; they are also the faster option if your flight leaves from Concourse T, as they empty directly into it instead of the Transportation Mall.
The line at the International Terminal security checkpoint is often much shorter. Since you can use it even if you're on a domestic flight, this can be handy if you're in a rush or want a calmer experience. However, there are several caveats:
If you need to get your boarding pass or check baggage, and your airline doesn't have a desk at the International Terminal, this won't work.
The wait to check baggage is typically longer at the International Terminal.
You can only get to the International Terminal by car and some shuttle buses; it's not directly served by public transit at all. Depending on where you come from, it may take longer to get to the International Terminal. (Once past security, though, it only takes a few minutes to cross the airport to reach your departure gate.)
Baggage
Regardless of what gate you arrive at, if you're on an international flight — even one with U.S. border preclearance — your baggage will be at the International Terminal located outside of Concourse F. For domestic flights, your baggage will be in the Domestic Terminal in either South Terminal (Delta and its partners) or North Terminal (all other airlines).
Ground transportation
Ground transportation options at ATL are nicely consolidated at the end of the Domestic Terminal. Walk past baggage claim; the MARTA station is just indoors, and all other transportation is straight ahead outside.
At the International Terminal, the only options that are
directly
available are taxis, ride-shares, a few select shuttle buses, or getting picked up by car. For all other ground transportation, take the free
International Shuttle Connector
, a 15-minute ride that leaves from the
red
zone 3. Check the bus's sign for its destination; it will bring you to either directly to the rental car center, or to the Domestic Terminal for all other ground transportation.
By public transit
The airport has its own station on , the
city rail system
; the station is inside the Domestic Terminal. (
The station is indoors, next to the exit for other ground transportation, across from the baggage claim belts; look for the ugly brown stone flooring.
) MARTA is a convenient and economical way of getting from the airport to places in
downtown
,
midtown
, or
northern Atlanta
, albeit one of the least comfortable. (The hard plastic seats get uncomfortable very quickly, and there isn't much space to put your luggage.) Not including time spent waiting for a train, travel time is about 20 minutes to/from Five Points Station or 30 minutes to/from Lindbergh Station. All fares are $2.50 one-way (not including a $1 ticket fee or $2 reloadable fare card) and include free transfers for both rail and bus. Departing trains alternate between Doraville-bound (Gold Line) and North Springs–bound (Red Line), though if you aren't going north of Lindbergh Station, where the two lines diverge, you can take either one.
Most MARTA stations have taxi stands, and some hotels have free shuttles which will collect from the nearest MARTA station on telephone request.
Although several MARTA
bus
routes stop at College Park Station (the next stop up on the MARTA Red/Gold rail line), the only route that stops at the airport directly is
191
, which stops at the International Terminal and services Riverdale and Jonesboro.
There are no long-distance trains at the airport, but you can take MARTA trains and buses to the
Amtrak
station in
Buckhead
.
By taxi or ridesharing
Taxis are fixed-rate when going to/from the airport and major business areas (Downtown $30, Midtown $32, Buckhead $40; excluding fees).
Taxi stands and
rideshares
from
Uber
and
Lyft
are available at both terminals. Due to construction at the Domestic Terminal, its rideshare pick-up zone is temporarily relocated. Do not attempt to request a rideshare at the general pick-up/drop-off zones. From baggage claim, take an escalator down to the lower level, and follow signs to the rideshare pick-up zone (in the North or South Economy parking lots). It is approximately a 5-7 minute walk from the terminal.
Request your rideshare after getting to the pick-up zone.
By shuttle or bus
A plethora of shuttle buses have designated parking spaces, divided into categories: limousines, shared-ride shuttles, hotel shuttles, and off-site parking.
Local shared-ride shuttles
Local van services provide transportation to a variety of areas in the Metro Atlanta area. Fares are capped when going to/from the airport and major business areas (maximum: Downtown $16.50/person, Midtown $18.50/person, Buckhead $30/person).
Regional and long-distance
Regional shuttle services to
many surrounding cities outside Metro Atlanta
are available.
Limited services to outside of Georgia are also available:
You can also take MARTA rail to connect to the
Greyhound
and
Megabus
stations in
downtown Atlanta
.
By car
The airport is easily reached from
I-85
(domestic terminals) or
I-75
(international terminal), where there are well-labeled signs directing you to the airport.
At the domestic terminals, you will need to know whether you're going to South Terminal (Delta and its partners) or North Terminal (all other airlines), because the road divides. Fortunately there are signs posted listing the airlines for each terminal.
If you just want to drop someone off quickly, the curbside drop-off lanes are quick in spite of the heavy traffic. Surly police officers will not let you linger for too long, so if you want a longer goodbye, pay a few dollars for the hourly parking lot.
Parking
Free "cell phone" parking lots are available if you're waiting to pick up an arriving passenger, but they can be jam-packed during busy times. The rental car center also has a small waiting lot inside its main loop, and is only 5-10 minutes away.
Numerous parking lots are available from all terminals. All allow hourly parking at $3/hour (increasing to $4/hour after 2 hours in the short-term lots), and long-term parking at rates from $10-36/day. Parking lots sometimes fill up during busy periods;
check lot status online
or listen to 830 AM.
More than a dozen other companies have off-site parking lots with shuttles bringing you directly from your car to the terminals. Their daily rates can be substantially cheaper, particularly if booked advance.
By rental car
Handle everything for your rental car at the Hartsfield–Jackson , a dedicated complex that houses rental check-in desks and the cars. From the Domestic Terminal, walk past baggage claim, continue straight outside, and take the ; from the International Terminal, take the International Shuttle Connector, which has a route that will take you directly to the rental car center.
When returning your car, take I-85 and follow signs towards the airport, then follow further signs to "rental car return". When you reach the Rental Car Center, drive around the loop until you see the parking deck entrance for your rental car agency. After you've returned the car, take the ATL SkyTrain to the Domestic Terminal, or the International Shuttle Connector to the International Terminal.
There are no gas stations for several miles as you take I-85 towards the Rental Car Center, except for a couple off exit 73 (coming from the north). Otherwise, the best option, which is also a little bit cheaper, is to take the airport exit onto Camp Creek Parkway and go 3/4 mile to the RaceTrac on your left, just past the convention center. After filling up, go back the way you came on Camp Creek Parkway and follow signs to the airport and the Rental Car Center; don't try to take surface streets, which only lead to restricted entrances.
Get around

Think of the airport as a series of parallel ribs (concourses) connected by a central spine (the Transportation Mall and Plane Train), bookended by the Domestic and International Terminals. To get between concourses, head to the center of the one you are in, then take an escalator down into the
Transportation Mall
, the long straight underground hallway which connects everything. You can choose to walk (it's about between each concourse, with moving sidewalks for most of that length), or you can take the much faster
Plane Train
, an automated people mover that stops at every concourse roughly every 2 minutes. (Did we mention it's fast? Heed the announcements and hold on to something, lest you bowl into the other riders.) You don't have to leave or re-enter secure zones, so tight connections are usually quite feasible.
However,
within
each concourse, there are no moving sidewalks (except in Concourse F), and it's about from the entrance to the ends, or almost if you're unlucky enough to have to walk from one end to the other. For those who need assistance, there are speedy electric carts which you can flag down or ask a gate agent to call.
Concourses E and F are the
international concourses
. F is in the same building as the International Terminal, and is where you will go through customs and immigration when arriving from abroad. You can go to or be picked up directly at the International Terminal by car, taxi or shuttle. If your arrival brings you to the International Terminal and you want to use other ground transportation (rental car, public transit, other shuttle), take the free airport shuttle connector to the Domestic Terminal or the car rental center.
Maps of the interior of the airport available on
Google Maps
and
Apple Maps
.
Wait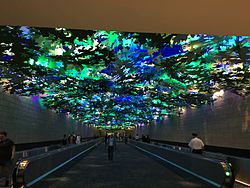 It's tough to find a good view, since windows mostly have a dull view of other gates. Concourses A and D have upper levels at their centerpoints, and the restaurants there have windows that look out over the whole airport. Gates E14-18 are sideways compared to everything else, so their windows have a clear view of the runways and open field.
Music
The ATL/music program has around a dozen musicians who play in shifts all throughout the airport, M-F 7AM-7PM, Sa-Su 8AM-5PM. Besides guitar, violin, and cello, you may hear steel drums or vibraphone.
If you prefer a more relaxing ambiance, Concourse E has a spacious food court with live piano.
There is also the Piano Bar in Concourse A (see § Eat and Drink), although it's small and often crowded.
Music plays in the Domestic Terminal Atrium (outside secure zone) from 5PM-7PM daily. The theme changes monthly.
Art exhibits
The airport is home to a growing number of permanent and rotating
art exhibits
.
In the Domestic Terminal Atrium there is a on loan from Atlanta's Fernbank Museum.
The underground Transportation Mall has a few exhibits. You'll have to skip the Plane Train and take the moving sidewalks if you just want a quick glance, or walk if you want to go at your own pace.
Between Concourses T and A, there are .
Between Concourses A and B, the tunnel is decorated like a , with faux foliage on the ceiling, lighting, and sound effects of rain and birds.
Between Concourses B and C, there's an exhibit on the .
There are rotating youth art galleries in Concourses T, D, and E.
Concourse E includes an exhibit on the life of civil rights activist , by the escalators from the Transportation Mall level.
Lounges
phone: +1 404-382-2856

Open to all travellers; also serves British Airways, Lufthansa, Qatar Airways, and Turkish Airlines, as well as members of Priority Pass, Lounge Club, Lounge Key, and Diners Club International. A small lounge, but spacious and bright. Unimpressive views include the good (the iconic "Fly Delta Jets" sign), the bad (some roads and a parking deck) and the ugly (the line at the security checkpoint). The limited food offerings are decent, but not great, and better for breakfast than other meals. Free alcoholic drinks including cocktails. Showers available.

phone: +1 404-761-8061

address: 6000 N Terminal Pkwy, Ste 320, Atlanta, GA 30320, USA

For U.S. military and their families. Very comfortable reclining leather chairs for sleeping or watching TV. Drinks and snacks, and a full kitchen. Several computers for Internet access, and tables with charging stations. Small playroom with kid-sized furniture. Very quiet inside, so it's great for catching some Z's.
It's not really a lounge, but if you're looking for someplace to rest quietly you can also get a room at
Minute Suites
in 15-minute increments (minimum 1 hour); see
§ Sleep
.
Airline lounges
American Airlines Admiral Club

phone: +1 404-530-7250

Delta Sky Club — The best are the ones in Concourses E and F. Concourses A and B also have nice ones. If you're in Concourse D, go elsewhere if you have time.
A smaller lounge, suited to its smaller concourse. Nice seated TV viewing area. Small bar with no TVs.

Large pillars in the middle break up the space, compared to other lounges with more open designs. Small bar with a TV. Panoramic windows provide nice views of Delta's busiest concourses.

Spacious open design. Good food and drink selections, and a large bar. Few windows and no views to speak of.

The flagship and newest lounge at ATL, with a spacious feel. Good food and drink selection.

One of the smaller lounges, but still with a spacious design and some more private areas, accented by unique stone decor.

Undoubtably the worst option; try the other one at gate D27. Now the smallest lounge and likely to take over the "Sky Closet" moniker; it's so narrow that people walking through the aisles are likely to bump into you. Only one bathroom, so there's often a line.

Better than the one at gate D12, although the limited views are unimpressive. Low ceilings emphasize that this is the only lounge located downstairs rather than up. Bar with several TVs.

Large seating area. Good food and drink selection, and a very large bar. Great views. Showers and spa available.

Possibly the nicest one in the airport. Good food and drink selection, and a very large bar. Upstairs area has an outdoor deck with great views. Showers available.
United Club
phone: +1-866-822-5827
Spas
phone: +1 404-305-0198

phone: +1 404-766-4353
Eat and drink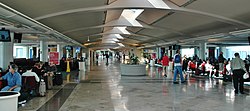 Coffee
The tide has turned against domination by Starbucks, and there are now an assortment of cafes and restaurants with a decent brew. If you're searching for espresso drinks rather than just drip coffee, here are a few suggestions:
Domestic Terminal Atrium: Coffee Beanery, Starbucks
Concourse T: Argo Tea & Café (Gate T11), The Coffee Bean and Tea Leaf (Gate T6)
Concourse A: Atlanta Bread & Bar (Gate A12), Brioche Doree Café Bakery (Center), Caribou Coffee (Gate A2), The Coffee Bean and Tea Leaf (Gate A12)
Concourse B: Cafe Intermezzo (Center), Cafe Tazza (Center), Coffee Beanery (Gate B3)
Concourse C: Atlanta Bread Company (Gate C30), Starbucks (Gate C16, Gate C37)
Concourse D: The Coffee Bean and Tea Leaf (Gate D30), Harvest & Grounds (Gate D9), The Market by Food and Wine (Center)
Concourse E: Caribou Coffee (Center)
Concourse F: French Meadow Cafe (Center), Starbucks (Center, upstairs)
International Terminal: Starbucks (Arrivals level)
If
tea
is your preference,
Argo Tea & Café
(
Gate T11
) probably has the best selection.
Restaurants and bars
An influx of local restaurants and fine dining options has led to a vastly improved food scene at ATL.
Naturally, fast food is your safest bet if you're in a hurry, although even the "fast" food restaurants can be unexpectedly slow at times. But if you have enough time — say, at least 1 hour for a seated restaurant — then nearly the whole airport is available to you, more than 100 establishments. It only takes 5-10 minutes to hop on the Plane Train and cross the airport in search of quality food, particularly since many restaurants are clustered at the center of each concourse.
Looking for the best that ATL has to offer?
One Flew South
(
Concourse E
) is consistently praised for its gourmet food and cocktail creations.
Ecco
(
Concourse F
) and
40/40 Bar
(
Concourse D
) also offer good upscale food.
The Original El Taco
(
Concourses C and F
) and
Pascal's Southern Cuisine
(
Concourse B
) offer some unpretentious local flavor, while
Varasano's Pizzeria
(
Concourse A
) and
Grindhouse Killer Burgers
(
Concourses T and D
) serve expertly crafted classics.
Domestic Terminal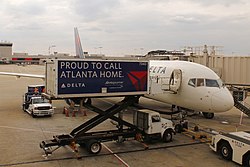 As the Domestic Terminal is outside of the secure zone, the restaurants in the Atrium plus one in the International Terminal are the only options for someone who isn't flying and can't pass through security.
Atlanta ChopHouse & BrewerySteaks, drinks, and an excellent Reuben.

Shane's Rib Shack
Concourse T
Atlanta Stillhouse

Corner Bakery Cafe

Grindhouse Killer BurgersExcellent burgers; you might even say they're good enough to die for. Cheap wine and a good selection of craft beers.

Goldbergs Bagel Company & Deli

Papi's Cuban & Caribbean CafeGreat place for a traditional American breakfast with a Cuban twist, or for big Cuban sandwiches at lunch. Also has a bar and serves Cuban coffee.
Concourse A
Atlanta Hawks Bar & GrillVery generic sports bar. A few local beers, which you can use to wash down Cajun fish tacos and other average bar food.

Bar OneMartinis

Cat Cora's Kitchen

Chick-fil-AThis southern fast-food chain serves chicken sandwiches, chicken nuggets, and waffle fries. Displaced southerners flock here for a taste of their former home, and it's an easy chance for foreign travellers to try something unique. An additional bonus is that they use peanut oil that's processed to remove all allergens, so people with peanut allergies can generally eat here without any problems (but check with your doctor first, of course).

LowCountry New Southern Cuisine

Piano BarConnected to Varasano's Pizzeria, in addition to live piano they ply your heart with great selections of wine, cocktails, spirits, and local craft beers.

Piece of Cake

TAPA small branch of a local gastropub. Smoking is allowed in a room in the back (purchase required).

Three Taverns Craft BeersLocally brewed craft Belgian-style beers

Varasano's PizzeriaLittle sibling to Varasano's Pizzeria in Buckhead, ranked among top pizza restaurants in the U.S. Also serves drinks and music at the piano bar.
Concourse B
Bobby's Burger PalaceBurgers from celebrity chef Bobby Flay.

Blue Moon Brewhouse

Café IntermezzoLocal favorite with dozens of espressos, cappuccinos, and other dressed-up coffees. Sweet and savory crepes, sandwiches, and charcuterie.

LottaFrutta

Paschal's Southern Cuisine

Samuel Adams Atlanta Brew HouseA good bet for a decent pint of beer.

Sweetwater Last Cast Bar & Grill

phone: +1 404-559-9787

Serving up Georgia's most well-known craft beer.

Willy's Mexican GrillFast-casual burritos, quesadillas, and other Tex-Mex combinations. Similar to, and arguably better than, Moe's or Chipotle.
Concourse C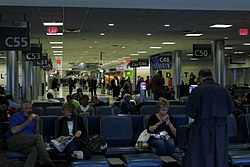 Chick-fil-AThis southern fast-food chain serves chicken sandwiches, chicken nuggets, and waffle fries. Displaced southerners flock here for a taste of their former home, and it's an easy chance for foreign travellers to try something unique. An additional bonus is that they use peanut oil that's processed to remove all allergens, so people with peanut allergies can generally eat here without any problems (but check with your doctor first, of course).

Jersey Mike's Subs

Links Grill

The Original El Taco

The Pecan Bar

Sweet Georgia's Juke Joint

Samuel Adams Atlanta Brew HouseYour second best bet for a decent pint of beer.

phone: +1 404-838-1001

Famous as the world's largest drive-in restaurant, the Varsity is a favorite of many locals for chili cheese hotdogs, burgers, and onion rings. An equal number of people dislike its greasy, low quality food. If you don't want to risk the heartburn, try the F.O. (Frosted Orange, a sort of orange creamsicle slushie). Breakfast is also available, unique among Varsity locations.
Concourse D
As one recent review put it, "The 'D' clearly stands for 'drinking'."
40/40 Club

phone: +1 404-762-1577

Upscale sports bar, the third location of a chain owned by rapper Jay-Z. Unfortunately, reviews consistently say that the typical bar food is at best average quality, the drinks are overpriced ($20-25 for a glass of wine that would be $12 elsewhere, $10 for a 12oz beer), and service can be slow and sometimes downright rude.

Atlanta Braves All-Star Grill

Buffalo Wild Wings

Chicken+BeerSouthern comfort food from local rapper Ludacris, sharing the name of his third album. Beers from multiple small Atlanta craft breweries, and cocktails.

Garbanzo Mediterranean Grill

Grindhouse Killer BurgersExcellent burgers; you might even say they're good enough to die for. Cheap wine and a good selection of craft beers.

The Market by Food and WineA showcase of local foods, which unfortunately may fall short in its execution. Locally roasted Octane Coffee is good. Sandwiches like "The Big Peach" on bread from locally-renowned Holeman & Finch, with ham, brie, and Georgia peaches. Wine and local beers, and even Buford Highway–inspired pho. However, all food is pre-made (not even on site) and served cafeteria style, so expect dry biscuits and limp salads.

Mustard Seed BBQ

Terrapin Tap HouseLocally brewed craft beer from nearby Athens, Georgia. Smoke lounge with cigars and hookah.
Concourse E
Except for the outstanding
One Flew South
, food and drink options in Concourse E are generally unremarkable. There's a
food court
in the centerpoint with lots of open space and , but the restaurants are just generic fast food (Arby's, McDonald's, Nathan's, Panda Express, Qdoba, and Subway).
Blue Moon Brewhouse

Goldbergs Bagel Company & Deli

phone: +1 404-816-3464

One of the best-rated cocktail bars in not just the airport but the whole city, this part-Japanese part-Southern restaurant is tucked away in a primarily international concourse. It's worth going out of your way for, though, as their seasonal cocktails are expertly constructed; the wine list is similarly extensive and includes a few sakes. Highlights on the gourmet food menu include thyme-roasted pork belly, fresh sushi, and salmon hot pot. While all of the food is outstanding, portion sizes can be a little small, and there are almost no vegetarian options. Service can be a little slow, but they always ask how long you can stay and adjust accordingly; at least while you wait you can enjoy the decor and the forest photo-mural.

Sojourner's Cafe
Concourse F
EccoUpscale Mediterranean-influenced Italian food. Three dozen wines by the glass, emphasizing breadth rather than depth; cocktails are decent, mainly slight variations of the classics. Lovely dark wooden interior, plus some tables in the open balcony overlooking the gates below.

French Meadow Bakery & Café

Jekyll Island Seafood CompanyBeers from multiple small Atlanta craft breweries

Lorena Garcia Tapas AtlantaAvoid. Badly misnamed since they don't serve any food. The short cocktail menu of sangria, mojitos, and margaritas sounds okay, while the wine and beer selections are mediocre, but all drinks are overpriced and a mandatory 18% gratuity is included.

Maison Mathis Belgium Beer Café

The Original El Taco

The Pecan Bistro

phone: +1 404-838-1001

Famous as the world's largest drive-in restaurant, the Varsity is a favorite of many locals for chili cheese hotdogs, burgers, and onion rings. An equal number of people dislike its greasy, low quality food. If you don't want to risk the heartburn, try the F.O. (Frosted Orange, a sort of orange creamsicle slushie). Breakfast is also available, unique among Varsity locations.
International Terminal
The International Terminal isn't meant as a place to linger; it only contains check-in, baggage claim, and some ground transportation. Other than a Starbucks, there is only one restaurant here. Go through security, and then you'll be in Concourse F with a better selection, and within easy reach of the rest of the airport's restaurants. If you want to eat with someone who isn't flying and can't pass through security, either go to Domestic Terminal for a better selection, or leave the airport and eat
someplace nearby
.
Sweet Auburn Market

phone: +1 404-492-5755
Buy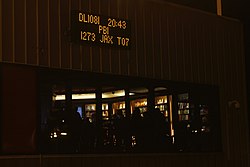 For its many frequent travellers, ATL has introduced the
ATLRewards
loyalty program. By shopping and eating at many places in the airport, you can earn points which you can redeem for airline miles, hotel points, and other travel-related rewards.
Money
Currency exchange
is offered by
Travelex
:
phone: +1 404-766-8767

phone: +1 404-767-3471

phone: +1 404-762-7696

phone: +1 404-762-7996

phone: +1 404-767-4530

phone: +1 404-761-1406

phone: +1 404-768-2465

phone: +1 404-761-1941

phone: +1 404-761-6331

phone: +1 404-763-0900

phone: +1 404-736-0900

phone: +1 404-317-8587

phone: +1 404-719-1175
For
full-service banking
, there is a
phone: +1 404-974-9555
Shopping
phone: +1 404-382-2850

phone: +1 404-382-2744
Newsstands are easy to find: there's always at least one in the center of each concourse selling newspapers, books, and sundries.
Souvenirs
All ATL

phone: +1 404-669-0778

Atlanta.net

phone: +1 404-768-5587

Local merchandise including items from the gift shops of the High Museum of Art, CNN Center, and other Atlanta and Georgia attractions.

Panda Veranda

phone: +1 404-768-3231

Merchandise from Zoo Atlanta featuring the giant pandas and other animal friends.

Savannah's Candy Kitchen

phone: +1 404-574-6191

Gourmet sweets from Savannah, Georgia: pecan pralines, pecan pie, caramels, and fudge.
Clothes
Beauty
The Beauty Lounge

phone: +1 404-763-0337

phone: +1 404-763-6947
Connect
Free Wi-Fi is available throughout the airport on the "ATL Free Wi-Fi" network.
Charging your devices can be difficult in such a busy airport. Wall outlets are in short supply. Some seating areas have power stations with AC outlets and USB charging ports, but there aren't enough to keep up with demand. Some restaurants offer AC outlets. There are a few "quick charge" stations and booths; these charge your device quickly, but make you suffer through video advertisements while you wait.

Cope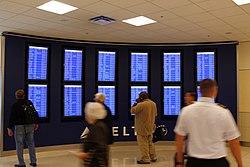 There is
no luggage storage
at ATL.
Although smoking is prohibited in most parts of the airport, ATL is the most smoker-friendly airport in the U.S., with multiple
smoking areas
in most concourses (
Gates T4, T13, Concourse A center upstairs, A3, B7, B24, C16, C26, E9, E17, E29, and Concourse F upstairs
). Only Concourse D lacks a smoking area.
TAP
(
Gate A3
) allows smoking, and
Terrapin Brewery
(
Concourse D center
) has a small cigar and hookah lounge.
Showers
are available included with entry to The Club at ATL (
Concourse F
) and in the Delta Sky Clubs in Concourse E and Concourse F. They are also available at MinuteSuites in Concourse B and Concourse T for $30, or $20 with suite purchase.
For mothers with infants, there are six
nursing stations
(
near gates T7, B5, D43, Concourse E center, F5, and F arrivals
). These small pods have bench seating, a small diaper-changing table and an electric outlet for pumps. You can also use Minute Suites at gates T8 and B15 (
see § Sleep
).
There are multiple
dog parks
. The main one is outside the Domestic South Terminal from doors W1 and W2 (
follow the signs towards the SkyTrain, then go left around the SkyTrain's building towards ground transportation buses
); it's very clean, and has some cute dog statues made from scrap metal. Smaller ones are outside Domestic North Terminal from door LN2, and outside the arrivals level of International Terminal from door A1. All of these are outside of the secure zone, so if you're continuing on another flight, you'll have to go through the security screening to get back in. For
service animals
only, there are also indoor relief areas near gates T7, A10, B33, C19, D16, E14, and F7
There are three
interfaith chapels
available: one outside of the secure zone (
Domestic Terminal Atrium, upstairs
), and two inside the secure zone (
Concourse E center, behind the Dr. Martin Luther King, Jr. exhibit
and
Concourse F center, upstairs
). 24 hours daily. There are
scheduled
Catholic, non-denominational Christian, and Muslim (Jumu'ah prayer) services throughout the week. There's also a
Chaplain Office
phone: +1 404-762-1051 (24/7 for emergencies)
For customers on the autism spectrum, there is a quiet room (
Concourse F
) with multisensory items to interact with for a calming experience.
Sleep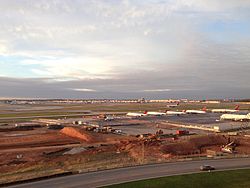 The airport never closes, but nightly from 11PM-4:30AM it's restricted to ticketed passengers and people meeting, accompanying, or assisting passengers. You won't get kicked out for sleeping on the chairs or even the floor, although you may be asked to move or to show a boarding pass. But for comfort reasons, it's best to avoid that except as a last resort. Pretty much all chairs have integrated armrests, so the only way to lay down flat is to sleep on the floor. The airport can get cold overnight, particularly near the ubiquitous large windows, and remains brightly lit and noisy. Good places to try include:
Domestic Terminal Atrium, which is outside the secure zone, but has large comfortable chairs
the underground hallway between Concourses A and B, which is dim and has ambient wildlife noises
Concourses E and F, which are spacious and quiet and may have some couches available
There are quite a few hotels near the airport, but your only option
within
the airport is
phone: +1 404-762-7660
Their rooms feature a daybed couch, HDTV, and an office desk. Rooms sleep 2 people or seat 4. Rates are no cheaper than a hotel for an overnight stay, but if you just want to rest between flights, this probably beats sleeping upright sitting in a chair.
Showers are available, but not included in the price.
Hotels
Connected by transit
Nearby
Do
Weird as it may sound, ATL has several
events
throughout the year that might be worth making a trip just to attend.
Global RunwayStarted in 2017, this fashion show has models sporting spring and summer looks from retail brands like Swarovski, Sean John, and Tommy Hilfiger. Other displays feature a range of curated items, from luxury jewelry to casual T-shirts and blazers. Unlike a typical fashion event, you're encouraged to touch the display items and take selfies with the models.

Taste of Hartsfield-JacksonThe world's first food festival in an airport has since 2015 highlighted the hundreds of restaurants and bars that travellers can choose from at ATL. Buy tickets to get tastings from more than 30 eateries spanning the gamut of casual to fancy, and cast your vote for the best. A 25-minute cooking competition takes place in a temporary kitchen, with all the drama of an Iron Chef episode.
Nearby