Hastings (New Zealand)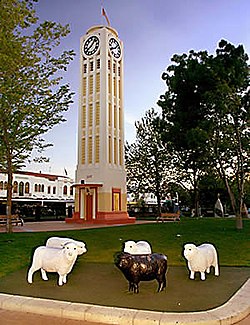 Hastings
is a city in
Hawke's Bay
, on the east coast of the
North Island
of
New Zealand
. It is the largest populous area in Hawke's Bay.
Napier
follows closely after. It was heavily damaged in the 1931 Napier earthquake, but because there were no fires much of it survived and is still visible in the city's downtown architecture. This contributed to the damage it did suffer makes Hastings the 'jewel' in the crown of the 'Napier' earthquake. This is mixed with Art Deco. Hastings has in the past been known has being an unattractive place to visit, but with the council's push for central business district redevelopment the city is returning to its previous splendour. It is the food-producing capital of New Zealand and has many different types of food. Its cuisine is unrivalled anywhere else. It also receives 2200 hours of sunshine a year, making it one of the sunniest places in New Zealand.
Understand
Hastings is a pleasant sun-drenched town in Hawke's Bay. It is in constant rivalry with Napier as Napier receives all the tourist attention. The information centre will provide bookings and advice on anything in Hastings. It can be found on the corner of Russell and Heretaunga Street East, opposite the fountain with the train track running through it. It is in the Westermans building and can be called on (06)873 0080. (06) is the calling code for toll calls from outside Hastings.
Hastings District Council governs a large part of Hawke's Bay south of the
Wairoa
district and north of the Central Hawke's Bay district. Close to the main urban area of Hastings is
Havelock North
, a trendy fast-growing village on the foothills of Te Mata peak, and
Flaxmere
, a satellite suburb. Clive, Bridge Pa and Whakatu are smaller satellite settlements.
Get in

By car
2 hrs from Taupo on State Highway 5
3 hrs from Taihape across the Taihape Road
15 min from Napier on State Highway 2
1.40 from Palmerston North on State Highway 2
1.50 from Wairoa on State Highway 2
3.5 hours from Wellington
State Highway 2 passes through Hastings at Omahu Road. On the way to Napier from Wellington follow the signs and turn right at the massive roundabout.
Alternatively, if coming from the south, continue northwards up the road through Pakipaki and you will enter Hastings at Eastbourne Street, 300m from the town centre
If travelling south from Napier, a very scenic route is Napier's Marine Parade (characterised by rows of Norfolk pines) past Awatoto with the gravel works and continue on the main road. You will get to Hastings after 20 minutes' driving.
By plane
Hawke's Bay Airport is at Napier. It only receives domestic flights, but from many locations in New Zealand. It is almost always open. Hastings is a 20-minute drive south on State Highway 2B.
Hastings also has the Bridge Pa aerodrome which has a runway capable of landing an Hercules, although no commercial aircraft operate from there. For further information contact: HB & East Coast Aero Club Bridge Pa Aerodrome, Hastings, ph 06 879 8466. If you are interested in aerial activities over Hawke's Bay consult 'do'
By bus
National bus operator InterCity provides daily services in and out of Hastings with connections throughout the North Island. Fares start from $1 and can be purchased online or via numerous local ticketing agents including the i-SITE information network. Services arrive and depart from the main Bus Shelter at 117 Russell St, opposite Subway,
Get around
Hastings is very flat, dry and not very windy, so muscle power is an excellent way to get around.
The Hastings CBD is very safe at daytime so walking around it is the best option
Cycling around Hastings and its environment is an excellent way to enjoy Hastings
The traffic is always good, so for places a bit further away driving is an option.
See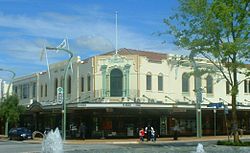 Because Hastings was destroyed in the 1931 Napier earthquake along with Napier it was rebuilt in the stunning Art Deco style popular at the time. The town contains several excellent examples of this
The clock tower that contains the bells from the post office that collapsed during the quake. It chimes every hour on the hour
The main shopping street, Heretaunga Street, contains the bulk of the Art Deco architecture, so if your an enthusiast you can go past a walk down Heretaunga Street
The occasional art deco house scattered around town.
Located in the centre of the city are Hastings' iconic
sheep
. These sheep have, over time, migrated around the city.
Hastings has also had millions spent of redeveloping the CBD (central business district) so looks beautiful. Several major features are:
The new centre city fountain
The hand at the south end of Karamu Road outside the library
Olive trees planted along Heretaunga
Art works
Many more significant art works were designed at the local
Cicada Works
cooperative workshop at Whakatu
The grills around the fountain
The performing stage beside Westpac bank
The curved streetlights
Other things to see in Hastings include:
The unique train track that runs through the middle of the CBD
The apple trees in blossom
Hastings picks up the Hawke's Bay channel. Its channel 51. It can be a bit hard to receive clearly but with enough jiggering a set of bunny ear aerials will pick it up.
The Chinese gardens down Nelson Street are very nice. They can be found in Cornwall park with its large fountain. The gardens celebrate Hastings' partnership with its sister city, Guilian City in China
Do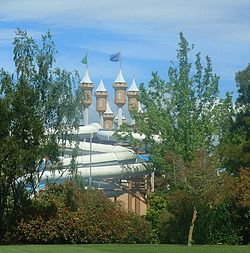 phone: +64 6 873 8033

address: Grove Rd

A water theme park that offers 'A whole day's fun'. It is set in a park-like setting and has many non-aquatic activities for those who don't like swimming. Splash Planet's 'logo' is a planet-like ball with a 'water' comet whizzing around it on the brown signs scattered throughout Hastings on the lamp-posts. Follow where those signs point. Splash Planet is well worth the effort for your kids. If you get lost, you should pull over and any friendly local will point the way for you! It can be found by travelling on Karamu Rd until you reach a set of traffic lights with a car dealer on the corner. Turn to go down the side with the car dealer on it, or follow the small brown signs posted on lamp posts. Following Grove Rd (toward Karamu High School) and you can't miss it on the right.
Wineries and vineyards
There are about 64 vineyards and wineries in the area around Hastings. Many of them have won international awards for their wine. Because the viticulture industry is so new to Hawke's Bay, most of the buildings and facilities are ultra-modern. The population of
Havelock North
frequents these locations so they are always busy and always competing, especially on quality, with the other wineries which may be no further away than across the road. Because of the unusually high density of wineries, there are many tours available. Some of the better known ones are listed here.
Craggy Range Vineyard, 253 Waimarama Rd, Havelock North, ph (06)873 0143. Ultra fancy winery. Very nice setting in the Tukituki valley between the Tukituki River and Te Mata Peak.
Ngatarawa Wines, 305 Ngatarawa Rd, Bridge Pa, ph +64 6 879 7603. You may already know this wine with its characteristic horse-head label.
Prenzel on the Bay, 180 Havelock North Rd, Havelock North, ph +64 6 870 8524. Although not strictly a winery, it still offers a delicious range of Schnapps, liqueurs and aux de vies as well as food to indulge yourself in.
Sileni Estates Winery, 2016 Maraekakaho Rd, Hastings, ph +64 6 879 8768. Has an restaurant, shop, cellar tours and can host conferences and functions
Vidal Estate Winery, 913 St Aubyn St East, +64 6 876 8105. This winery is historic, one of the first to be established in Hawke's Bay. As the town expanded, it grew around the winery, leaving it in the middle of Hastings. It has a restaurant, sales, and can host functions.
Tours
Odyssey New Zealand, 219 Kenilworth Rd, ph 0508 ODYSSEY
Long Island Tours, 20 Reynolds Rd, Havelock North, ph +64 6 877 0977. Offers different types of tours for every taste, or type.
Beaches and rivers
Hawke's Bay's natural abundance is recognized by the regional council's logo: each 'finger' represents one of the 5 main rivers. It also has several golden sand beaches. These beaches and rivers are listed from north to south
Clive River is popular for its water sports including jet boating, kayaking and waka (Maori canoe) rides. No motorized craft are allowed further up the river than the bridge.
The Tukituki River is generally considered a safe place to take the kids swimming. The favourite spot is 'Undercliff' near Havelock North. It is within a 25-min cycle ride from Hastings city centre.
Haumoana beach has a lovely little seaside settlement. It is generally regarded as an unsafe place to swim, due to dangerous undertows from the many rivers that pour into the bay.
Te Awanga is another lovely beach settlement - but again, no swimming.
Clifton. The base from which to explore the Cape Kidnappers mainland gannet colony. It is largest mainland gannet colony in the world and has over 50,000 birds. It is important to check the tides before walking out there as the tide comes up to the cliffs, leaving you to be washed out to sea. There is a café that serves Rush Munroe's ice cream and other café food. You can book tractor rides out to the gannet colony in the main part of town and there is always room at the Clifton motor camp for another camper van. It is in places not safe to swim at.
Ocean Beach is Hawke's Bay's premier beach. During the summer months (Nov–Feb) it has hundreds of beachgoers. Golden sand stretches for 10km in either direction from Reneika Point down to Waimarama beach. The sand is compact and even the heaviest 4x4 will have no trouble driving on it. It is a remarkably safe beach for swimming, but the current will carry you down the beach a little. During the busiest months, there are lifeguards who patrol a short stretch of beach near the settlement. There are no shops so you need to bring your own food. Ocean Beach will remain unspoiled for the foreseeable future; a recent plan to develop it with a large holiday resort was stopped thanks to local resistance.
Waimarama Beach is another sandy beach, not quite as spectacular as Ocean Beach, but the citizens of the settlement still call it home. It is a very popular New Year's party beach, so if you go there on New Year's Eve, expect hundreds of drunken teenagers. It is safe to swim at. The island you can see is called 'Bare Island' because there is virtually no vegetation on it. It has a New Zealand fur seal colony on the side not visible from the beach. Waimarama has a store for supplies and takeaways.
Kairakau Beach has a small settlement. It is a long way out from the next nearest settlement, Elsthorpe.
Other
Te Mata peak offers outdoor activities. Cycling is an option with many cycle paths and the 30-minute walk to the massive redwoods is well worth it.
The A&P show at the Hawke's Bay show grounds on October 18

Pernel Fruitworld

phone: +64 6 878 3383

address: 1412 Pakowhai Rd

Runs hour-long tours of their orchard, which grows 85 varieties of pip and stone fruit, and educates visitors about how fruit is grown around Hastings. Has historical displays, a cafe and a souvenir shop, as well as the fruit shop selling their produce.
There are hot pools in the Kaweka Ranges somewhere in the vicinity of Sherenden, partway between Hastings and Taihape. Ask at the Information centre (corner of Heretaunga and Russell streets) for directions.
Buy
Hastings has wonderful shopping, and what cannot be found in the city can usually be found after a short trip into the environs. For example, up market clothing and boutique stores can be found in Havelock North, while industrial good are found down the infamous Omahu Road (which is a continuation of Heretaunga Street)
Hastings has the longest strip of retail stores in New Zealand. This strip reaches from Warren street in the east through to Jarvis road in the west. It offers anything for sale from greenstone items through to tractors and fastfood and car parts. This strip is situated on Heretaunga Street, although it changes names several times along its length. You can buy almost anything you are looking for here.

The Little Red Book Shop

phone: +64 6 878 8188

address: 205 Heretaunga Street East, Hastings CBD

Stocks a full range of the best quality second-hand books including non-fiction, quality literature and classics. Specialising in vintage children's books. A delightful treat for bibliophiles.
Eat
Hastings, having a warm climate, produces a variety of food not found anywhere else in New Zealand. Much of this locally grown produce is turned into an even greater variety of quality products. This is recognised by Heinz-Watties established in 1934 who uses large amounts of locally grown produce
Breakfast
The Farmers Market Meets every Sunday morning in the A&P show grounds. The two dozen or so stalls sell and showcase the wealth and variety of food produced around Hastings. There is usually a stall or three selling coffee and breakfast burgers and other ready-to-eat food. Open from 8.30 until lunch time. It is recommended you get there early before all the good stuff is sold
Lunch
Pernel Fruit World, having burned down a few years ago, was rebuilt better than ever. They endeavour to sell only the freshest fruit and despise having to use coolstores. Often the fruit sold in the shop was picked in the orchard behind the shop that same day. They have a small fruit themed café 1412 Pakowhai Rd
BJ's Bakery has the best pies you will ever taste. It frequently wins four or five 'Best pie in New Zealand' awards at a hit. In fact it has a wall covered with about 30 of these awards. Its suggested you get there before lunch though because the nearby workers eat all the pies. 305 Karamu Rd Hastings. Ph (06) 878 8397. It is on Karamu Road but can be a bit hard to find as the main part of Karamu Rd ends at the library, but it does continue on the other side.
Snacks
Lantern Light Dairy on the corner of Willowpark and Grove roads sells more KoolsChicken and Chips. The chips must be tasted to be believed. The dairy sells 1.5 tons of chips a week, more than the town's KFC. Informally considered the tastiest chips in the Bay by the locals. 509 Grove Rd Hastings (on the way to Splash Planet
Hastings is the 'Fruit Bowl of New Zealand'. This is because it is surrounded by an abundance of market gardens situated around the city on the Fertile Heretaunga Plains. If one is observant they can find several roadside stalls that operate on an honesty box system selling a wide variety of fruits and vegetables ranging from lemons to pumpkins to avocados. Pakowai Gardens on Pakowai road is a classic example of the vast horticultural wealth of Hastings.
Rush Munro's Ice Cream Gardens sells natural fruit ice creams. 704 Heretaunga St West.
Dinner
Mahora Fish Supply

phone: +64 6 878 3746

address: 600 Frederick St

Sells a good quality meal of fish and chips and also has a large menu of other fried foods. You can call ahead and pick the food up when you are ready.

Golden Spring Restaurant

phone: +64 6 878 7980

address: 617 Heretaunga St

Offers a wide range of Chinese buffet food. It has takeaways, and a small restaurant.
Drink
The city is surrounded by wineries and vineyards so local wine is cheap and popular, among the higher classes of wines in the world the quality is so great, wines served at major parties and dinners associated with New Zealand are usually served with Hastings wine, including a dinner at the Queen's 80th Birthday. The towns water supply is pumped directly from the aquifer underneath the Heretaunga plains which the town is situated on. The only reason it doesn't receive an AA rating is because the council refuses to chlorinate the water as it is already crystal clear enough. This water is (obviously) used to produce the many different alcohols in the area.
Breakers Cafe & Bar

phone: +64 6 878 6701

address: 131 Heretaunga St East

Serves reasonably cheap alcohol. Quite nice. Good for basically anyone to go to. And it has pool tables.
Wholesale Liquor on Karamu Road, 410 Karamu St (opposite BP). Open until late (usually 11PM on Fridays, 10PM on other nights) it has the cheapest alcohol in town, possibly in all of Hawke's Bay. In fact on all significant nights the Mill Liquor Save beside it has no business while Wholesale's car park is full.

The Cru Bar

phone: +64 6 878 5290

King Street. A great pub with friendly atmosphere and bar staff. A good place for the backpacking crowd to mix in the summer.
Sleep
Hastings has lots of accommodation and motels. There are no upscale large chains operating in Hastings (i.e. The Hilton), but Hastings now has one international hotel, the Comfort Inn. Hastings does not use this as an excuse to be unwelcoming though and the range of independent small hotel operators are more welcoming and pleasant than one would expect from a large chain anyway. They offer a wide variety of accommodation experiences that can enhance your trip to Hastings. This is the best way to enjoy the Hastings atmosphere, as it immerses you in the rich culture of the people.
Budget
phone: +64 6 878 6692

address: 610 Windsor Ave

Set in a beautiful tree-packed park-like setting. A short walk to the Windsor creek, Splash Planet water theme park, a dairy and Windsor park.

The Rotten Apple Backpackers

phone: +64 6 878 4363

address: 114 Heretaunga St East

In the main shopping centre of Hastings, just two shops down from the cinemas. It is just a single doorway opening onto the footpath, so can be a little hard to find. It is near many bars, banks and shops. Great place to stay.

A1 BackPackers

phone: +64 6 873 4285

address: 122 Stortford St

On busy Stortford St, which is usually known as Stortford Rd by the locals. It is near many international takeaway chains and liquor stores.

phone: +64 6 876 6997, +64 27 298 8910 (mob)

address: 1000 Pakowhai Rd

A new backpackers set in two acres of grounds at edge of town. 2.5km from Pak-n-Save supermarket. Bus #12 stops at gate. Dorms, share and twin rooms and cabins. Include wi-fi, full kitchens, TV rooms, laundry facilities, BBQ, hammocks, off-street parking. Bike hire available. Mostly backpackers long stay for seasonal work.
Mid-range
Fantasyland Motel

phone: +64 6 876 8159

address: corner of Sylvan Rd and Jervois St

Named after the nearby theme park Fantasyland that became Splash Planet. The motel maintained its name and characteristic donut shape.

phone: +64 6 876 5453

address: 1107 Karamu Rd Nth

Spanish, elegance, cooking facilities, spa/air bath, queen size beds, air conditioned, pool, parking, quiet. Has a popular conference centre for business meetings.

phone: +64 6 8783850

address: 1120 Karamu Rd Nth

A modern motel across the road from Valdez and next to a dairy.

phone: +64 6 878 6190 or +64 508 70 80 90

address: corner of Omahu and Maraekakaho Rds

A very stylish motel in a bustling part of Hastings.

TownLodge

phone: +64 6 8708112

address: 911 East Heretauga St

Sunny outdoor area with swings, BBQ and outdoor tables. All rooms newly refurbished and painted and with electric blankets. Guest laundry available.
Splurge
phone: +64 6 878 0035, +64 21 142 4210 (mob)

address: 1420 Railway Rd South

Tariff includes home-made afternoon tea on arrival, evening drinks & canapes and luxury accommodation and breakfast. This is a lovely Edwardian villa set in 15 acres overlooking the Hawke's Bay hills.
Go next
Hastings can be a base to explore the rest of
Hawke's Bay
. The city of
Napier
is close by and a trip to see the gannet colony at
Cape Kidnappers
is an experience. For trendy shopping try
Havelock North
. Also try biking, hiking or driving to the top of Te Mata peak with stunning views all around the bay and to the central plateau, then hike, bike or hang-glide down the hill. Head south to
Waipukurau
.