Haugesund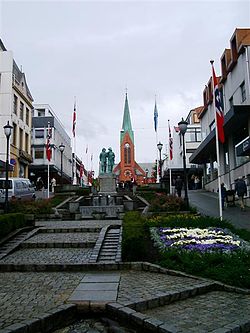 Haugesund
is a city in the county of
Rogaland
, in the
West Norway
region of
Norway
. The town offers a much wider range of goods and services than might be expected from a city of its size (approx. 32,000 inhabitants; 42,000 including all suburbs), due to its position as the definite center of its relatively populous region. The historical village of
Avaldsnes
, sometimes known as Norway's birthplace, is 8.5 km south of Haugesund.
Understand
Tourist office
phone: +47 52 01 08 30

address: Strandgata 171
Get in
By plane
Haugesund airportThere only domestic services are to Oslo with SAS and Norwegian (in total up to 9 daily departures). Haugesund also has some international services. Low cost carrier Ryanair have seasonal summer service to Malaga and Alicante, and the low cost carrier Wizzair has a route to Gdańsk (5 times weekly). In addition, Widerøe has a seasonal summer route to Copenhagen.
The airport is linked to the city by an airport bus which connects with most departures and arrivals except those in the early morning and late evening. There is a special bus run by
Kystbussen
which ties in with Ryanair arrival and departure times. Otherwise, car rentals and taxis are available.
Stavanger, two hours south of Haugesund, and Bergen, three hours north of Haugesund, both have larger airports with more domestic and international connections. The lengthy drive, both including a ferry journey, may be worth it if you can avoid a flight connection.
By boat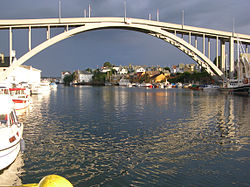 The boat service in Haugesund goes to the islands of Røvær and Feøy, while a passenger and car ferry operates to the island of Utsira.
Cruise ships to Haugesund dock at the
Garpeskjærskaien Quay
, on the west side of Risøy island just southwest of the town center, which welcomed its first cruise ship in 2013. Free bus shuttle service from the pier to Our Savior's Church (Vår Frelsers Kirke) is provided, but the 800 m distance to the town center is also walkable.
By car
The main road connection to eastern Norway is via the E134 road over Haukeli; another option is along route 7 across Hardangervidda. Both these roads run across mountainous stretches and are prone to disruptions during the winter. During the winter season, bring food and warm clothing in case you get stranded.
The main north-south road along Norway's west coast is the E39 road that runs past Haugesund to the east, but there are several spurs that lead into the town. Because of fjords, the E39 route features a number of long undersea tunnels, and travelling to Stavanger or to Bergen both require a ferry crossing. Fortunately, the ferries are large and have a reasonably good frequency.
There are many parking lots and houses in Haugesund. Most of the parking is metered.
By bus
Nor-Way Bussekspress operate two express bus routes to Haugesund.
Get around
On foot
The city center of Haugesund is compact; the streets are on a grid and easy to navigate by foot. The main north-south street is
Haraldsgata
, which is for pedestrian only from
Skjoldavegen
(north) to
Åsbygata
(south). The parallel street
Sørhauggata
is one way south, while
Strandgata
is one-way north. The two blocks of
Torggata
between
Sørhauggata
and
Strandgata
is also pedestrianized.
If you want to travel further out, there is a local (county) bus system. The tourist information center is the (Strandgata 171, 5525), one block west of the main pedestrian street
Haraldsgata
at the northern end. They have a wide variety of free tourist brochures and schedules and also sell passes for the local bus system.
By bus
The local buses are managed by
Kolumbus
, which manages the buses for the entire Rogaland county. The
bus routes
for North Rogaland, which includes Haugesund, are available online. The main routes for the Haugesund region (lines 201, 202, and 210) run seven days a week, Mondays to Fridays between 6 and midnight, Saturdays from 8 to midnight, and Sundays from around 10-12 to midnight. Other routes have more limited service.
The county of Rogaland is divided into
five zones
(Haugalandet, Ryfylke, Nord-Jæren, Jæren, Dalane), and tickets are based on how many zones you traverse. Haugesund and its surrounding municipalities are in the
Haugalandet
zone. Single-tickets within this zone cost kr 37 for adults, and kr 18 for children under 16 and seniors over 67, and allow a transfer of buses on the same ticket. In addition, there is a smaller
local Haugesund
zone, that covers Haugesund and only the mainland part of Karmøy. Within this local zone single tickets cost only kr 10 with transfer within an hour.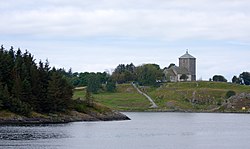 To get to the historical Avaldsnes, which is in the
Haugalandet
zone, take Bus no 209, 210 or X210 from Haugesund and ask the bus driver for Avaldsnes. The bus stops on the main road E134 heading south. When you get off the bus, take the underground walkway to cross under E134 and then follow the road to your left,
Kong Augvaldsveg
, heading east for about 10 minutes. Look for the landmark St. Olav's church at Avaldsnes.
By taxi
Taxis are operated by Haugesund Taxi (phone: 52 80 80 80) and Haugaland Taxi (phone: 52 81 81 81). Taxi ranks can be found at the Flotmyr bus station and in front of the Vår Frelsers church in the city center. Taxis are rather expensive in Norway and even a short journey may easily cost over kr 150.
The islands of Røvær, Feøy, and Vibrandsøy can only be accessed by
boat
. In Haugesund, this route docks just south of the catamaran terminal. The ticket price is kr 27 to Vibrandsøy, kr 36 to Feøy, and kr 45 to Røvær.
By car
While it is possible to explore the city on foot, it may be beneficial to hire a car to see the surrounding area. Car hire is offered by Hertz, Avis and Europcar at the airport and at various locations within the city itself. It can be expensive to rent the car. Petrol (or Bensin as it is called in Norwegian) is also expensive and road tolls must be paid on many roads. As a result, it may be worth renting a car for only part of your trip. For budget option,
Rent-a-wreck
also have a branch in Haugesund.
See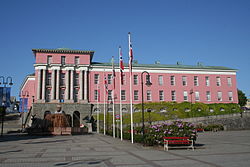 address: Rådhusgata 66, 5528 Haugesund

A gift from shipowner Knut Knutsen and his wife Elisabeth, the town hall was designed by architects Gudolf Blakstad and Hermann Munthe-Kaas and opened in 1931.

phone: +47 52 70 93 60

address: Skåre gate 142

A museum of local culture and history.

address: Skåregata 145

Church of Norway (Lutheran) parish church, built in 1901, in the centre of Haugesund with a capacity of 1050.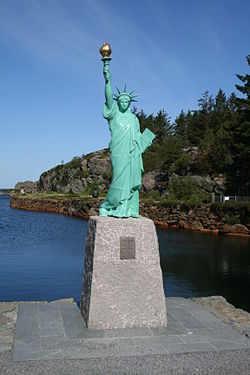 phone: +47 52 81 24 00

address: Visnesvegen 380

Copper from Visnes was used on the Statue of Liberty in New York harbour. A much smaller version of the statue is at Visnes to commemorate the connection. Guided tours are offered, including peasant re-enactments with 19th century crofters' lunches.
For thousands of years there have been human activities on Haugalandet, and the region is covered in traces of these people. Visit one of the many exciting, historic destinations!
HaraldshaugenJust 2 km north of downtown Haugesund you will find Haraldshaugen, a testimony to the fact that although the city is young, the area has been known and used for thousands of years. Haraldshaugen consists of four important monuments in Norwegian history; the burial mound, the stone cross, the church site, and the National Monument (Haraldsstøtta). The latter was unveiled in 1872 in commemoration of Harald Fairhair's gathering of Norway into one kingdom. The legend goes that he was buried here.

RyvardenThe Icelandic Book of Settlement, Landnáma, says that Flòke Vilgjerdson build a beacon at Ryvarden in 868 before he sailed to Iceland. He was the first man to sail to Iceland with the purpose of settling there, and he is also the one who gave Iceland its name. The story goes that he used three ravens to show him the way, hence the name he is now known by; Ravnafloke (Raven-Floke). The first Viking raid is also said to have originated from Ryvarden. There is a small museum at Ryvarden telling the story of Ravnafloke. Of course, the highlight of a trip to Ryvarden, about 40 mins by car north of Haugesund, is simply taking in the breathtaking scenery.

StødleStødle is another important historical area in Haugalandet. During parts of the Middle Ages, Stødle was the main seat of power in Norway. From here king Magnus Erlingsson ruled Norway at the end of the 12th century. His father, earl Erling Skakke, built a chapel at the royal farm. The chapel dates back to 1160 and today it is part of the current Stødle church. At Stødle you will also find remnants of the Bronze Ages. .
Avaldsnes
About 8.5 km south of Haugesund. Kolumbus bus 8 9 and 10 run from Haugesund to Avaldsnes.
The historical area of
Avaldsnes
is sometimes known as the birthplace of Norway.
address: Kong Augvalds veg 101

King Håkon Håkonsson erected the St. Olav's Church around 1250 AD as part of the royal farm on Avaldsnes. Next to the church stands one of Norway's tallest pillars, "Jomfru Marias synål" (Virgin Mary's Sewing Needle). According to the legend when the pillar touches the church wall it means the end of the world. That is why the priests through the years have chipped off parts of the top. St. Olav's Church is situated on Avaldsnes, approximately 10 minutes by car south of Haugesund.

address: Kong Augvaldsvei 103, 4262 Avaldsnes

At Nordvegen History Centre, an audio visual King Harald Fairhair invites us in to walk in the footsteps of our ancestors. He is our guide through a 3500 year long history about Avaldsnes as a meeting spot between Norway and Europe, and as a national and, at times, international centre of power. The Viking king presents some of the kings who have controlled the Norwegian coast from Avaldsnes. Some of these kings are known through archaeological findings, and some through tales. The history centre is placed next to St. Olav's Church. To preserve the integrity of the church as well as the historical landscape, most of the centre, opened in 2005, is underground. Café can hold up to 130 people. Also combo ticket with Viking Farm: Adults NOK 150; Children u/16 NOK 50; Seniors NOK 100.

The Viking farm at AvaldsnesThe Viking farm at Bukkøy is a reconstructed farm at Avaldsnes. The museum provides knowledge about the lives of our ancestors. In the museum courtyard you will find a traditional longhouse as well as smaller dwellings, a Viking boat and plants and animals. During the summer people are dressed in Viking clothes as they display the Vikings' way of life. You get here by walking from St. Olav's Church, 15-20 minutes through the open beautiful landscape before getting to the tree-covered island. In summer there's an English guided tour starting 13:00 at the Viking Farm.

Archaeological excavations The ground and sound at the old royal farm at Avaldsnes still hold secrets that can give us new knowledge about Norwegian and international history. Excavations have led to the discovery of traces of old buildings close to St. Olav's Church. These findings might even prove to be remains of Harald Fairhair's court, which he set up here following the battle of Hafrsfjord. Projects are in place to excavate more of the area in order to find out more about these important and exciting findings.
Flagghaugen Flagghaugen is a burial mound dating back to the third century AD. It is situated just north of St. Olavs Church. It used to be 43 meters in diameter and 5 meters high. The remaining parts can be seen just outside of the stone fence surrounding the church. A prince was buried here, and in the grave the richest gold finds from any grave in Scandinavia from the Later Roman Iron Age was found. Among the findings was a massive necklace made of 590 grams of pure gold. The prince is presented at the Nordvegen History Centre close by.
Rehaugene At the top of Karmøy, six imposing earthen burial mounds, which dominate the landscape, were built during the Bronze Age (1800 – 500 BC). There used to be many more burial mounds here, however, only six remain, and they are called the pyramids of the north. They were built as the final resting place for the powerful chiefs that lived at Avaldsnes. These burial mounds show that 3000 years ago Norway traded with communities as far away as Russia, Ireland and the Mediterranean.

The Bear PitNear to Karmøy, this is the ancient hole dating back to 972 in which irritating Swedes were thrown to be mauled by bears. The practice eventually deterred Swedes from passing through, although some credit this to the nearby 'Bird Cage'.
Do
Cultural festivals
In August Haugesund hosts the following annual festivals:
Buy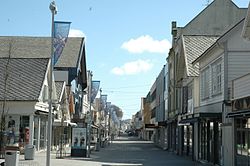 As the main center of the Haugaland region, Haugesund has several shopping opportunities, and you will find everything you need and more.
*
In the downtown area the pedestrian street Haraldsgatais lined with a variety of smaller and larger stores. This includes clothing stores, toy shops, bookstores, jewelers, etc. On the parallel street Sørhauggata is the shopping centre Markedet.

The larger shopping centers, and , are located some kilometers south of downtown but both are easily reachable by bus and have generous parking space. Oasen has about 70 stores and is located at Norheim in the Karmøy municipality. The Amanda center also has about 70 stores and is located at Raglamyr in southeastern Haugesund. Apart from Amanda, the Raglamyr area is home to a number of warehouse-like stores for electronic merchandise as well as home equipment and furnishings.
Eat
There are many restaurants on the harbor.
Drink
There are several pubs and clubs in Haugesund. However like the rest of Norway these places only come alive on a weekend and late at night, in many cases after 22-00, most have pretty good live music and cater for all ages, the big drawback is the crippling price of alcohol, US$11 for Guinness, $10 for local lagers, and up to $20 for spirit and mixer. The staff are usually very friendly and all speak good English, in fact many staff speak 2-3 languages.
phone: +47 52 72 22 15

address: Strandgata 130

Located on the waterfront, Sam Son's chic decor provides an excellent place or relax in the afternoon or party all night. They offer food, beer, wine and cocktails. It is also worth trying one of their smoothies.

address: Skippergate 4

Provides a warm atmosphere during day and into the evening. Drop in for a drink, coffee or a meal. The food is good and prices are reasonable.
Sleep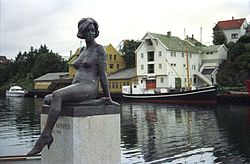 There are several hotels in Haugesund. All of them are in the city centre unless otherwise noted
There are also two hostels in the region, but both are located away from the city centre.
Go next
In addition to the two islands which make up part of the city centre (Risøy and Hasseløy), there are numerous islands off the coast of Haugesund which are popular destinations for day excursions, especially during the summer.
Karmøy is the largest and most populous of the islands. The island has large areas of open space, forests and farms, and is dotted with numerous picturesque towns such as Skudeneshavn. The municipality of Karmøy is larger than Haugesund, and several people commute daily between Karmøy and Haugesund. The connections are well developed with a road bridge and several buses every day.
Røvær is the most remote part of the Haugesund municipality, with 110 inhabitants. Connected by a boat route from Haugesund several time a day.
Feøy is an island between Karmøy and Utsira, and has a population of 40. Also connected by boat from Haugesund several times a day.
Utsira is an island located in the North Sea, and the smallest municipality in Norway in terms of population with 216 inhabitants. The island is connected with a ferry three or four times a day from the pier at Risøy in Haugesund, the journey time is 70 minutes.