Havre-Saint-Pierre
Havre-Saint-Pierre
(population 3500, 2016) is a tiny seaside village in a remote corner of
Quebec
's
North Shore
, directly north of
Anticosti
island and 200 km (120 mi) east of
Sept-Îles
on Route 138. This article covers a large rural area east of Sept-Îles to the end of the road at Kegasha, much of it uninhabited or parkland.
Understand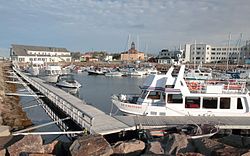 Havre-Saint-Pierre is on Pointe-aux-Esquimaux on the Quebec North Shore (Côte-Nord). It began as a fishing and lumbering town when settlers arrived from the
Magdalen Islands
in the 19th century. The dialect spoken is more closely related to Acadian French than to Quebec French.
The city hospital is the major employer in the region. Tourism contributes significantly to the local economy due to the town's position near the
Mingan Archipelago National Park Reserve
, a park encompassing a large number of islands in Mingan Archipelago of the Gulf of Saint Lawrence. It is noted for the unique variety of flora and fauna to be found there, such as puffins and the rare Mingan Thistle, and for the unique geological features on many of the islands referred to as "monoliths".
The town is a seaport handling ilmenite, an iron-titanium ore brought by rail from a Quebec Iron and Titanium Company mine 40 km (25 miles) northwest on the Romaine River.
Its many rivers and lakes include the Romaine River to the northwest and Manitou Falls on the Manitou River to the west. The town is also noted for the excellent fishing, being made up largely of snow crab, scallops, and lobster, with excellent salmon and trout to be found in the numerous rivers and lakes.
History
In 1857, a group of Acadian families from the Magdalen Islands, who had been deported from Savannah (Georgia, USA), settled on Eskimo Point (Pointe aux Esquimaux). The first mass was held on in 1857, on the day of the feast of Saint Peter (Saint Pierre).
Climate
In spite of its maritime position just above the 50th parallel, Havre-Saint-Pierre has a relatively harsh subarctic climate, with cold winters and cool summers. It has high precipitation with a lot of snowfall in winter.
Get in
It is 1 km north of l'Île du Havre and is the closest mainland point to
Anticosti
by ship or aeroplane.
By car
Route 138 from
Sept-Îles
is the only road in the region; it continues through Havre-Saint-Pierre east to Natashquan (154 km) and Kegashka (an additional 48 km), where it reaches an abrupt dead end. The route re-appears 450 km later at Vieux-Fort, near
Blanc Sablon
.
By boat
Relais Nordik
operates a weekly coastal ferry departing
Rimouski
on Monday and Blanc Sablon on Fridays (schedule varies seasonally), stopping for an hour or two in each coastal village to unload much-needed supplies. This ship provides access to
Anticosti
and to coastal villages with no road, but passenger and vehicle spaces must be reserved far in advance.
By plane
Havre-Saint-Pierre AirportOperates various scheduled flights to other towns in Québec from its one 4500-foot runway. It is 3 km north of the town, and has Thrifty and Discount car rentals available.
Air LiaisonFlies from Baie-Comeau, Mont-Joli, Quebec City, and Sept-Îles, as well as linking Havre-Saint-Pierre to Anticosti. A 20-min flight departs Anticosti M Tu Th F at 10:15AM; the 30-min flight from Havre-Saint-Pierre back to Anticosti Island departs 10:50AM on the same days.
Get around
phone: +1 418-538-3202

Seasonal ferry (June-Sept) from 1010 promenade des Anciens, Havre-Saint-Pierre to the Mingan archipelago.
See
Maison de la Culture Roland Jomphe

phone: +1 418-538-2450

address: 957, rue de la Berge

In this old general store near the tourist sector, it houses a permanent exhibit entitled L'Autre Roman (the Other Tale), which relates the history of Havre-Saint-Pierre since 1857.

Petite Ile au Marteau Lighthouse

address: Mingan Archipelago National Park Reserve
Do
Cross-country skiing
Cycling
Quad - ATV. Snowmobiling

Mingan Archipelago National Park Reserve

phone: +1 418-538-3285

address: 1340 de la Digue Street

Park encompassing a large number of islands in the Mingan Archipelago of the Gulf of Saint Lawrence with unique geological features (monoliths). Flora and fauna include puffins and the rare Mingan Thistle.

phone: +1 418-949-2845

Full-day trips (6-8 hours) on small craft with whale biologists in the Mingan Archipelago, participating in field research. An exposure suit is provided.

phone: +1 418-365-5021

address: 1321, Rte 153, Saint-Tite

Salmon fishing outfitter with seven-room inn 66km east of Havre-Saint-Pierre. Baie-Johan-Beetz is one of the last villages before Route 138 ends.
Buy
phone: +1 418-949-2302

Souvenir shop, café-bistro, cabin and motel rooms, whale and lighthouse tours.
Eat
Restaurant la Promenade

phone: +1 418-538-1718

address: 1197 Promenade des Anciens

Seafood, pizzas and pub food.

Chez Julie

phone: +1 418-538-3070

address: 1023 Rue Dulcinee

Seafood and non-seafood dishes.

Casse-croûte au Capayou

address: 1284 Boréale

Fast food - burgers and fries.
Drink
Au Gré du Vent

phone: +1 418-538-1569

address: 970 de l'Escale

Café-bistro.
Sleep
phone: +1 418-538-3778

address: 1122 Boréale

Five-room non-smoking B&B, full breakfast, Wi-Fi, some rooms have kitchenette and en suite bath.

phone: +1 418-538-2800

address: 970, boul. de l' Escale

70 rooms, wi-fi, refrigerators, banquet/meeting room, breakfast, open year round.

Le camping municipal de Havre-Saint-Pierre

phone: +1 418-538-2415

address: 1730 rue Boréale

Seaside seasonal municipal camp ground, mid-June to mid-Sept. Laundry, toilets, RV dump station. Each camp site has a picnic table and fire pit.
Connect
All three major cellphone/mobile networks provide coverage in the town and the surrounding area, but there are large gaps along the roads to Sept-Îles and Keshaga (Dec 2018).

Go next