Hebron
Hebron
(Arabic: الخليل
al-Ḫalīl
; Hebrew: חֶבְרוֹן
Ḥevron
,
Ḥeḇrôn
, or
Ḥebron
) is an ancient city in the southern
West Bank
. It is the traditional burial place of the Biblical patriarchs Abraham, Isaac, Jacob, and their wives. This makes it a significant religious site for the Abrahamic religions. In 2017, the old town was inscribed on the
UNESCO World Heritage List
.
Understand
Hebron is mentioned in the Bible as the home of Abraham, and the burial place of him and several generations of his family. In King David's time, Hebron was briefly the capital of the Israelite state, before the capital moved to
Jerusalem
. Today, Hebron is holy to both Muslims and Jews due to its association with Abraham. (Christianity is also an Abrahamic religion, but Christians haven't paid as much attention to Hebron.)
The Jewish population of Hebron was evacuated after Arabs killed nearly 70 of them in 1929. After the 1967 war, a few Jews resettled the Jewish quarter. Today, about 500 Jews live in part of the old city of Hebron under continual Israel Defense Force protection, and with a ratio of four Israeli soldiers for each Israeli settler.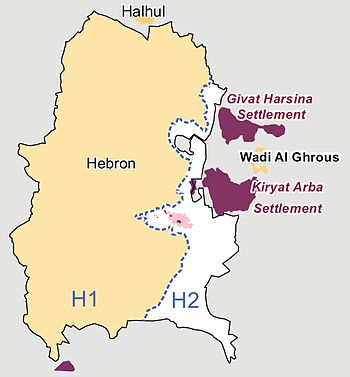 Today, the city of Hebron is home to about 500 Jews and 200,000 Palestinians. The Jewish settlement of Kiryat Arba (population 8,000) is a separate city immediately adjacent to Hebron. Hebron is divided into two sectors: H1 is entirely Palestinian and includes about 80% of the city's residents, while H2 contains all the Jews and the remainder of the Arabs. H1 is under full Palestinian control (i.e.
Area A
), while H2 is under full Israel control. The Cave of the Patriarchs, the main holy site in the city, is on the border between H1 and H2.
This has been one of the tensest places between Jews and Palestinians, as in Hebron both sides here tend to be more extreme and violent than the average for their ethnic groups. Jews here have the 1929 massacre on their minds, while Palestinians have Baruch Goldstein's 1994 massacre of praying Muslims on theirs. This is not a good place to express your opinion on the Israeli/Palestinian conflict. Even Jewish residents here have an often-hostile relationship with the Israel army, because they see it as being too accommodating to Palestinians. Unfortunately, the 2017 declaration of the Old Town as a UNESCO world heritage site has done little to ease the tensions, as the Israeli government protested its classification as an "endangered" "Palestinian" site, despite its Jewish heritage.
Get in
If you are visibly Jewish, it is probably not safe to travel unaccompanied to the "other" side of Hebron. However, if you look and sound like an international tourist, you should be fine on both sides.
To the Jewish side
From Jerusalem – Take bus 381 or 383 from the CBS (₪8.10) to the Jewish side of Hebron. The final stop is in front of the Cave of the Patriarchs on the Jewish side.
From Be'er Sheva – Take bus 254 (₪13.50), which terminates at the nearby Jewish settlement of Kiryat Arba, from where you can take 381 or 383 over to the Jewish side of Hebron. This transfer might be free if you show them the bus 254 ticket.
To the Palestinian side
From Jerusalem – Take bus 21 from the Sultan Suleiman bus station just out and to the right from Damascus gate. Tell them Hebron or Al-Khalil (Arabic). They will take you to a mid way drop off point at the Bethlehem bus station. From there, go to the very bottom floor of the Bethlehem bus station where a servees (the Palestinian version of a sherut, called a serv-eese in Arabic) will deliver you to Hebron for less than ₪10.
Alternatively, take the bus to Abu Dis and tell the bus driver you are going to Khalil.
From Bethlehem – As mentioned before, from the very bottom floor of the Bethlehem bus station (at Manger Street) a servees will deliver you to Hebron for ₪9.
From Ramallah – Direct servees to Hebron depart from one of the many bus stations in Ramallah, just ask around. It might be faster to go to Bethlehem first, though.
From Be'er Sheva – Make your way to the last stop in front of the Church of the Patriarchs on the Jewish side, as explained before. From there just walk further passing by at least three Israeli checkpoints, with the being a gate which "delivers" you to the Palestinian side. Alternatively, you can directly enter the Palestinian side via a of the Church of the Patriarchs, after which however you will need to go through a lengthy and little depressing souq alley.
Also, arriving at , you can walk directly into the Palestinian part of Hebron – consult Google Maps for the best way. However, taking the short ride with the Egged bus might be more convenient coming here the first time.
Get around
Crossing between the sides
There are at least two gates that allow passage on foot between the Palestinian and Jewish side.
There is a myth that it is impossible to access the Jewish side of Hebron on foot coming from the highway/main road. However, this is likely only true in tense times, because there are no gates and metal detectors you can be checked with. (Generally, Palestinian taxi drivers are not allowed to drive to the Jewish side.) In that case, you will need to go by taxi or bus from an Israeli town or a Jewish settlement (like Kiryat Arba). Either way, internationals can drive into the Jewish side, if your driver is not Palestinian.
You can walk into the Palestinian part of Hebron and from there to the Jewish side through either of the two gates. If you are not able to get from Kiryat Arba to the Cave of the Patriarchs on foot directly, walk via the Palestinian side and then through one of the gates coming from Be'er Sheva.

In general
The for servees to and from the surrounding areas, and even Bethlehem and Ramallah is on the upper floors of the Jeel-Saed shopping centre along Adel Street.
On the Palestinian side of Hebron, taxi rides within the city shouldn't cost more than ₪10-15. For seeing sights out-of-town, it's best to take a servees taxi at the service-taxi/bus station or negotiate a fair price with a taxi driver. Make sure to agree on a price for a taxi before getting in.
On the Jewish side of Hebron, a 10-minute walk will take you from one end to the other.

See
Cave of the PatriarchsThe main religious site in the city. The cave, where the Patriarchs and their wives are buried, is deep underground. Now, people pray in a building on top of the cave, built by King Herod about 2000 years ago. The building is divided into Muslim and Jewish sections. Visitors are welcome to visit both sides when they are not being used for scheduled prayer. The Muslim side provides cloaks for women to cover up when visiting. The Muslim side contains the only known entrance to the Cave below (it is locked by a marble door), as well as the tomb-markers of Isaac and Rebecca. The tomb-markers of Abraham and Sarah lie on the border of both the Muslim and Jewish sections, while the Jewish section contains the tomb-markers of Jacob and Leah. Most of the time, half of the building is used for Muslim and half for Jewish prayer. On a few predetermined days each year, each religion gets to use the entire building. For the Jews, in addition to the normal holidays, one of these days is "Shabbat Chayei Sarah" each fall, on which thousands of people from all of Israel visit Hebron to commemorate Abraham's purchase of the Cave from its previous Hittite owners. For the Muslims, it is on Fridays during Ramadan, and during the Eid al Fitr and Eid al Adha holiday, commemorating Abraham's willingness to sacrifice his son. The Cave of the Patriarchs is a , and the contested recognition of it led the US's and Israel's 2017 decision to leave the UNESCO on 31 Dec 2018.

Beit RomanoThe building of the Yeshiva built in 1901. Since 1980, it has been used by Jews as a yeshiva once again.

Tel RumeidaIn this place archaeological digging revealed the ruins of a 4,500 years old city wall and staircase. On top of which a building with apartments was erected standing on pillars. In this building, also the Hebron Observatory can be found – just walk up the stairs inside of the building and hope the upper door is not locked. According to the nearby stationed Israeli Army, this is one of the most tense places in Hebron, because Palestinian and Jewish houses are built right next to each other with no fences or walls – you will notice by the different large flags posted in front of two houses.

Tomb of Yishai (Jesse) and RuthThese biblical figures are associated with King David. The site includes also a medieval-like Synagogue, built due to the tombs here, and the .

Abraham's WellThe well supposedly used by Abraham.

Masqubiya/Maskobiya Oak Tree and Monastery

phone: +970 59 205 7775

A 1000-year-old church and very old oak tree can be found here. Maybe call ahead because even though the times suggest different, the church might not always be open. Though, at least there will be a guard opening the gate at the main road for you.

Al Kawthar MosqueIn front of the mosque a 1000-year-old wall/church can be admired – it is being excavated with help of the Russian government.

The Oak of Abraham MonasteryThis Christian holy site commemorates Abraham's visitation by three angels.
Do
Walk around, cross the gates and experience this distinct example of a divided city. Just the separation and how people are dealing with it, is very interesting to see.
Walking through the on the Palestinian side.
See Hebron transforming into a ghost town on Friday afternoon, when it is a public holiday.
H2 Hostel offers a political and cultural tour of Hebron for ₪50 per person, although the price can also inflate to ₪100 for a 3 hour tour depening on the number of participants, so ask beforehand.
A good idea is to hire one of many young folks around (mostly men) to give you a tour – please note #Stay safe. Agree on a fair price before hand. Though, more professional tours can be organised with your accommodation or from Jerusalem.

Green Olive ToursTour has two guides: one is Israeli & one is Palestinian. Offers a great dual-perspective on the history of Al-Khalil/Hebron.

Breaking the Silence ToursBTS offers tours of the Israeli/H2 side of Hebron. It is lead by ex-soldiers that share their personal experiences from working in the IDF. This is a very popular tour; you should sign-up 1 month in advance. Note that the bus leaves from Tel Aviv, and you cannot join the group unless you leave from Tel Aviv.
Buy
Purchasing items in the Old City
district of the city (near the Ibrahimi Mosque) Hebron's Old City is an awesome place to get your Holy Land souvenir shopping done.
Hebron Glass and Ceramics FactorySells blown glass and ceramic plates, tiles, ornaments and decorations (such as those seen in the markets in Jerusalem) which Hebron is famous for, at very reasonable prices. The shops in Jerusalem buy from this factory, so it's better to cut out the middle-man and buy here. The factory, which allows visitors to see how the glass ornaments are made, is also worth seeing.

phone: +97222220512

The only Kafiya (Arab chequered scarf) factory left in Palestine. They make very beautiful kafiyas in different colours.

phone: +97022254295

address: Market St

Sells various handmade souvenirs and trinkets.
Work
Hebron has a controversial political history and present. There are a number of NGOs and movements on the ground that monitor the situation and advocate for human rights. These organizations are largely run by volunteers with tourist visas.
Eat
Buy some tabun (large, soft, round) bread in the Bab il Zaweya quarter and pick up a container of hummus nearby and you are set.
Falafel is one of the most famous "snacks" in Palestine in general. Hebron has many famous falafel restaurants that are always crowded because of their tasty falafel. Grab your sandwich for ₪3 and enjoy.
Abu Saadee FalafelA nice old guy that must have been here for ages. No seating.

Falafel No. 2More like a restaurant and buzzing.

Falafel Shorla

address: Ein Sarah Street

Great falafel and you can put the salad by yourself, i.e. as many pickles as you want.
Hebron is famous of its traditional dish called Al-Qidrah (Al-Khaliliyah). This meal contains mainly rice and meat (chicken or lamb). It is very tasty and lovely, Al-Qidra is eaten usually on Fridays and other festivals. Since it needs time to prepare and it should be cooked in a woody oven in bakery, it is not easy to find in casual restaurant. However, it is available in restaurants like "Abu Mazen" and "Alquds" in Ras el jora. It could be expensive for local citizens. The dish for one person with drinks would cost around ₪35.
If you are a sweet lover, do not miss to get some sweets from the many sweets shops around in Hebron. Try
kunafa/kenafeh
(₪5 for a regular plate), Baqlawa, Harisah, Kolaj and the list can go long.
Drink
As an overwhelmingly Muslim city with a more conservative culture than cities such as
Bethlehem
and
Ramallah
, alcoholic drinks are not available on the Palestinian side of Hebron.
Ein Sarah Street is the main street for night life between 19:00-23:00. Many coffee shops are available there where you can smoke shisha and drink soft beverages.
Natural juices can be found in many coffee shops with nice atmosphere. Orange and pomegranate juice near the gate to the most in the Old City is stellar. It runs about ₪2. You can also get carrot juice prepared in front of your eyes.
Sleep
phone: +970 599 576 638

address: Bab Al-Zawiya Square, Floor 3

The budget and increasingly popular option in town.

Homestay

phone: +970 599185654

There is a possibility to stay with families in the old city of Hebron. Some of these families have extra rooms that are usually rented to visitors. Trips can also be arranged.

Al-Amanah Hotel

phone: +972 2 225 4240

address: Ein Sarah Street

You can check with the hotel management about the availability of rooms and prices

phone: +970 2 221 1113

address: Namera Street

phone: +972 2-222-3222

address: Ainsara
Stay safe
Touts
It seems like there are many "guides" running around, trying to catch tourists on the basis of charity or political activism, showing you pictures of other westerners they have supposedly worked together with. They even suggest you're Jewish if you don't tell them your nationality, and might become pushy asking for money.
This tout-like behavior leaves some doubts whether they really stand for what they are claiming. If you just don't want to be bothered, tell them you have been here before and not interested this time. Be firm, you have nothing to fear from these guys. Hebron definitely is a very political place, but you should decide for yourself whether to take action.
In general, be wary of unofficial guides, which mostly will try to take you from one place to the other where you will likely buy something, so they can make their share from the shop owner. They will even ruthlessly tell you that something is closed or might take too long (like the Church of the Patriarchs), which is not true, just to make sure you spend more time potentially spending money. Better to use a regular guide with an agreed and claimable schedule.

Security
Many people are hesitant to come to Hebron, because they get told by hostel owners (e.g. in Bethlehem, for apparent reasons) that Hebron is unsafe. However, Hebron is not less safe than any other city in the West Bank during "peace times". Also, being non-Jewish you are not a threat or target, for that matter, to/for any Palestinian, and you are likely to be greeted with the characteristic "welcome!" in the city center. However, in some of the Palestinian suburbs around the Kiryat Arba settlement, tourists are not a regular occurrence and a small minority of locals may be less friendly, especially if they believe you to be associated with the settlement.
In addition, the special situation makes it a must if you want to understand more about the conflict.

Go next
Nearby popular sights in the West Bank, that allow for a day trip from Hebron, include Tor-Safa Cave, Taffuh Underground Church, Tomb of Prophet Lot and Birkat al-Karmil (Holy Pool).
Bethlehem – The biblical birthplace of Jesus and hometown of David.
Jerusalem – Besides the Dead Sea, a central focus for most people coming to Israel.
Jericho – One of the oldest settlements in the world and the Middle East.
Negev & Judaean – Deserts close to the Dead Sea, featuring amazing sites and desert landscapes, including the Ramon Crater and two other craters.
Hiking in the Judaean Desert – Go out to other nearby hiking trails; particularly the Mishmar and Ze'elim streams are very close by.
For bus travel to destinations in Israel, Egged runs various routes from/via inside Kiryat Alba. You may have a hard time gaining admittance to the settlement, but you might still be able to catch the buses at the settlement's . Failing that, it will probably be necessary to take a bus to Jerusalem to interchange for onward travel.