Heerlen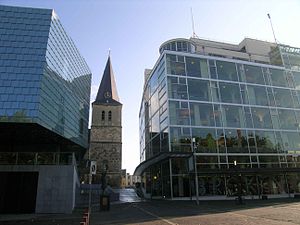 Heerlen
is a city in
South Limburg
in the southeast of the Netherlands. In
Roman
times, it was a settlement named
Coriovallum
, which hosted a bathhouse, now the
Thermenmuseum
. Heerlen has become a part of a new larger project city, called Parkstad Limburg, composed of Brunssum, Kerkrade, Landgraaf, Onderbanken, Nuth, Simpelveld en Voerendaal.
Understand
Heerlen is uncommonly hilly compared to the rest of the country. It is in the southern part of the Netherlands, between
Maastricht
and
Liège
to the west, and
Aachen
to the east. It's also very close to nature reserve
Brunssummerheide
. Most travelers will mainly go here to visit the beautiful and plentiful limburgish landscapes, either by bike or on foot. However, the city has also plenty of worthwhile attractions to visit.
The city has been building on becoming a more green urban park city, from the old industrial city it was before. The old paved streets have been turned into lush green borders with trees, and the smaller suburbs have also gotten this overhaul, with smaller parks all around to discover between the houses. The city park Aambos houses a small free zoo with deer, goats and other animals. The Aambos is also next to Huize De Berg, an old cloister from 1897 with beautiful architecture, now a nursing home.
History
Even though there have been traces of earlier civilization, the real history of this town starts in the
Roman
era. The Roman military settlement, known as
Coriovallum
, sat at the crossroads of the
Boulogne
-
Cologne
and Xanten-
Aachen
-
Trier
routes.
In the late 19th century, the town's importance for the coal mining industry grew. A railway was built in 1896 and strongly improved the accessibility of the town, which was then only a village. The first major mine, the Oranje-Nassau mine, was opened in 1899, and three more mines followed by 1927. The town rapidly grew in size, changing it into one of the largest in the area.
In 1965, the decision to close all Dutch coal mines left many workers without jobs. In an attempt to create jobs, the Dutch government moved the Dutch Bureau for Statistics and the ABP, the pension fund for government and education employees in the Netherlands to Heerlen.
Get in
By train
The main is in the centre of the city. Three other railway stations in Heerlen are , and . The main train station of Heerlen is serviced by NS with an intercity connection to
Eindhoven
via
Sittard
-
Geleen
,
Roermond
and
Weert
, as well as by Arriva, which stops at the other stations too, servicing a stopping train between them and
Maastricht
,
Kerkrade
and
Sittard
. DB Regio
NRW
also stops at Heerlen, connecting the city with
Herzogenrath
across the border with two trains per hour.
By bus
is close to the back exit of the train station. The bus operator in Heerlen and surrounding cities is Ariva. There is one international busline from Aachen to Heerlen which is faster towards Aachen if you want to visit the city, otherwise use the train for connecting trains from Aachen.
By car
Heerlen is along the A76 highway but get on the N281 if traveling south or north because there is no exit to Heerlen on the A76. You can find taxies waiting on the upper level when exiting at front of the train station. From Aachen by car you will have to take the N281. From Maastricht take the A79 to Heerlen. At the end of the A79 is Heerlen. You can also use the inner ring of parkstad to get to Heerlen. The city center of Heerlen is completely car-free. There are few parking facilities in and around the streets around the center. However there are good parking garages to reach the city center very convienently. It is not hard to find a parking garage as they are indicated all around town and even display the number of parking spots available.
By plane
Maastricht-Aachen airport is 16 km (10 miles) away from the city centre of Heerlen. Albeit it is more convenient to fly to Eindhoven airport and take a bus and train to Heerlen, because of there are few flights arriving and departing from Maastricht-Aachen airport. For international flights it is better to arrive and depart from
Brussels
(BE),
Amsterdam
(Schiphol, NL) or
Dusseldorf
(DE). Each of these airports are about 2–3 hours away from Heerlen by car.
Get around
If you are in Heerlen center, everything could be done on foot. A car is convenient to explore the outskirts of town and attractions in the broader area, but take into account that the city center is car-free and parking there is expensive. Another possibility is to discover Heerlen by bike. There are some interesting parks and locations to reach by bike. Using the extensive bus routes can take you to everything in the city that is bit further away from the center.
phone: +31 35 544-6971

address: Bongerd 19

Visit the tourist office if you have plans for biking or hiking as plenty of useful maps for the area are on sale. It's not necessary to understand Dutch as the routes are clearly marked. They also have other leaflets available, either free or for a few euros.
On foot
Heerlen is a great city to explore on foot. This is mainly due to the city center being car free. Walking to most things can be done within an hour. The trainstation is situated in the city center and it's only a short walk to the bongerd. While most streets are free of cars there are a number of streets were cyclists are allowed, therefor be careful when straying of the main streets as it can be busy with cyclists.
By bike
This is a great method of exploring the surrounding areas, but Heerlen is in the southern part of the Netherlands, so it is not flat. Stray even a small distance out of the city center and it will be obvious that there are hills. This becomes even more appearent if you bike to other towns or areas.
address: Parallelweg 2B

address: Parallelweg 2B

They also offer scooter rental, the advantage of this bike rental is that you can park your car here while you explore the city or South Limburg.
By car
Navigating Heerlen by car can be tricky as a lot of the street are one way and some are totally closed of for traffic. The districts outside can even be more of a nightmare if you are unfamiliar with the surroundings, though most tourist should not have a reason to go there. The main road network is however exceptional and getting to other towns is very easy and convienent. Exploring South Limburg is very well doable with Heerlen as the starting base and/or ending point.
Free parking is very difficult to find due to the long distance you would have to walk to get to the center. Note that around the city center most parking spots require a permit to park or you can only park there for 2 hours maximum (don't forget to use the blue parking timer). Parking garages in Heerlen:
Q-Park Theater Heerlen Parking

phone: +31883295100

address: Muzenlaan 1

Q-Park Corio Center

address: Stationstraat 28

Q-Park Putgraaf

address: Putgraaf 1D

Q-Park de Klomp

address: Klompstraat 11

Parkeergarage Maanplein

address: Spoorsingel 63
There are a few options when it comes in regards to car rental.
A&B verhuur

address: Wijngaardsweg 62

RentaRolla Heerlen Autoverhuur & Autolease

address: Beersdalweg 84
See
phone: +31 45 571 3707

address: Mijnmuseumpad 2

The Dutch Mine Museum is in the former shaft of the Oranje Nassau I mine. Here you can visit to learn all about the Limburgish mining history. There is a large collection of mining tools. It is possible to do a guided tour of around 2-2½ hours which includes 2 movies.

phone: +31455772200

address: Bongerd 18

Housed in the "Glaspaleis", a well-known and modernized glass building on the main market, this cultural institution usually has some exhibitions on display, and often free. As a multi-disciplinary cultural institution, it also hosts the city's main library, concerts, a music school and all kinds of workshops.

phone: +31455605100

address: Coriovallumstraat 9

This museum is built to encase the ruins of a Roman bathhouse which still is an archaeological dig site. You can learn all about how Romans bathed in their time, and about how the city of Heerlen developed. The museum also shows findings of Roman digsites in and around Heerlen. In front of the museum, there's a monument highlighting the old Roman crossroads.

phone: +31455712949

address: Oliemolenstraat 32

A protected national monument, a water mill dating from 1502, original for pressing oil. These days, there's a bakery and a sewing machine shop in the building, and corn is ground by volunteers.

Schelmentoren

address: Pancratiusplein, 6411 JV Heerlen

This tower from the 12th century had throughout history several functions, living tower for nobels, a court and prison tower. You can visit the inside on a guided tour from the VVV Heerlen.

phone: +31458200064

address: Schaapskooiweg 95

Observatory to watch the stars.

phone: +31455227272

address: Klinkertstraat 118
Parks
The city has a number of parks, usually with a pond, these are great for walking with a baby stroller, as most paths are very smooth and well maintained and virtually no stairs.
AambosThe Aambos is an old hilly forest in the center of Heerlen. There is a small zoo, that has deer and other animals. In the park is the caumer stream which if followed upstream will get you to the '"oliemolen"' (oil mill). At the start of the park you can see the cloister huize berge, just look at the bridge crossing the nearby mijnsteenweg.

Weltervijver

Park MeezenbroekWith many ponds you can find a lot of people fishing around there, though note that you need a permit to fish here.
Churches
phone: +31455714554

address: Pancratiusplein 45

The main church in Heerlen built in the 12th century out of marlstone. This prominent church is still in use. During the opening times on Saturday guides give tours of the church.

Sint-Francis of Assisichurch

address: Weltertuijnstraat 49

phone: +31455723473

Kapel Palemig
Do
phone: +31455424358

address: Stadionbaan 52

The indoor climbing wall is a great experience to have. Climbing up indoor to the top of the building and continue climbing on the roof.

phone: +31455714432

address: Welterlaan 45

Play a game of bowling in hoeve de aar. Making reservations is highly recommended as it is usually packed. The bowling ally has disco lights and music. There is also options to dine here. The building is an old farmhouse.

phone: +31455717252

address: Parallelweg 4

Indoor themepark for kids.
Outdoors
Forests, heathlands
Heerlen has only few forest and heathlands in its own borders. However, there is a lot of these directly surrounding the city in neiboring cities and villages such as Voerendaal, Kerkrade, Landgraaf, Simpelveld and Nuth.
TerwormTake a walk between Heerlen en Voerendaal and see some of the great nature in Heerlen. In this reserve there are also some architectural buildings at the edge. On the northside of the reserve you can find a lot of school and sports fields. In the center of this lush area you can see the water purifying station. There are old restored historic walking paths, high fruit trees, ravine paths, forests. There is a shepherd, beekeeper and falconer on the landmass.

BrunssummerheideThe biggest nature reserve in south Limburg. A few entrances to this heathland from Heerlen, only half of this is within the city boundaries, the otherhalf is in Brunssum. There is plenty of walking paths, simply choose a path at the entrance and follow the signpoles, these are very well marked out through the hilly heathlands and forests. The reserve has a streamlet flowing through it called the 'rode beek' (red stream). There are paths for horse riders, some locations are great for mountain biking, and the paved paths are easily doable with a bike.

Beautiful BenzeradeSee a source of the Geleenbeek stream in Heerlen and also seeing some of the farms in this old village. And also see some splendid black horses for which this village is famous for. You can also sit and enjoy the scenery acompanied by a drink and something to eat from "het koffiehuisje" in benzerade.
Hiking
Biking
Entertainment
phone: +31455768576

address: Burgemeester van Grunsvenplein 145

address: Bongerd 18

They show a variety of cinematic independent movies.

Quatro CinemaCinema

Cultura NovaThis yearly returning international theater festival in August/September lasting for 10 days, brings theater out of the theater halls and into inventive locations in and around Heerlen.
Buy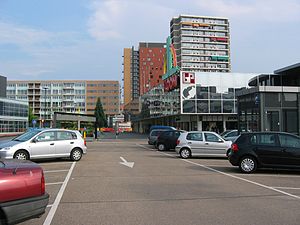 There are two known shopping locations in Heerlen. The center of the city and the Woonboulevard. The Woonboulvard is famous for its living and lifestyle shops. It is the biggest furniture strip of Europe.
On Tuesdays and Saturdays there is a weekly market in the city center, running the entire length of the bongerd. Usually this market lasts till 15:00.
There are three large shopping malls in Heerlen namely, t' Loon (one of the oldest covered shopping malls of the Netherlands), Coriocenter, Maankwartier (above and around the main train station).
Heerlen in general does not have any tourist shops, however for clothing shopping, there are a lot of stores. There is also a boutique street with some more exclusive shops, on the Dautzenbergstraat.
Woonboulevard

address: In de cramer

This is the main living and lifestyle shopping center. It is the biggest furniture strip of Europe. You can buy anything from lamps to beds.

Heerlen CenterThis is the historical shopping district within the old city center. A lot of small and big retail stores as bars, cafes and restaurants can be found here.

phone: +31455645593

address: Homerusplein 11

A very large store dedicated to party costumes and carnival costumes as well as some other festive seasonal occasions.
Eat
Budget
phone: +31455710156

address: Bongerd 7

A small restaurant but very good wok take-away food, especially the sauces. Ideal for a meal or a quick snack. You can make your own selection of ingredients, select a sauce and either rice, fried rice (nasi) or noodles (bami). It will be prepared fresh and quickly. There is also enough space to sit and consume your meal.

address: Bongerd 1

The highest restaurant in Heerlen, it's very popular, has good views over the city, and a great outdoor terrace for warm days. The menu is varied, including sandwiches, salads and full diner options, and offers a good number of vegetarian choices. The name "mijn streek" literally 'mining area' refers to the old mining history of the region.

Visser Chocolade & IJsThey make chocolate of the highest quality within the store, a great option to get a gift for family and friends. Fresh made ice cream with only fresh ingredients in the summer. Usually there is a terrace setup to sit, though this might be crowded during a sunny day. You can go for a nice walk to the nearby welter pond and see the historic welten district.

Smulbar Expresse

phone: +31455710114

address: Bongerd 2

For typical fried snacks, this is a good spot to grab some fries and a sausage.

phone: +31454009070

La Veneziana

address: Promenade 6

Ice cream.

Bagels & Beans

phone: +31455772287

address: Bongerd 18
Mid-range
phone: +31455719544

address: Dautzenbergstraat 17

Traditional Greek-style food. This restaurant has been around since 1987, a staple in the city of Heerlen. It is decorated in typical Greek decor, but has an open vibe. There is a good vegetarian dish with some tasty kritharaki (Greek pasta).

Steakhouse Eldorado

phone: +31455741360

address: Pancratiusplein 42

Selection of beef dishes and other meat-related meals.

phone: +31455712795

address: Willemstraat 1

Greek-style food.

El Greco

phone: +31455742096

address: Pancratiusplein 39

Greek food.
Splurge
Drink
Entering bars is legally allowed from the age of 16. However, many bars and nightclubs in Heerlen have their own policies and do not allow people under 18, 21 or even 23 to enter. Keep in mind that those under 18 are not allowed to drink any alcoholic drinks.
Most bars in Heerlen are centered at the
Pancratiusplein
, people can find the many cafes and terrasses who are usually filled with people troughout the year. There is also a few terrasses on the bongerd. Most bars are open till 02:00 during the week and usually longer in the weekends.
Some bars and nightclubs will require you to identify yourself by means of official identification papers. Note that smoking is not allowed anywhere within the establishments, sometimes there are specific dedicated areas for smoking.
Cafes
Bars and Pubs
phone: +31455740208

address: Wilhelminaplein 16

Irish Pub

Café "De Tapperij"

address: Bongerd 5

Usually catering to regulars and an older audiance.
Clubs
phone: +31454009100

Usually you will have to get tickets upfront therefor check their website for prices and times.

Nr.7even

phone: +31455719424

address: Pancratiusstraat 2

Naar Huis

phone: +31655702776

address: Pancratiusstraat 4
Sleep
address: Wilhelminaplein 17

This 3-star art deco hotel from the 1920s is in the city center of Heerlen. They offer 1/2/3 single bed rooms and a deluxe 2 single bed room. All rooms have access to high speed internet, tea-and coffee-making facilities plus en suite bathroom with bath or shower.

phone: +31 45 575 45 40

address: In de Cramer 199

Bastion Hotel is a 3-star hotel with comfortable rooms and a á la carte restaurant close to the Woonboulevard. It has free parking for guests. There is free wifi and a bar and lounge. There is the option to book a with breakfast included. The rooms are mostly single beds for up to 2 persons, they include a separate bathroom with shower, fridge and free coffee making facilities.

phone: +31455719450

address: Terworm 10

Good hotel but the location is inconvenient without a car. Nearby estate Terworm for excellent walking routes. A good restaurant. The hotel has a indoor pool and sport facilities. They have multiple single and double bedroom options and suites. They also offer family rooms. The hotel offers bike rental to explore the nearby country side or get to the city center.

phone: +31454001111

address: Terworm 5

On the nature reserve of Terworm, this luxurious four-star hotel with luxury rooms and suites is rich with character. All rooms have a bath with separate shower. You can use the wellness facilities of the nearby VanderValk Hotel Heerlen (about 500 meters). There is a private parking to the Hotel.

phone: +31454009191

address: Geleenstraat 1

On the Pancratius square in the heart of Heerlen. Friendly family hotel with a complete overhaul.

Huizepassart

phone: +31455228524

address: Passartweg 56a

Farm apartment close to the Brunssemerheide. The farm is still in use. It is very child friendly. And can be rented for up to 6 people.
Connect
They can assist with maps, region guides, travel information, regional products, theater and concert information.
The entire city center of Heerlen offers free-wifi connection.

Go next
Connections to Aachen are via train or bus. Other options by train are to Belgium (via Maastricht) and the remainder of the Netherlands.