Heidelberg
Heidelberg
is a city in the state of
Baden-Württemberg
in the Federal Republic of
Germany
.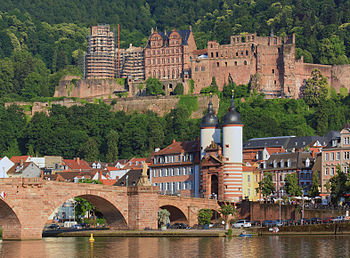 Understand
It is no secret that Heidelberg is a jewel among
German
travel destinations. Heidelberg is located in the Neckar river valley right where the legend-rich
Odenwald
(Forest of Odes or Odin) opens up towards the plains of the Rhine Valley. Heidelberg is home to the oldest university in Germany (est. 1386). With 28,000 students, the Ruprecht-Karls-Universität (or
Ruperto Carola
, the Latin equivalent of its name) is one of Germany's larger academic institutions and boasts the full spectrum of an ancient academy, from Egyptian Studies to Computer Linguistics. The faculties for Medicine, Law and Natural Sciences are considered to be among the best in Germany. The university fostered the establishment of several other world class research institutions such as the German Cancer Research Center (DKFZ), the European Molecular Biological Laboratory (EMBL), Center for Molecular Biology (ZMBH), Max Planck Institutes for Medicine, Astronomy, Nuclear Physics, among others. Generally speaking, Heidelberg is an academic city with a long and rich history and is similar in many ways to cities such as Cambridge or Oxford (Heidelberg and Cambridge, England are twinned).
During World War II, the city was almost completely spared allied bombings which destroyed many of Germany's larger inner cities. As a result, Heidelberg has retained its baroque charm of narrow streets, picturesque houses and of course the world-famous Schloss (castle ruins). After World War II, the US Army built large barracks at the southern end of the city. Heidelberg's 149,600 inhabitants at one point included not only 28,000 students at the university but also nearly 20,000 US citizens, almost all of them soldiers and their families. However, in 2015, the US Army presence relocated to a different city in Germany.
With hundreds of thousands of tourists flocking to the city annually, Heidelberg is truly a culturally diverse and international destination, despite its small size. Over the years, Heidelberg has attracted numerous artists, intellectuals and academics from all over Europe and has sometimes been referred to as Germany's unofficial intellectual capital. People who have lived and worked in the city include the poets Joseph von Eichendorff, Jean Paul and Goethe, scientists such as Bunsen and Kirchhoff, philosophers such as the founder of the "Illuminati" order von-Knigge, atheist Ludwig Feuerbach, existentialist Karl Jaspers, political theorist Hannah Arendt, architect Albert Speer, and many more. Mark Twain wrote in
A Tramp Abroad
:
"... Out of a billowy upheaval of vivid green foliage ...rises the huge ruin of Heidelberg Castle, with empty window arches, ivy-mailed battlements, moldering towers—the Lear of inanimate nature—deserted, discrowned, beaten by the storms, but royal still, and beautiful."
Get in
By plane
ICE Train from Frankfurt or Stuttgart Airport to Heidelberg
You can travel to Heidelberg via ICE (InterCity Express), Germany's fastest train, running at up to 300 km/h (180 mph) on German rails. For more info and booking see
German Railways (Deutsche Bahn, DB) website
.
Both Frankfurt and Stuttgart airports have train stations inside the terminal. Frankfurt Airport even is a major ICE train stop.
Reservations are not necessary; just buy your ticket at the counter or machine after you land. Credit cards are accepted; most staff speak English. It might be necessary to change trains (only once) at Mannheim, Stuttgart, or Frankfurt Central Station, but it is still likely to be faster than the bus. One way prices: Frankfurt €31,50 (ICE) or €25 (IC or EC), Stuttgart €36(IC) €49 (ICE).
Lufthansa Shuttle Bus
Lufthansa provides a
shuttle bus
from Frankfurt to Heidelberg for €26 one way (taking one hour) and €48 round trip. If you have a Lufthansa Ticket, you get €2 discount.
Minor airports
Frankfurt-Hahn - An airport in the middle of the beautiful green mountains of Hunsrück is a major hub for Ryanair. There are frequent bus connections from Heidelberg Hbf to Frankfurt-Hahn; the trip takes a little more than 2 hours, and costs €20 with Hahn Express, bookable via Flixbus (fixed price one way as of 2018). Other bus companies offer indirect connections only and there is no train to Hahn, though DB operates a bus from Frankfurt main station to Hahn.
Baden-Baden has an airport, too. Mainly domestic flights are handled at this airport
By train
Heidelberg HauptbahnhofThe main train station, in the western part of the city, from there you can take a tram to any place downtown e.g. Bismarckplatz (taxis are not recommended as they are far more expensive than trams!) Check for connections to "Heidelberg Bismarckplatz" on German Railway Website
There are direct train lines from Heidelberg to Stuttgart, Karlsruhe, Mannheim and Frankfurt - and direct long distance trains to Munich, Vienna, Hamburg and Cologne usually running at least every 2 hours.
For most long distance destinations it is useful to take the regional train to nearby Mannheim Hbf (S-Bahn, about 15 minutes), from where there are frequent direct high speed connections to all major cities in Germany and some places in the nearby countries (e.g. Paris, Zurich, Amsterdam).
Taking slow trains will be much cheaper on a Saturday or Sunday, especially if you have a five-person group ticket, "Schönes Wochenende", for € 42 total or every day "Länderticket Baden-Württemberg" for € 22 - 38 total.
Locomore connects Heidelberg to Stuttgart and Berlin. DB tickets aren't valid on Locomore and vice versa, since Locomore belongs to the Flixbus company.
By car
The A5 connects Heidelberg directly to
Frankfurt
and
Karlsruhe
. It's easy to reach from any direction.
Get around
The city runs a small but rather effective system of trams and buses. The two most important nodal points are the main station and
Bismarckplatz
. A single trip costs €2.60, and a day ticket costs €6.70. Ticket machines at most tram and bus stops take cash and cards, and have instructions in English as well as German.
Note:
As of July 2019, the area around the main railway station is being redeveloped, and so buses and trams calling there are diverted, and using different stops to usual.
Bus #32 and #33 connect the main train station (Hauptbahnhof) with the old city area; detailed maps, schedules and routes can be found online. A mountain railway runs between four stations (including the castle), linking the old city on the level of the river with the summit of the
Königstuhl
Mountain, about 400 m (1312 feet) above the city.
The
"HeidelbergCARD"
, a tourist pass that includes public transportation, many museums, and the lower section of the mountain railway (a separate fare is required for the upper section), can be bought at the tourist information center located just outside the main station.
See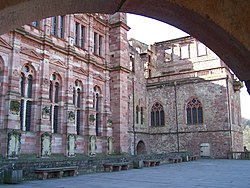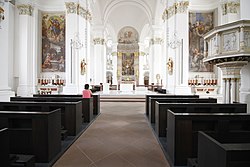 Altstadt and HauptstraßeThe Hauptstraße leads from Bismarckplatz across the old town. Approximately 1.6 km in length, it is reputedly the longest pedestrian shopping street in Germany.

CastleThe castle is above the old town, south of the river, and can be reached by mountain railway (included in the ticket price) or staircase. An audio guide tour of the castle and its grounds is available for a fee near the entrance. It is available in several languages, including English. There is also a statue to the German poet Johann Wolfgang von Goethe in the castle gardens. The castle hosts an outdoor Christmas market during December, which can get extremely busy (in recent years, this Christmas market had to be relocated to the Altstadt to protect the bat population in the castle). The castle grounds are free to visit, and offer a great view of the city and river.

PhilosophenwegStreet on the northern side of the city. It provides a wonderful view across the oldest part of the city. Here you can find the site of the famous Merian Stich (engraving) which is a popular illustration of Heidelberg.

HeiligenbergThe Heiligenberg mountain, north of the river, boasts a wonderful view over the old town. Also on the Heiligenberg the remnants of a wall ancient Celts built to keep Germanic tribes out, the Heidenloch, a deep well with unknown origins, and the ruins of a 10th-century cloister.

ThingstätteThe Thingstätte on top of Heiligenberg (an open-air theatre built by the Nazi regime in 1934 to host propaganda events)

address: Hauptstrasse 97

This city-run museum contains interesting exhibits of items from Heidelberg's pre-history to modern times, and a fine-art collection. Audio guide available, including in English

address: Universitätsplatz

The old university in the old city.
address: Universitätsplatz

The University has its own museum, in the main building of the old campus. Visitors are able to view the Great Hall (when not in use), and the former "student jail".

Heidelberg University "Marstallcafe"

address: Marstallhof 5, 69117

The old armoury is now a student cafeteria (open to the public and offering good food and drinks at reasonable prices).

Botanical Garden of the University of Heidelberg

address: Im Neuenheimer Feld 340, New Campus

2 hectares of gardens, with a primary focus on its greenhouse collections (4000 m² total area), with strengths in succulents, orchids, and bromeliads.
JesuitenkircheIt has 1712 Baroque construction with modern touches inside.
HeiliggeistkircheThe Heiliggeistkirche (Church of the Holy Spirit) is only one of many large and small churches, but definitely the one with the most interesting history. During the Dark Ages, it was the shelter of the Bibliotheca Palatina, Germany's oldest library. The Bibliotheca was stolen and brought to Rome but eventually returned in pieces. Today, parts of it can be visited in the University Library (also the oldest and probably the most valuable of its kind in Germany), which is situated close to the old university. You can get a great view of the Heiliggeistkirche, Old Town, and the Neckar river bridge from the castle (Schloss Heidelberg).
Monastery of St. MichaelRuins
Karl Theodor BridgeBridge constricted in constructed in 1788.
Do
The city boasts more than twelve cinemas, over eight theaters, including
address: Theaterstraße 10

Large state-run theater

phone: +49 6221-21069

address: Hauptstraße 118

Germany's oldest private theatre

address: Am Karlstor 1, 69117 Heidelberg

One of the progressive culture center in the east-end of the old city.

Halle_02

address: Zollhofgarten 2, 69115 Heidelberg

Hosting concerts and exhibitions in a converted warehouse. The area used to be one of the barracks of US Army.

Königstuhl-Mountain568 m (1560 ft) high, 450 m (1480 ft) above Heidelberg, is a nice option to escape the hustle and bustle of Heidelberg downtown. The mountain top of Königstuhl offers a nice view over Heidelberg and the Rhine Valley. In good weather conditions you can see the Northern Black Forest. The same funicular railway that carries visitors to the castle continues to the mountain top. You will have to change trains once—the final one to the top is a historical wooden funicular train. (A separate fare is required for the historical funicular.) On the top you can have a look at the more-than-100-year-old engine that just pulled you up. (No worries—made in Germany!)

HimmelsleiterIf you feel more energetic, you can take the Himmelsleiter (Heaven's Ladder or Sky Ladder) a stairway of 1200 steps winding up 270 meters (890 ft) up to Königstuhl. It ends 10 meters east of the mountain top funicular station. The lower end of stairs is just above the castle, but a bit hidden.

Tourist Information at the main station

phone: +49 6221 58 44 444

address: Willy-Brandt-Platz 1

The Tourist Information Centers at the rail station has a wide range of information for your every need. Whether you need a room, tickets for city tours and the castle, ideas for things to do or are simply looking for souvenirs.
Buy
The main shopping area is from Bismarckplatz along the Hauptstraße. Here you will find the big chains as well as the small unique shops.
Go by the Cathedral during the day for small markets selling souvenirs

The English Bookstore

phone: +49 6221 183001

address: Plöck 93

For books in English
Eat
BBQ & Beer
- On sunny summer days the "
Neckarwiese
" ('Neckar meadow', northern bank of Neckar river, just west of Bismarckplatz) is full of people relaxing in the sun, having a Barbecue or a beer... This place also offers a nice view to the castle. You will have to bring your own grill, beer and steaks. Cheap grills to use once are available at the "Bauhaus" do-it-yourself store at Kurfürsten-Anlage 11, just 200 m south of Bismarckplatz. Nice way to mix with locals. Grilling is only allowed in two zones marked with cobblestones. Do not put one-way-grills onto the grass, it will leave a hole in the grass.
Snacks
- Along the Hauptstraße, which runs through the center of town, you will find several bakeries that serve local specialities including "Brezeln" (pretzels). Department stores have a nice selection of delicatessen stalls called "Markthallen" where you can eat everything on the spot.
Cafes
- Many of the cafes in Heidelberg set up outside tables when the weather is fair, and these are enjoyed by locals and tourists alike. A popular destination for summer cafe beer sipping and lounging is the
Marktplatz
, which is adjacent to the
Heiliggeistkirche
.
Meals
- The Haupstraße is plentiful with an amazing variety of restaurants. Dishes tend to be served in large portions, relatively inexpensive and of good quality. You can find something for almost every taste including Japanese, Indian, Italian, Chinese, German and Bavarian. American fast food and "Döner" restaurants cater to the budget conscious and late-night crowds.
Mensa im MarstallhofMaybe the most beautiful University Canteen in Germany, offering food and beer at low prices in a historic buildling and a Beer Garden!. Everybody is welcome, Open till late...

Thaipan

address: on the Hauptstraße, at the Universitätsplatz

An excellent, reasonably priced, Thai restaurant, with great service. The food is as authentic as it can get in Europe. Try the Giow Grob (deep fried Chicken Parcels) for a starter. In general, ask for "Thai spicy" if you want the real thing but only if you can deal with it!

Korean/Sushi restaurantHeiliggeiststraße 3, close to the Marktplatz, next to the Hotel zum Rathaus, a seemingly little-known, but great sushi place (also serves Korean food).

phone: +49 6221 7268922

address: Steubenstraße 26

phone: +49 6221 734222

address: Kranichweg 15

Nice restaurant with modern German cuisine and moderate prices. Great fish, lamb and many seasonal specials. Located in the west of Heidelberg's center in a living area. Patio dining in summer.
Drink
More than 300 bars, pubs, clubs, discothèques and the like, from Bavarian style tourist restaurants with deer antlers on the walls to extremely left-wing student bars which reserve the right to refuse police officers entry to the bar. You name it. Find your place and enjoy yourself. Heidelberg knows no curfew. Most bars close at 01:00, but especially the students bars are often open until the early morning. Although the locals—even the police officers—are used to drunk tourists as well as to drunk students, please be calm on your way home and do not riot. As a remnant of the student revolts, Heidelberg has the largest ratio of policemen per capita and you may find yourself in the arms of an officer much faster than you think.
If you are a young person and happen to discover one of the student parties (which are quite numerous but advertised mostly by word-of-mouth), you scored the jackpot. Get inside, get a (dirt cheap) beer and have fun. But try to avoid being recognised as a tourist. No party ends before 03:00 and many run until 06:00 or 07:00. Either Untere Straße or the Zieglers (Heidelbergs oldest students' bar) are frequently crowded with students.
Wines are produced around Heidelberg (e.g. Schriesheim, Wiesloch), but it might be difficult to get hold of them - unless you simply go to a vineyard... When you buy wine, always a safe bet is a Riesling from Pfalz or some white wine from Baden instead, or try any of the numerous wines from other German wine regions.
Vineyards Vineyards are usually located in the middle of small towns along Bergstraße (Highway B3). Fruit farmers sell wine right on their farm e.i. vineyard - make sure you also ask for Apple Wine (Hesse specialty) and New Wine (wine still in process of fermentation - sold from the barrel, bring a canister!) which you can sometimes drink in some 'wine-beergarden' right on site. Take a tram (5/5R) northbound to any place between Schriesheim and Lützelsachsen or a local train (S3/S4) southbound to Wiesloch - or (even better, if you have the time) S1 or S2 to Neustadt, where you will find yourself in an endless landscape of vine stocks.

Mensa im MarstallhofMaybe the most beautiful University Canteen in Germany and maybe also Heidelberg's cheapest Beer Garden. Serving Welde-Beer (the beer with screwed bottle necks and answering on any question... ) Everybody is welcome, Open till late...

address: Steingasse 9

Vetter's is famous for brewing one of the strongest beers in world (Vetter 33). Also does food.

address: Leyergasse 6 69117 Heidelberg

Small brewery.

Großer MohrSmall but highly recommended. Tuesday night the odds are high to find the Mohr besieged by medical students.

SonderbarThe latter boasts a huge collection of absinthe, whiskeys and whiskys, as well as a very distinctive atmosphere.

DestilleThere is a tree in the center of the establishment.

TrinidadThis cocktail bar at the edge of the Old Town is small, but famous for its drinks and continuously receives praise in local restaurant guides.

O'ReillysAn Irish pub north of the river, just over the bridge from Bisi (Bismarckplatz).

DublinerA good Irish pub at the center of Heidelberg Mainstreet (Downtown).

Ham Ham'sA great place to chill, drink, and smoke.

NektarA very relaxed and chill place to enjoy a drink and party.

B.J.Z. BarGreat place to party in Emmertsgrund, its a B.Y.O.A. (Bring your own alcohol) and you can crash anywhere in the house.

The Brass MonkeyFriendly bar on Haspelgasse, just opposite the old bridge. Good crowd and all staff also speak fluent English.

Star CoffeeIf you are looking for coffee rather than alcohol, Star Coffee has two branches, one off Bismarckplatz and the other on the Hauptstraße, serving a variety of coffees and offering free WiFi access.

Moro CafesFewer computers but more style are found in the two Moro Cafes, directly at the Alte Brücke and one on the Hauptstraße.
Most pubs close, even on the weekends, at around 02:00. Just move to one of the numerous clubs, which usually have no entrance fee this late at night.
Be safe
Heidelberg is an extremely safe city (even by German standards). However, people walking alone at night should take the usual precautions they would do anywhere else. Walking along the northern Neckar banks at night would not be advised, except in groups, particularly by the Studentenwohnheime (dorms). The shrubs are thick and it is very dark.
Usually there won't be any problem. If you are a bit 'paranoid' you can take a taxi. If you are from New York, you might think they are cheap - if you are from East-Europe or Asia you will feel like they are ripping you off... use as needed. There are also "Frauentickets" available for women, you can buy these coupons for €8 and they will cover the fare for anywhere in the city.
Don't walk on bicycle lanes! - Really don't! (they are often painted in red, but always separated from the pedestrian lanes by a white line): Heidelberg has more cyclists than motorists, and many of them have a rather cavalier way of riding. The southern parallel street to Hauptstraße (called Plöck) is the main traffic channel for student cyclists between Bismarkplatz and University Square. During the day it can be such a buzz, it's already a sight worth visiting. But watch out: many cyclists feel safe from the tourists there and lose all their good manners.

Sleep
Budget
Mid-range
Splurge
Europäischer HofA classic privately owned five star hotel just on the edge of the Altstadt. Pleasant atmosphere and attentive staff. Most of the rooms look out over the courtyard and are therefore admirably quiet.

phone: +49 6221 4540

address: Hirschgasse 3

The oldest hotel in Heidelberg and the oldest student dwelling house in Germany. It was first mentioned in a love story in 1472 and is nestled in a little side valley of a select residential area opposite the Heidelberg castle. An impressive walk along the River Neckar will take you to the Altstadt on the other side of the river. Mark Twain wrote about this in his book "A Tramp Abroad." The rooms are all unique and will delight Laura Ashley fans and the ones seeking a good shot of authentic romantic ambiance. It comes along with two restaurants: the historic Mensurstube with regional dishes and over 250 year old tables, even Count Otto von Bismarck carved his name into. The elegant Le Gourmet is a classic French restaurant with attentive but yet uncomplicated service and will delight your credit cards with a good value for a swipe. A vineyard only a stone's throw away from the hotel "Sunnyside upon the Bridge" provides a good local Riesling or Late Burgundy.
Go next
Bertha Benz Memorial Route - Follow the tracks of the world's first automobile journey (Mannheim - Pforzheim - Mannheim) back in 1888, leading right through Heidelberg
Small cities on the Bergstraße between Darmstadt and Heidelberg: Weinheim, Heppenheim, Bensheim and Zwingenberg
Dilsberg / Neckarsteinach - has four small castles in a row. Dilsberg's castle has a well which is accessible by a tunnel. Neckarsteinach's railway station is 20 min away taking the S1 or S2 train from Hauptbahnhof or Karlstorbahnhof. From there it is a 5-km walk on a forest trail to Dilsberg, a medieval village with a town wall. The Dilsberg youth hostel is in the old city gate.
External links