Heiligenblut
Heiligenblut
is a village in
Carinthia
(Kärnten)
of
Austria
.
See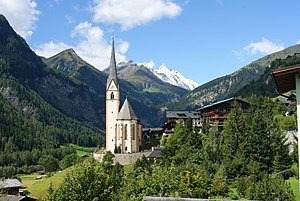 Pfarr- und Wallfahrtskirche Heilige Vinzenz – Gothic pilgrimage church dedicated to Saint Vincent of Saragossa, built 1460-1491.
Apriacher Stockmühlen
Großglockner – the highest mountain (3,798 m) of Austria.
Do
Großglockner High Alpine RoadEnjoy the views from this toll road (35.50 € per car ) across the central alpine chain, connecting Fusch and Heiligenblut. Built in 1935, it is one of Austria's most scenic roads. Many parking areas and visitor platforms provide breathtaking views of the high alpine scenery on Austria's highest mountain, Großglockner (literally:Big Bell), its largest glacier, Pasterze glacier, and many other features. The road rises up to 2503 m above sea level and is only open from the beginning of May until the beginning of November. During the rest of the year it is covered with huge amounts of snow. There are two dead end roads that both end in scenic viewpoints. One goes to the 2571 m high Edelweißspitze, the other one to the visitor center on Kaiser-Franz-Josefs-Höhe (2369 m) with views to the Pasterze glacier and Großglockner. The road is closed between 9.30PM and 5.00AM in the high season (between 15th of June and 15th of September) and between 8.00PM and 6.00AM otherwise. Last entry is 45 minutes before closing.
Go next