Hel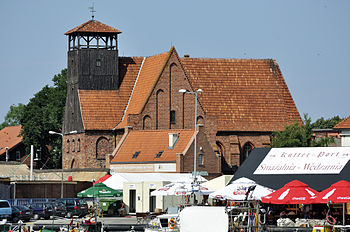 HEL is the airport code for Helsinki Airport
Hel
is a city at the end of Hel peninsula in
Poland
. It is surrounded by the sea and is a water sport center. The settlement was first mentioned in the early Middle Ages and its inhabitants lived on piracy. In 1266 Hel received its town charter which was affirmed in 1378. From 1454 until the Second Polish Partition in 1793, Hel was a private property of the city of
Gdansk
. After World War I, Hel was the biggest Polish fishing harbour. It defended itself for one month against the German invaders at the beginning of World War II.
Get in
From Gdańsk by bus, train or ferry. There is an international airport and harbour in Gdańsk.
Get around

The only way to get there on land is along the peninsula. The city is pretty small so you can get on foot everywhere. The main road is the Ulica Wiejska with a lot of cafes, bars and souvenir shops. Its fine buildings are from the 19th and early 20th century. The south boulevard leads from the old military harbour to the new harbour, where tourist ships leave for a trip on the sea.

See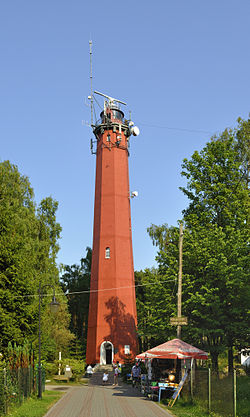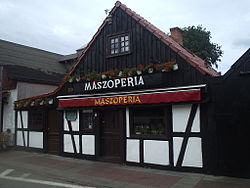 address: Bulwar Nadmorski 2

In a 15th century Gothic St. Peter and Paul Church. From the top of the church tower you have a wonderful view other the city, the beaches and the sea.

address: ul. Helska 16

Very interesting blockhouses, exhibits and a narrow gauge railway.

phone: +48 58 675 08 36

address: ul. Morska 2

Part of the Gdańsk University. There are performances for tourists but the goal of the basin is to grow the seals and to set them free. The seals are fed at 11:00 and 14:00. During the summer at 16:30 too.

Lighthouse

address: Bałtycka

41,5m tall lighthouse open for visitors from May till September
In the pine forest northwest of the city there are several World War II trenches and bunkers. You can climb right into the bunkers, but look out for the barbed wire strung along the ground in some places.
Do
The white sandy Big Beach is situated in the north of the city near the pine forest. A big (41,5 metres) lighthouse of brick stone can be climbed. It was a place of severe fighting between the German invaders and Hel defenders in September 1939. There is a beautiful view from the top.
Bike hire (ulica Kaszubska 6 and ulica Lesna 10c).
Hel Summer Festival (July).
Buy

Souvenir shops are along the ulica Wiejska. Amber is a typical souvenir from Hel.

Eat
Fish restaurants and pubs along the ulica Wiejska (all with fried fish and beer):

address: Ul. Wiejska 90

address: Ul. Wiejska 107

address: Ul. Wiejska 100

address: Ul. Wiejska 110
Drink
address: Ul. Wiejska 83

address: Ul. Wiejska 19

address: Ul. Wiejska 89
Sleep
Lots of rooms and flats for hire.

address: Ul. Adm. Steyera 14C

You can take your pets with you.
Go next