Helensburgh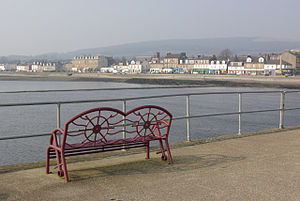 Helensburgh
is a town in
Argyll and Bute
, on the north bank of the River Clyde 30 miles west of Glasgow, at the opening of the Gare Loch. It was small until the 19th century because its harbour was shallow and exposed to westerly winds. Then Henry Bell developed a steam paddle boat of shallow draught that could sail against the wind, and Helensburgh developed as a seaside resort: Glasgow folk came "doon the watter" to enjoy the sea air and throng the pubs. This was further boosted by the arrival of the railway. In the 20th century people found better places to take their holidays, but Helensburgh became a commuter town. Charles Rennie Mackintosh designed a stylish mansion here which is nowadays the main reason to visit. John Logie Baird (1888-1946) one of the main inventors of television was born and grew up here.
The town continues west along the coast into
Rhu
. Five miles up the loch is the navy base of
Faslane
("HMNB Clyde"): the UK's nuclear submarines are based here, and from 2020 it will be the base for the entire submarine fleet. Faslane is a major part of the local economy but doesn't do much for the scenery, and has blighted the resort of
Garelochhead
a little further north.
Get in
By train
Trains run every 30 mins from
Glasgow
Queen Street (Low Level) via Dumbarton to taking 45 mins. These trains come from Edinburgh, via a slow and far from scenic route across industrial central Scotland - use the fast trains from Edinburgh and change at Queen Street.
Trains along the
West Highland Railway
call 3-4 times M-Sat at
Helensburgh Upper
station, one mile north along A818. They're on the line between Glasgow Queen Street, Oban and Mallaig, for ferries to the Hebrides. One late night / early morning train is the Caledonian Sleeper between London Euston, Glasgow Queen Street and Fort William.
By bus
First Bus 1B runs from Glasgow Osborne Street to Helensburgh every 30 mins, taking 1 hour 45 min via Scotstoun, Clydebank and Dumbarton.
Garelochhead Bus 302 runs three times M-Sat to Lochgoilhead via Luss, Tarbet and Arrochar. Bus 306 runs five times M-Sat to Alexandria.
Bus 316 runs every 2 hours up the coast via Rhu and Faslane to Garelochhead, then south along the other shore to Rosneath, Kilcreggan, Cove and Coulport navy base.
By car
Follow A82 onto A814.
Ferries
along the Clyde no longer come here, and the pier has fallen into disrepair.
Get around

A one mile walk will bring you most places, including from Central Station to the Charles Rennie Mackintosh house. Upper Station is closer but those trains are sporadic.

See
The Battle of Garelochhead
In the 19th century steamers brought day-trippers to resorts such as Helensburgh and Garelochhead. The owner of the pier at Garelochhead, Sir James Colquhoun, objected to such trips on the Sabbath, and in 1853 even got up a mob to prevent the steamer landing. Throughout that summer, there were rowdy scenes as the pier was picketed or barricaded against landings, and townsmen and trippers hurled bottles and potatoes at each other and came to blows. Sir James also raised a legal action, which wound its way through the courts for six years before being resolved in his favour. He raised no objection to the brawling on the Sabbath, nor to the town pubs being open, the main draw for the visitors.
address: Upper Colquhoun Street, G84 9AJ

A house designed by renowned architect Charles Rennie Mackintosh, managed by the National Trust for Scotland. The house was built in 1902-04, and includes furniture designed by Mackintosh and his wife. The building fabric has not taken kindly to the wet west coast weather and in 2019 the NTS erected a "box" over the house to protect it from rain, which also provides a rooftop walkway. The attic rooms are available to rent as a holiday flat, and there is a tearoom and shop. The gardens have been restored to the original design and are free to visit all year.

phone: +44 1436 820493

address: Glenarn Road, Rhu, G84 8LL

A special woodland garden with a Himalayan atmosphere where you can walk under superb giant species rhododendrons or look out across the Gareloch.
Henry Bell Monument next to the pier (junction of West Clyde Street & James Street) commemorates the engineer Henry Bell (1767-1830), first Provost of the town in 1807 and builder of the Comet paddle-steamer in 1812 to link Glasgow, Greenock and Helensburgh. He was an archetypal mad inventor, brimming with half-baked projects, and described as "the hero of a thousand blunders and one success".
Colquhoun Square is the town centre, 50 m west of the central railway station. The Outdoor Museum is the grand name for a set of plinths around the square, depicting town history, eg the three large maps showing the centre in different eras. Also here is Helensburgh Parish Church (Church of Scotland), built 1853. Its fine stain glass windows commemorate Bonar Law (UK Prime Minister 1922-23) and Logie Baird the inventor of television. The church is open M-Sat 09:00-17:00, services are Sunday at 11:00.
No 40 Sinclair Street was in 2016 confirmed as being by Mackintosh. The ground floor has the M&Co clothes shop, part of the upstairs is the Mackintosh Club which is open for occasional events.

St Michael & All Angels ChurchChurch completed in 1868 to a French Gothic style design by Sir Robert Rowand Anderson, the Edinburgh architect. The church is built from Dumfriesshire red sandstone and internal limestone from Caen in Normandy.
address: West King Street, G84 8TR

Museum on the history of naval submarines, including a X51 Class midget submarine from 1955. The museum is the hall of the former St Columba's Church, the church building has the Tower Arts Centre cinema.
The long object seen out in the Clyde is the upturned wreck of MV Captayannis, better known as the sugar boat. In 1974 she was waiting to unload sugar at Greenock when a storm forced her against the anchor chains of a tanker, which sliced her below the waterline. The captain beached her and the crew got off safely but the ship overturned. No-one could be found responsible for removing the wreck, so there she lies.
Do
Walk along the seaside promenade, or the shingle beach at low tide, west from the pier to Kidston Park, with good views across the Clyde to Greenock and the Gareloch.

phone: +44 1436 674173

address: 25 East Abercromby Street G84 9HZ

A 6104 yard 18 hole moorland course founded in 1893. It is uphill from the town and has good views.

Old Skating PondA shallow pond built in the early twentieth century for skating and model boats, it has now been allowed to become overgrown and is a wetland which is home to a few ducks. There is a walkway around the pond and some picnic tables. Pathways through to the adjacent reservoirs, which you can also walk around, but the paths are muddy.

Helensburgh and Lomond Highland Games

address: Rugby Club, Rhu Road Higher

Watch traditional Highland Games with races (many for children), heavy hammer and sheaf throwing, caber tossing and sword dancing. Food and trade stalls are scattering around the edge of the field.

phone: +44 1436 820 491

address: Rhu, G84 8NN

This centre mainly provides sailing canoeing and other outdoor activities for Glasgow schools, but also runs some short day and residential courses for adults and children.
In previous years the paddle steamer Waverley cruised the Firth of Clyde in summer. There have been no sailings from Helensburgh since 2018 because of the poor condition of the pier, and in 2019 the steamer itself became unseaworthy - it's not known if repair will be possible.
Buy
The town centre, next the railway station has four blocks with a selection of shops. There are Tesco and Coop supermarkets on Sinclair Street, M&Co and Wilkies for clothes, a wide selection of charity second-hand shops and an assortment of mainly independent shops. The Waitrose supermarket is on the eastern edge of town on the road to Cardross.
address: 45 West Clyde Street

China, glass and crystalware in a shop established in 1854. Has a mixture of practical tableware and gifts.
The Farmers Market is held in Colquhoun Square on the second Saturday of the month 10:00-16:00.
Eat
There are lots of places in the centre of town for a daytime snack or cup of tea. Evenings there are Indian and Chinese restaurants, and Fish and Chip shops.
Cattle and Creel at 74 West Clyde Street is a steakhouse, and La Barca at 33 West Clyde Street is a tapas & wine bar, run by the same family.
Commodore Inn is at the Travelodge, see "Sleep".

phone: +44 1436 820200

address: Shore Road Rhu

Hotel with 12 bedrooms serving pub grub daily 07:00-22:00. Now run by Greene King / Belhaven, has a large lounge bar (daily 11:00-23:00).

Beachcomber Café BarSmall cafe with great views in a park at the west end of the promenade.

address: 19/29 James Street, G84 8AS

JD Wetherspoon pub. Usually has about four real ales, and a standard chain menu.

address: 30 Colquhoun Square G84 8AQ

Good food in town centre, nice ambiance.
Drink
Helensburgh has lots of pubs.
Clyde Bar next to the pier is a friendly authentic place, open daily from 11:00 to midnight or later.
Commodore Inn is attached to the Travelodge. Open daily 07:00-23:00, friendly sea-front pub with log fire and good food.
Sleep
Cope
Rowland's Pharmacy on 48 West Princes Street is open M-Sat 09:00-18:00. It has century-old interior fittings behind a modern exterior.
Helensburgh Library on West King Street has computers for internet access and a small history exhibition. It's open M Th 13:00-20:00, Tu W Sat 09:30-13:00 & 14:00-17:00, F 13:00-17:00.
Go next