Helsingborg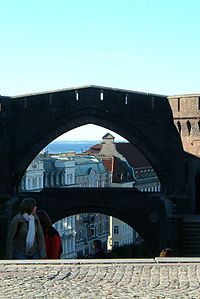 Helsingborg
is in the
Scania
province of southern
Sweden
.
Understand
Helsingborg is on the east side of the
Oresund
on Sweden's south-west coast. It's Sweden's 8th largest municipality with a population of about 128,000 (2009). Major businesses are service, trade, industry and tourism. In 2000 a branch of the University of
Lund
opened in the former Tretorn rubber factories a stone's throw from the Denmark ferries.
On the opposite side of the sound in
Denmark
is
Elsinore
(Helsingør). Before the
Malmö
–
Copenhagen
Øresund bridge was finished, most of the trans-Scandinavian traffic (transit and tourist) used the ferries between Helsingborg and Elsinore. There is still heavy traffic across the Sound here because of the high population density on either side of the border. In addition, the ferries are usually somewhat cheaper than the fees for the bridge and they often provide a shorter route compared to the bridge.
Tourist office
phone: +46 42-104350

Has several "Infopoints" scattered around the city.
Get in
By train
Helsingborg Central Station
is in the lower level of
Knutpunkten
, a massive complex on the waterfront which also includes the ferry terminal.
From Malmö and
Lund
, there are three trains an hour to Helsingborg; the trip takes 40 minutes on the fastest routes, or just over an hour on the mauve
Pågatåg
local trains. Trains run hourly from Copenhagen (1¼ hours) and Kastrup Airport (1 hour) to the south, and from
Göteborg
(2½ hours) to the north. Hourly trains run from Hässleholm (1 hour), of which some originate in
Kristianstad
(1hr 20min). Tickets for these trains are issued at fixed prices by the
Skånetrafiken
transport authority, and are also valid on local transport at either end of the route.
Stockholm-bound travellers usually have to change to a SJ express train in Hässleholm or Lund.
An alternative route to Copenhagen is to take the ferry across to Helsingør (20 min), where the trains to the Danish capital are more frequent (45 min). This can be faster than waiting for an hourly direct train, and is also cheaper. Skånetrafiken can sell combined tickets that cover both the ferry and train.
By bus
There are regular bus services between Helsingborg and Stockholm, Copenhagen, Oslo, Gothenburg and other cities along the way towards these cities. The major bus companies are Bus4You, GoByBus and Swebus.
By car
By E4 from Stockholm in the north, and E6 from Malmö in the south and from Gothenburg/Oslo in the north. If you're having problems with you car you can visit the nearby
car service
By boat
From
Helsingör
,
Denmark
, it's a 20-minute ferry ride across the sound, with ferries departing every 15 minutes most of the day. At night, there is at least one ferry every hour.
Ferries are operated by
Sundsbusserne
and
Scandlines
.
By plane
The Ängelholm-Helsingborg Airport (
AGH
) is situated approximately 40 km from Helsingborg and has daily flights to Stockholm Arlanda Airport (SAS) and Stockholm-Bromma (Kullaflyg), weekly flights to Visby and seasonal flights to Mora.
Copenhagen Airport is about one hour away by train.

Get around

Practically all public transport goes through the train/ferry terminal Knutpunkten (Helsingborg C), including regional and long-distance trains and buses as well as local buses.
Skånetrafiken runs the local and regional bus and train system, and if you intend on spending some time in the Skåne-region it is highly recommended that you get the so-called Jojo-card which is a prepay card that gives you 20% off any ticket. Additionally a duo/family ticket will give you another 10% off (for up to 2 adults and 3 children).

By public transport
Bus is the main means of transport in town. Buses run from early morning till around midnight and a little later on Fridays and Saturdays. The city bus system (Green buses) connects most of the city and all but one (#2) stay within one fare zone. Single trip costs 19 kr, but it's not possible to pay with cash on the buses. Regional buses (Yellow buses) connect to nearby towns.
There are two further stations beyond Helsingborg C, but these are unlikely to be useful to tourists travelling within the city.

By taxi
Taxi rides are rather expensive in Helsingborg and there is little competition. They can be found right outside Helsingborg C main entrance, next to the Marina Plaza hotel.

See
phone: +46 42-22 40 39

address: Djuramossavägen 160

A museum of Sweden's preparation for defense during World War II.

phone: +46 42-10 45 00

address: Gisela Trapps väg 1

An ambitious open-air museum with gardens, farm animals, old houses, museums and a theater. The printing museum and several inside exhibits are open year round. To get there, you take bus 1 or 7, both northbound.

KärnanThe castle (or what's left of it) overlooks the harbour, with archways over the steps leading down to the city center. Kärnan, the rectangular-plan tower from the 14th century at the top of the bluff, can be climbed.

phone: +46 709-38 62 98

address: Södergatan 15

Opened in 2017 by the Sweden-based American Samuel West, who started collecting failed products in 2016, this will showcase both "dead products" and how people react to them. Tours lasting for about 2 hours, are available to groups up to 15 people in English, Swedish and Icelandic.

Norra Hamnen (H99)The old industrial dock remade as esplanade with plenty of restaurants, coffee bars and marina.

Ramlösa BrunnsparkThe famous mineral water spring in south Helsingborg, with a beautiful park founded in the 18th century.

Raus KyrkaOne of Sweden's oldest churches built in mid-12th century.

Rådhuset

address: Drottninggatan 2

Built in the New Gothic style.

phone: +46 42-18 90 02

address: Mariatorget

The city's church, built in the 14th century.

phone: +46 42 10 25 00

address: Sofierovägen 131

This is a 19th-century ocean-side royal castle and gardens located 5 km from the city center. The gardens display local and foreign plants. It's famous for its plantations of Rhododendron, blossoming in early summer. The castle has a restaurant and a modern art gallery. The garden was named Sweden's most beautiful in 2009 and Europe's Best Park in 2010.
Do
"Tura"
is a Swedish expression for the local tradition of having dinner on the ferries (Scandlines). During summer and the weeks leading up to Christmas you should make reservations in advance. Quite possibly the most classic of Helsingborgian experiences.
Buy
The main shopping areas are the pedestrian streets Kullagatan, Bruksgatan and Södra Storgatan, as well as the main streets surrounding them in downtown Helsingborg.
Just outside the city there is
Väla
, one of Scandinavia's largest shopping centers.
address: Södra Storgatan 5

The great Danish chocolaterie has a store in Helsingborg.
Getting online
Free public Wi-Fi offered by the City of Helsingborg at several places in the city center.
Sidewalk Express, Knutpunkten (Railway Station). 29 kr for 90 minutes (you can't get a ticket for less than 90 minutes).
MAX, Swedish fast food chain offers free WiFi (WLAN) on all its locations. In Helsingborg they can be found downtown on Södergatan 15 and at Väla Centrum.
Eat
Helsingborg is known as somewhat the gastronomical center of Sweden, having some of the greatest chefs in the country.
Like so many other Swedish towns there's a great foreign influence which means there's an abundance of foreign fast food and take out places serving pizza, kebab, falafel, Chinese, Thai, Middle Eastern and so on.
Drink
A lot of bars can be found downtown, inside or near Knutpunkten (Train station/Ferry terminal).
During Summer, the district Norra Hamnen (North Harbour) with its marina is highly recommended.
Koppi Cafe
and Roaster in the core of Helsingborg are places where you drink fancy coffee.
phone: +46 42-13 07 11

address: Södra Kyrkogatan 7

A night club with a age limit of 25 years old.

address: Kungsgatan 22

One of the largest night clubs in the city. Has an age limit of 22 on Saturdays while the Friday night club "39 PLUS" is reserved for a more mature audience.
Sleep
Budget
phone: +46 42-14 58 50

address: Järnvägsgatan 39

Youth hostel in the city centre. With TV, shared bathroom, showers, kitchen and free Wi-Fi in lobby.

phone: +46 42-14 15 65

address: Hantverkaregatan 2

With shared bathroom, showers and kitchen.

phone: +46 42-610 14 00

address: Dag Hammarskjölds väg 117

Youth hostel in the northern parts of Helsingborg.
Swedish hostels in general do not include free linen and towels, but they will be supplied at an extra charge.
Mid-range
phone: +46 42-24 99 40

address: Mariagatan 8A

phone: +46 42-14 44 20

address: Fågelsångsgatan 1

address: Kungstorget 6

A high class hotel located right on the water. Great views out over the sound, and of the ferries coming and going from Helsingör. Very convenient if arriving by train or other public transportation.
Go next