Helsinki/Central
Central Helsinki
consists of the central parts of
Helsinki
east of Mannerheimintie, south of Pitkäsilta and north of Esplanadi; in short the commercial downtown plus Kruunuhaka and Katajanokka.
This is undoubtedly the liveliest part of Helsinki and much of what a visitor would like to see and experience is located in central Helsinki or in its immediate vicinity. The cathedral, the city's symbol is located here, surrounded by the 19th century city centre. Further west is Aleksanterinkatu, which together with its side streets make up Helsinki's main shopping area with small shops and department stores. The area also offers plenty of alternatives for eating and drinking.
Get in
Getting in is easy as almost all local bus and rail lines end in or at least pass through the city centre. Moreover the central railway station, bus station and most major passenger ports are located in or very close to the area.
If arriving by plane, you can get to the central railway station by the I or P trains going on the new Ring Rail Line, alternatively you can take bus 615 or a taxi.

Get around

Getting around downtown is done probably the easiest by foot or by bike. If you don't feel like walking, though, you can always use the metro or the trams provided you have a valid ticket.

See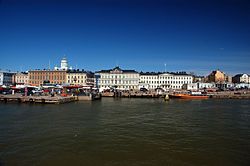 The 19th century centre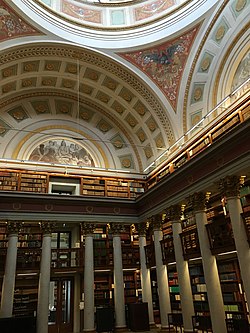 The buildings south and north of the Lutheran cathedral were mostly designed by Carl Ludwig Engel and built in the early 19th century as a new unified city centre when Helsinki was made capital of the Grand Duchy of Finland. If you have come to look at the cathedral, why not walk around in the area and take a few photos? Buildings include the , the and the on the waterfront, the , the and the around the Senate square and the , and the (Ritarihuone) "behind" the Senate square.
The National Library of Finland

phone: +358 2941 23196

address: Unioninkatu 36

The beautiful National Library has books all the way from the early 19th century accessible for everyone (and books older than this are kept away from the public). The picturesque building with its glamorous stone columns is definitely worth a visit.
Parks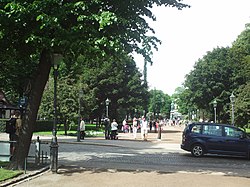 Esplanadi ParkLocated between Market Square (Kauppatori) and the two Esplanadi boulevards, this small but stately park has a commanding position at the heart of the city. In the summer time it is full of people sitting on the lawn, meeting their friends and quite often also having a drink or two. In the summer there are often free concerts given by local artists on the stage close to Kauppatori, facing restaurant Kappeli. If you're walking around with an ice cream or sandwich, do watch out for the aggressive birds.

Kaisaniemi ParkIn Kaisaniemi, northeast of the Central railway station. It has a bad reputation of a place where you might get assaulted, however in the daytime it's not more dangerous than any other place in Helsinki. The park has facilities for playing football (soccer) and tennis and is home to some events in the summer, most notably the morning of first of May and the festival "Maailma kylässä" in late May. It also holds Helsinki University's Botanical Garden (entrance from Kaisaniemenranta on the northern side).
Churches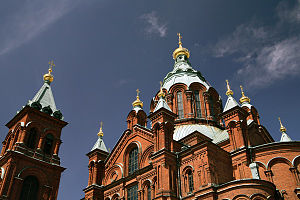 address: Aleksanterinkatu

The unofficial symbol of the city, this striking white cathedral dominates the central Senate Square. Based on designs by Carl Ludvig Engel and completed in 1852, the cathedral has recently been refurbished and looks better than ever, with the 12 apostles on the roof once again looking down at the world below.

phone: +358 9 634267

address: Kanavakatu 1

A classical onion-domed Russian church prominently located near the Market Square, Uspenski Cathedral serves Finland's small Orthodox minority and is the largest Orthodox church in Western Europe. The name comes from the Russian uspenie, from the Dormition (death) of the Virgin Mary. The five domes are topped with 22-carat gold, and some of the icons within are held to be miraculous.
Museums
phone: +358 9 3103 6630

address: Aleksanterinkatu 16

The museum actually covers a whole series of old buildings around Helsinki, but the centrepiece is the (short) street of Sofiankatu itself, carefully restored as a replica of the 1930s.

address: Maurinkatu 1

Founded in 1929, the central museum of the Finnish Defence Forces.

address: Snellmaninkatu 2

A museum about money and banking, as the name reveals.
Art galleries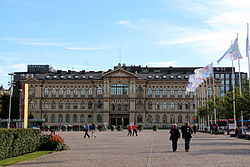 phone: +358 9 1733 61, +358 9 1733 6228 (for tickets)

address: Kaivokatu 2

Ateneum can be considered the most nationally significant art museum, and it has the largest collection of paintings and sculptures in Finland. Particularly notable is the collection of works by major Finnish artists. Works include renowned interpretations of the national epic Kalevala.

Kiasma Museum of Contemporary Art

phone: +358 9 1733 6501

address: Mannerheiminaukio 2

The sometimes unusual collections mostly include works by contemporary Finnish artists and artists from nearby countries. There are also periodical exhibitions. The building itself is arguably a work of art.
Do
From the and the you have a quite nice
view of the city
. Of course they aren't as high as the Empire State Building or even the
Olympic Stadium Tower
but entrance to both are free.
phone: +358 9 5761 1330

address: Kluuvikatu 4 B, (Kämp Gallery 8th floor)

Kämp Spa is located in the heart of Helsinki. In addition to the spa treatments, the spa has a gym and 3 different saunas.

phone: +358 9 680 800

address: Mikonkatu 19

Finland's only gambling casino. Located right next to the railway station. The only gambling casino in the world to donate 100% of its profits to charity. 2600 square metres of floor space on two floors. About 300 slot machines and 20 gaming tables and several bars. Also includes a luxurious Show & Dinner restaurant, with prices ranging from 70 € to 90 € per person.
Theatre
Performances are mostly either in Finnish or Swedish.
address: Läntinen Teatterikuja 1

address: Pohjoisesplanadi 2

Outdoor Icepark skating in winter

address: Railway Station Square

A pair of skates can be rented for an additional fee. The connected Café offers the opportunity of defrosting with a cup of hot glögi. There are also dozens of other places to go skating in Helsinki, including outdoor and indoor skating rinks.
Buy
Department stores and shopping malls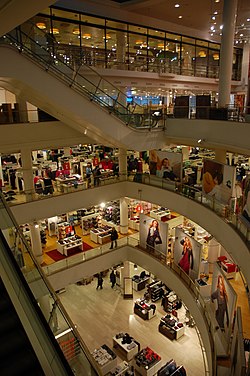 Helsinki's main shopping drag is
Aleksanterinkatu
(
Aleksi
), which runs from Senate Square to Mannerheimintie. On Aleksi you can find plenty of shops and the largest department store in Scandinavia, Stockmann, which is definitely worth a visit. The parallel
Esplanadi
boulevards have specialist and generally very expensive boutiques. Access to the area is easy, as trams 2, 4/4T and 7A/7B all run down Aleksanterinkatu, and the area is just a stone's throw from the Central Railway Station and Kaisaniemi metro stations. Close by, in the Kamppi area, you can find the shopping centres Kamppi and Forum and the department store Sokos. Large shopping malls can be found in the suburbs and accessed by public transport from the Central Railway Station.
address: Keskuskatu (opposite Stockmann)

The largest bookstore in Northern Europe, with extensive selections in English too. An underground passage connects the bookstore to Stockmann. If for no other reason the bookstore's architecture (Alvar Aalto) and pleasant second floor cafeteria (one of the few with to-table service in Helsinki) might be enough reason to visit.

address: Corner of Aleksanterinkatu and Mannerheimintie

Northern Europe's largest department store. The flagship of Finland's premier department store chain. When Helsinkians meet "under the clock" (kellon alla), they mean the one rotating under the main entrance to Stockmann. Large selection of souvenirs and Finnish goods, and the Herkku supermarket in the basement offers an amazing range of gourmet food from all over Europe. There are also smaller branches of Stockmann at the malls of Itäkeskus, Jumbo, Tapiola and the airport.

address: between Mikonkatu and Kluuvikatu

Upscale shopping mall, with local brands like Marimekko, Aarikka and Iittala.

address: Aleksanterinkatu

Re-opened after extensive renovations in Autumn 2011, the Kluuvi shopping centre features a range of international and domestic brands. Perhaps the most interesting concept is the Eat & Joy Markethall selling organic and local food in the basement. Grind your own flour and fill your bottles with crude milk but be prepared for steep prices.

address: Mannerheimintie 9

A large department store conveniently located right next to the railway station. Good place for buying clothes, you can often find the same products here as in nearby Stockmann but at a lower price. On the downside, despite being a department store they have a rather limited selection of everything else. The restaurant at the top floor has a nice view of central Helsinki.
Design
address: Pohjoisesplanadi 25

An airy concept store for the Iittala brand of Finnish glassware, pans, kitchen utensils and more. Personal service by the friendly staff.

phone: +358 9 686 0240

address: Pohjoisesplanadi 33

Innovative and unique Finnish interior design, bags, and fabrics. This is the flagship store, but items can also be found at the Kämp Gallery, Kamppi Centre, Hakaniemi Market Hall, or their factory shop.
factory shop

phone: +358 9 758 7244

address: Kirvesmiehenkatu 7
Markets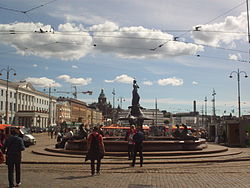 Market SquareAt the end of Esplanadi facing the sea, this open-air market sells fresh fish and produce from all over Finland. Open year round. It's busiest in summer, although the Christmas Market in December is also worth a look. One section of the market is devoted to souvenirs, but best buys here are the fresh berries and other produce. In summer, try the sweet green peas (herne). Just pop open the pod and eat as is.

Old Market HallRight next to Market Square, this old brick building houses Finland's best collection of gourmet food boutiques. Try to find the stall which sells beaver sausage!

Eat&Joy Farmers Market

address: Aleksanterinkatu 7-9

In the heart of Helsinki at Kluuvi shopping center, another one at Helsinki Airport. The markets are open seven days a week and have delicacies from more than 500 small producers across Finland: wild reindeer (poro), salmon, artisan cheeses, berry jams, fish roe, hand-crafted beer and cider, mushrooms, rye bread, smoked specialities, kyyttö forest cow, artisan chocolates and many other products – all direct from the producers.
Records
address: Unioninkatu 45

Rock.
Eat
Budget
Mid-range
Finnish
address: Eteläesplanadi 1

Traditional Finnish dishes - reindeer, fish, etc. Some of the prices are on the high end of mid-range, but you should get polite service and well-prepared food with a lovely presentation. Cozy, relaxed, relatively quiet atmosphere (although the restaurant is apparently well-known and therefore might be more crowded during late evenings & tourist season). The roasted lamb with garlic potatoes is a good choice, as is their take on Finnish-style blueberry pie. They also offer a cheaper self-service café on the left side of the restaurant, along with a bar (opened in 1867) in the middle of the building.

phone: +358 9 666 966

address: Kaivopiha, Mannerheimintie 3–5

Tourist restaurant with lots of character and great quality Finnish food. Plenty of old tractors and Finnish memorabilia. At night time Zetor functions as a popular and trendy night club with various funky music both from Finland and abroad, with plenty of young people attending. The kitchen stays open until closing time. Note that at night time, there tend to be long queues to get into Zetor in the first place.

phone: +358 20 7424268

address: Bulevardi 7

This small Italian place serves traditional Finnish lunch including salad, rye bread, meatballs and smashed potatoes, soup and coffee and tea for a reasonable price. A la carte is also available, but not Finnish cuisine.
International
Central Helsinki is dominated by restaurants dedicated to international cuisine, and these are particularly useful for vegetarian visitors, Finnish food being largely meat-based. A particular touch is provided by a bunch of "Nepalese" restaurants, which actually serve generic north Indian food, but almost any of which you are guaranteed to leave happy and full. Localized Chinese and Italian cuisines are also well represented.
phone: +358 50 463 3833

address: Kaivokatu 8

A Thai cuisine restaurant in the City-Center complex in central Helsinki, just opposite the central railway station. Offers authentic spicy Thai cuisine. Interesting decor. Usually a bit crowded.

phone: +358 9 622-9620

address: Kluuvikatu 5 (Kauppakeskus Kluuvi)

A reasonable selection of Belgian beers, a nice range of bistro fare, and a good location for people watching. The dining room upstairs is non-smoking. The menus in the dining rooms are served inside Tintin comic books in Finnish, so you can read them while deciding what to order.

phone: +358 9 5840-9530

address: Pohjoisesplanadi 29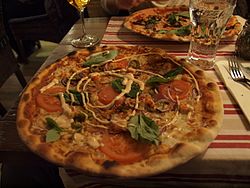 phone: +358 9 121-3838

address: Aleksanterinkatu 52

A classy, fashionable pizzeria with a wide variety of pizzas on the menu. Some of the toppings might be rather unusual, such as grilled chicken, pickled cucumbers, beetroot, crayfish, bratwurst, coconut milk, or Finnish leipäjuusto cheese. But the end result is a tasty culinary treat anyway. For dessert, there's a pizza with ice cream and fresh fruit. The restaurant has several locations around the Helsinki capital area and elsewhere in Finland, but the most central one is in the Stockmann department store, on the basement floor. The restaurant is rather self-consciously a pizzeria. Although many other pizzerias in Helsinki also serve kebab, there are only pizzas on the menu here, and even the staff wear shirts saying "Sorry, no kebab".

Everest

phone: +358 9 694-2563

address: Luotsikatu 12 A

A well-known "Nepalese" (north Indian) restaurant.

phone: +358 9 135-7158

address: Mariankatu 19

The only Korean restaurant in Helsinki. A cozy place with friendly staff and even frequented by Korean travellers! You can try all sorts of delicious Korean food here. Superb value for the price at lunchtime (11AM–2PM) when dishes cost about half of what they otherwise do.

Meze Point

phone: +358 9 622-2625

address: Mikonkatu 8

Mediterranean meze plates, several vegetarian dishes. Excellent vegetarian moussaka.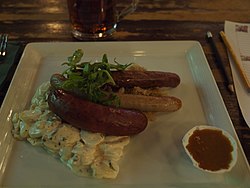 phone: +358 40-358-0585

address: Erottaja 15

A German restaurant inspired by the famous Hofbräuhaus am Platzl in Munich. Spacious, with premises on two floors. Authentic-looking Bavarian-style decor reminiscent of the original Hofbräuhaus. Tasty Bavarian cuisine dishes with copious amounts of meat, but vegetarian options also available. One of the few places in Finland to serve Austro-Bavarian schnitzels of veal rather than pork. A good variety of German beers on tap. Note that the restaurant only opens in the evening, so it's not a good choice for lunch.

phone: +358 9 135-4148

address: Meritullinkatu 25

An authentic German restaurant in the middle of Helsinki, owned by a German immigrant family. Claims to be "the only German restaurant in Finland". Spacious with German-style decor. The menu is full of traditional German food with copious amounts of steaks, sausages, potatoes and sauerkraut. A wide variety of German beers and wines available. The staff are fluent in Finnish, German and English.
Splurge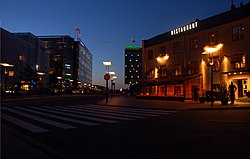 phone: +358 9 179560

address: Rahapajankatu 3

The oldest Russian restaurant in Helsinki was founded by emigrants from the Rodina in the turbulent year of 1917. Fitting location in the shadow of the Orthodox Uspensky Cathedral and a professional kitchen dishing out Russian traditional favourites with a French twist.

phone: +358 9 6128 5250

address: Pohjoisesplanadi 17

High quality seafood restaurant with a relaxed atmosphere. Although on the expensive side, you can eat lunch there at more moderate prices. FishMarket is located in the corner of the Kauppatori market place, easy to reach by Trams 1 and 1A.

phone: +358 44 766 8010

address: Aleksanterinkatu 21

A Viking-themed restaurant that tries to keep its cuisine as close to the authentic Viking cuisine as possible, but still keeping in with today's tastes. In practice, the food is extremely tasty, but a bit overpriced. The decor is Viking-themed, the staff dress up in Viking-themed costumes, and even the menu contains Viking-era descriptions. The menu is obviously very meat-oriented, but there are some vegetarian options available. Try the duck or beef dishes, they're very tasty. The restaurant servers its own beer, it's worth trying.

phone: +358 9 4282 6888

address: Aleksanterinkatu 21

The only Hard Rock Café in Finland, so far. The restaurant pretty much rides on its famous image. The food is very tasty, but a bit overpriced even by Finnish standards. Stylish interior containing rock'n'roll memorabilia. Extremely friendly staff, but for some reason very few, if any, of them speak Finnish even though the restaurant is in Finland.

phone: +358 10 76 63650

address: Elielinaukio 2

The best Czech restaurant in Helsinki. Located very centrally right next door from the central railway station. Very difficult to miss as it takes up the entire building. Several floors on the premises, the ground floor consisting of a bar, the upper ones of a restaurant. Several Czech beers on tap, and the menu is based on Czech cuisine with copious amounts of sausages and sauerkraut.

Wellamo

phone: +358 9 663139

address: Vyökatu 9

Not strictly Russian, but a longtime favorite of both bohemians and the Orthodox community from nearby Uspensky Cathedral. Apart from the wonderful Russian dishes, lighter Mediterranean fare is also available.
Drink
Cafes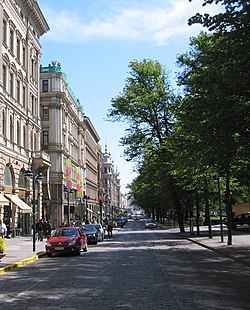 Cafe Engel

address: Aleksanterinkatu 26

Where the locals go for tea and snacks. Very relaxed, lovely courtyard out the back with films projected late into summer evenings.

Café Kafka

address: Pohjoisesplanadi 2

A lovely building with a relaxed atmosphere. Here you can find one of the best espressos in town.

Espresso Edge

address: Liisankatu 29

A cozy bohemian café with a South American vibe, popular among the artsy types of the Kruununhaka neighbourhood, and Faculty of Social Science students from across the street.

Fazer

address: Kluuvikatu 3

Famous for its decor, architecture, ice-creams, pastries and coffees, this 110-year old café, run by Finland's largest chocolate maker, has been an institution since its birth. There's also the Fazer Bakery shop next to the café. If you are visiting, pay attention to the round room topped with a dome. People say that if you tell secrets here, the other customers will hear them across the room due to the acoustics of the dome.

phone: +358 9 5840 9530

address: Pohjoisesplanadi 29

address: Pohjoisesplanadi 33

One of the oldest and most historic cafés of Helsinki. Great terrace on the posh Pohjoisesplanadi with views of the Esplanadi park, restaurant on the 2nd floor. Very popular among locals.
Bars and pubs
Nightclubs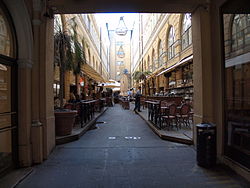 Mummotunneli

address: Aleksanterinkatu 46

The "Mummotunneli" ("Grandma tunnel") is a passage between various restaurants in central Helsinki, with a glass ceiling above it to protect it from the weather. There are terraces of various restaurants in the passage, staying open well past midnight. The name "Grandma tunnel" comes from the alleged high average age of the clients. In practice, this means you will usually meet people from 30 to 50 years. Very few actual grandmas come here. Live music available pretty much every day. The place is extremely crowded in summer but almost deserted in winter.

address: Pohjoisesplanadi 2

A complex featuring a deli, a restaurant, a bar and a night club, all of them trendy and popular among the well-dressed crowd. Check out the aptly named Clock Bar (Kellobaari) downstairs. Closed Sun.
Sleep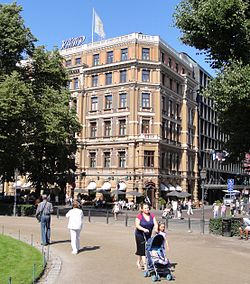 Budget
address: Linnankatu 9

Helsinki's largest hostel, very close to the dock for the Viking Line ferry and the Uspenski Cathedral. Dorms from €24.10, single rooms from €45 (plus €2.50/person for non-HI members).
Mid-range
Splurge
Connect
Cafés and shopping centres usually have a Wi-Fi of some sort (meaning that the speed might not be the best on the markets). Central train station has good Wi-Fi coverage and at decent speed.
While the city advertises its WLAN, the access points are clustered at certain locations and do not provide widespread coverage in most of the downtown core (for example, none on the busy thoroughfare Mannerheimintie south of the Central Train Station).

Respect
If you are into flying drones, quadcopters or other unmanned aircrafts, please note that there is a flying prohibition called "no-drone-zone" over the historic city center. More info
here
.
When visiting cathedrals or churches, please remove your hats when entering and show respect to the old building and people to whom it is sacred.