Helsinki/Inner East
Inner East
comprises the parts of
Helsinki
east of the railway, north of Pitkäsilta, south of freeways 4 and 45 and west of Kulosaari.
Get in
Most
buses
to and from the eastern parts of Vantaa (including the airport bus 615 to the city center) and northeastern Helsinki drive along Hämeentie, the major artery of this district.
Trams
1, 3, 6, 7B and 9 as well as the
Metro
(get off at Hakaniemi, Sörnäinen or Kalasatama) all bring you to the Inner east from the city center. From Western Helsinki, catch tram 2 or 8 from Töölö or tram 6 or 9 from the southwest. Freeways 4 from
Lahti
and 45 from
Tuusula
enter Helsinki here, as does highway 170 from
Porvoo
. If coming by
train
, Pasila Railway Station serves the Inner East and all trains to Helsinki, both local and long-distance, except the Allegro service from St. Petersburg, stop there too.
See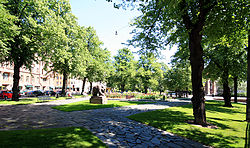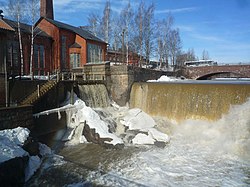 In this part of the city you can see
districts of old wooden houses and postmodern, blocky concrete districts
built as the "city districts of the future" in the 1970s. The former consists of the wooden parts of (take tram 1 or 1A to its northern terminus) and (in the area between Sturenkatu, Teollisuuskatu, Hämeentie and Päijänteentie). The latter consist of (east of Pasila railway station) and (east of Hakaniemi).
AlppipuistoLocated on the west side of the Linnanmäki amusement park, this beautiful park is a hidden gem during the summer due to the many free concerts and other events that are held there throughout the summer months.

Bear parkA cozy small park on the hill next to Kallio church and one of Kallio's symbols. The park got its name from the bear statue in the middle of it.

Church of KallioOn top of the hill at the end of Siltasaarenkatu. The church is built of grey granite (1912) and its massive looks dominate the view from Hakaniemi. It was designed by Finnish architect Lars Sonck. The church has both baroque and French romantic organs and concerts are organized frequently.

Church of St.PaulA church from the 1930s built of red tiles, one of the first landmarks one will see when driving into Helsinki from Lahti.

address: Viikintie 1

A small museum dedicated to technology, machines and industry.

address: Sturenkatu 27

Watch some of those tropical animals you wouldn't want to bite or sting you in the indoor terrarium Tropicario.

Vanhakaupunki and Vanhakaupunki rapidsThe place where Vantaa river flows into the sea was the place where Helsinki was founded in 1550. Despite its name "Old Town", don't expect to find any medieval buildings there, as the area was devastated by a fire and a plague outbreak and subsequently the city was moved south to its current location. Nevertheless, the site of where Helsinki was founded is marked by a small memorial and nearby there's the site of the city's first church, standing from 1550 to 1639. The nearby rapids are also worth seeing.

address: Kirstinkuja 4

Built for the city's employees and their families in the early 20th century, nowadays the house is a museum where every room is a snapshot of the inhabitants' everyday life during different decades from the 1920s to the 1980s. Visits by guided tours which are free, start about every 15-20 minutes depending on how many visitors have arrived, and are conducted in Finnish, English (whenever foreign travellers show up) and possibly other languages too.

KalasatamaLiterally "fish harbor", the is a new seafront neighborhood which has an interesting brick touch to it. Not a typical tourist destination, but some architecture lovers might find the place interesting. Also home to a big, crazy statue of a Siberian Jay. A new shopping and living complex Redi has been built there, with the first phase opened in autumn 2018.
Do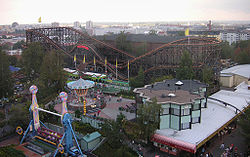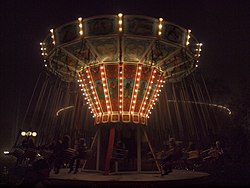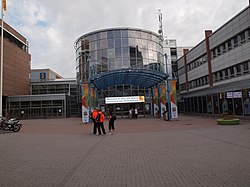 address: Messuaukio 1

For many business travelers the reason to visit Helsinki, but there are also some events around the year that aren't exclusively geared towards professionals like the American car show in April, the book fair in October, ski expo in November and the travel expo in January.
Kallio KukkiiA cultural summer festival held in the bohemian district of Kallio not very far from the city centre. Held over a week in middle May. Various art galleries, workshops and street art performances. Culminates in a samba parade on Sunday, held by Império do Papagaio as their final practice before the main Samba Carnaval in the city centre.

address: Sturenkatu 4

The Helsinki Hall of Culture is a concert hall designed by Alvar Aalto in the 1950s. Since its opening, many world-famous artists and groups such as Jimi Hendrix, AC/DC, Tina Turner, Iron Maiden and Lady Gaga have held concerts there.

LinnanmäkiThe oldest amusement park in Finland, famous for its wooden roller coaster. Entrance to the park is free of charge, all-day passes €42. Open only during the summer, however the adjacent Sea Life aquarium and the Peacock theater (not a traditional theater but rather a venue for musicals and slightly Las Vegas-like shows) at Tivolikuja 1 is open throughout the year.
In middle October, the amusement park holds a week-long closing ceremony where just about everything, particularly the rides, is illuminated with colourful lighting. The ceremony holds live music events in late evening and there is a fireworks show at the very end just before the park closes down for the winter. This entire ceremony is free of charge but you still have to pay to go on any of the rides.

address: Sörnäisten rantatie 22

A former power plant, nowadays a center for alternative culture that hosts a circus and some exhibitions. The famous metal festival Tuska at the turn of June and July and electronic music festival Flow in August are held on the premises.

TokoinrantaA park northwest of Hakaniemi, which in August turns into an outdoor scene during the Helsingin Juhlaviikot cultural festival. Check out the City theater, and if you understand Finnish or Swedish, go see a theater performance.
Sports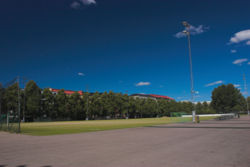 BrahenkenttäAn open sports pitch in northern Kallio where you can play football (soccer) in the summer and ice hockey or bandy in the winter or watch a home game of the Finnish bandy league team HIFK.

address: Mäkelänkatu 49

Indoor swimming pool which has also been used for international competitions. Great if you feel like swimming in the winter but don't care for the traditional Finnish "hole in the ice" swimming.

address: Helsinginkatu 25

The "Sports house" offers swimming, bowling or exercising.
Saunas
address: Kaarlenkatu 15

Old public sauna in Kallio. Separate saunas for men and women. Washing service and traditional bloodletting (kuppaus) also available.

address: Harjutorinkatu 1

This is the last wood-burning public sauna in Helsinki. Separate saunas for men and women. There's a good chance you'll find a top level chess match in the dressing room. Don't miss cooling off outside, especially in winter. On Saturdays you'll find bachelor partiers (Kotiharju is pretty near to Kallio's nightlife).

address: Hämeentie 63
Buy
Design
address: Hämeentie 135

Factory outlet for Arabia ceramics and Iittala glassware, best known for selling slightly defective goods at modestly discounted prices.

address: Lemuntie 3-5

Here you can watch and buy "design"-furniture and kitchen utilities.

address: Vilhonvuorenkatu 11

Things to furnish and decorate your home of the more expensive kind as well as organic products. They have a café too, serving sandwiches, good hamburgers and a range of beverages - on Saturdays you can enjoy brunch there. Moko has another branch in Punavuori in the southwest of the city.
Malls
address: Hämeentie 111

A shopping mall in northwestern Helsinki with two supermarkets and some speciality stores.

address: Hermannin rantatie 5

Shopping mall opened in September 2018, built around the Kalasatama metro station. Redi is said to be the most labyrinthine shopping center in Europe, mostly because the metro tracks cuts the mall in half, so that is by itself an interesting thing to experience. On the top of the mall the tallest residential building in the country, Majakka ("lighthouse"), is being built. It's scheduled to be finished in late 2019 and at a height of 134 m it will be the second tallest skyscraper in the Nordic countries (after Turning Torso in Malmö).
Adjacent to the Pasila railway station is the Tripla shopping mall, as it's west of the railway it is listed in Helsinki/West.
Markets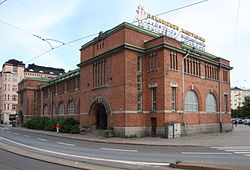 Hakaniemi Market Hall and Open-Air MarketA busy market frequented by locals, this is where you can find specialities at affordable prices. During 2018-2020 the century-old market hall building is undergoing an extensive renovation, and the vendors are operating in a temporary building at the eastern end of the square. The open-air market offers fresh vegetables and seasonal products, and a flea market on the first Sunday each month. Walking up Hämeentie from Hakaniemi market, you'll find several African, Middle Eastern, Indian and Asian grocery stores.
Record stores
address: Toinen Linja 1

Rock. Many genres. Very recommended.

address: Hämeentie 1

Rare 1960/70s rock and hard rock.

address: Hämeentie 46

Rockabilly.
Eat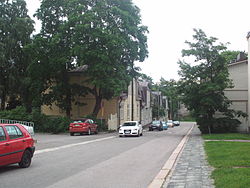 Budget
Mid-range
Splurge
address: Läntinen Brahenkatu 4

Kallio's favorite Greek restaurant next to Brahenkenttä sports field.
Drink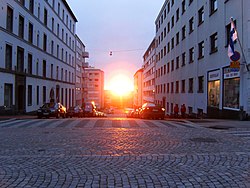 Cafes
Bars and pubs
Drinking in Helsinki (and in Finland generally) is relatively expensive, wherefore the Kallio district with its lower prices in pubs and bars has established itself as a party district. There are lots of pubs to choose from, just walk along the parallel running Helsinginkatu or Vaasankatu; the latter one was partly changed into a pedestrian zone in summer 2013.
You can reach Kallio from the center by walking, by tram (lines 1, 3, 6 or 7B) or by metro (get off at Hakaniemi and walk uphill, or Sörnäinen, and head west). Nearly all bars in Kallio have to close at the latest at 02:00, whereas in city centre there are many that are open until 04:00, reinforcing Kallio's status as a 'party district'.
Nightclubs
Other
Sleep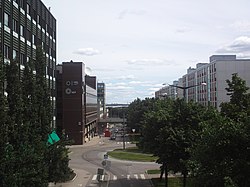 Budget
phone: +358 45 845 6188

address: Sturenkatu 27B 2nd floor

Helsinki's newest hostel, excellent transport connections, near social Kallio neighborhood, stylish vibe. Opened in May 2012.

phone: +358 9 774 751

address: Karstulantie 6

Affordable hotel in Kumpula, popular among Russian visitors.
Mid-range
Splurge
phone: +358 9-39351

address: John Stenbergin ranta 4

Located across the Pitkäsilta bridge, a 15-minute walk or short tram ride away from the main railway station.

Holiday Inn Helsinki Messukeskus

phone: +358 9 150 900

address: Messuaukio 1
Stay safe
The Kallio area is generally a bit rougher than the rest of the city and is as close as Helsinki gets to a red light district. However, it is a lot more tame than most 'such parts of town' in Europe. You will be fine there at any hour as long as you look out not to get in between a fight of two drunkards about who the remaining vodka belongs to.