Helsinki/Kamppi and Southwest
Kamppi and southwestern Helsinki
is here defined as the part of the city raying out to the southwest of the
city core
, stretching along freeway 51 to the border of next-door
Espoo
. Kamppi is for the purposes of this article delimited by Baana and Hietaniemi cemetery in the northwest, Mannerheimintie in the east and Bulevardi in the southeast. In addition to Kamppi, Ruoholahti and Jätkäsaari it also includes Lauttasaari.
Southwestern Helsinki has something for everyone. The part next to Mannerheimintie with the shopping centers of Kamppi and Forum are not much different from the rest of the downtown, though just a block or two into Kamppi the environment becomes much more residential. There is no lack of restaurants, cafés, bars and clubs, though and aside of downtown itself and
Kallio
, this is a good place to go out for a drink.
Ruoholahti, still in the 1980s a somewhat rough and dirty part of the city is now modern and clean with glass and steel office and apartment buildings, partially built on land reclaimed from the sea. Still the former cable factory (nowadays a cultural center), the Salmisaari power plant and the shipyard reminds of the former industrial character. A bridge to the west lays the island of Lauttasaari, mostly residential.
Get in
The eastern parts of this district are practically part of the downtown and the rest of Kamppi within walking distance from it. Ruoholahti is best accessible by metro or tram 9 from the central and eastern parts of the city, by tram 8 from the
Töölö
. The new metro extension takes you all the way to Lauttasaari and beyond.
If you travel in from
Espoo
or western
Uusimaa
by bus or metro, this part of Helsinki is the first you will reach. The same is true if you're arriving from
Tallinn
on Tallink's or Eckerö Line's ferries, from
St. Petersburg
by ferry or on a
massive cruise ship
that can't dock in central Helsinki.
To the ferry terminals, take tram 7.
Get around
Getting around in the western parts is no struggle, you can use the buses, the trams or the metro to get wherever you want, not forgetting going afoot. Even though the options for public transport are great, don't immerse yourself only in them and remember the option of going on foot; it might save your time since especially the trams might be slow.

See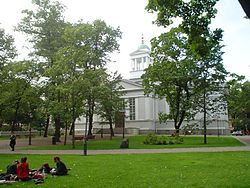 Helsinki Old ChurchA neoclassical wooden church built in the early 19th century, which is the oldest church in central Helsinki. It's in the middle of the Park of the Old Church, which is also known as the Plague Park (Ruttopuisto) because it was used as a cemetery for many of the victims of the plague of 1710.

LönnrotinpuistikkoA tiny little park next to the Old church. In the middle there's a statue of 19th century author and scientist Elias Lönnrot (author of Kalevala, the Finnish national epic).

address: Yrjönkatu 23

In the Forum block. The largest private gallery of contemporary art in Finland.

address: Malminkatu 26

The center of the Jewish community in Helsinki; there are also a Jewish school, kindergarten and a kosher store on the premises. You probably have to call ahead for visiting.

Metropolia Polytech main buildingThis impressive 19th-century building next to the Hietalahti square hosted the Helsinki Technical University until the 1950s, nowadays it's the main building for the Metropolia University of Applied Sciences. As you're there, check out the Hietalahti market hall and market square.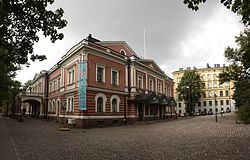 address: Albertinkatu 32

The Alexander theater, named after the Russian czar Alexander II and finished in 1879 is likely Helsinki's most beautiful venue for performance art. Occasional shows and concerts in English.

Computer and video game museum

address: Tyynenmerenkatu 11

Interested in old video games, game consoles, computers and related paraphernalia? Then this place is definitely something for you.

LasipalatsiAnother of Helsinki's most iconic functionalist buildings right next to Mannerheimintie, the "glass palace" by Viljo Revell, Heimo Riihimäki and Niilo Kokko was finished in 1936 and is functionalist both on the inside and outside. It was planned as a temporary office building and shopping mall, to be replaced by a bigger one in the future but that never happened. In the 1980s and 90s the building was in a fairly sorry state but due to opposition by citizens and the Board of Antiquities it wasn't demolished but underwent a major restoration at the turn of the millenium. Today the gorgeous white building with colorful neon signs houses shops, restaurants, the movie theater Bio Rex, and beneath it, the art museum Amos Rex.
In addition the district of Ruoholahti is one of the few places in Helsinki to see modern glass and steel architecture, and of course the Crusell bridge across Ruoholahti bay. Lauttasaari is one of the greenest areas in Helsinki. The island's landmark, the 1950s water tower, was dismantled in 2015.
Do
address: Bulevardi 23-27

address: Annankatu 30

Feel creative? Annantalo, a multimodal "house of art" arranges art workshops and courses for both kids and grownups, as well as performances and exhibitions.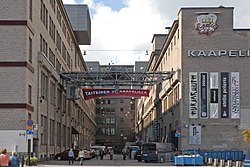 address: Tallberginkatu 1

The former cable factory in Ruoholahti is nowadays a multi-purpose culture center. It hosts concerts, fairs, art workshops and odd/original museums like the restaurant museum and photography museum. There is a Restaurant/Café/Bar Hima & Sali in the building. At lunch time you can choose your meal from a daily menu or watch the cook prepare your wok from ingredients you selected. Good place for vegetarians.

phone: +358 20 78 51 440

address: Länsisatamankatu 16

Huone ("Room") claims to be the world's first event hotel, providing premises and services for their customers to hold their own events. There are twelve rooms of different sizes, and each can be rented for a day, a morning or an evening. Huone can host various kinds of events such as business meetings, birthday parties or sauna evenings. The customer holds the event - Huone provides the premises and services, including catering, with alcoholic drinks or without.

Kasinonranta Beach, Lauttasaari

address: Tiirasaarentie

A popular place in summer with a large playground for children and a pleasant café Kasinonranta (in summer season open M-F 15:00-19:00, Sa Su 10:00-19:00). At the beach and the park around you can picnic, kick a ball, play a beach volleyball, swim, canoe or skatefurf. In winter it is possible to snowkite here or hike, skate or cross country ski on frozen sea around Lauttasaari island and even reach some nearby islands.

address: Lahnalahdentie 2

Two outdoor skating rings, open approximately 2 Jan - 24 Feb, depending on weather.

address: Eerikinkatu 2

address: Energiakatu 3

New sports mall in Helsinki, includes indoor beach, bowling, ice hockey, wall climbing, gym, Megazone, restaurant and lots more...

address: Salomonkatu 15

The Tennispalatsi ("Tennis palace") was built to house tennis events for the 1940 and 1952 Olympics. Nowadays, it retains no trace of its Olympic past. Instead, it functions primarily as Helsinki's biggest movie theatre, with more than ten halls on two floors, showing movies both from Finland and abroad. As well as functioning as a movie theatre, Tennispalatsi also houses cultural exhibitions, small stores, restaurants (including Pizza Hut and Hesburger) and cafés.

phone: +358 9 310 87401

address: Yrjönkatu 21b

An art-deco bath house with three types of saunas and a swimming pool. Take a sauna and swim in the nude. There are separate days for women and men. Bathing suits are not banned, but almost everyone goes without one. Men's swimming days are: Tuesday, Thursday, Saturday; Women's days: Monday, Wednesday, Friday, Sunday. 1st Floor €5 (or €5.40 with a lockable stall or 'cabin'), 2nd Floor €14. The second floor (accessible only the afternoons from Tuesday to Sunday) includes access to a steam sauna and a wood-heated sauna, as well as a café.
Buy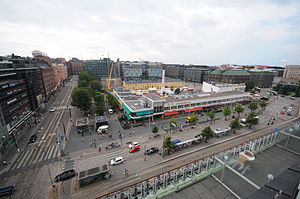 Shops
phone: +358 10 5489801

address: Eerikinkatu 3

This bright-white "lifestyle department store" sells both international and Finnish (designer) labels such as Raf Simons, Wood Wood, Acne and April77 as well as second-hand clothes, accessories, records, magazines etc.

phone: +358 50-5894131

address: Eerikinkatu 7

Paloni is a creative design concept store. It sells items that are designed and made by over 70 independent designers. Paloni's product range covers women's clothing, accessories, jewellery, home decor, gift items and children's clothing.

address: Urho Kekkosenkatu 4-6 A

Helsinki's largest indie store, covers virtually everything except classical and electronic. Lots of indie vinyl at reasonable prices.

Compact Records (Dark Side of the)

address: Lönnrotinkatu 23
Markets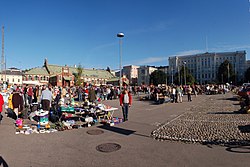 phone: +358 9 670145

address: Hietalahdentori

One of Helsinki's three traditional market halls until the turn of the millenium, after that concentrating on antiques and as of 2019 a kind of a food court, with some gift shops.

Hietalahti Open Air Flea marketNext to Hietalahti Old Market Hall, this is the most popular flea market in Helsinki. Open year round, but busiest from May to August.
Eat
Budget
phone: +358 9-6933010

address: Itämerenkatu 12

One of many Nepalese places. It might not be the cheapest one, but the food is great. The restaurant is well visited and often full at lunch time.

Barbarossa

address: Yrjönkatu 29

Good price-quality ratio pizzaplace, always fast service. Very small location though, so you might have to eat your pizza elsewhere.

address: Eerikinkatu 17

One of the more popular kebab places in town. On the same street as many bars, so good for a midnight meal as well.

Pompier

address: Albertinkatu 29

Run by the Volunteer Fire Brigade, this restaurant serves a daily changing buffet of hearty Finnish fare in a cafeteria straight from the 1950s, complete with grim portraits of moustached Hosemasters staring down at you. Pea soup and pancakes on Thursday are particularly popular.

address: Kamppi Shopping Centre, E floor, Urho Kekkosen katu 5 B

Select from a few tasty plates of Wok.

address: Annankatu 31

A pizza spot very close to the city center. It's a relatively small place, but the service is very fast and the place is open late at night. Opens around 11:00, and closes at 23:00 (22:00 on Sundays). Try the Päivän jättipizza ("Daily giant pizza"), which is a large, thin pizza with a varying selection of fillings plus a 0.4 liter soft drink for €6, which is almost unbeatably cheap. They also offer a liter of beer + the daily giant pizza for €13.
Mid-range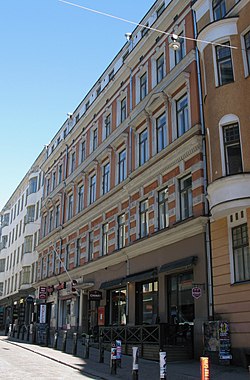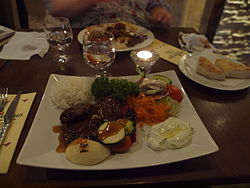 phone: +358 9 685 1862

address: Ruoholahdenkatu 18

One of the most famous Turkish restaurants in Helsinki. Famous for its Mediterranean-style buffet, served not only on working days but on weekends also (it's a bit more expensive on weekends though), but also serves quality Turkish à la carte dishes. The coffee, although served from a nondescript thermos can, is one of the best coffees available in Helsinki. Spacious with stylish Turkish decor, with artwork depicting ancient Mediterranean cities on the walls. Buffet around €10, à la carte dishes €14 - 22.

phone: +358 504630155

address: Simonkatu 8, Forum

The only Indian restaurant in Helsinki accepted as decent by Indians here.

Ka-Shing

phone: +358 9 676 319

address: Lauttasaarentie 14

Probably the best Chinese restaurant on the residential and office district of Lauttasaari. Rather small, and can be quite packed at lunch time. Lunch is very cheap, usually €7-8, but on evenings and weekends à la carte courses cost €12 - 20. The restaurant provides Donald Duck comic books in Finnish for the customers to read.

phone: +358 9 694 7504

address: Hietalahdenkatu 14

Traditional Finnish food. Very nice if you want to try all kinds of Finnish meals!

phone: +358 9 647 255

address: Kalevankatu 3

A Helsinki institution dating to 1924, proudly serving "Helsinkian" food — a melange of Russian, French and Swedish influences. Try one of the three classics: Vorschmack with duchess potatoes, the Sylvester Sandwich au gratin and Baltic herrings with mashed potatoes.

phone: +358 50 562 5010

address: Nahkahousuntie 1

A real Italian restaurant in the mostly residential district of Lauttasaari, serving authentic Italian cuisine, mostly pizzas and pastas. Easy to arrive at as it's located almost right next to the terminus of bus line 21V. Open for lunch (weekdays only) and à la carte dining.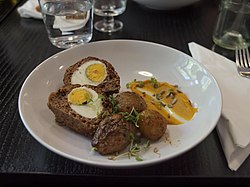 address: Lapinlahdentie 1

A novel concept: The restaurant serves food made of the waste of other restaurants and groceries, giving new life to food left uneaten. Satisfactory and tasty fare, but don't expect an exquisite culinary experience. The restaurant is located in an old, abandoned mental hospital, giving its location and interior a unique charm.

Mai Thai

phone: +358 9 685 6850

address: Annankatu 31-33

One of the best Thai restaurants in Helsinki - simply incredible! Make sure to reserve a table in advance, and heed the chilli ratings when ordering.

Meng Loong

phone: +358 9 682 0866

address: Itälahdenkatu 27

A nice Chinese restaurant in southern Lauttasaari. Not much in the way of à la carte dishes, but a very tasty buffet provided at lunchtime every weekday, with the dishes on offer varying every day. For an extra €1.50, you can have a sushi buffet with your Chinese lunch buffet.
The Chinese food on offer includes chicken, pork, beef, fish and tofu every day. There are various kinds of spicy sauces available.
Be sure to get in early, as the restaurant is quite packed. In early afternoon, actual Chinese customers come to the restaurant to eat a pre-set menu. They have tables reserved well in advance so they won't bother you. After a few hours past noon the buffet food tends to get a bit tasteless though. This restaurant is sometimes favoured by the Finnish police forces.

phone: +358 451712277

address: Itämerenkatu 14

The name means "starfish", but despite that, there is actually very little seafood on the menu. The menu is very meat-oriented, with the restaurant specialising in Hungarian cuisine. The restaurant is rather small, and about half of it consists of a pub area. Very easily accessible as it is next door to the Ruoholahti metro station. Main courses €12-30.

phone: +358 9 6831 5450

address: Lapinlahdenkatu 17

Good Nepalese food.

New Bamboo Center

phone: +358 9 6943117

address: Annankatu 29

Well-known and popular downtown Malaysian-Chinese restaurant. Cheap lunch/dinner. Vegan-friendly with several vegan dishes. If you like elbow room you might want to pass on this restaurant, since the seating is somewhere between "intimate" and "cramped". The food is very good, though. The restaurant is famous for its hot Malaysian curry dishes, which are among the hottest dishes available in Helsinki.

Pikku-Nepal

phone: +358 9 6931778

address: Annankatu 29

A very good Nepalese restaurant. Good vegetarian options.

phone: +358 10 7664 280

address: Hietalahdenranta 11

Harbour restaurant. Salve's operations began in 1897 as a small food kiosk for sailors. Even now, you can catch the feeling of Salve's past - a time when ships were made of wood and men were made of steel! Herrings of Salve you should taste.

phone: +358 441 709 0777

address: Yrjönkatu 29

Mexican-style restaurant near the Forum shopping centre. Famous for its lunch buffet, where you can fill up tortillas and tacos with toppings of your own choosing.

phone: +358-50-5969316

address: Annankatu 4

The restaurant provides excellent hospitality and a wide variety of authentic Indian cuisine. An affordable and changing lunch buffet, dinner, delicious Indian desserts, take away service and catering for smaller or larger events. Lunch €10, main dishes €15-20.

address: Lapinlahdenkatu 3

Tasty burgers made to order, with a regular, vegan, vegetarian and special option that can be further customized. They have a good selection of sodas and craft beer. In their Kamppi location there's also an inner yard open during the summer with live music most nights. They also have a restaurant in Vallila and in the Leblon Merihaka food court.
Splurge
Drink
Cafes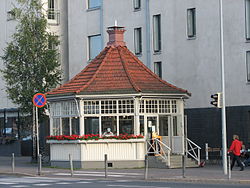 phone: +358 45-6335418

address: Lauttasaarentie 2

Lovely small cafe in an octagonal old wooden building just at the Lauttasaari bridge. Its name translates to café "nut" as something you use with a bolt. Coffee, pies, pastries and ice cream are on offer. You can enjoy a slightly nostalgic atmosphere of the place, or just get pleasantly cozy on a freezing day.

Ateljee Baari

address: Kalevankatu 5

Despite the name it's more like a cafe, located on top of Hotel Torni, Finland's first high-rise. Excellent views over Helsinki's downtown. You even have a view from the (famous) toilets. Highly recommended. Find the elevator close to the lobby to get there, but be prepared for expensive drinks. If you're on a tight budget, you can just enjoy the view on the elevator level.

phone: +358 9 6811 860

address: Bulevardi 9

One of the classic Helsinki cafés and a Bulevardi institution. Was renovated in 2017 and at that lost some of its old flair.

Gran Delicato

phone: +358 9 694 0403

address: Kalevankatu 34

A very cosy cafe serving Mediterranean salads and paninis, and a variety of coffees. The Greek owner is a showman, usually around to amuse customers.
Bars, pubs and clubs
Amsterdam

address: Itämerenkatu 1C

Dutch beer house in Ruoholahti.

address: Annankatu 21

A high-priced but incredibly high quality cocktail bar situated in the city center, a few hundred meters from Stockmann's. Generally serves classic cocktail drinks with a twist, but also features several cocktails with a distinctly Finnish vibe (featuring garnishes such as birch leaves and fresh cloudberry) and innovative house specialities. According to worldsbestbars.com, this unlikely find is one of the world's best bars , winning the title of the best bar in the world in 2009 and 2010.

address: Malminkatu 22

A journey into traditional Finnish bar culture, where fireside debates and poetry recitals are a common place occurrence in this historical tavern. Frequented by a more intellectual if not boisterous crowd, the common traveler will find a home away from home at Wanhakettu. A famous haunt for many members of the classical artist communes of Käpyla and Suvela. According to historian Antti Mäjänen of the Ostrobotnious Historical Society, it was in this very spot that the second treaty of Vyborg was signed in the summer of 1902, adding character and flavor to this lovely tavern of old.

Aussie Bar

address: Salomonkatu 5

The name says it. Place to go get some drinks with some international fun. Live music every Wednesday and the weekends are always crazy in Kangaroo Land.

address: Mannerheimintie 12

A great place to start up your party. From Tues to Sat they have a sparkling wine happy hour from 17:00: for 100 minutes, a glass of cava costs 100 cents (that's €1). The service might be somewhat rough. Also lots of young people there on weekends. Has a bar, nightclub, pub and serves also food.

phone: +358 9 751 75611

address: Eerikinkatu 11

A bar and billiard hall owned by the film director brothers Aki and Mika Kaurismäki, echoing the melancholic mood of their films. Also check out the affiliated Kafe Moskva bar next door for authentic Soviet style experience, complete with Russian music played on dusty vinyls and Russian vodka and champagne. Downstairs is Dubrovnik, a small club-cum-movie theater that can be rented for private events and host occasionally live gigs or clubs.

address: Annankatu 21

A very street-credible rock bar, it is highly popular among Finnish rock musicians.

address: Yrjönkatu 24

Design music club with 3 floors. During the summer very nice roof terrace.

address: Salomonkatu 1-3

Music venue club.

address: Mannerheimintie 6 B, 2nd floor (with stairs/elevator)

Formerly "Don't Tell Mama", DTM is the largest combination of gay cafe, bar, disco and nightclub in Scandinavia, with 2 dance floors and 3 bars. Popular among younger, trendy people and some celebrities. Straights usually welcome, too, as long as they don't "take over" the place. Entrance Su-Th €2.50, F €5, Sa €8 (on special nights fees may vary). Around the corner is Hercules Gay nightclub.

address: Lönnrotinkatu 4

One of the busiest gay nightclubs in Scandinavia, mainly a 30+ clients, dance floor and 2 bare, good for bare-faced cruising. Entrance free; coat check €2.50 (on special guests nights fees may vary). Around the corner is located DTM Gay nightclub.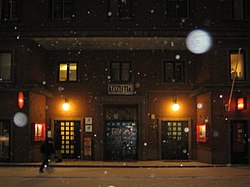 address: Urho Kekkosen katu 4-6

One of the most prominent rock clubs in Scandinavia, a must see for fans of live rock of any kind. Semifinal has smaller indie/alternative bands for a young crowd. On special nights the two clubs are joined, but usually they host separate gigs. Tickets for all gigs can be bought in advance from the Tiketti ticket sellers next door. The annual Tavastia new year party is an institution in itself, with fans flying from all over the world for the show.

address: Urho Kekkosen katu 1

Formerly Lux, this is a contestant for the title of Helsinki's classiest mainstream nightclub, with its dress code, stylish decor, relatively high prices and an age limit of 24. Five bars, two spacious terraces, a VIP lounge and six luxurious booths that can be reserved. Live music on Thur.

address: Simonkatu 6

Tries to profile itself as a nightclub for trendy young adults. You can lie on couches next to the crowded dance floor while sipping some bubbly.
Sleep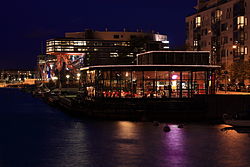 Budget
address: Yrjönkatu 30

A self-service budget hotel concept with no front desk in the centre near Kamppi. Book and pay on the Internet and let yourself in with a passcode. Toilet, shower, 26" LCD-television, small fridge, microwave, water kettle + disposable cups, coffee, tea, hair dryer and dining table. Omena-breakfast €7.50/person. Business-package €16/night includes Internet connection, two volitional movie per day and breakfast. Parking €17.50/night. Omena hotellis have been established in most major Finnish cities and are used widely by Finns travelling in their own country.

address: Lönnrotinkatu 13

The same budget hotel chain has another hotel a couple of blocks south.

phone: +358 9 6844360

address: Kalevankatu 3B

A young, regenerating hotel in the city center. Even though the rooms are small and fairly no-frills, the hotel is comfortable and cheap. Under new management, the hotel seems to be getting better (and cheaper) by the day. There are 27 rooms, which can accommodate from one to four people per room. Location absolutely perfect.
Mid-range
phone: +358 10 3444 100

address: Lönnrotinkatu 29

address: Lönnrotinkatu 16 D

Central location, clean, and good amenities. Wi-fi €5/day.
Splurge
Connect
Wireless internet can be used in some of the branches of city library (for example Lauttasaari library).