Helsinki/Northern suburbs
Helsinki's northern suburbs
are the northernmost part of
Helsinki
and form the continuum between Vantaa and more central parts of Helsinki. Here, this is defined as northwest of motorway 4 and north of Käpylä, Hakamäentie and Haaga roundabout; in other words north of the tram line termini. Like much of the peripheral Capital Region it's dominated by apartment buildings, industrial areas and a couple of malls but no major attractions are located here. Still, if you're a fan of outdoor activities like running or biking you might be interested in Helsinki's own "Central Park".
Get in
You can get in from elsewhere in Helsinki, Espoo and Vantaa by local trains and local buses. See
Journey Planner
or
Google Maps
for routes and schedules.
If coming by intercity train from the north or east and are going to somewhere in northeastern Helsinki, get off in Tikkurila and take a local train to your destination. Also, the trains from the airport along the Ring Line stops at many suburbs. Helsinki's general aviation airport Malmi is located in northern Helsinki.
Roads leading north from Helsinki, i.e. highways and freeways 120, 3, 130, 45 and 4 go through the northern suburbs. The first ring road (Kehä I), numbered 101, is the main east-western road in northern Helsinki.
See
Malmi airportLocated north of Malmi, the airport has been the general aviation airport of Helsinki aince the opening of Helsinki Airport. Since the turn of the millenium there have been plans to close down the airport and construct residential buildings in the area, and in 2017, air traffic control was withdrawn and since it has been operating as an uncontrolled airfield. Nevertheless, both aviators and many locals are opposed to this, and in 2016 Malmi airport was been listed by the cultural heritage organization Europa Nostra and the European Investment Bank Institute as "one of Europe's most endangered cultural heritage sites". Even if you aren't a pilot yourself, it's quite interesting to sit in the restaurant and watch small planes and helicopters land and take off.

address: Tuomarinkyläntie 7

A look into the daily life on a 18th century manor. Also hosts a restaurant and a riding school.

Rhododendron parkHelsinki University's rhododendron research garden in the Haaga district is also a public park that you can visit around the year. Best time to for visiting are in early or mid-June when the rhododendrons bloom.

Kannelmäki Church

address: Vanhaistentie 6

Finished in 1968 and looking like a copper pyramid with windows along the edges forming a cross. It's listed by the Finnish National Board of Antiquities as a "nationally remarkable built cultural environment".

Malmi CemeteryThe biggest cemetery in the country by number of burials. Many Finnish cultural and political personalities are buried here. Other things worth seeing are the main chapel built in 1923 which is still used, as well as the cemetery's own water tower and railway station, both of which are disused.
Do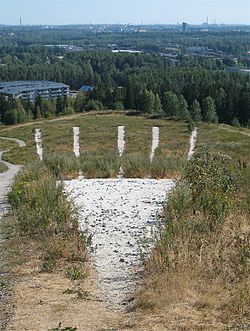 address: on Vantaa river

An unofficial event usually held the last weekend of July or the first weekend of August since 1997. The participants (yup, mostly males in their 20s) gather in Vantaa with rubber boats, rafts or whatever they can find that floats and travel downstreams towards Vanhankaupunki rapids while indulging beer - of course without life vests. This event has no official arrangers that could be held responsible if something happens and the date of the event just spreads in social media. If you think watching the spectacle isn't enough, remember that you're doing it on your own risk!

Helsinki Central ParkThis is a huge park starting just north of the Olympic Stadium and extending northwards for 10 km. It encompasses an area of over 1,000 hectares. The park is mostly in a natural state, with plenty of walkways, bikeways, riding paths and sports facilities including Pirkkola Sports Park (ice hockey, swimming, running) and Paloheinä (skiing, golf). A popular jogging area.

address: Klaneettitie 5

A concert and exhibition hall in Kannelmäki.

address: Laamannintie

A kind of a zoo with farm animals in a real countryside environment. Occasionally country music concerts are held at Haltiala.

Malminkartanonhuippu

address: Naapurinpellontie

With a height of about 90 m, this is the highest point in Helsinki and when you've climbed the 426 stairs to the top you're rewarded with a nice view in all directions. In winter this is a great place for sledding. The hill itself is actually an old landfill and consists mostly of building material which has given the hill nicknames such as the dump hill or filling hill! Can be accessed from two directions, either from the east (Naapuripellontie) or from Paperitie (west), which is within a walking distance (0.8 km) of Uusmäki bus stop, Espoo.
Buy
Large shopping malls can be found in (Kaari), (Malmin Nova and Malmintori) and (Ristikko) among others.
address: Ruosilantie 2

A bit outside the center but reachable by public transport, is Europe's biggest military surplus store. Has probably the friendliest and knowledgeable staff you'll find in Finland. Varusteleka sells anything from modern combat gear, to 1930s Nazi leather trench coats, to very good value-for-money modern gore-tex hiking coats that some army somewhere had too many of.

address: Ristipellontie 14

A small shop in the industrial suburbs selling all kinds of horror-related, some might say provocative stuff from satanic jewelry to band t-shirts. The shop itself is an attraction to horror-fans.
Eat
The shopping centers in the district usually have a few cafés and restaurants where you can have a budget or mid-range meal during the day. In the evening you don't have to travel far to find a fast food joint or a Chinese or Middle Eastern restaurant. Self-catering is also an option.
address: Orakas 5

Sandwiches, pastries and cakes fresh out of the oven at the bakery's café.

address: Torikatu 3

American restaurant in Malmi.

address: Klanettitie 10

Lunch restaurant in Kannelmäki.
Drink
Most suburbs have a pub or two. If you want something fancier, head to central Helsinki, that's what the locals do.
Sleep
Northern Helsinki is likely the least touristy part of the city but does have a couple of hotels, moreover airbnb accommodation may be available if you wish to stay overnight here. For a bigger selection of official hotels, head to
another district
or to Vantaa.
phone: +358 9 5807 877

address: Nuijamiestentie 10

Best Western Hotel Haaga is 15 minutes drive from Helsinki-Vantaa airport.

phone: +358 400 218 748

address: Tattarisuontie 1

This hotel in the Tattarisuo industrial area is likely the only one in the northeastern corner of Helsinki proper. You can choose between dorm accommodation or private room. The hotel has ample parking space, free Wi-Fi, TV:s in the rooms and some rooms have their own bathrooms.