Helsinki/South
South Helsinki
is in this guide defined as the part of
Helsinki
south of the Esplanadi and Bulevardi streets. It also includes the archipelago south of Helsinki, such as the Suomenlinna islands.
The southernmost part of the Helsinki peninsula, this is a calm part of Helsinki with the city's most affluent residential areas (especially in the Eira district), probably more than half of the embassies and consulates in Helsinki and lot of greenery including the Observatory Hill and Kaivopuisto. If you're interested in upscale fashion and design shoppings and trendy cafés, this is where in Helsinki you should head. On the other hand, the western corner of this district has a more industrial character with the shipyard, warehouses and the famous Kahvila Suomi serving traditional Finnish food for workers in the marine industries since decades.
Beyond the coastline, lined by yachts in the summer, there are a several small islands that have something to offer to visitors; from outdoor activities to exclusive eateries. The by far largest, best known and most popular is Suomenlinna — actually a cluster four islands made connected by bridges. This former fortification is inscribed on the
UNESCO World Heritage List
, but it's not just a tourist attraction, but home to several hundred inhabitants.
Get in
From the central railway station, bus station or downtown Helsinki in general, there isn't anywhere in southern Helsinki you couldn't get on foot within half an hour or so. Out of public transport modes, tram (1A, 2, 3, 6 and 10) are probably your best bet, though there are some bus lines too. If you wish to go to Suomenlinna, board the ferry from the Market square.
For yachts, customs clearing (if needed) is handled at the coast guard station on Iso Mustasaari of Suomenlinna (until after the 2016 season); phone +358 295-426-310. There are guest harbours at
Suomenlinna
and Pihlajasaari.
Get around
If you aren't going by foot or bike, tram is the best alternative; line 3 takes you around southern Helsinki.
To get to Suomenlinna, take the ferry from the Market Square.

See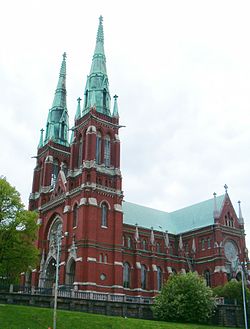 Observatory HillAs the name reveals, this hill rising above the Olympia and Makasiini terminals of South Harbor hosts an observatory, operated by the Astronomical Association Ursa. The observatory is now and then open to the public, and from the hill you have a nice albeit partial view over the city centre (part of the view is obstructed by trees). It is also the place for people to picnic on the may day festival Vappu and on the morning of the Finnish Independence Day the hill hosts a televised flag rising ceremony.

Diana ParkAlso known as Kolmikulma (the triangle), this pocket sized park is a nice place to take break from your sightseeing in the summer and just sit down on a park bench and have an ice-cream.

KaivopuistoA beautiful park by the sea in the southernmost part of the city. In summer you might want to sit down for a cup of coffee in one of the seaside cafes and enjoy the view of sailboats and the people on the promenade. Housing surrounding this area is the most expensive in Helsinki.

Sinebrychoffin puistoAlso known as "Koffin puisto", it's in Punavuori district next to the Sinebrychoff art museum. Popular with young people, in the summer it is full of people having picnics or just drinking pussikalja (literally: "beer in a bag", means buying beer from a supermarket and drinking it outdoors), while in the winter kids ride sleds down the snowy slope.

St. John's Church

phone: +358 9 7092370

address: Korkeavuorenkatu 12

The largest church in Helsinki and a fine example of Gothic Revival architecture.

address: Bernhardinkatu 4

The Lutheran Church of the German community is situated at the foot of the Observatory Hill and is a visible landmark if you are walking from the Silja Line ferry towards downtown. The Neo-Gothic church was built in 1864 and is also a venue for liturgical and classical concerts.

Mikael Agricola Church

address: Tehtaankatu 23

A prime example of 1930s Functionalism at the border of districts of Eira and Punavuori.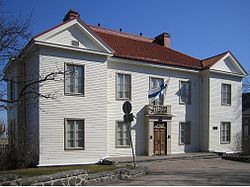 Suomenlinna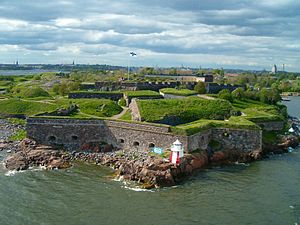 If you see only one place in Helsinki in the summer, make it . The "Gibraltar of the North" was once the greatest sea fortress in the Baltic, built by the Swedish in the mid-1700s at great expense to protect their eastern flank. But when the Russians invaded in February 1808, the bulk of the unprepared and bankrupt Swedish army hastily withdrew, allowing the Russians to conquer Helsinki without a fight and besiege the fortress. With no reinforcements in sight, commander Carl Olof Cronstedt surrendered unconditionally two months later, and Finland was ceded to the Russians. Cronstedt's actions probably saved countless civilian lives, but King Gustav IV needed a scapegoat and sentenced him to death for treason; fortunately, the losing king was himself soon overthrown, and Cronstedt lived out his years gardening.
Today's Suomenlinna is still living in its own time with only old buildings, few cars, fewer than a thousand inhabitants and lots of old fortifications, catacombs and cast iron cannons. But it's not just a museum: the sprawling complex houses restaurants, cafes, theaters and museums, and is a very popular place for a picnic on a fine summer day, watching the vast passenger ferries drift by on their way to Estonia and St Petersburg. It was included in UNESCO's
World Heritage List
in 1991 as a unique monument to European military architecture.
Entry to the island itself is free, but you need to pay for the ferry ride. The HSL ferry from Market Square is the cheapest and most convenient way of getting there at €5 for a 12-hour tourist return. The ferry is a part of the Helsinki local traffic, so if you have an HSL Day Ticket it includes ferry travel. The ferry runs approximately every half hour. On summer weekends the island is a popular picnic destination and you may have to wait for a long time as hundreds of people crowd the ferry terminal. In this case it may be worth it to use the more expensive private ferry company at the other end of the Market Square.
Guided tours of the island in English are available daily at 11:00 and 14:00 in Jun-Aug, and on Sa Su only at 13:30 the rest of the year, €7/person, and history buffs will want to drop into the
Suomenlinna Museum
at the Visitor Centre (€6.50).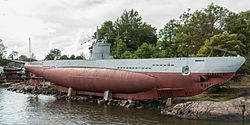 address: Suomenlinna, Iso Mustasaari

Exhibits vehicles and armament used by Finnish forces during the Winter War and World War II.

address: Suomenlinna, Susisaari

Vesikko was one of five submarines to serve the Finnish Navy during the wars in 1939-44. It´s also the only surviving German Type II (Vesikko was the prototype) submarine in the world.

Toy MuseumLovely old house with a dense collection of toys, notable for the wealth of information provided about the historical toys. The house includes the excellent Cafe Samovarbar.
Do
address: Uunisaari island

One of the better kept secrets of Helsinki is the beach on Uunisaari, an island a short ride away from the south coast.

address: Hernematalankatu 6

Try some ice hockey with your friends in the Jääherne ice hall on the southwesternmost tip of Helsinki.
Buy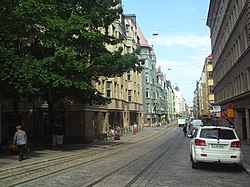 Design
Record stores
address: Fredrikinkatu 12

Used rock, Finnish, funk.

address: Laivurinrinne 2

Jazz/classical/world. Very recommended.

address: Laivurinrinne 2

Dub/jazz/salsa.

Levylaivuri

address: Laivurinkatu 41

Darkside Records

address: Albertinkatu 12

address: Iso Roobertinkatu 23

Rock/indie/electronics misc.
Eat
Budget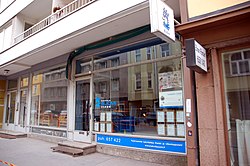 Mid-range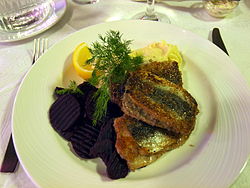 phone: +358 9 628 169

address: Kapteeninkatu 11

Established in 1933 as a basic eatery, this joint has slowly become a local legend affectionately known as Sikala ("Pigsty"), and both the decor and the menu are still preserved from the 1950s. A long-time Wallpaper Magazine favourite. Try the famous herring dishes or the onion steak

address: Iso Roobertinkatu 18, Fredrikinkatu 49, Eteläesplanadi 4

Tasty Thai food.

Zucchini

address: Fabianinkatu 4

Cozy vegetarian lunch restaurant with a daily changing soup and main dish (around €9).

address: Suomenlinna C66

Lovely cafe in the toy museum with proper espresso, ice cream, local snacks and wines, with a terrace overlooking the sea.
Splurge
phone: +358 9 74255544

address: Bulevardi 34 B

Traditional Lapp food in kitschy Lapp surroundings — reindeer horn chandeliers and the lot — but unlike some of the competition, they don't compromise on food quality. The octolingual menu runs the gamut from smoked elk to bear meatballs. Don't miss the buttermilk pancakes (äkäset) for dessert.

phone: +358 9 1345 6756

address: Särkänsaari island

Särkänlinna offers a Nordic cuisine. Located Särkansaari island, it provides a magnificent premise for any kind of function from dinners for two to elegant weddings or private parties. Särkänlinna is especially famous for its traditional crayfish parties.

phone: +358 9 684 4020

address: Eteläesplanadi 14

A luxurious restaurant with a magnificent view of downtown Helsinki's rooftops. Savoy is decorated just as Alvar Aalto designed it in the 1930s, and they still serve some of the dishes that Field Marshal Mannerheim used to order, such as the famous Vorschmack (a comparatively cheap €18). Other mains from €40, while the opulent "Menu Savoy" will set you back €102.

phone: +358 9 5840 9603

address: Liuskasaari island

On Liuskasaari island, Boathouse offers seasonal kitchen and a wide selection of wines.

phone: +358 9 2289 0480

address: Uudenmaankatu 9-11

An unusual high-class restaurant geared towards the young and trendy, Demo's decor is minimalistic, but the food is of excellent caliber. There are no menus, only set courses pre-chosen based on what is fresh and available for the evening. Easily deserving of its Michelin star. Reservations essential.

phone: +358 10 320 4410

address: Ludviginkatu 3-5

Greek restaurant. Serves authentic Greek food, based mostly on lamb, chicken and fish. Stylishly decorated and spacious.

phone: +358 9 1345 6715

address: Eteläranta 10, 10th Floor

Fine dining restaurant that also offers private rooms for meetings and events up to 500 guests.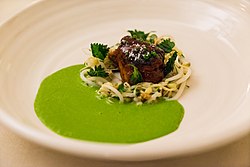 phone: +358 9 665 565

address: Kasarmikatu 44

Combines North European ingredients into a modern Scandinavian cuisine while using seasons best ingredients available.

phone: +358 9 68695660

address: Eteläranta 16

The successor of the legendary Havis Amanda, "Daughter of the Baltic", and still the best upscale seafood restaurant in town.

phone: +358 9 74255500

address: Neitsytpolku 12

Traditional Russian delicacies. Russian music and decor of old samovars, stained-glass windows and paintings. Try traditional blinis or Saslik's bear specialities.
Drink
Cafés
Cafe Succès

phone: +358 9 633414

address: Korkeavuorenkatu 2

This traditional cafe serves excellent delicacies. Famous for their enormous cinnamon rolls (korvapuusti), also available in Cafe Esplanad.

address: Erottaja 7

French-type cafe in the Design Forum. Try the lovely Sacher cake. Take away is cheaper.

phone: +358 44 988 7589 (mobile)

address: Iso Roobertinkatu 32

The café/furniture shop Plootu offers a great tea selection (served in a 600ml/1000ml presso pan), smoothies, salads, coffee and pho soup. An atmospheric and fun little coffee shop where everything you dine or drink coffee on is on sale.
Alcohol
Ahjo

phone: +358 20 7704711

address: Bulevardi 2

Named after the forge where the mythical Sampo of the Kalevala was made, this is a slick modern bar-lounge with two sides to it: a pure white space as you enter, with a bar counter and sofas, and a darker back room with nooks and crannies for a quieter chat.

address: Iso Roobertinkatu 1

English pub. Weekdays are relaxed, weekends have live DJs and a full bar. A place to go for quality beers, ales, ciders and whisky.

Erottaja Bar

phone: +358 9 611 196

address: Erottajankatu 15-17

A small, consciously crude bar, that used to be one of the primary hipster hangouts in central Helsinki. The bar is now all but deserted by the trendy crowd, and the music turned into the usual fare of hit-list pop, but on the upside the service is friendly and there is ample sitting room at the tables.

phone: +358 9 6129990

address: Kasarmikatu 40

A Helsinki institution better known as Kalle, this former church hasn't had a renovation in years and really needs one. It still continues to pack in a hard-partying thirty-something crowd, especially on Thursdays. Six bars (all small), playing top-40 tunes, rock and Finnish pop. The last of the bars has a dance floor and gets particularly packed, with people dancing on the tables. Minimum age 24.
Sleep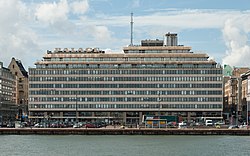 Budget
address: Suomenlinna C 9

All year open hostel located at the Suomenlinna sea fortress. Great for a quick escape from the city. The ferry runs from 6AM to 2AM so you are not totally cut off.

address: Uudenmaankatu 9

A small, clean, and friendly hostel with a central location.
Mid-range
Splurge
phone: +358 20 7704700

address: Bulevardi 2

Helsinki's first boutique hotel, although they prefer the term "personal contemporary hotel". Rooms range from the small Passion & Mystical types to the aptly named Envy Plus. Central location, funky styling and reasonable prices make this a winner.

phone: +358 9 681930

address: Unioninkatu 17

Hotel Haven, Finland's first member of the Small Luxury Hotels of the World, is designed to provide homely warmth, exclusive comfort and high-quality services for the discerning guest.

phone: +358 20 1234 638

address: Albertinkatu 30