Helsinki/West
Western Helsinki
comprises the parts
Helsinki
that are west of the railway, northwest of Baana and all the way past Munkkiniemi and Munkkivuori shopping mall up to the Haaga roundabout.
Get in
Choosing the right form of transportation very much depends on which part of this city district you want to visit. For the
northern
parts, many buses from central Helsinki to western Vantaa and northern Espoo travel along Mannerheimintie. So do the trams 4 which goes all the way to Munkkiniemi and 10 which goes to Pikku-Huopalahti. If you are going in the direction of
Seurasaari
or the Sibelius monument, bus 24 brings you there. Tram 2 takes you to
Töölö
.
From the Inner East
, trams 8 and 9 connect you with most of the central western and southwestern Helsinki and the circular lines 3 (changes to 2 on the way) and 7 connect Pasila with Töölö.
Freeway 1 and the older Highway 110 from
Turku
end in Western Helsinki, and Freeway 3 from
Tampere
turns into Mannerheimintie here. From the airport Finnair's airport bus stops at Scandic Continental on Mannerheimintie on its way to the city center.
If coming by
train
, Pasila Railway Station serves this part of the city and all trains to Helsinki, both local and long-distance, except the Allegro service from St. Petersburg, stop there too.
See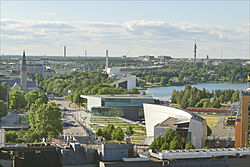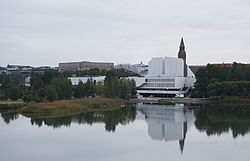 Parks and outdoor sights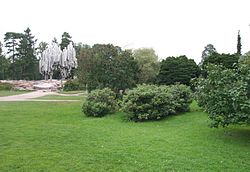 Seurasaari Open Air MuseumA pleasant little island to the north of the center, filled with walking trails and authentic old Finnish houses collected from all over the country. An excellent half-day trip, especially in the summer, when many buildings have guides practising crafts in traditional dress. There's a very pleasant if somewhat pricy summer cafe/restaurant atop a small hill at the center of the island. Entry to the park free, entry into the museum buildings costs €6 (€5 concession), buy tickets at entrance. Take bus 24 from Erottaja at the northern end of Esplanadi to the terminus (20–30 minutes), then walk across the bridge. Beware of mercenary squirrels that will raid your bags if you carry any food and gulls that take shares of your ice cream.

TöölönlahtiThis is a bay surrounded by a nice park that is dotted with attractions such as the Finlandia Concert Hall and the National Opera. Töölönlahti is partly in a natural state which is quite rare in major cities. Walking and jogging around the bay is a popular outdoor activity.

address: Sibelius Park

The world-famous composer Jean Sibelius' monument was designed by sculptress Eila Hiltunen and unveiled in 1967. It is one of the most well-known tourist attractions in Helsinki as nearly every guided tourist tour is brought to Sibelius Park to marvel at this unique work of art resembling organ pipes, welded together from 600 pipes and weighing over 24 metric tons.

EläintarhaDespite its name, which translates to "Animal Garden", there is no zoo in this park. Instead many of Helsinki's sport venues like the Olympic stadium, Swimming stadium, Sonera stadium, Töölön Kisahalli and Helsinki Ice Hall are either in the park or close to it.

address: Hammarskjöldintie 1

Tropical garden where you can see palms, cacti and flowers around the year. In the summer a nice cafe operates in the garden.
Museums
Churches and religious sights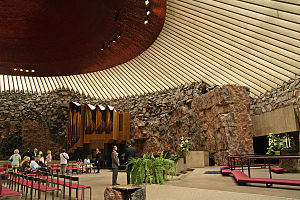 The Church in the Rock

phone: +358 9 494698

address: Lutherinkatu 3

An atmospheric of minimalistic church, this church was literally dug out of solid rock. From above, it resembles a crashed UFO. The roof is made of 22 km of copper strips. Completed in 1969, this has become one of Helsinki's most popular attractions. Concerts are often held here thanks to the excellent acoustics.

Hietaniemi CemeteryHelsinki's equivalent to Arlington in Washington D.C., Hietaniemi is the final resting place for many Finns of importance during the last 200 years: politicians including almost all heads of state, artists and other cultural personalities, war heroes and so on. Some grave monuments are quite impressive.
Other buildings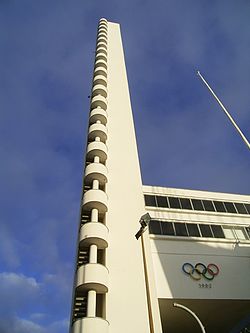 address: Mannerheimintie 30

The House of the 200-seat Parliament of Finland was designed by J.S. Sirén in the classic style of the 1920s and officially inaugurated in 1931. The interior is classical with a touch of functionalism and art deco. Tours in English Sa at 11:00 and 12:00, Su at 12:00 and 13:00. During Jul and Aug English tours are M-F at 13:00. Free.

address: Mannerheimintie 13

Designed by Finland's best known architect Alvar Aalto. It is across the street from the National Museum. The marble Finlandia Hall is a popular congress and concert venue in Helsinki. The building itself is worth a visit particularly for architecture buffs, with guided tours available (€6/4, check website for schedule). Be sure to view the building also from across the Töölönlahti bay in the evening when it is floodlit.
Olympic sights
Helsinki is an Olympic city, the host of the 1952 Olympic Games. The Games were planned for 1940, but due to the Second World War, they were postponed. Burdened by the post-war shortages and the war reparations that had to be paid, arranging the Olympic games just eight years after the war was quite a feat. In the same year 1952, a month before Helsinki Olympics was held the very first Miss Universe pageant in the United States and Armi Kuusela from Finland became the very first titleholder. You can imagine that Finns were very proud of this.
Olympic StadiumIt was built for the Olympics and renovated for the 2005 World Athletic Championships. In the stadium building you can visit the Sports Museum with medals and other paraphernalia related to sport. Another stadium called Sonera stadium used for football (soccer) games is located north of the stadium. The most popular building in the complex, though, is the Uimastadion, Helsinki's largest outdoor pool (open May-Sep), whose three pools and water slides draw around 5,000 visitors a day in the summer. After the war, the pool was used to store herring and potatoes!

Olympic TowerThe stadium features 72-m-high tower (14 storeys) that offers a great view over the city.
The stadium and the tower are closed for renovation and modernization, and are scheduled to reopen in summer 2020.
Itineraries
Do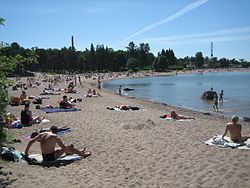 Hietaniemi Beach

address: Hietaniemenkatu

It's safe to say that most people don't come to Helsinki for the beaches, but on a hot summer day in July Hietsu (as it is known to locals) is a good place to be. Beach volleyball, swimming and various events are popular. It's wide city center sand beach and morover, surrounded with large park area, where people sunbathe and picnic in the summer time.

phone: +358 9 403021

address: Helsinginkatu 58

Lavishly subsidized, but it's still easy to get good seats. Tickets €14-84. Students can buy discount tickets for performances on the same day for €10 if there are still seats left, but these tickets have to be bought in person. An international student card is valid. Pensioners get €5 off, and children get their tickets at half regular price. Also runs the National Ballet (Kansallisbaletti).

phone: +358 504 072 467

address: Töölönkatu 51

Situated in the old tram depot, Korjaamo is made up of galleries, a café, bar, club space, a theatre, shop, and even the Tram Museum is still here. Since the Vaunuhalli was opened in the summer of 2008, Korjaamo is now the biggest cultural centre in the country. While the work is diverse, you could say that the kind of art on offer at Korjaamo is independent, different, and worth keeping an eye on.
Sports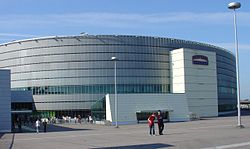 address: Urheilukatu 5

The home of football (soccer) team HJK. Tickets for matches start from €12.

address: Areenankuja 1

The largest indoor arena in Finland, the home of ice hockey team Jokerit and also a popular venue for concerts.

address: Nordenskiöldinkatu 11-13

The home of ice hockey team HIFK. Tickets for matches start from €10.
Buy
Record stores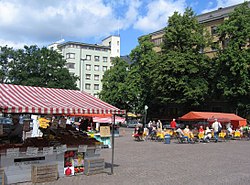 address: Fredrikinkatu 59

Possibly the most well-known record shop in Finland which does have plans to start a political party. Mostly new items.

Green Grass

address: Fredrikinkatu 60

Mostly second hand. Rock/pop. Old but good/cheap stuff. near Äx. Recommended.
Flea markets
Flea market in Helsingin Jäähalli

address: Nordenskiöldinkatu 11-13

Besides sports events, the ice hall (or more precisely the corridors around the actual sports ground) is a venue of regular weekend flea markets.
Malls
address: Frederikanterassi 1

Opened in October 2019, adjacent to Pasila Railway Station. This is the biggest shopping mall in the Nordic Countries in regards to number of shops, of which there are 250. The mall also houses a movie theater and the Music museum "Fame".
Eat
Budget
address: Museokatu 17

A cosy modern bar/restaurant. Populated by local actors and artists, this newly renovated place offers easygoing, simple Finnish food. Serves food until midnight on weekdays (that is very late in Finland) and is also a nice place for drinks. Still relatively free from tourists so don't expect hearing anything else but Finnish and Swedish here (staff is still multilingual).

Queen Sheba Ethiopian Restaurant

phone: +358 50 433 4546

address: Mechelininkatu 8

Enjoy Ethiopian cuisine, hot and spicy; injera as the heart of a meal, a large, soft, sourdough crepe. It is believed that coffee originates in the Kaffa province in Ethiopia. Ethiopian coffee is strong, rich and soft – just like good coffee should be. The Ethiopian coffee ceremony with its aroma and taste is worth experiencing. Table reservation recommended.

address: Mannerheimintie 53

If you plan to have a meal in a McD, then consider the one in northern Töölö which is furnished with American diner paraphernalia. Also known as the "Rock n'roll McDonald's".
Mid-range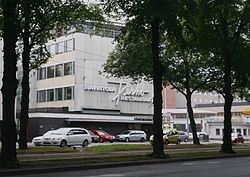 Splurge
Carelia

phone: +358 9 27090976

address: Mannerheimintie 56

Finnish-French with a strong fish and seafood emphasis. Oysters and other seafood in winter, local fish in the summer season. Located in the premises of an old pharmacy with some of the pharmacy interior still intact. One of the best (if not the best) wine cellars in town: there are 37 different champagnes alone on the wine list.

phone: +358 50 3407 100

address: Caloniuksenkatu 3

The coziest Russian style restaurant in Helsinki. The restaurant has been there from the 20ies and has a colourful history. At old times restaurant got even paintings, as payment for meals. The painter, however, was nothing less than Juri Repin, the son of the famous Ilja Repin.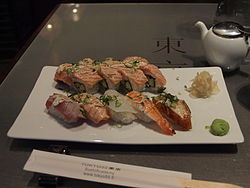 phone: +358 10 841 1111

address: Runeberginkatu 55

The speciality here is sushi, served up by Japanese chefs, but there are also Finnish-styled options like maki rolls with smoked salmon and dill. Good selection of sake and Japanese beers.

phone: +358 9 4544 212

address: Ainonkatu 3

Farang serves fresh, unique dishes from South-East Asia in a modern decor. Try one of the Tasting Menus if you can't decide what to have. Chosen the best restaurant in Finland by restaurant professionals in 2011.
Drink
Cafes
Kaffecentralen

address: Museokatu 9

This little shop concentrates on selling espresso paraphernalia, and also serves excellent cappuccino.

Café & Eepos

address: Runeberginkatu 29

A hidden gem near Temppeliaukion kirkko. Delicious pastries, pies and buns - and it's full of books you can read. There are even glasses available for those with poor eyesight.

Café Regatta

phone: +358 40 0760049

address: Merikannontie 10

A pleasant little café located right at the seashore in western Töölö, not very far away from the Hietaniemi beach. Serves good coffee and pastries. In summertime, the café tends to be absolutely packed with Helsinkians and tourists. You're better off sitting at the terrace rather than inside the café. Coffee costs 2 €, but if you have an additional cup, the café actually gives you 5 cents back instead of charging you.

Sinisen huvilan kahvila

address: Linnunlauluntie 11

The "Cafe of the Blue Villa" is an outdoors café with fantastic views over the Töölönlahti bay.

phone: +358 9-27090972

address: Töölöntorinkatu 7

A uniquely Helsinki combination of cafe, restaurant, bar, laundromat and sauna, Tin Tin Tango serves up all-day breakfast, soups, salads and sandwiches, but stays open late with wine and occasional live music. Laundry/dryer €4/2. Sauna rental €22-32/hour (1-10 people), reservations required.
Bars and pubs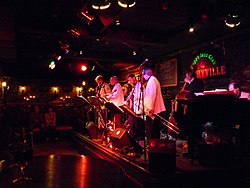 phone: +358 9 4540 117

address: Töölönkatu 51

One of the best places to hang out at summer, nice terrace, two floor laid back bar with life DJ's in the evening and cafe in the building of the Korjaamo Cultural Factory. Free access to Apple computers with Internet, Wi Fi.

Olutravintola Vastarannan Kiiski

address: Runeberginkatu 26

Beer from all over the world.

Pub Pete

address: Hietaniemenkatu 7

address: Aurorankatu 8

Jazz club and restaurant, often live music.

phone: +358 9 5807 7222

address: Museokatu 10

A nice, cosy traditional pub only a short walk away from the Finnish National Museum. Quite spacious interior. Over a hundred beers and ciders available, on tap and in bottles. Also serves food to go along with your drink, however the food is a bit on the pricey side.
Sleep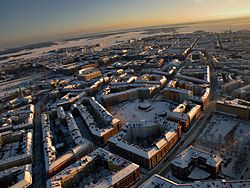 Budget
address: Hietaniemenkatu 14

Summer hostel in the heart of Helsinki. Open June–August only.
Mid-range
address: Pohjoinen Rautatiekatu 23

A dependable old standby within walking distance of the city center.

phone: +358 9 4737 1

address: Mannerheimintie 46

A large, modern hotel catering to families, leisure travelers, and business travelers. Over 500 rooms, sauna, exercise facilities, wireless Internet access, restaurant and bar. Excellent breakfast included with all rooms. Good location near Tram 4, 7, and 10 for convenient transport to city center (3 min by tram, or a 10 min walk). Finnair buses from the airport stop close to the hotel (about 2 blocks past on the way from the airport, and directly opposite the hotel on the way to the airport), providing convenient transport to/from airport.

phone: +358 9 2511 050

address: Museokatu 18

A modern hotel in an old apartment building in the elegant and residential district of Töölö, formerly Accome Töölö. Rooms are modern, spacious and have nice views to the park across the street and to the others architecturally beautiful buildings.
Splurge
phone: +358 9 2521 0000

address: Mannerheimintie 50

Formerly the Hotel Hesperia. Rooms offer comfy beds, modern furniture and up-to-date electronics. The hotel also has a sparkling new gym with a pool.

Hilton Helsinki Kalastajatorppa

phone: +358 9 45811

address: Kalastajatorpantie 1

phone: +358 20 1234 613

address: Maistraatinportti 3
Connect
Internet access
Wireless internet can be used in some of the branches of city library (for example Töölö library, Topeliuksenkatu 6). Also some cafés (Picnic), restaurants and fast food chains (McDonald's) offer wireless internet connections.