Helsinki Airport
Helsinki Airport
(
HEL
) is in Vantaa, Finland. It is also known by the former official name, Helsinki-Vantaa airport. By far the busiest airport in Finland, in addition to serving the capital Helsinki and as one of the most important entry points to the country, it's also an important transit gateway between Europe and Asia.

Understand
History
After
World War II
, passenger numbers and plane sizes grew heavily both in Finland and worldwide, and
Helsinki-Malmi Airport
became too small, despite having being opened only in 1938. A new airport — the current Helsinki Airport – was quickly constructed and flights started in 1952, when Helsinki hosted the
Summer Olympics
. Four years later a second runway opened, and in 1969 a new terminal, the current Terminal 2 was opened and trans-Atlantic services to
New York
commenced. Since the 1980s this terminal has been expanded about once every decade.
Long-haul services to Asia, the services that the airport is nowadays best known for, were started in 1983 when Finnair started flying to Tokyo - the first Western European airline to serve Japan. Due to how far north the airport is, it had an advantage at the time since its planes could fly nonstop over the North Pole. Until the opening of Soviet (and later Russian) airspace to other operators, it was the quickest option for many travellers. Finnair was also the first such airline to serve China (with flights to
Beijing Capital
starting in 1989). In 1993 the current Terminal 1 was opened as a new domestic terminal, and three years later it became connected to Terminal 2 in one of its expansions. The airport first handled 10 million yearly passengers in 2000, and the number of passengers has since almost doubled, reaching about 19 million in 2017. Much of this growth can be attributed to the transit traffic between Asian (especially East Asian) and European airports (particularly ones with no or limited services to Asia). The current expansion of Terminal 2, scheduled to be finished in 2020, indeed focuses on facilities for non-Schengen flights and widebody aircraft.
The airport was renamed Helsinki-Vantaa Airport in 1977, after the city where it's located, though the English name was shortened back to Helsinki Airport in the mid-2010s.
Layout
The airport has two terminals, Terminal 1 and Terminal 2, though they form one continuous building, and you can walk between the terminals both on the landside and airside. The complex of the terminals is laid out like a chevron pointing north. is the smaller terminal, and represents the lower third of the chevron's right-hand part (while Terminal 2 makes up the rest). This is the former domestic terminal and is mostly served by Star Alliance airlines including SAS, Lufthansa and TAP, but also by some unaffiliated carriers (and excluding Turkish Airlines in T2). All flights outside the Schengen area use terminal 2.
is the bigger and older terminal, but has been renovated to the extent that it looks more modern than Terminal 1, and is home to almost all of Helsinki Airport's shops, restaurants and services. It's the home terminal of Finnair, and the terminal for almost all non-Star Alliance airlines, including Oneworld airlines, SkyTeam airlines (Aeroflot, KLM) and Norwegian Air Shuttle. The southwestern corner of Terminal 2 (gate 32 and beyond) is the non-Schengen area of the airport. This part of the airport is being greatly expanded (work is expected to be finished in 2020), to accommodate an increase in traffic to and from non-Schengen airports.
Gates 1–30 are Schengen, 32–50 non-Schengen, and non-automatic passport control between the two can have long lines. However there isn't a security screen between them so your duty-free bottle of liquor should be safe. Qualifying travellers with a biometric EU, EEA, Japanese and Swiss passport can use automated border control gates for both departure and arrival, and travellers with a biometric South Korea, U.S., Canadian, Australian or New Zealand passport can use them for departure. Minor carriers fly from both terminals without a pattern, but roughly speaking the lower the gate number the smaller the aircraft, so a domestic or trans-Baltic hop will be down in the single digits.
Flights
Intercontinental
Helsinki Airport is of particular note for its connections to
East Asia
, as it is on the Great Circle Route, the shortest route between East Asia and Europe. Therefore, the connections between Helsinki and the region take between 7 and 10 hours and are comparable to flight times to
Persian Gulf
hubs in
Dubai
,
Abu Dhabi
and
Doha
. The important difference, however, is that most major European cities are between 2 and 3 hours flight time from Helsinki (and much less that for
Scandinavia
and the
Baltic countries
), whereas getting to Europe from the Persian Gulf takes 5 to 8 hours. There is also the benefit of the airline being able to "turn around" the plane within 24 hours (the aircraft completes both the flight from origin to destination and back), which is a significant cost advantage and may be passed on to passengers.
The Finnish flag carrier,
Finnair
(a
oneworld
member), takes full advantage of it, offering a multitude regular flights to Asia, including
Beijing
,
Seoul Incheon
,
Shanghai
and
Tokyo
, but also destinations like
Chongqing
,
Nagoya
or
Osaka
. Outside of East Asia, Finnair also serves
India
,
Israel
,
Singapore
,
Thailand
,
United Arab Emirates
and
Vietnam
. In the other direction,
New York City
is served around the year and
Chicago
,
Miami
and
San Francisco
in the summer season.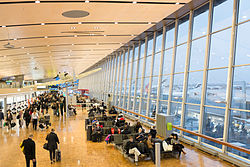 Except for charter airlines, Finnair and oneworld partners JAL (from Tokyo) and Qatar (from Doha) are the only airlines offering long-haul flights from Helsinki Airport. The airport is, however, very well served by Finnair and other European airlines, with connections not only to major hubs but also many other airports across the continent, so that you can find more intercontinental flights with a connection to Helsinki as well as travel to and from Helsinki across Europe comfortably. Of yet another note is Helsinki's proximity to
Russia
, of which Finnair also takes advantage by offering an unusually wide selection of direct flights there. (
Kazan
,
Moscow
,
Saint Petersburg
,
Samara
and
Yekaterinburg
)
European
Finnair operates scheduled and charter flights to a little over 70 European destinations, including most major airports in Western Europe and aiports of "sun and sea" destinations on the Mediterranean. Unlike long-haul flights, from Europe there's a wide selection of flights by other airlines (with connections from other airports). Airlines other than Finnair with several daily flights to Helsinki include Aeroflot, Air Baltic, KLM, Lufthansa, Norwegian and SAS.
Domestic
Finnish airports that are served by regular scheduled passenger flights have flights from Helsinki, usually operated by Finnair. Some airports in the northern part of the country are also served by Norwegian Air Shuttle from Helsinki.
Ground transportation
Public transportation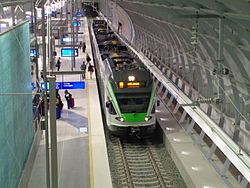 Tickets to central Helsinki (zones ABC) cost €4.60 and allow transfers to bus, metro or tram for 100 minutes. You can buy tickets from the machines with cash or chipped credit cards. You have several options to get tickets. Tickets are no longer sold on the regional trains.
The ticket machines in the airport before going down the station escalators – these have the full selection of local and mainline tickets. For that reason they may have quite a queue; daytime there may be VR staff there to guide strangers in how to use them. There are two blue HSL machines with all ticket options, and two green VR machines for long-distance trains and some local ticket options including central Helsinki.
VR ticket machines on the platform (limited options, but will get you to the centre)
HSL ticket machines in the baggage claim areas
The Alepa supermarket or most R-kioski convenience stores (any type of cards or cash).
See
official page for airport connections
for more information. You can also check bus connections with the
Journey Planner
(
Reittiopas
) and
Google Maps
.
By bus
Regional bus 615 (every 15–30 min), about 45 min to the Central Railway Station. Same ticket as above – price includes onward transfers. The bus leaves from platform 2 at terminal T1 and platform 21 at terminal T2. Tickets can be bought from the driver or from the ticket machine at the bus stop (regional tickets cost the same when purchased either way, whereas within Helsinki they are slightly cheaper from a machine). This bus runs every 30 minutes all night.
Finnair City Bus (€6.80, every 20 min), about 35 min to Central Railway Station via Scandic Continental Hotel. Credit cards accepted, slightly faster and uses luxury coaches, but no further connections included in the ticket price.
Regional buses 561 to Itäkeskus (zones BC, €2.80), for convenient connections to the metro and eastern suburbs of Helsinki.
Vantaa bus 576 to Tikkurila (zones BC, €2.80), connections to the central and eastern parts of Vantaa.
Vantaa bus 574 to Myyrmäki (zones BC, €2.80), connections to western Vantaa: suburbs of Myyrmäki, Martinlaakso and Hämeenkylä.
Overall, the opening of the Ring rail line and the West metro has meant cuts in the bus services in the capital region, which means there are no direct buses to notable districts of Espoo from the airport.
By train
The Kehärata commuter train runs to
Helsinki Central Railway Station
every 10–30 minutes from 04:30 until 01:15, taking about 30 min. It also connects at Tikkurila/Dickursby with northbound mainline trains. Follow the signs to the fully-accessible entrance in the connection between the two terminals, a 5-min walk from arrivals/departures. The station lies on a loop: the P-train runs clockwise via Tikkurila to Central Railway Station and returns via Vantaankoski, the I-train runs counter-clockwise via Vantaakoski to Central Railway Station and returns via Tikkurila.
By taxi
Taxis were deregulated in Finland in July 2018; after that there's a larger variety of rates and taxi companies. Three big taxi companies have their own pickup lane outside both terminals — Taksi Helsinki, Lähitaksi and HEL Airport Taxi. The fourth lane are for all other companies. Generally speaking, regular
taxis
to the centre cost €40–50. Taxi rates are posted on a sticker in the window on the rear right-hand side door of the car.
Shared
Airport Taxi
(tel. +358 600-555-555 for bookings) mini-vans start from €29 for two (infants count as adults).
There are some taxi sharing options, where a company offers cheaper rides by combining parties going in the same direction (cf minivans), among them
DriveNow car sharing
.
By car
Helsinki airport is about 20 km north of central Helsinki along freeway 45, which means a less than half hour-drive in light traffic, though during afternoon rush hour expect it to take closer to 45 minutes. On roadsigns the airport is signposted with a plane icon, and closer to the airport signs say
Lentoasema
(Finnish) and
Flygstation
(Swedish).
You can stop curbside almost outside the terminals to let off or take passengers on board, but you're not allowed park.
A little further from the terminal buildings, short term parking is available €1 for each beginning 10 minutes. There are long term parking garages on the airport premises operated by the airport authority Finavia, and further away long-term parking lots operated by private companies (they have free shuttle buses to the airport).
Get around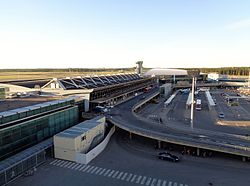 Walk — this airport is not so large that buses or rail transport would be needed to get around. The two terminals form one continuous building and you can walk between them both airside and landside. The southwestern section of Terminal 2 is for non-Schengen flights and for you to enter or exit that part of the airport, you'll go through border controls.
The airport is more crowded than it used to be, so prepare for delays when going through security, particularly during the holiday periods like the school's winter break in late February, Easter and Christmas, and to some extent the summer holiday period from mid-June to mid-August. If you are flying a budget carrier or an airline with one flight a day or less (e.g. Icelandair), you are urged to arrive at the recommended time (to be on the safe side, about 2½ hours prior to departure) since they have fewer check-in agents. Nevertheless, the situation is seldom comparable to, say,
Heathrow
or
Frankfurt Airport
. The terminal building is undergoing significant expansion to alleviate the stress.
Wait
Lounges
Schengen area
SAS Lounge

Aspire Lounge by Swissport
Non-Schengen area
Sights
Sculpture: no doubt many travellers have wondered what might happen if you took a big copper sheet and detonated a series of explosions beneath it. The answer is pinned up airside here: it's meant to resemble sunshine on the Baltic coast sand dunes. So now you know.
Eat and drink
Places to eat and drink mostly open early morning and close sometime between 20:00 and midnight. Some restaurants open only at lunchtime, and a few places are open 24 hours.
There's a decent selection of places to eat and drink landside. Terminal 1 has two small cafés. In Terminal 2, you can find two international chains that also are present airside; Burger King and Starbucks. In addition, there's a hotdog stand, as well as a restaurant with light dishes (Bistrot Airport) and the bar MOI Helsinki.
Airside, Terminal 1 has a bar and some smaller cafés. The central section of the airport, ie. the Schengen area of Terminal 2 has the widest selection — in particular between gates 24 and 29 where you can also find most of the airport's shops. If you're looking for an à la carte restaurant, your options are the airport's main restaurant Fly Inn and Pier Zero, both serving Finnish and Scandinavian cuisine. Places with large selections of alcoholic drinks include an Irish pub (Oak Barrel), a winebar (Wine & view), a sports bar (O'Learys) and the Arctic Bar. And again, some cafés.
Behind the passport gates, in the non-Schengen area, there are two restaurants proper; an Asian restaurant (Two Tigers Sushi and Noodles) and the Nordic Kitchen. Moreover, there are some fast food places and cafés there.

Buy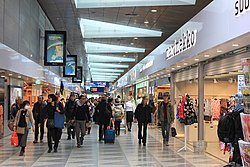 Currency exchange is by Change Group. Their rates are +/- 10% official rate, but they extract 6% commission (6€ minimum) on top of that, so it nets out at a 26% buy-sell spread, the average poor airport deal.
Landside
, there are limited options for shopping; a couple of kiosks, a pharmacy and the
Alepa grocery store
in the basement of Terminal T2 by Arrivals 2B. It's open 24 hours, so it's good especially if you arrive late at night when most stores are closed. There is another one at Elielinaukio at the northwestern corner of Helsinki Central Railway Station, where the airport buses terminate — and if you're coming by train next to tracks 13-19. In addition there are shops for arriving passengers in the baggage claims areas 2A and 2B (but not in Terminal 1).
Airside
, there are many more shops and their distribution is not very different from the places to eat and drink — the biggest concentration is in the central part of the airport between gates 24 and 29. The biggest ones, both physically and when it comes to selection are the four Helsinki Duty Free Shops: one in Terminal 1, one in the Schengen area of Terminal 2, and two in the non-Schengen area in Terminal 2. As elsewhere in the European Union, flights to destinations within the EU VAT (European Union Value Added Tax) area are considered domestic flights for tax purposes, so you will pay a price including duties for your purchases if your next destination is, say,
Paris
. Some exclaves and islands, for instance
Åland
and the
Canary Islands
are within the EU but not part of its VAT area and flying there you can shop tax free like you'd be flying outside the Union.
Shops with several outlets airside include kiosks operated by WH Smith and R-kioski and the food shop Finefood. Brand fashion shops like Burberry, Boss, Longchamps and Victoria's Secret, that you will encounter on major airports around the world have a presence here, in the central section of the airport (gates 24-29) and/or in the non-Schengen area (some of these operate two shops). Finnish design and brands including Marimekko and Iittala, shops selling all kinds of souvenirs (from t-shirts to reindeer hides), as well as jewelery and watch shops can likewise be found in these two sections.
Connect
The airport has a
Wi-Fi
network, available at no cost. The network name is "HEL Free Wi-Fi-Open www.finavia.fi". Devices with Wi-Fi enabled are tracked on the airport to follow people's movements, according to the airport operator Finavia "to improve the customer experience and services at our Airport".
Sleep
There's one hotel in Terminal 2, and another one immediately next to it.
phone: +358 103 444 600

address: Helsinki-Vantaa Airport Terminal 2

The only hotel in the airport building, on the service floor of Terminal 2 and with direct indoor access from Terminal 1. Day rooms are also made available for use, depending on the booking situation, between 09:00 - 19:00.

Hilton Helsinki-Vantaa Airport

phone: +358 9-73220

address: Lentäjänkuja 1

Full-service hotel right next to the airport, opened in late 2007. Soundproof windows, bar, restaurant, sauna.
In addition to these two, there is a cluster of hotels a few kilometers south of the airport near the beltway Kehä III — see
Vantaa#Sleep
.
Nearby
Vantaa, where the airport is situated.