Hemavan
Hemavan
is a secluded ski resort in
Swedish
Västerbotten
. It is the southern trailhead for the
Kungsleden
trail. The nature reserve of the
Vindelfjällen
fell area is close to the north and east.
Understand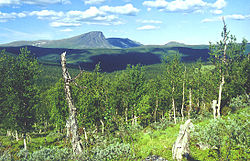 The fell area around Hemavan is an important destination, with the nature reserve of Vindelfjällen the largest in Sweden, at .
The ski resorts of Hemavan and Tärnaby (20 km away) form the biggest centre for downhill skiing in Sweden. The pists have among the biggest hight differences in Sweden. The highest fell, Norra Storfjället, reaches . Most tourist facilities are owned by a single company, Hemavan Alpint.
Hemavan itself is is in the lowlands in the valley of the Ume river, by the lake Ahasjön. The area is a nationally important cultural landscape. Hemavan and its surroundings belong to the municipality
Storuman
. The Norwegian border is some 40 km away.
The first tourists came in the 1930s, as the road along the Ume river, continuing to Norway, was improved. The first ski lift was built 1954.
Get in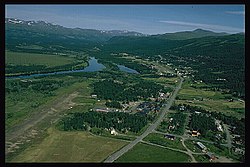 Hemavan is at the
Blue Highway
between
Russia
Petrozavodsk
and
Træna
in the Norwegian archipelago.
Buses go between
Umeå
(which has fast trains) at the Swedish coast and Hemavan . There is also an overnight bus from Stockholm . There are no public buses to Norway from Hemavan. There is also a small airport, with flights from Stockholm. It is closed in summer time. Alternative airports are Mo i Rana, Vilhelmina, Umeå. The airport has around 1 km distance from Hemavan centre, the closest airport in Sweden.
Tärnaby
is 20 km to the south-east. The municipal centre
Storuman
is 150 km to the south-east, Mo i Rana 100 km to the north-west.
See
Botanic garden of alpine plants

Hemavan church
Do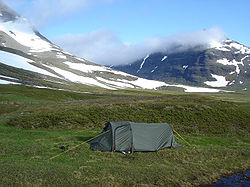 In winter
In summer
KungsledenThe most famous hiking trail in Sweden, 440 km, to the north through the Laponia national park system and ending in Abisko, close to Kebnekaise.

Drottningleden10 km hiking trail to Laisaliden.
Tours and excursionsThe Vindelfjällen visitor centre arranges tours and excursions. Check dates.
Mountain bikingSome of the ski lifts can be used for bikes in the summer season.
Sleep
There are hotels, cabins etc. in Hemavan. There are wilderness huts in Vindelfjällen, although a tent gives you more freedom to choose your routes.