Hemel Hempstead
Hemel Hempstead
is a town in
Hertfordshire
with a population of around 80,000.
Understand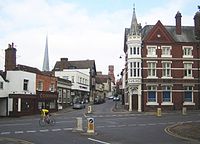 Developed after World War II as a new town, the town has existed as a settlement since the 8th century and has a picturesque old town and a fine Norman church. The new town centre is a planned shopping area with an indoor Mall called Marlowes Centre, an outdoor market and a Debenhams department store. There is extensive, though not free, town centre parking. The town has the only real snow indoor ski centre in the south east.
"Magic Roundabout"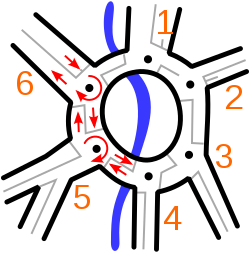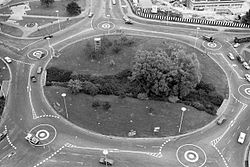 Officially named and sometimes known as "Moor End Roundabout", a road roundabout made up of 6 small roundabouts arranged in a circle around a single large roundabout. Drivers either love or hate navigating it - in 2005 it was voted 2nd worst roundabout in the UK (the "worst" being it's sister roundabout in
Swindon
); yet by 2011 it was voted the best (in a different poll). Probably not something learner drivers look forward to at rush-hour!
Get in
By road
The town is served by the M1 and M25
motorways
and the A41 and A414 trunk roads.
By train
It is 35 minutes away from London (Euston Station). Trains go about every 20 minutes to and from Hemel on Monday to Friday, and about every 30 minutes on weekends. Check the
National Rail
website or the
Silverlink
website before you go, as sometimes (especially on weekends) there is engineering work and trains are replaced by buses. Travelling is cheaper on weekdays after 09:30. Cheapest ticket for a single person is a Day Travelcard, which is around £14.- and gets you into London and is valid for all Underground lines all day.
By bus
There are coaches to and from London and other towns as well as various airports.
National Express
coaches go direct to Luton, Heathrow and Stansted airports.
To go to/from Gatwick airport, best go by train; you will have to change once, in Watford. For London City airport, you will have to go to London by train, then take the Underground.
By air
The town is 11 miles from
Luton Airport
and 25 miles from
Heathrow Airport
.
By narrowboat
The Grand Union Canal passes close to the west of the town, and through the southern suburb of Apsley.
By bicycle
The town is on
National Cycle Route 57
that runs from
Welwyn Garden City
in
Hertfordshire
to Farmington,
Gloucestershire
near
Northleach
.
Get around

There are local buses from the station to town centre and to the Jarman Park leisure complex; apart from that, everything in town is in walking distance.
It is worth noting all Hertfordshire buses offer an 'Explorer' ticket which permits a maximum of 2 adults, 2 adults and 2 children or 1 adult with 3 children to unlimited travel for £7. It is often worth doing as it can save money even if you are on your own.

See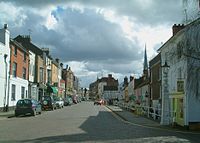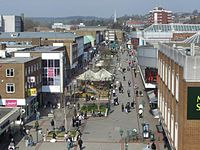 The Old Town has quite a few period buildings, including, pubs, shops and the Old Town Hall, giving it the feel of a nineteenth century market town.
St Mary'sThe Norman church was built from around 1140 and has an unusual 200 ft (61m) tall spire, added in the 12th century, and one of England's tallest.

The Grand Union canalwas the main trunk route from London to the Midlands

phone: +44 1442 253300

address: London Rd, Hemel Hempstead HP1 2RE

a nature preserve to the south of the town.

Nickey LineRailway fans can see the occasional small landmark that hints at where The Nicky Line used to run, a dismantled railway that once connected Hemel LNWR main line to Harpenden Midland Railway.

phone: +44 1442 234600

address: Fourdrinier Way, Apsley HP3 9RY

Celebrates the 200 years when the town was a centre for paper manufacture.

Magic RoundaboutHemel is famous (or perhaps notorious) for its "Magic Roundabout", an interchange where traffic from six routes meet in a series of mini roundabouts connected by a gyratory system. This can be best viewed from a window table at the café in Debenhams department store.
Do
Wander north up the Grand Union Canal, pass a few locks, and after about 15 minutes you will come to a pub called "The Three Horseshoes". It dates back to the 16th century, and in summer you can enjoy your beer sitting outside by the canal.
Go south for a couple of locks and you come to Apsley Lock marina. This has a canal side pub called "The Papermill" as well as waterfront restaurants and cafés.
Buy
Eat
Drink
One pub to mention apart from the above "The Three Horseshoes" is the "Full House" in the town centre (on the corner of the Marlowes and Combe Street). Belonging to the Weatherspoon chain of pubs, it is situated in the building of the old cinema, and the decor is something to see!
Another canal side pub of note is "The Fisheries" in Boxmoor.
Sleep
There are many guest houses, a few B&Bs (usually £25 upwards), and a few hotels. Here's a list of the hotels closest to town centre:
Connect
Post Office

address: 181-183 The Marlowes, Hemel Hempstead HP1 1BD
Go next