Henrietta (New York)
Henrietta
is a town in
Monroe County
,
New York
. It contains the hamlets of East Henrietta and West Henrietta.
Understand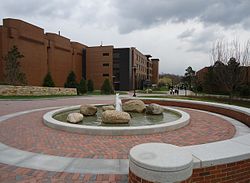 Henrietta is home to the
Rochester Institute of Technology
(RIT).
Get in
By car
Henrietta is at the junction of Interstate 90 (the New York State Thruway) and Interstate 390.

Get around
On foot
Not advisable.
By bike
Surprisingly possible depending upon where you are going. There is a network of trails that keeps you away from the main roads.
By bus
By car
A car is easily the best way to get around Henrietta. Although traffic is heavy, the roads are fairly wide so you won't sit in traffic much.
See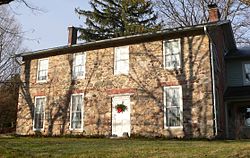 Tinker Homestead and Farm Museum

phone: +1 585 359-7044

address: 1585 Calkins Rd

Cobblestone farmhouse built in 1828, now a museum dedicated to farm life in the late 1800s.

Antoinette Louisa Brown Blackwell Childhood Home

address: 1099 Pinnacle Rd

A house built in 1830 that was most notably the childhood home of Antoinette Brown Blackwell, the first female ordained minister in the United States.
Do
address: Lomb Memorial Dr

Rochester Institute of Technology's innovation and creativity festival showcases what happens "when the left brain and right brain collide," featuring hundreds of student projects from every corner of the university. Robotics, music, sign language, virtual reality, ecology, and weird science are just a few of the many subject areas covered; in fact, most of the projects take elements from multiple disciplines and combine them in innovative ways. Plenty of food, hands-on exhibits, and kids' activities make for an unbeatable value for a day out.

address: E Henrietta Rd (public parking and trail access)

This recreational trail, which used to be a railroad track, runs from north to south through Henrietta. It is popular with cyclists, runners, and cross-country skiiers. A trail map can be downloaded here.
Buy
phone: +1 585-475-0757

address: 1 Miracle Mile Dr

Has the usual chain stores.

phone: +1 585 424-2323

address: 900 Jefferson Rd

An organic and natural-food superstore; incredible selection and very good service.

phone: +1 585 334-0034

address: 2599 E Henrietta Rd

A huge selection of both macro and micro brews from all over the world, plus home-brewing supplies. Also has a large display filled with good cigars. Word to the wise: the owners are quite stand-offish, especially to first time customers and some of the beers are not that fresh. Watch out for dust!
Eat
phone: +1 535-486-4170

address: 2513 E Henrietta Rd

Don't be put off by the strip mall location – this place serves up authentic Mexican food at a very reasonable price. Take out available.

phone: +1 585-424-2350

address: 1225 Jefferson Rd

Biggest location of the city-wide diner chain, including a large game room and outdoor seating.

phone: +1 585-475-1831

address: 620 Jefferson Rd

This new flagship location of the very popular Rochester chain includes soups and salads in addition to the usual subs, chips, and cookies.

phone: +1 585 427-8090

address: 1455 E Henrietta Rd

This fantastic Thai spot features reasonable prices, lightning quick service (seriously, it's like they know what you're going to order before you get there) and food that always tastes uncannily fresh and yummy. The ambiance is not great, with a huge cavernous dining room and terrible, terrible art on the walls, but the food is consistently good and you can always get takeout. Make sure to try the Thai iced tea. No need to bother with reservations. Open for lunch and dinner.

Sticky Lips BBQ Juke Joint

phone: +1 585-292-5544

address: 830 Jefferson Rd, Henrietta

Has live music just about every night and a full bar. It was absolutely slammed during its first few months, but crowds have moderated a bit; still, it's not a bad idea to get there early on Friday and Saturday evenings.
Drink
phone: +1 585 427-8410

address: 300 Jefferson Rd

Bar and grill located across from RIT, many beers on tap.

phone: +1 585-339-3010

address: 3010 Winton Rd S

A branch of the popular sports bar and grill. The steaks are quite good. Take out available.
Sleep
phone: +1 585-334-6620

address: 2085 Hylan Dr

100% non-smoking studio suites. Indoor pool and spa, free Wi-Fi access, complimentary breakfast.

Country Inn & Suites By Carlson

phone: +1 585-486-9000

address: 4635 W Henrietta Rd

Has complimentary breakfast and wi-fi, pets accepted. Offers free shuttle service to/from the airport (M-F 8AM-5PM, by prior arrangement).

DoubleTree by Hilton Rochester

phone: +1 585-475-1510

address: 1111 Jefferson Rd

A nice hotel with an incredible six-story glass arboretum (the hotel was called the "Holidome" when it was a Holiday Inn). Well worth stopping in just to see the foliage and landscaping inside. Non-smoking only.
Connect
phone: +1 585-359-7092

address: 455 Calkins Rd

Free wi-fi is available on request at the Reference Desk, allowing up to 4 hours of internet access.