Heraklion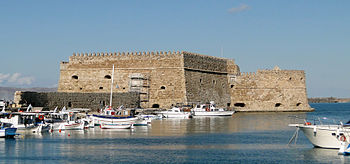 Heraklion
(
Greek
: Ηράκλειον,
Irákleio
) or
Iraklio
is the major city and capital of
Crete
, the largest of the Greek islands. Its Archaeological Museum holds the remains of the 4000-year old Minoan civilization, which centred around the nearby palace of Knossos, with its Minotaur legend. The city has several Venetian and Byzantine churches and the biggest in East Mediteranean well-preserved Venetian wall and harbour fortress from the 15th century.
Understand

Around 1880 the Greek Kalokairinos and later in 1900, the British archaeologist Sir Arthur Evans began excavating a site just south of the city, thinking to find remains of ancient culture maybe Mycenean. He quickly discovered a much older, more powerful civilisation, which he called "Minoan" after the Minotaur legend. 4000 to 3000 years ago, Crete dominated the east Mediterranean from this site, Knossos. These discoveries changed our ideas of the ancient world – and Crete's modern fame and tourist industry were born.
Heraklion (in Greek Ηράκλειον, also transcribed as Herakleion, Iraklio, Irakleion) has been much fought-over down the centuries. From 1204 it was held by the Venetians, who built a great wall around the city, and a harbour fort, to defend against the Ottoman Turks. But the Ottomans won in 1669 and held the island until 1898 when their empire was crumbling. Crete for a time was independent, then was incorporated into Greece in 1913.
Modern air transport brought huge numbers of tourists, mostly heading to resorts further along the coast, and the city sprawled out way beyond its historic centre – the population is now some 200,000. Many developments were ugly and ill-planned. Then came recession, and turmoil in the Greek economy. Heraklion today is an interesting city with a pedestrianized center and a lovely coastal promenade.
Like the rest of Crete, Heraklion has a Mediterranean climate. Summers are hot and dry with clear skies, but often with stiff breezes to relieve the heat. Winters are mild with little rain and rare frosts.

Get in
By plane
Heraklion International AirportHas frequent flights from Athens and Thessaloniki, the main carriers being Olympic Air and Aegean Airlines. Heraklion is the base for Sky Express, which flies to several Aegean islands. There are no flights within Crete, eg Heraklion to Chania. Easyjet has regular flights to Heraklion from several UK and German cities plus from Milan. From April to November charter airlines fly in from many European airports.
By boat
The principal ferry route is from
Piraeus
, the port for Athens. These ferries mostly sail overnight, leaving in each direction around 9 pm to dock next morning at 6 am. Heraklion ferry terminal is near the KTEL bus station just east of town centre. The operators are
Minoan Lines
,
Anek Lines
and
Superfast Ferries
Other routes are:
Most ferries take vehicles and run year-round – trucking is an important part of their business, especially since so many people nowadays fly. But frequency is much reduced in winter, so for island-hopping you may find you have to double back via Piraeus.
By road
See below under "Get around".
Get around
By bus
Heraklion is connected with the rest of Crete by regular bus lines operated by two KTEL companies , . The coaches are modern, comfortable and air-conditioned. Fares are reasonable. The main inter-city buses run hourly.
There is now only one newly built bus station for all inter-city buses in Heraklion:
Bus station

phone: +30 2810-246532
In and around Heraklion, use the public city buses. The main bus stops have routes and schedules posted, lcd displays for the next buses, and ticket machines, which are cheaper than buying aboard the bus. Small stops may have none of these, so consider buying two tickets, keeping one for your return. At bus stops, signal the driver by raising your arm. Orange ticket (A zone whole, B zone students) costs €1.20, blue ticket (B zone whole) costs €1.70, all tickets have a QR code, directing to Astiko KTEL website.
When you get on the bus, hold the bottom half of your ticket in your right hand. The driver will take the top half (side with ticket price) and the two of you will rip it in half. Tickets are available inside buses but cost more (2€ Zone A, 2.50€ Zone B).
Line 1 goes to the airport
Line 2 goes to Knossos
Line 7 goes to Amnissos
Line 8 goes to FORTH (Foundation for Research & Technology Hellas)
Line 12 goes to TEI (Technologiko Ekpedeftiko Idrima Kritis)
By car
First think whether you really need a car for your trip. Traffic in Heraklion is bad and parking is worse. You can see the main central sights on foot, and take the bus for Knossos, Rethymno and Chania.
Hiring a car is easy with the usual documentation (a standard EU driving licence is fine.) Get prior permission in writing from the rental company if you plan to take the car away on a ferry.
Petrol stations often close around 21:00, particularly in villages. Most petrol stations expect you to pay cash - they serve you, so you can choose for them to fill the tank or put in fuel to a cash value. On the National Highway, there are service stations, but they are often 50 km or so apart. Fill up before public holidays and Sundays when you may have more difficulty finding an open station.
By taxi
Lots of taxi ranks in all the main locations, downtown and at the airport & ferry port. Usually they're looking for trade and will spot you before you spot them. If they're sparse, call (+30) 2810 210102) or via their
website
.
See
The must-see sights are the
Archaeological Museum
downtown, and the
Palace of Knossos
5 km south. Their combined ticket is the best buy.
Take a stroll along the city's Venetian wall (Greek: Τείχη). It's 7.5 km long, with seven bastions jutting out. On the southernmost of these, the Martinengo Bastion, is the
grave of Nikos Kazantzakis
with its moving inscription,
"I hope for nothing. I fear nothing. I am free."
From the wall head towards the harbour, taking in the
Historical Museum
, which picks up the story where the Archaeological Museum leaves off. The
Koules
or fortress stands over the inner harbour but the mole continues for almost 2 km, with views back over the city and the ferry port. You don't need to enter the Koules to go on the mole, but you may need to dash where the waves are breaking at its base.
Heraklion Archaeological Museum

phone: +30 2810279000

address: 2 Xanthoudidou St

Houses the most important and representative finds from Minoan civilisation and excavations across the island of Crete. Highlights include statues of the Snake Goddess, the Bull-Leaping Fresco, the Phaistos Disk, and Minoan seals and jewellery. Also includes a number of finds from Classical Greek and Roman periods.
The Myth of Knossos
The god Zeus disguised himself as a white bull and carried off Europa to Crete, where they founded a mighty kingdom. Their son King Minos had a wife Pasiphae, who had an affair with another bull and gave birth to the Minotaur. This angry beast needed a lot of feeding, so he was kept in a labyrinth and from time to time fed a sacrifice of seven young men and seven maidens from Athens. Theseus volunteered to enter the labyrinth, reeling out a twine; he killed the Minotaur and used the twine to find his way out, where his adventures continued... It's a terrific story but it's led to a retro-mythology whereby the palace ruins are said to be evidence of the labyrinth, and thus of the whole pile of bull. Sir Arthur Evans played up this link for all he could, and to some extent reconstructed the site to fit. But the simple truth is just as impressive: about 4000 years ago, this site was the core of a large and powerful city. The ruins visible today were mostly built between 1700 and 1400 BC. Minoan civilization declined from around 1450 BCE, when there was a major earthquake.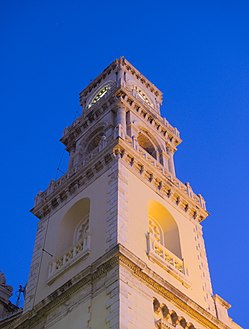 St Minas Cathedral

phone: +30 2810 282402

(Greek: Άγιος Μηνάς)

St Titus Church

phone: +30 281 034 6079

address: Pl. Agiou Titou

(Greek: Άγιος Τίτος) Known for housing the skull of St. Titus himself.

St Catherine of the Sinaites Church

address: Monis Odigitrias 1

(Greek: Αγία Αικατερίνη Σιναϊτών)

St Mark's Basilica

address: Pl. Kallergon 100

(Greek: Βασιλική Αγίου Μάρκου)

Dominican Church of St Peter

address: I. Mitsotaki

(Greek: Άγιος Πέτρος Δομηνικανών)

Natural History Museum of Crete

phone: +30 2810 282740

address: Sofokli Venizelou Ave

phone: +30 2810 741689

address: Myrtia 70100

Nikos Kazantzakis Museum, in the village of Myrtia (Varvari) 20 km south of Heraklion, focuses on Crete's most prominent modern intellectual figure.
Take the main highway east towards Malia to reach the Cretaquarium and the folklore museum.
phone: +30 2810 337788 (for bookings: +30 2810 337888)

The biggest aquarium in the Eastern Mediterranean.

phone: +30 28970 23660

address: Hersonissos 700 14, Hersonissos

Open-air Cretan folklore museum.
Do
Heraklion Summer Arts Festival - from June to September
Amoudara the city's beach area; a 6 km strip of sandy beach, lots of cafes, bars and hotels and the site of "Technopolis", a modern multiplex cinema and open-air theatre.
Horseback riding, experienced and amateur riders can ride at the beach of Karteros, or take riding lessons at Ippikos Omilos Hrakliou, located 6 km east of Heraklion, in Karteros.
Rock climbing, locals and visitors can climb a 15 m rock at the suburb of Karteros, east of Heraklion. Safety equipment is provided
Water fun, at the nearby Water City and Aqua Plus water parks.
Heraklion Sailing Club(Ιστιοπλοϊκός Όμιλος Ηρακλείου Tel:2810242120 - email: istiopl@her.forthnet.gr) - provides sailing lessons, sailing trips, yacht charters and also has its own seafood restaurant. On the former premises of the port refrigeration plant, east of the Port Authorities.
Learn
University of CreteThe leading higher education institution on the island of Crete. The University was established in 1973 and operates under the supervision of the State. The seat of the University is in Rethymno, with Heraklion hosting the School of Sciences and Engineering and that of Health Sciences.
Buy
Visit the central open market in Meidani square and buy mountain herbs, spices and folk natural remedies.
Eat
Budget
Throughout the city centre, it is easy to find cheap
tavernas
(ταβέρνα) offering full meals for under €20 for two people.
A strict budget can be met by sticking to the supermarkets which provide the usual array of fruits, vegetables and cheese for modest prices (€5/day is quite feasible.)
Central cafes serve the local breakfast treat
bougatsa
, a local pastry with cottage cheese, served with honey, or cinnamon and sugar.
Also available are the usual complement of pastry shops for standard meals such as
spanakopita
(spinach pie) and various cheap deserts.
Mid-range
Pagopiion (Ice-Factory) is a "quirky" restaurant and cafe/bar, at St Titus square, by the church. You can sit outside and enjoy the setting, or you might be tempted by the dramatic decor to sit inside. The food is excellent, and the menu different and interesting.
Herb's Garden (The Roof Garden of Lato Boutique Hotel) The name has been inspired from the traditional Cretan herbs. Offers a spectacular view to Heraklion's Venetian fortress and Cretan Sea. Opens from early afternoon and serves fresh fish and salads accompanied by local aperitifs and a variety of fine wines. Later in the afternoon there is special coffee and tea arrangements, fresh fruit juices, ice cream and cocktails.
Drink
Raki, also known as tsikoudia, is the trademark of Cretan day and night life, a strong clear drink similar to grappa in Italy or orujo in Spain. It is made from the 'must' of grape skins and twigs after the local production of the white wine. It doesn't taste like aniseed, as opposed to the Turkish rakı. Most raki is standard spirit strength of 40% or 80 o proof, but some are much stronger. It's often served in small glasses after dinner with a plate of fruit or other dessert.
Cretan wine: Try the distinctive Cretan wine, produced in the island for at least 4000 years. Labels: Sitia, Peza Union. The Cretans themselves drink so called 'open' wine, straight out of the barrel, like fresh white wine, and the sometimes very old dark rusty red wine, a bit like port. Typical Cretan wine varieties are Marouvas and Kotsifali (both red wines).
Sleep
Budget
There are two
hostels
in Heraklion, both in the city centre, a 10-minute drive from the airport and a 5-minute drive from the port. A taxi from the airport to either hostel should cost less than €10, and from the port less than €6.
Heraklion Youth Hostel

phone: +30 2810 286281

address: Vironos 5

Read the online reviews before booking: fairly disgusting and not for the faint hearted.

phone: +30 2810 381645

address: Old National Road, Karteros

An excellent family-run hotel in Karteros, about 7 km east of Heraklion beyond the airport. (On bus route to Ag Nik with hourly buses.)
Mid-range
phone: +30 2810 285052

address: 20, Theotokopoulou

Good value, friendly atmosphere, very helpful staff. Rooms from €30-55 with discounts during low-season. Centrally located in a quiet part of the city. Nice views from the balcony.

phone: +30 2810 243090 or +30 2810 343088

address: 50, Ikarou Ave

This hotel is walking distance to the port and very close to the bus station. Double €70. A good option if staying near the port and walking distance to the centre. It is also a 25-min walk from the airport and the directions are simple: Remain on Ikarou Ave until you see the hotel on the left. Staff are helpful and speak fluent English
Splurge
phone: +30 2810 228103

address: 15 Epimenidou St

Accommodation within a modern, friendly and luxurious environment with panoramic views of the Venetian fortress.

phone: +30 2810 229103

address: 2 Igias St

Centrally located in a quiet area.

phone: +30 2810 343080-2

address: 11 Eleftherias sq.
Connect
Free WiFi provided by municipality, and some cafes. 3G & 4G networks are also available

Stay safe
Road safety is wanting and generally the attitudes of all road users are poor and reckless. For pedestrians, there are haphazard pavements, usually entirely obstructed by parked cars and bikes, meaning the road itself has to be used by pedestrians. Other roads lack pavements. Road crossings for pedestrians do not seem to be recognized by motorists, making crossing difficult in busy roads. Drivers and bikers may even drive through junctions when the "green man" is indicating it is safe for pedestrians to cross. The bikers seem to be the worst, usually wearing no helmet and happily talking on a mobile phone or reading a text message while driving. Sometimes bikers ride on the pavements, and expect pedestrians to move out their way.
There are many stray cats and dogs in the city. The dogs can often be seen in small packs, and may bark and growl but do not attack if they are left alone.

Cope
Heraklion can seem traffic-choked, polluted and crowded with chain-smokers at times. A visit would not be advisable for those very sensitive to cigarette smoke (e.g. asthmatics), as smoke is everywhere. Even no smoking rooms in hotels are likely to have the smell of cigarettes drift from the corridor or the window. Fortunately anywhere near the sea front there is a refreshing mild sea breeze.

Go next
Within reach of a day-trip, but worth longer, are
Rethymno
(the most charming old town on the island),
Chania
, and
Agios Nikolaos
. Chania is the best base for exploring the
Samaria Gorge
, and Agios Nikolaos is your base for seeing
Spinalonga
. You'll need your own car to see
Anogia
, or Phaistos Palace and Matala beach, on a day trip.