Herefordshire
Herefordshire
is a county in the
West Midlands
region of
England
, located along the border with
Wales
.
Explore the castles.Herefordshire was,until the late Middle Ages, a battle ground between the Welsh and the English. There are over 130 castles
listed
in the county.To start with you could visit
Cities, towns and villages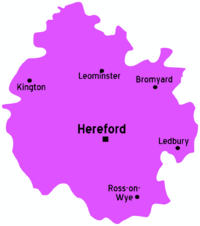 Cities
Hereford – cathedral city and county town. Take the opportunity to see the Mappi Mundi.
Towns
Villages
Kilpeck – has a church with carvings and gargoyles that are considered quite a spectacle.
Other destinations
near Ledbury – which is a mock Tudor castle but with lovely grounds, deer park and plenty to see amongst the lovely Malvern Hills.
Understand
Herefordshire is a largely rural county with but a few small towns. Most interest is focused on the cathedral city and county town
Hereford
.
Talk
To an outsider, the Herefordshire accent can sound like a blend between West Country and Welsh. There are plenty of villages in the west of the county with Welsh names, and there may be some native speakers left in more remote areas near the border, but the chances of you meeting them are minimal. By contrast, it's not uncommon to hear Welsh spoken among shoppers on the streets of Hereford, as this is the nearest large city (relatively speaking!) for many people living in Mid Wales.

Go next