Herzogenaurach
Herzogenaurach
is a small town in
Franconia
famous for being the headquarters of two major sportswear companies.
Understand
Herzogenaurach
is not as famous as the family that founded two of the most successful businesses of Germany here: The Dasslers, founders of Adidas (founded by Adolf, "Adi" Dassler) and Puma (founded by Rudolf Dassler, older brother of Adi). Both companies still dominate town and for many years, which shoes one wore was a serious issue. However, the biggest employer is neither, but rather the Schaeffler Group, that has its headquarters in town and mainly produces bearings for automotive and engineering use.
Besides its economic prowess the town also boasts a relatively intact historical old town due to being too unimportant to be bombed during World War II (local rumor has it that the Americans asked the British to keep the small airport out of town in working order for later takeover)
The name "Herzogenaurach" comes from the river
Aurach
that flows through town and also serves as a rough dividing line between Adidas and Puma. People in the area often shorten the name to Herzi or Herzo.
Get in
By bus
A public bus (lines 200 and 201) runs several times daily from Erlangen to the city. As Herzogenaurach has no train station, bus is the only way to get there by public transport. Tickets and schedules are available through
VGN
. Plans are underway to build a intercity-streetcar (locally known as "Stadt-Umland-Bahn" or StUB) to Erlangen with another line connecting Erlangen and Nuremberg, however construction has not yet started (a planned date is somewhere in the latter half of the 2020s) as of September 2019. After a decisive win of the pro StUB side in a March 2016 ballot measure, the precise route is being agreed upon as of December 2018. The
website
has more information if you're curious. There's also line 199, which links Herzogenaurach via Erlangen Paul Gossen Straße to Nuremberg am Wegfeld, where you can change to Tram Line 4. However, line 199 only runs during weekdays that are also school days and only during commute hours.
By bike
As Herzogenaurach is not very far from
Erlangen
- they even share an administrative boundary -, sporty people can ride by bike (ca. 15km); for almost all the way there are nice cycling routes (you can use a bike route planner such as
BBbike
to find a good way. Most routes are signposted fairly consistently, but they may lead through back streets where it can be easy to get lost after a wrong turn.
You can similarly come by bike from
Fürth
.
By car
The next Autobahn is A3 (take exit Herzogenaurach and follow the signs).
A 73 is close by (change to A3 towards Würzburg at the crossing Fürth/Erlangen and then continue as described in the foregoing sentence).
Coming from Erlangen take Paul-Gossen-Straße towards the West and leave at the crossing with Äußere Brucker Straße (just before the highway), as also indicated by the signs. The road will directly bring you to Herzogenaurach.
By plane
There is
a small airfield
close to town that can accommodate general aviation. No scheduled flights exist, nor have they ever.
The next major airport is in
Nuremberg
(
NUE
), which just like Herzogenaurach is member of the VGN tariff union, making it possible to do the whole trip from Nuremberg with just one ticket.

Get around

Public buses run through town. Most buses stop at the central bus station and do some form of a loop through different parts of town. A single trip inside town is €1.30, and a day ticket is €2.80 as of 2018. The interior parts are walkable, but the outlet stores are quite a bit out of town and were designed with the car in mind.

See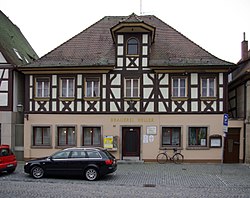 Herzogenaurach has a small but beautiful old town. The central part is limited by the historical city fortification of which the
Fehnturm
and the
Türmersturm
are the most visible remnants which also show the east-west extent of the high medieval settlement.
Do
During major soccer events (World and European Championships), Adidas has a big screen where you can watch the game right next to their outlet store
phone: +49 9132 73850

address: Würzburger Straße 35

An indoor swimming pool. While it is nothing fancy, it has a couple of decent slides and is a good way to pass a rainy day if you're in town and tired of shopping.
Buy
The main draw of this town are Adidas and Puma and they have built outlet stores that have only gotten bigger and bigger. Prices are usually lower than in regular stores and clothes that are out of season may be had for discounts, but of course not everything is cheap and depending on where you are from, stuff may be cheaper back home.
phone: +49 9132 78190

address: Zeppelinstraße 1

adidas outlet

phone: +49 9132 842000

address: Olympiaring 2

Nike Factory Store

phone: +49 9132 7452810

address: Zeppelinstraße 1

Teamsport

phone: +49 9132 797610

address: Zeppelinstr. 6a

Sports Performance Shop Reebok

phone: +49 9132 7411878

address: Olympiaring 3

s. Oliver Outlet

phone: +49 9132 8366570

address: Zeppelinstr. 2

PUMA Outlet Herzo

phone: +49 9132 74170

address: PUMA Way1
Eat
Chilli's - Mexican Bar y Restaurant

phone: +49 9132 7475520

address: Burgstaller Weg 2

Mexican and Tex Mex food

phone: +49-9132-79 64 23

address: An der Schütt 26

a nice and friendly restaurant with a beer garden.

phone: +49-9132-745893

address: Am Birkenbühl 1

Somewhat out of town near the local general aviation airfield, this Italian restaurant is one of the best Italian restaurants around Herzo and Erlangen and can be considered a "hidden gem". Book in advance as the place is often very well frequented.

phone: +49 9132 8362260

address: Marktplatz 10
Drink
Brauerei Heller

phone: +49 9132 2073

address: Hauptstraße 33
Sleep
phone: +49 9132 7780

address: Beethovenstraße 6

One of the pricier options in town.

Hotel Krone

phone: +49 9132 77310 0

address: Hauptstraße 37
Go next
Erlangen would be an obvious place to go