High-speed rail in South Korea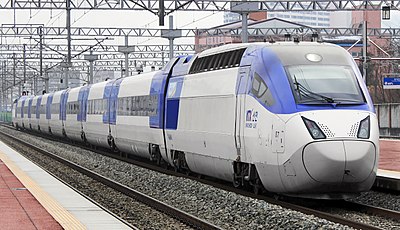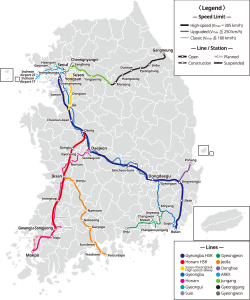 South Korea
has a new and efficient
high speed service
known as
Korea Train Express
, abbreviated
KTX
. It is operated by national train operator, Korail.
Types of train and services
Most KTX trains leave from
Seoul
Station or Yongsan Station and terminate in the cities of
Busan
,
Mokpo
,
Yeosu
and
Jinju
. Most major cities are served in between.
The KTX train is regarded as an easier, more comfortable and cheaper way to get around South Korea than by plane. If you figure in security and getting to/from the airport it may also just be faster to go by train. Ticket prices are slightly below the equivalent airfare. The weekday Standard class price for Seoul-Busan is around ₩57,000.
There are two types of KTX seat classes; First and Standard. First class has wider seats, free snacks and bottled water.
There are two types of KTX trains, KTX-I and KTX-Sancheon. The KTX-Sancheon uses newly built KTX-Sancheon trains, which have better seats and power plugs for each seat. KTX-I trains have a fewer power plug between the window. There is no extra fare for KTX-Sancheon.
The KTX service does not connect to any other country, although many Koreans would hope that one day it could run through North Korea and onto the rest of the Asian continent. Plans by South Korea and China to connect their networks through North Korea are unlikely to ever be fulfilled in light of the North Korean political situation.
Lines in service
All lines start in
Seoul
and terminate in either the southwest or southeast of the country. A few trains continue past Seoul to
Incheon International Airport
. Seoul has two main stations (Seoul, Yongsan); Seoul Station for mainly Gyeongbu, Gyeongjeon lines, and Yongsan station for Honam and Jeolla lines, though some trains departs at opposite stations.
Some trains proceed north from Seoul to
Haengshin
or
Incheon International Airport
.
Future lines
A plan to build an undersea tunnel to
Jeju
has been mooted by the government, with a KTX service taking 2 hours and 40 minutes to reach there from Seoul. The Seoul-to-Jeju airline route is the busiest in the world, although construction would involve building the longest tunnel in the world and it is not clear if Korea would be prepared to invest the huge amount needed.
Booking tickets
Tickets may be purchased up to one month in advance at any Korean Rail station ticket office, or online at
Korail's website
. The online option has the benefit of allowing you to book in English, and tickets can be picked up in advance from any Korean Rail Ticket Office. However, you must bring your passport for identification when picking up the tickets.
Standby (입석,
ipseok
) tickets cannot be purchased online; those can only be purchased at ticket machines at the major stations.
Residents in Korea have the option of purchasing tickets from the Korean-only KTX app. A Korean credit card is required.
Rear-facing seats will get 10% discount from the original price.
During
Lunar New Year
(late Jan or Feb) and
Chuseok
(Sep or early Oct) dates, it is practically impossible to travel by train during these periods due to all the crowds.