High River
High River
is a city or about 13,500 people (2016) in
Calgary Region
.
Understand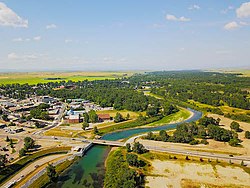 High River was used as a set for Smallville in
Superman III
, and for High River, Montana in Nickelodeon's series
Caitlin's Way
.
Heartland
, a CBC television series, used High River its main filming spot. Also, the movie
Carolina Moon
, based on the book by Nora Roberts, and the movie
Moondance Alexander
were filmed in High River.
Parts of the television series
Fargo
were filmed in High River.
Tin Star
, a British-Canadian drama series, was filmed in and around High River in 2016.
The High River Visitor Information Centre is in the Museum of the Highwood, 406 First St SW, M-Sa 9AM-4:30PM and Su noon-4PM.
History
The community takes its name from the Highwood River, which flows through the town. The area was first inhabited largely by the Blackfoot First Nation, who called the site Ispitzee (or the "place of high trees along running water"). By 1870, after the arrival of the North-West Mounted Police and after Treaty Number 7 had been signed in 1877, settlers began arriving into the region. High River was a convenient location for people, horses and cattle to cross the Highwood River - a location known as "The Crossing".
Development of the town was supported by the completion of the Calgary and Edmonton Railway in 1892. High River was incorporated as a village in 1901, and as a town in 1906.
Although growth slowed during the First World War, it continued after the war with the building of brick structures and a number of industries. One of Canada's first air force stations was constructed to the east of the town in 1921. The establishment of a British Commonwealth Air Training Plan elementary flying training school at the same air station helped boost High River's economy during the Second World War.
The Highwood River is subject to frequent flooding. Flood events of exceptional magnitude occurred in 1894, 1899, 1902, 1908, 1912, 1923, 1929, 1932, 1942, 1995, 2005 and 2013. During the 2013 Alberta floods, thousands of people in Alberta were ordered to evacuate their homes after the rise of the Highwood River, Bow River, Elbow River Sheep River, and numerous others. In 2013, three people died as a result of the flooding of the Highwood River.
Get in
It is south of
Calgary
, at the junction of Alberta Highways 2 and 23.
Get around
There is no public transit.
Happy Trails Pathways provide more than 19 km of paved pedestrian and cycling pathways throughout the community, connecting many of the town's recreational facilities, set along the river and through the many parks and greenspaces found in town.
See
As part of High River's tourism and heritage endeavours, a number of murals illustrating High River's history were painted around town.

phone: +1 403 652-7156

address: 406 First St SW,

The museum is in the former Canadian Pacific Railway station (built 1911-12), which is on the Canadian Register of Historic Places. Exhibits, gift shop and the Imagination Station for kids.
The High River Agricultural Museum is based on the history and influence that Ford and the oil & gas sector had on the agricultural way of life from the early 1900s to the 1960s and beyond. It has a huge selection of antique tractors, vehicles and farm equipment on display – a must see.
Sheppard Family Park is a historical landmark that celebrates High Rivers history from the 1880s to 1920s, at the corner of 12 Ave and 5th street SE.
The historic Wales Theatre retains many of its original design charms and features one of the last free-standing balconies in Canada.
Do
Birdwatching at Emerson LakeOver 103 species of birds can be found at Emerson Lake in High River, with records dating back to the 1900s.

Birdwatching at Frank Lake Conservation AreaFrank Lake is listed by Ducks Unlimited as one of 597 Important Bird Areas in Canada, and is one of the best birding venues in the Calgary area. The lake is a shallow slough, typical of the prairie grasslands in Southern Alberta. It is a productive wetland that encompasses three basins totaling nearly 3,100 acres of flooded area with an additional 1,700 acres of managed upland habitat. The uplands are both native and seeded grasslands that benefit wildlife and waterfowl nesting. 190 plant species, 194 bird species and over 16 mammal species have been recorded at the lake, including many that are regionally or provincially rare in status.

Fishing in and around High RiverThe Highwood River is well-known for its flyfishing, and there are plenty of other sportfishing opportunities around the area. Originating in the Canadian Rockies, in the Highwood Pass, below Mount Arethusa, the river flows south parallel to the Kananaskis Trail, before its turns east, to flow along Highway 541 and through the community of Longview. Continuing east, the Highwood River passes through High River, ending when it enters the Bow River, southeast of Calgary.
Buy
Eat
phone: +1 403-652-1887

address: 118 4th Avenue SW

Sandwiches, pies, ice cream. Home-style cooking, including gluten-friendly, vegan and vegetarian selections.

Hitchin Post Drive-In

phone: +1 403-652-2966

address: 12th Ave

Burgers and other fast food.

Whistle Stop Cafe

phone: +1 403-652-7026

address: 406 1st Street SW

Great atmosphere, decorated with old photos of the town.
Sleep
High River Motor Motel

phone: +1 403 652-4339

address: 121 5 Ave SW

phone: +1 403 652-2529

address: 343 Macleod Trail SW

Open May to Sept. Set in a secluded area beside the Highwood River, close to downtown High River, this campground is 60 km (35 miles) south of Calgary on Highway 2, within easy walking distance of shopping and restaurants. Among mature trees, 57 campsites (pull-through and back-in), each with 15 and 30 amp power, a fire pit and a picnic table. Free clean showers. Potable water and a free sani-dump are available within the campground and adjoining park. Free Wi-Fi hotspot.

Ramada High River

phone: +1-403-603-3183

address: 1512 13 Ave SE

Free continental breakfast, heated indoor pool, hot tub, fitness center. Each room has a microwave, refrigerator, free WiFi, and a 32-inch flat-screen TV. Kitchenette rooms are also available. Guest laundry facilities and free large-vehicle parking are available. Pet friendly. Airport shuttle service.
Go next
Vulcan
, southeast on Highway 23, is the "Official Star Trek Capital of Canada."