High Tatras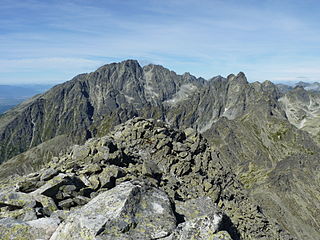 Vysoké Tatry
(
High Tatras
) is a mountain range in
Tatra National Park
in
Slovakia
.
Cities
Vysoké Tatry is a conglomerate, (area-wise) largest urban area in Slovakia. In fact, it consists of three sub-areas, which consist of 14 settlements:
Štrbské Pleso(the settlement itself was transferred to the village of Štrba): Vyšné Hágy, Podbanské

Starý SmokovecHorný Smokovec, Dolný Smokovec, Nový Smokovec, Starý Smokovec, Tatranská Polianka, Tatranské Zruby, Nová Polianka

Tatranská LomnicaTatranská Lomnica, Tatranská Kotlina, Tatranská Lesná, Kežmarské Žľaby, Tatranské Matliare
Understand
High Tatras belong to the national park (
TANAP
) and also are registered in UNESCO because many protected animals and plants are found in High Tatras. High Tatras consist of peaks, mountain lakes and basins. The highest peaks are Gerlachovský štít (), Kriváň (), Rysy () and Lomnický štít (). Gerlachovský štít is the highest peak in Slovakia and the Carpathian Mountains rising to above the sea level.
In November 2004 a huge storm destroyed a part of the forest and disturbed natural fauna and flora, but most of the damage has been cleared away. The trees that used to protect the soil from erosion are gone now and the topsoil is being exposed to rain and erosion. The disaster did not have such catastrophic impact on tourism, and all ski centers, hotels and cottages go on providing their services.
Poprad, a town stretching below High Tatras, offers a beautiful town center, various types of accommodation, small air port for tourists and incredible view at High Tatras scenery.
Get in
By train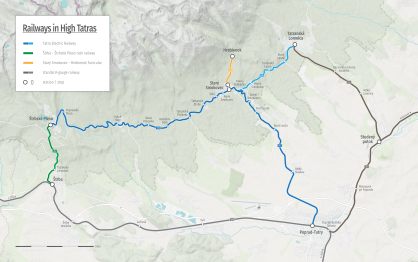 As most towns in the region are connected to the rail network, this is one of the fastest and most convenient ways of getting into High Tatras. There are 9 express IC standard trains operating between
Bratislava
and
Košice
, the 'Tatran', 'Kriváň', 'Gerlach', 'Rysy', 'Chopok' and another 4 untitled IC trains which all stop in Poprad-Tatry.
If you're coming from Prague (Czech Republic), and want to get as much time in for sightseeing as possible, consider the overnight
sleeper trains
. EN 'Slovakia' leaves Prague in the evening (get a full day in Prague), and you can get a very cheap ticket for a sleeper booth, plus you wake up in the Tatras with the whole day in front of you. EC 'Košičan' leaves
Prague
in the morning and comes to Poprad-Tatry in the afternoon. Both operate between Prague and Košice.
The fastest access to High Tatras is from the same station - Poprad-Tatry operates tram connection directly to
Starý Smokovec
,
Štrbske Pleso
and
Tatranská Lomnica
with many stops along the way. All of that stops are in Vysoké Tatry region.
By car
From Czech Republic Austria, west and east Slovakia you can use a motorway 'D1', from Hungary roads of 1 class and part of motorway 'R1'. Connection from Poland is a bit more complicated, with only one road connecting Zakopane and the Slovak part of the High Tatras through the border check point in Lysá Poľana.
By bus
For those wishing to travel from
Krakow
:
There are many buses, every twenty minutes of so during daytime, to take you from Krakow to Zakopane on the Polish side. Journey is about 2.5 hours.
From there, there are buses connecting Zakopane on the Polish side of the border with Stary Smokovec and Poprad. These run from out-front of the bus station where you will be deposited. However, many only run in peak season (which, in the summer, starts from June 16). The bus company's name is
Strama
. You will see the signs out front of the bus depot. Check their website for exact times. Last one is about 5PM. There are approximately four daily.
When these busses do not operate, simply go across the road from the bus station, and get a bus to Lysa Polana, which costs about 10 zł. Takes about 20 minutes. From where you will be dropped off, cross a small bridge up 50 m and to the left and you will be in Slovakia - there is a small restaurant, gift shop, and another small shop on the border, where you can change remaining złoty for Euros, should you not yet have any. There are no ATMs.
From there, there is a bus which waits at the top end of the carpark which runs through the Vsyoke Tatry to Poprad, about once every hour or two. It costs €2.2 for a single ticket. Journey time is about 30 or 40 minutes to Stary Smokovec.
By plane
There are also flight connections available through the Poprad Airport.
By foot
If you are on a hiking trip, it is possible to cross from Poland on foot at several places.
Get around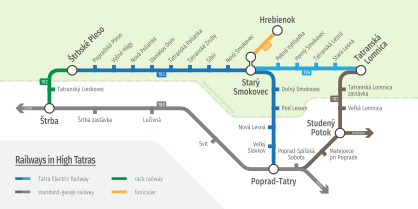 Transportation and orientation in High Tatras is very easy. Trains, cog railway, cable railways, and trams these are possibilities how to get to any locality in High Tatras.
Local rail public transport form an inexpensive way to get around. It consists of the lines listed below.
The Tatra Electric Railway trains running between Štrbské Pleso, Poprad and Tatranská Lomnica. , although the schedules are not the most convenient. Typically there is one train per hour, but frequency is increased to two trains per hour in the peak hours of the summer season. Most trains run direct between Poprad and Štrbské Pleso via Starý Smokovec, which serves as a transfer point to Tatranská Lomnica. Transfers are timed during most of the day, however, there can be some exceptions.
There is a rack railway (Zubačka or Toothed) that connects Štrba railway station (actually in Tatranská Štrba) with Štrbské Pleso. There are usually one to two trains an hour, but the schedule is somewhat irregular in order to provide connection to the national rail services.
A normal-gauge train service connects Tatranská Lomnica and Poprad (Transfer at Studený Potok, generally one every 1-2 hours).
As of 2017, single ticket prices range from €0.50-2 based on the distance travelled. Daily tickets cost €4, a weekly pass is €14 and a monthly pass is €16. Consult the
Slovakrail route planner
for the schedules. The trains can be rather crowded in high season.
Frequent bus services connect destinations not served by rail, such as
Tatranská kotlina
to
Tatranská Lomnica
and
Starý Smokovec
(Less frequently to
Poprad
and
Ždiar
).
While trams are often the most convenient option, the villages and towns in the region are also connected by roads, so driving is always an option, though you might have to pay for parking. Finding parking spots can also be a trouble in the high season.
There are cable cars and chairlifts that take you further uphill. Prices are roughly proportional to the altitude gain, and range from €8 (
Starý Smokovec
to
Hrebienok
) to €27 (all the way up to the Lomnitz peak and back) in 2017.
There is a great variety of hiking and cycling trails as well. They are mapped very well, e.g. in the
OpenStreetMap
project or
mapy.cz
, which also have free offline mobile viewers available. The purchase of the tourist map of High Tatras can be recommended too, as they are cheap and show a very detailed map of the trails, marked along with the time it takes to walk them.
See
Štrbské pleso

Popradské pleso

Lomnický štít peakSee High Tatras from bird's perspective. Bring warm clothes, even in summer the temperatures may be near 0°C.
You can also take a tram and travel under the highest peaks and take delight in magnificent nature.
Do
Hiking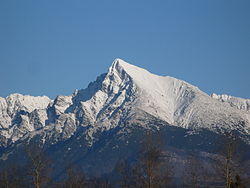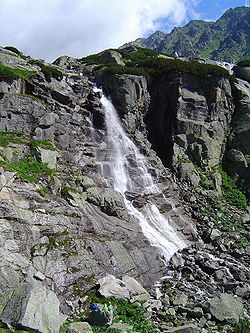 There are numerous opportunities for hiking, depending on the fitness level of the hiker, ranging from an easy stroll to a difficult all day hikes.
Popular all day hikes, sorted by "perceived" local popularity, include:
Skok waterfallA medium-sized waterfall, 1 target of the most casual hiking visitors. May be combined with hike around Štrbské Solisko, which takes several more hours.

RysyOne of the most popular peaks, with an alpine hut Chata pod Rysmi 1/2 hr under the top.

KriváňA picturesque peak, symbol of both High Tatras and Slovakia

Veľké Hincovo plesoThe greatest ice-formed lake in Tatras. A 1½-hour stroll up to Kôprovský štít is possible, and afterwards a very long round trip via Kôprová dolina valley too. For the long path it is advisable to arrange some transfer to/from Tri studničky.

Priečne sedloA connection saddle between "Veľká studená dolina" and "Malá studená dolina" (Great and Little cold valleys). Alpine huts available at both sides (Zbojnícka and Téryho).

Poľský hrebeňA moderately long hike, which can be further combined with Priečne sedlo via the Prielom saddle.

Bielovodská dolinaLongest (>10km) valley in the Tatra area, it's the only one typically Alpine, in nature and arguably one of the most beautiful ones. Because of the length, the hike is quite demanding - usually when combined with Poľský hrebeň, it's easily more than 8 hr, not including stops.

Gerlachovský štítNon-accessible by general public, it's the highest peak of Slovakia. It's possible to access for members of national UIAA club or with a certified mountain guide.

Smokovec to Chata pri Zelenom plese hikeA hike to Belianske Tatras. Other hikes there are possible from Tatranská Javorina.
Skiing
In High Tatras it is possible to ski downhill in nine localities and each one consist of two to nine slopes.
Snow conditions during the winter are usually great for skiing or snowboarding. Funiculars are accessible to many alpine localities, such as
Solisko (1840m)
Skalnata chata (1751m) where tourists can take another funicular
Cycling
Cycling is other activitie that is very interesting for people who love adrenalin. Cyclists can choose either between asphalt or field roads. Different kind of roads with various level of difficulty are suitable for less or more demanding people.
A 9-km long cycle road is available between
Spišská Belá
and
Tatranská Kotlina
with a smooth asphalt surface - also good for inline skating.
Amusement
Children can have fun e.g. at:
Dobrá hračkaA kind of amusement park for children with various toys.

TricklandiaExposition of various optical illusions (including e.g. a mirror maze) and augmented reality illustrations.
Sleep
Among others, these huts are located in high(-ish) altitudes above the sea level:
Bilíkova chata

Chata pod Rysmi (2250m)The highest and most attractive alpine hut offers accommodation to hikers on the road, where hikers often go for the difficult ascent. Built in 1932 and in 1977 was enlarged and now offers 14 beds for 16-24 eur each (more during weekends and holidays).

Popradské plesoA mountain hotel at the homonymous lake.

Rainerova chata

Sliezky Dom (1670m)Mountain hotel, the highest situated hotel in Slovakia. Offers 123 beds.

Skalnatá chata

Téryho chata (2015m)The highest cottage accessible all year round, attractive for tourists who want to see incredible scenery either in winter or summer. The cost for one bed is €22, or emergency accommodation in your sleeping bag for €11 (only available if regular beds are full).

Zamkovského chata

Zbojnícka chataOpen all-year long, 16 beds.
Each cottage offers accommodation and food and most of them offer their service just during the summer because of bad access condition during the winter and/or closed tourist paths.
Most of the bigger hotel resorts in the area provide restaurants and wellness areas. The most iconic ones (often portrayed on photos and Tatry area marketing materials) include:
Stay safe
Emergency calls (Núdzové volania):
Helicopter emergency medical service (Letecká záchranná zdravotná služba) in Poprad: 18 155
Medical emergency service (Zdravotná záchranná služba): 155, 112
Mountain rescue service (Horská záchranná služba): 18 300
Fire and Rescue Corps (Hasičský záchranný zbor): 150, 112
Police (Polícia): 158, 112
Go next