Hilo
Hilo
is a town on the
Big Island
of
Hawaii
. The county seat and largest city in Hawaii County, Hilo is the one of the best starting points to explore the eastern half of the island, including Hawaii Volcanoes National Park.
Understand
Although the largest city on the Big Island, Hilo is a small city (43,263 in the 2010 Census) with a relaxed pace of life. It is on the rainier, less touristy east side of the island, and the city itself is not a huge draw for tourists, but there is an excellent farmers' and craftsmen's market on Wednesdays, Saturdays and Sundays, and in addition to the attractions within city limits, there is good snorkeling nearby, extremely lush botanic gardens in the area, and
Volcanoes National Park
is a splendid day trip.
Climate
Hilo has a mild, somewhat muggy subtropical climate, with a lot of rain. In fact January and February are the only months with less than 20 rainy days on average.
Get in
Most of the visitors bound for Hilo will arrive via one of the inter island airlines (Hawaiian), or as a day stop from one of the frequent
cruise ship
visits. Unless you're sailing your own craft, this is only way of getting in by sea, as inter-island boat services were suspended in 2009.
By plane
Hilo International AirportIs the main airport serving Hilo and the eastern side of the Big Island. The majority of flights to Hilo originate from Honolulu via Hawaiian Airlines. There is also one flight from Kahului daily, and one non-stop flight from LAX daily, operated by United Airlines. The airport terminal is rather small, with a relaxed atmosphere. Long lines for security are unlikely.
By car
From elsewhere on the Big Island: for visitors, this would mean taking the Mamalahoa Highway (HI-190), the Daniel K. Inouye Highway (via a right turn) and the Saddle Road (HI-200, but without signposted route numbers on the road) across the interior of the island from
Kailua-Kona
at the western end, where the other commercial airport is located. Allow at least 2 hours for that trip, which goes through some curvy, hilly terrain.
Alternatively, you can take the Hawaii Belt Road (HI-19) around much of the northern shore of the island, going inland through
Waimea
. You may find this an easier drive, and possibly a more pleasant one if you'd like to go through more villages and see fewer starkly beautiful views of Mauna Kea and other hilly inland scenery. To be on the safe side, you should allow at least 2.5 hours for the northern route, though you may want to stop in one or more towns along the way.
Direction signs are fairly good on the Big Island, though not always with much advance notice for the driver. Traffic drives slowly (usually 25-35 miles per hour), and it's ordinary for unobstructed traffic to go slower than posted speed limits.
If you don't have a car, hitching a ride is very easy on the Big Island.
By bus
Hele On Bus systemMost buses on the island are designed for commuters and run a couple times in the early morning and a couple times in the evening.
Hilo-Kona routeThere is only one bus that connects Hilo directly to Kona. There are 2 runs in the early morning from Kona to Hilo and 1 run in the afternoon back to Kona.

Hilo-Kau routeThere is a bus route that begins in Hilo and connects to Volcano Village and Volcano National Park on its way to Kau. It operates 5x a day in each direction.
Get around
Many of Hilo's points of interest are concentrated in quite a small area in the western end of Kamehameha Avenue. There you can get around by foot easily. However, some natural attractions, beaches and shops are a mile or more away from there.
The county's
Hele-On Bus system
($2 fare) serve Hilo International Airport eight times per day (except on Sunday). However, virtually all visitors rent a vehicle from one of the many rental agencies upon arriving at Hilo International Airport. It's a good idea to make car reservations in advance, as special events or active conditions at the Volcanoes National Park can quickly deplete the supply of available vehicles. If you do plan on taking the buses, look up the schedules ahead of time and keep in mind that they will leave on time from the beginning of their routes (usually the Mo'oheau Bus Terminal in downtown Hilo) but will possibly be delayed for subsequent stops depending on traffic, weather and stops.
As an alternative, taxis are also available at the airport though renting a car is almost always more practical.
There are also a few bicycle shops on and around Kamehameha Avenue, if you would like to rent or buy a bicycle.
See
phone: +1 808 935-0926

address: 130 Kamehameha Ave

Serves as a living memorial, and a reminder for a generation yet to experience such fright. A tsunami, Japanese for "harbor waves" are a fact of life in Hawaii, especially Hilo. On 1 April 1946, and 23 May 1960, Hilo suffered devastating tsunamis that reshaped its social and economic structure.

phone: +1 808 935-5021

address: 276 Haili St

This museum features a restored missionary house. They also have a small collection of local artwork, historical exhibits, and the 9th-best mineral collection in the United States. Tours at 11AM and 2PM.

Rainbow FallsIf you don't have time to make it up to Akaka Falls, or you don't like hiking, Rainbow Falls is worth a visit. Try to visit early in the day. You have a better chance to see the rainbow created by the mist. Drive up Waianuenue Avenue from downtown, following the signs. If you pass the hospital, you have gone too far. Very wheelchair accessible, but the Boiling Pots will require some hiking.

King Kamehameha StatueErected in 1997 at Wailoa State Park, the statue of King Kamehameha is perhaps the most impressive of the four found throughout the state. A gift from the island of Kauai who failed to erect the statue due to the historical significance of being the only island never to be conquered by Kamehameha the Great. Standing at 14 feet tall, the statue now overlooks Hilo where the first King of Hawaii established his seat of government.

Naha Stone

address: 300 Waianuenue Ave

It was prophesied that the man who moved the Naha stone, which weighs nearly 5000 pounds, would unite all of the Hawaiian islands and be the greatest king of all Hawaii. Kamehameha, at the age of fourteen, not only moved the stone, but lifted it end over end, and he eventually fulfilled the prophesy. The Pinao stone, which sits next to the Naha stone, once guarded an ancient temple. The stones are culturally significant and touching or pretending to lift them is not allowed.

Lili'uokalani Gardens

address: 189 Lihiwai St

Located on Banyan Drive, this authentic Japanese garden was built in the early 1900s as a memorial to the immigrant Japanese who developed the old Waiakea Sugar Plantation and is named in honor of Hawaii's last reigning monarch, Queen Liliuokalani.

MokuolaA small public park near Lili'uokalani Gardens is connected to mainland by a pedestrian bridge.

Mokupāpapa Discovery Center

phone: +1 808-498-4709

address: 76 Kamehameha Ave

Provides information for the Hawaiian World Heritage site, Papahānaumokuākea Marine National Monument. Housed in Hilo's historic, century old Koehnen Building, Mokupāpapa features a 3,500 gallon saltwater aquarium, interactive educational exhibits, lifesize models of wildlife found in the Northwestern Hawaiian Islands, artwork inspired by those islands and Hawaiian culture, and many interpretive panels in both Hawaiian and English.
Do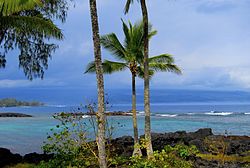 Many of the activities that are available are strictly daytime, and focus on the ocean. Surf culture is big, and boards may be rented from , located in the Bayfront district. Stan, the owner, will be happy to fill you in on where to go as well as the current conditions.
Richardson's Ocean ParkThis is a popular spot for family cookouts, and has occasional waves. Snorkeling is a popular activity here. You can also find people relaxing on the beach or in the grass reading and visiting.

Four MileA popular swimming spot, also located on Kalanianaole, before you get to Richardson's. Though there is no 'beach', it is rather like a large salt water swimming pool, with a sandy bottom, protected from the ocean by a reef. The brackish water is colder, a mix of the ocean and fresh water springs.

Paradise CoptersFlights over macadamia nut plantations to the lava flows at Kilauea. Because Kona is twice as far from the volcano as Hilo, tours that leave from Kona are generally 2 hours long and accordingly more expensive. You may choose to drive 2¼-hr to Hilo if money is a consideration. Morning helicopter flights tend to have the least cloud cover, but also book first. If taking photos, wear dark clothing to avoid reflections from windows. A special mention should be made about the "doors off" helicopter tour, which lets you smell the lava and feel its heat.

Kaumana cavesFun to explore and it's free. You should bring your own flashlight.

phone: +1 808 966 4200

To get as far as possible to the lava flowing into the ocean, get onto a boat from just outside Hilo. Sunset tours are an excellent opportunity to see the lava in a lower light setting while mostly avoiding riding the boat at night.

phone: +1 808 315-3097

Tours to the Volcano National Park, waterfalls and black sand beach. Small group tours for cruise ships. Private tours also available
Events
Buy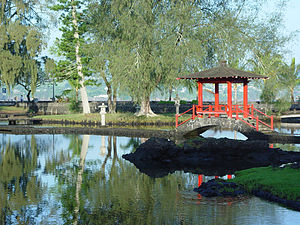 Hilo has two main shopping areas, each about a mile away from most of the hotels on the Banyan Drive loop. Follow Kamehameha Avenue west from Banyan Drive, and you will arrive at Downtown Hilo, which is home to many quaint shops and restaurants. Follow Highway 11 (also Mamalahoa Highway or Kanoelehua Avenue) south from Banyan Drive, and you will arrive at the Prince Kuhio Plaza. There are larger retail stores in and around the Prince Kuhio Plaza area. KTA Superstores, Long's Drugs, and a Wal-Mart are all present on the island.
Downtown Hilo
Most Downtown Hilo stores are located along the "Bayfront", or Kamehameha Avenue, though the side streets are also packed with excellent finds and shops to explore. The Hilo Farmer's Market is also located downtown. You can easily spend a day walking around Downtown Hilo, browsing and shopping.
While Downtown Hilo itself is walkable, parking spaces can be hard to find midday. It is possible to walk from your Banyan Drive area hotel to Downtown, though it is approximately one mile.
phone: +1 808 938-6007

address: 83 Maikai St

Skilled in the art and science of natural medicine. Applying the ancient Asian tradition of Seitai Shinpo Acupuncture with modern science, Kim is able to treat not only the ailments that bring you to see them, but also to safeguard your long term health and quality of life, so that your path in life is pain free and easy.

phone: +1 808 961-0144

address: 160 Kamehameha Ave

This family-owned independent bookstore in the heart of Downtown Hilo is the perfect place to purchase books on Hawaiian culture, history and language. Excellent selection of Big Island maps.

Chase Gallery

address: 100 Kamehameha Ave

Located in Hilo's scenic Bayfront district, along highway 19, this gallery features an excellent collection of local artwork.

phone: +1 808 969-3670

address: 82 Ponahawai St

Eightytwo creations has two sections in its business: retail clothing and art in the showroom, and full-service custom printing in the back. The retail section includes clothing from 808 Empire, Lemon Hawaii, Upper Playground, Restless kids, Fumanchu, Acrylick, American Apparel, etc. They also feature art by local artists. Printing services include stickers, banners, wall graphics, t-shirts, hats, and heat transfers.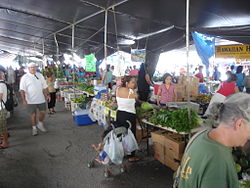 phone: +1 808 933-1000

Purchase the freshest, cheapest produce in Hilo at the Hilo Farmer's Market. You can also find fresh fish, fresh-cut flowers (anthuriums, protea, and other local varieties), Hawaiian-style jams, prepared snacks, typical flea market goodies and artisanal jewelry and crafts. Be prepared to haggle. Get there early, like the locals do, before everything sells out.

phone: +1 808 935-4282

address: 114 Ponahawai St

Specializing in acoustic instruments, they also have the best collection of ukuleles in Hilo. Good store for Hawaiian music song books.

phone: +1 808 934-0925

address: 84 Ponahawai St

The Big Island's surf shop for surfers. This little shop has Hawaii Islands largest selection of new, used, and custom surfboards. There is also a huge selection of bodyboards. They have rentals and on site board repair. Also find Hilo Surfboard Company t-shirts and many local brands. Owner Scott Murray will be stoked to see you and talk story!

Kahuina Gallery

phone: +1 808 935-4420

address: 128 Kilauea Ave

A cooperative of island artists and musicians. A variety of cards, posters, CDs, original works of art, and small publications are available from local artists and musicians. Each Friday night is free open mic and music.

address: 35 Waianuenue Ave

A fascinating new addition to the Hilo Bayfront district, Kathmandu Imports sells a collection of Tibetan and Nepali items. Located on Waianuenue Ave.

phone: +1 808 935-7077

address: 122 Kamehameha Ave

Sig Zane Designs is one of the premier clothiers in Hawaii. They are known for their original textile prints, which depict indigenous and culturally-significant Hawaiian plants and flowers. The shop offers aloha shirts, ladies' blouses and dresses, handbags, and furniture. Sig Zane's aloha shirts and clothing items are priced higher than brands available at Hilo Hattie, though the quality and look is worth the extra cost.
Prince Kuhio Plaza Area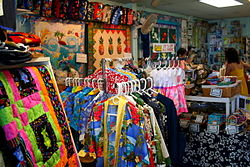 The Prince Kuhio Plaza is the main retail center in Hilo. It is surrounded by many larger retailers and shops. It is best to have a car, as Highway 11 from Banyan Drive to the Plaza is not the most pedestrian-friendly boulevard.
address: 585 Hinano St

Big Island Candies is renowned for their chocolate hand-dipped cookies and confections. They even dip dried squid in chocolate! This is one of the most popular gifts for visitors to take home from Hawaii. Products are packaged perfectly for gift-giving.

phone: +1 808 959-7868

address: 762-4 Kanoelehua Ave

Big Island Delights cookies. A local favorite when visiting Hilo and bringing back "omiyage", which means a gift to take back home when traveling.

address: 933 Kanoelehua Ave

This unassuming warehouse offers the largest selection of Hawaiian-print fabrics on the Big Island. This is a must-stop for anyone who loves to sew or craft! Very reasonable prices on all fabrics, especially the cotton Hawaiian prints.

Kawate Seed Shop

phone: +1 808 959-8313

address: 1990 Kinoole Ave

Some say Kawate makes the best shave ice in Hilo. With about a dozen flavors, visitors can add ice cream, azuki (red bean paste), or condensed milk to their shave ice. Kawate is also a great place to purchase local-style snacks such as Chinese li hing mui and other "crackseeds".

phone: +1 808 959-3555

address: 111 E Puainako St

Hilo's main shopping center features a number of standard retail stores including American Eagle Outfitters, Hot Topic, GameStop, and Foot Locker. Macy's and Sears are the department store anchors. There are a few local shops such as Big Island Surf Company and Royal Hawaiian Heritage Jewelry. Also has a movie theater and food court.
Eat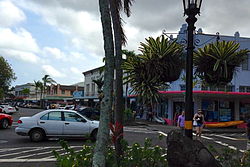 Hilo is known for its locally-made ice cream. It's some of the best on earth and can be found several places, including Hilo Homemade Ice Cream downtown at 41 Waianuenue Avenue.
The Hilo Farmer's Market, on the corner of Kamehameha Avenue and Mamo Street, has lots of cheap eats. If you love tropical fruit, this is the place to go. There's a great tamale stand in the west corner of the market serving very tasty $2 tamales. Market open daily 7AM to 5PM, with extended hours on Wednesdays and Saturdays. The small town of Pahoa offers The Pahoa Market, which is a flea market open on Sundays and has more prepared food. Take Highway 130 on the way to Pahoa.
Budget
Blane's Drive-Inn

address: 150 Kino'ole St, 217 Waianuenue Ave

Falling into the category of "plate lunch" place, Blane's has a large, inexpensive menu. Perfect for a heavy lunch after surfing for a couple of hours. A plate lunch usually consists of two scoops of steamed rice, a scoop of macaroni salad, and your choice of a variety of extremely fattening delicious goodness. For the less adventurous, they also serve up burgers, fries, chili, etc. They are famous for their loco mocos.

Cafe 100

phone: +1 808 935-8683

address: 969 Kilauea Ave

In honor of the famed 100th Infantry Army Battalion, Mr. Miyashiro who served in the 100th during World War II, established this local restaurant with his wife in 1945. Destroyed twice by the devastating tsunamis, Cafe 100 offers good food at a great price. Known for their "Loco Moco" consisting of a bowl of rice with a hamburger patty, gravy and an egg, it is one of the best places to "grind" on the island and a local favorite.

phone: +1 808 968-1333

address: 17-995 Volcano Hwy, Mt. View

Great light breakfast and locally made lunch specials daily. Some of the best Portuguese Bean Soup around, shoyu chicken, kalua pork, chicken and veggie wraps made to order. Lots more. Friendly staff, great smell of coffee, tours and unique coffee from around the state. Full espresso bar. Coffee roasted on site.

phone: +1 808 935-8711

address: 1730 Kamehameha Ave

Don't let the name of this place throw you off. They have an amazingly varied menu, and perhaps more importantly, they are the only 24-hour eatery in Hilo.

phone: +1 808 959-2336

address: Prince Kuhio Plaza Ste 106A

Home of the one pound Lau Lau!

address: 250 Keawe St

Ocean Sushi features low-cost original and creative sushi along with local-style Japanese food. Some favorite sushi: eel with cream cheese, scallop roll with melted cheese on topyum!

phone: +1 808 935-9349

address: 85 Lihiwai St

Many varieties of poke sold by weight - take your package to the park across the street and enjoy a picnic!
Mid-range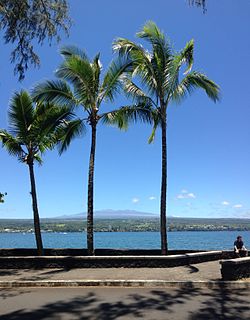 phone: +1 808 969-6640

address: 308 Kamehameha Ave

If you have a memory of coming to Hilo as a child, and eating in a reasonably nice restaurant with a view of the bay, chances are it was Cafe Pesto. They have a wide range of food, everything from pizzas to furikake-crusted ono. It's also open late, which is a definite plus in Hilo.

phone: +1 808 935-4939

address: 315 Makaala St #109

This restaurant was started by the owners of a local health food store (Island Naturals) and features excellent cuisine, featuring local organic produce, etc. A great place for a date. Try a Mojito. The name is somewhat misleading, since it's actually located in the Prince Kuhio Mall, close to Wal-Mart. Strange location, fabulous place. Reservations may be required on Friday or Saturday nights.

phone: +1 808 934-7540

address: 86 Kilauea Ave

Flavorful Thai food with very fresh ingredients. If you want it spicy, you have to ask for that.

phone: +1 808 961-2552

address: 336 Kamehameha Ave

Hilo's best (and perhaps only) Mexican restaurant. Large portions of surprisingly authentic and tasty Mexican staples. Sue, the co-owner and bartender, pours the best (and VERY strong) margaritas in town.

Sunlight Cafe

phone: +1 808 934-8833

address: 1261 Kilauea Ave

Japanese 'izakaya' type menu.

Sushi Bar Hime

address: 14 Furneaux Ln

Place sits only 10 people--cozy.
Splurge
Coconut Grill

address: 136 Banyan Way

Excellent entres including Chicken Mauna Kea, Fillet Mingnon, fresh fish dishes and desserts such as Naughty Hula Girl Mud Pie (enough for a family of 4!) and mac nut ice cream.

Restaurant Miwa

phone: +1 808 961-4454

address: 1261 Kilauea Ave

An upscale Japanese restaurant, ask about their famous Chirashi bowls, you won't be disappointed.

The Seaside Restaurant and Aqua Farm

phone: +1 808 935-8825

address: 1790 Kalanianaole Ave

One of the best places to be served an "ono" and fresh seafood lunch or dinner. Seaside can be found on Kalanianaole street across from 4-mile beach.
Drink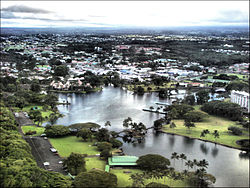 Bars
Hilo is a small town, and as such, there is not a lot of public drinking to be done. Despite a very lackluster nightlife, almost every bar has a cover charge. Still, there are a few places to wet your whistle, and maybe catch a live act.
Detour

address: 124 Makaala St

A relatively new bar catering mostly to an Asian/Hawaiian clientèle. There is a dance floor with music supplied by a house PA system, there is no DJ. There is a bar/lounge area with pool tables, darts, TV's and sofas and a separate dance floor area. Fights tend to be common here also.

address: 11 Waianuenue Ave

General sports bar not a spot for nightlife.

phone: +1 808-934-8211

address: 275 E Kawili St

Also known as Hilo Brewing Co, this company is the result of merger between Hawai'i Nui and Mehana. Small batch craft beers are brewed at this location, 6 are rotated on tap for tastings. They can not serve pints at this location, only tastings. They also sell logo wear, 6 packs, individual cans of beer, growlers and fills or kegs rentals. They are the only brewery in the islands that produce and bottle all of their beers on site. Their hours vary by season and during events.
Coffee
Bear's Coffee

address: 106 Keawe St

Good waffles, lame hours.

address: 835 Kilauea Ave

Great sandwiches and pastries and 100% pure Kona coffee.

Hilo Sharks Coffee Shop

address: 41 Waianuenue Ave

Has delicious icecream and spectacularly delicious coffee.

Surf Break Cafe

address: 17 Haili St

Great food, wonderful coffee, and the best atmosphere.
Sleep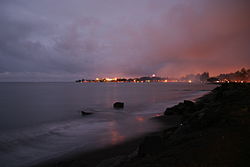 Budget
Mid-range
Splurge
Rentals
Stay safe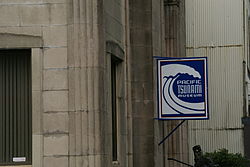 Hilo is generally quite safe. There are usually homeless people loitering around public parks and sometimes they can be a little eccentric, so keep your distance.
If an
earthquake
were to strike and a tsunami warning were issued, if you are at the beach, there would be tsunami evacuation signs to guide you to a safe distance.
Respect
Haole = White person: Though many think that "haole" just means white person, it refers more to an attitude than anything else. Hilo is a workaday town that sees few tourists. Locals aren't as accustomed to tourists as they are in the resort areas, so respecting the local people and culture is very important. Treat the locals with respect, and the same respect will be returned to you. There are a few Native Hawaiians who have a generally negative attitude to Haoles, and may express this attitude through looks or comments. You are best to simply ignore comments to avoid provocation. You may also find that other Native Hawaiians are quite friendly and warm if you take the time to speak with them and be friendly, yourself.
Locals refrain from wearing aloha outfits, either full body attire or partial outfits. Clothes are very casual to resort casual at best.
Go next