Hilton Head Island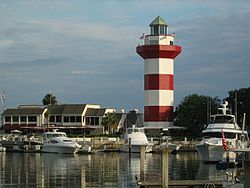 Hilton Head Island
is a city and barrier island in
South Carolina
, just across the border from
Savannah
,
Georgia
. With an approximate population of 40,000, it is on a beautiful, sub-tropical 12-mile (19-km) barrier island. Hilton Head Island is a vacation playland with famous beaches and great golf courses that overlook the Atlantic Ocean.
Get in
By car
US Route 278
is the only road on and off the island. An interchange with
Interstate 95
is along US 278 about 40 minutes west of the island. Between the island and I-95, US 278 intersects with
South Carolina Route 170
, which provides access to and from Beaufort and
Savannah
.
By plane
Hilton Head Island is served by two airports.
Hilton Head Island AirportThe only airport on the island. American Airlines operates flights to Charlotte and Atlanta year round. A majority of the airport's operations are still general aviation.

Savannah/Hilton Head International Airport (SAV

) is about an hour away from the island and served by seven airlines. The airport is directly connected to Interstate 95.
Air taxi and air charter companies such as
Jetset Charter
fly a variety of private charter aircraft, such as pistons and turbo props, for small groups and individuals into Hilton Head Island Airport (KHXD). Generally, private jet aircraft must fly into Savannah/Hilton Head Int'l (KSAV).
Get around
Once entering the island, US 278 becomes known as the
William Hilton Parkway
. After traveling about a mile on the island, the road splits in two.
William Hilton Parkway continues as
US 278 Business
, a surface road around the eastern end of the island. US 278 Business is a four-lane divided highway, but most businesses on the island are along the road, making for a slow, 25-to-30-minute drive to the southern end of the island.
US 278
branches off onto the
Cross Island Parkway
, a grade-separated expressway. The Cross Island Parkway is a toll road, costing $1.25 for most passenger cars. The parkway reduces the journey from the split to the south end of the island to five minutes.
US 278 and US 278 Business terminate at the
Sea Pines Circle
at the south end of the island. From this circle, cars can continue south on Greenwood Drive to enter the gated Sea Pines plantation, or east on Pope Avenue to head towards Coligny Beach, the major public beach on the island.
Hilton Head is quite
cycling
-friendly. All main roads and most major roads in the resort plantations have a companion bicycle path, and there are a few miles of paths that cut their own trail away from the roads. Although not lit for night riding, they are the perfect way to traverse the island during the day time hours. Bicycle rental stores are plentiful, although they may be expensive. Some golf courses may open up their cart paths to bicycles during non-playing hours (in the morning and at night), but other than this it is generally not a good idea to stray off the paths.
See
Harbour Town. Visit to see how the upper class lives. Admire the multi-million dollar yachts in many different marinas and sailing in the Atlantic Ocean.
Jenkins Island. Right between the bridges from Bluffton to Hilton Head Island.
Shelter Cove. The Island's largest deepwater marina. During the summer enjoy live music and weekly fireworks.

phone: +1 843-785-5126

address: 1 S Forest Beach Dr

Happening "barefoot" bar at a resort offering sand volleyball, beach lounge chairs & live music. Located on Coligny beach and is the only bar on the beach on Hilton Head Island. The only contact for email is via the Facebook page for the bar.
Do
BikingThe Hilton Head Island area offers over 25 crossing bike paths, and many shops rent bikes.

Palmetto Dunes Tennis CenterRegarded as one of the best in "The 50 Greatest U.S Tennis Resorts" by Tennis Magazine, this resort offers 25 courts, instructional programs, and tournaments.

Beaches - Nearly 9 miles of Atlantic Ocean surf and beautiful beaches, all publicly accessible. There are several public parks that provide beach access. From there, you can walk or bike the length of the island. Recommended spots are South Beach, Disney's Hilton Head Island Resort area.
Golf courses - There are almost too many to count. Among the best:
Harbour Town Golf Links - While it has one of the most expensive greens fees in the Hilton Head area, here you can play the same course as the pros, as Harbour Town hosts the Verizon Heritage golf tournament every April. Among the best public golf courses is Hilton Head National in Bluffton one mile from the bridge to Hilton Head. Greens fees and rates are very affordable for all.

George Fazio Golf CourseDesigned by the revered golf designer, George Fazio, this 18-hole course is the only par-70 course on Hilton Head Island.

Arthur Hills Golf CourseRanked 4.5 by Fodor's Golf Digest, this course takes advantage of the natural beauty of Hilton Head Island's marshland and ocean surroundings.

Robert Trent Jones CourseGolfweek readers regard this course as one of the best in the region. This course was named 2003 Golf Course of the Year by South Carolina Board of Directors of the NGCOA.
Bottle-nosed dolphins - Take a boat tour. Seeing dolphins is virtually guaranteed; getting a good picture of one is another matter.
Kayaking
phone: +1 843-785-2100

address: 101 Marshland Rd

Dolphin and nature boat cruises.
Buy
Palmetto Dunes OutfittersOffers boat, kayak, canoe, surf board, and various other watersport equipment rentals. Palmetto Dunes Outfitters also offers instructional programs for watersports like kayaking and surfing.
Eat
Ask some service employees for their recommendations for great Hilton Head restaurants. Well-known or busy does not necessarily mean good food. Coupons and menus are available in local tourism magazines.
To get started:
HH Prime

phone: +1 843-842-8000

address: 23 Ocean Ln

Provides beachside dining with culinary flair including USDA Prime Grade beef selections and fresh seafood along with decadent dessert creations, serving up classics like New York Strip to a savory Filet. For a lighter fare, enjoy island seafood. The grand interior and exterior fireplaces, dinner hour music, and the island's ultimate wine room, offering the island's largest collection more than 100 selections.
Kenny B's, Circle Center (Bi-Lo), Pope Avenue. New Orleans-style cuisine. Great for lunch.
Amigo's, Circle Center (Bi-Lo), Pope Avenue. Great burritos and BBQ Grilled Chicken salad.
Kurama, Island Crossing (Publix, Walgreens), Palmetto Bay Road. Great Japanese Steakhouse. Pricey.
Santa Fe Cafe, Plantation Center (near entrance to Palmetto Dunes), William Hilton Parkway. Mexican/American. Nice lunch combos. Try the Painted Desert Soup. If you're feeling flush (and haven't eaten for two days), the Cowboy cut rib of Aberdeen Angus beef takes some beating.
British Open Pub, Village at Wexford, near intersection of William Hilton Parkway and Arrow Road. Excellent overall menu.
The Sea Shack, Executive Park Road, off Pope Avenue. Tasty seafood, cheap prices.
Sunrise Cafe, Palmetto Bay Marina, south end of the Cross Island. Great breakfasts.
Woody's, Palmetto Bay Marina, south end of the Cross Island. Tasty and generally fairly priced with a nice atmosphere.

Kingfisher Seafood & Steak House

phone: +1 843-671-3412

address: 11 Heritage Rd

The Quarterdeck and Topside at the Quarterdeck, +1 843-671-2222. Great views of Harbour Town, fantastic sunsets and outstanding food and service.
Tapas Restaurant, 11 Northridge Plaza, +1 843-681-8590. Cozy locals place. Incredible food.
Alexanders, take the entrance to Palmetto Dunes and it's further down on the right. Popular seafood restaurant, but also does a great fillet mignon.
Stacks, past the entrance to Palmetto Dunes on William Hilton Parkway in the direction of Sea Pines. Excellent for breakfast, diner-style, fast, friendly service. Be prepared to queue if you're not an early riser.

Jump & Phil's Bar & Grill

phone: +1 843-785-9070

address: 7B Greenwood Dr

Local bar and grill used mainly by locals. Great burgers.

Salty Dog Cafe

phone: +1 843-363-2198

address: 232 South Sea Pines Dr

Outdoor cafe that is especially popular with tourists. It's in the gated Sea Pines resort plantation, so you must pay $5 at the visitor's center to get in if you are not renting in the plantation. On the back of the temporary pass is a map to guide you to the area of the restaurant. Live music plays most nights in the summer. As with most restaurants on the island during the summer, you must arrive around 5:45-6PM if you don't want to wait for a table. After that time, the wait usually jumps to 30-45 minutes and slowly increases from there. This is especially true for popular restaurants such as the Salty Dog. A t-shirt from the accompanying store is a common souvenir.
Drink
Jump and Phil's

address: Hilton Head Plaza

The island's local watering hole.

phone: +1 843-686-FROG

address: Coligny Plaza

Frozen drinks.
Sleep
Being such a popular vacation destination, Hilton Head has many lodging choices. There are several hotels on the island, however a great and widespread accommodation alternative is the vacation rental. Vacation rentals are available in many types, from large condo buildings to quaint homes, new and old.
Go next