Himalayas (Nepal)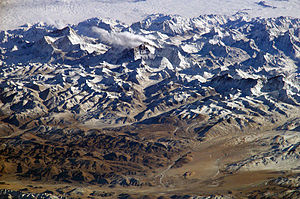 The
Himalayas
is the northernmost region of
Nepal
. It includes eight of the world's ten highest peaks, including the world's tallest -
Mount Everest
.
For the mountain range stretching across several countries of which this region is a part, see
Himalayas
.
Regions
null
some of the most popular trekking possibilities of Nepal
Cities
- the nearest roadhead for trekkers heading to Everest Base Camp
- airstrip in the upper Kaligandaki valley. Most basic services can be found here; end (or start) of the Jomsom Trek. Ghasa to Jomsom Bus travel is also available (NPR300 for Nepalis and NPR600 for foreigners), but you will have heavenenly images on your trek
- a picturesque village
- is in Dhading district
- home to the Khumbu's airport
- at the foot of the Mount Everest
- the district headquarters of Solu Khumbu district
- a large monastery and the surrounding settlement in Khumbu
- centre of Thakkali culture, important trading village, hotels and restaurants
Other destinations
- the tallest peak of the world; located in the protected area around Everest - the Sagarmatha National Park.
- including Rara Tal, a large, deep subalpine lake at the foot of Kanjiroba Himalaya. Another gateway to transhimalayan Humla and Dolpa regions. If arriving by bus police are asking 3000 NRP for a permit of unspecified length
- in the Dolpa district
See
Most sights relate to the mountains themselves, and to religious structures, Muslim, Hindu and Buddhist. Many of the most popular destinations are sights in themselves.

Itineraries
Do
Trekking is the most popular activity, with a wide selection of possibilities, from deserts to jungles. It's also popular to study Yoga or Meditation. White Water Rafting is popular in many places.

Stay safe
Altitude sickness is a worry, with many of the passes in the Himalayas being over 5000m. Increase your elevation as slowly as possible, avoid flying from a low elevation to a high one, and physical activity; and drink lots of liquids after gaining altitude. Altitude sickness is unpredictable, and may strike people who haven't had problems before. Give yourself lots of flexibility in your plans, to avoid pushing yourself higher when you need to rest.
Stay up to date with the news, and be willing to change your plans, when going to places such as Kashmir or Nepal, that are facing armed uprisings.
Traffic on the narrow roads is often frightening, but due to the slow speeds is unlikely to result in fatalities.
Go next
Flights out of the Himalayas are often cancelled due to bad weather, be sure to give yourself at least a few days before needing to catch a connecting flight.