Hirosaki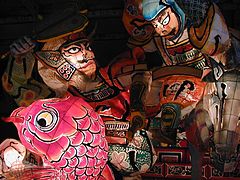 Hirosaki
(弘前; ) is a city in
Aomori prefecture
, in the northern
Tohoku
region of the main Japanese island
Honshu
.
Understand
Hirosaki was the capital of the Tsugaru clan that once ruled over much of Tohoku's northern parts. Occasionally called "the
Kyoto
of the North", this hyperbole is backed up mostly by an abundance of temples, a castle's remains, and a famous version of the Nebuta Festival, called the Neputa Festival in Hirosaki.
Get in
By plane
The closest airport is in Aomori (
AOJ
).

By train
Hirosaki is on the JR Ōu Main Line (奥羽本線) connecting Aomori, Akita and Fukushima.
From Tokyo Station, take the Tohoku Shinkansen Hayate or Hayabusa train to Shin-Aomori, then change to the Tsugaru Limited Express train. The trip takes 4 hours 15 minutes at a cost of ¥16,700. There is also a daily "Resort" train along this route which continues to Akita. For foreign tourists heading from Tokyo, the better deal is to purchase a JR East Rail Pass or the national Japan Rail Pass.
Local trains from Aomori depart once per hour and take about 45 minutes (¥650). There are also additional Rapid trains at the same price during rush hour.
Hirosaki is also one of the final stops on the Akebono overnight train that runs from Tokyo's Ueno Station.

Get around
Hirosaki is fairly spread out and you will need to figure out the bus system to get around affordably. Most lines radiate from JR Hirosaki station.

See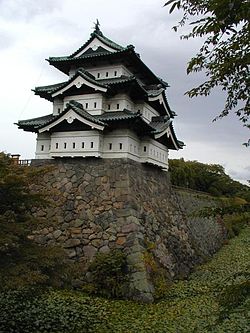 Castle
Hirosaki CastleHirosaki Castle was completed in 1611 and housed several generations of the Tsugaru Clan. The large 49.2-hectare grounds include three concentric moats and earthen fortifications that surround the remains of the inner castle area: five castle gates, three corner keeps and a castle tower. After the original five-story tower was struck by lightning and burned down, the current three-storied Tenshukaku tower was built to replace it. The castle grounds are now a public park famous nationwide for its cherry blossoms. The castle tower houses a museum featuring samurai-era swords, suits of armor, helmets and other items related to the castle's history. See also Japanese castles.

Neputa VillageLocated at the park's northerneastern corner, this is where the festival's floats and memorabilia are held outside the Neputa festival season (see Do). The Village showcases a particularly large 8x10m specimen, and sheepishly notes that it's now too big to fit under the electric wires that crisscross Japanese streets. There are also several workshops preparing traditional Hirosaki handicrafts, which can be purchased by visitors.

Hirosaki Tourist CenterOn the other side of the park, Oteman Square contains Hirosaki's tourist information center and showcases more beautiful Neputa stuff including Japan's largest drum, diameter 4.5m wide and big enough for 50 people to bang on at once.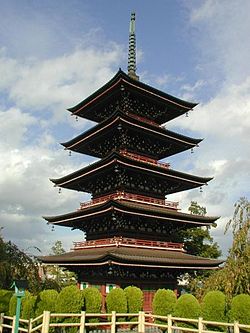 Temples
ZenringaiOn the road to Chōshō-ji Temple, here is a collection of 33 Zen temples moved or built here to spiritually safeguard Hirosaki Castle.

Chōshō-ji TempleKnown for the Sanmon Gate (1629) and a hall filled with wooden statues of the 500 Disciples of Buddha.

ShinteramachiA slightly newer set of temples affiliated with the Nichiren sect.

Saishō-in MonasteryKnown for its five-storied pagoda, completed in 1667, which stands 31.2 meters tall and took ten years to build on the order of Tsugaru clan leader Nobuyoshi.
Do
Neputa FestivalHirosaki's biggest event is this yearly festival, held in the first week of August and quite similar to Aomori's Nebuta Matsuri (note slight difference in spelling). The festival is famous for its extravagant and colorful illuminated floats and accompanying dancers, and accommodation in the area is booked tight in season. In contrast with Aomori's huge Nebuta festival, Hirosaki's Neputa is known for being more low-key and accessible. Anecdotal evidence suggests that a visitor's opportunities for interaction with the parade activities and local participants is greater at Hirosaki's festival than at Aomori's.
The local cherry blossom festival is also a sight to see. With over 5,000 cherry trees in the park around the castle. The locals and tourists find it an enjoyable festival of laughing, singing, dancing and drinking.
The snow lantern festival is held during early February every year. During the festival, Hirosaki Castle Park is filled with snow lanterns and sculptures which are illuminated during the evenings.
Buy
Eat
Hirosaki is Japan's leading producer of
apples
, introduced to the city in 1875 by John Inge, an American teacher working at a local school.
BunPukuThis ramen shop has many flavors of ramen, and the old woman who serves you is an interesting character. It also sells ice cream.
Drink
If you happen to be near the expansive apple orchards, the local apple juice is also a delectable, tantalizing taste for the tongue.
Kajimachi areaIt's the area around the castle. If you can't find it, just look for the giant bowling pin downtown. If you're looking for an "American style" bar, try 'Ash', 'Gumbo', or 'Garcom de Bar'. This is where you'll find the best nightlife in Hirosaki.

Nishihiro areaThere are a lot of cheap bars and izakayas there because of the nearby colleges. They are going to be harder to find than the bars in the Kajimachi area.
Sleep
Castle area
Train Station area
Connect
Drop into the Hirosaki Tourist Information Center at Otemon Square for useful maps and information.

Go next