Hiroshima
Hiroshima
(広島) is an industrial city of wide boulevards and criss-crossing rivers along the coast of the
Seto Inland Sea
. Although many only know it for the horrific split-second on August 6, 1945 when it became the site of the world's first atomic bomb attack, it is now a modern cosmopolitan city with excellent cuisine and a bustling nightlife.
Understand
Those expecting to step off the Shinkansen into a pile of smoldering rubble will be in for a surprise, as Hiroshima has all the ferroconcrete and blinking neon of any other modern Japanese city. Teenagers stream in and out of the station, where McDonald's and the latest
keitai
(mobile phones) await; hapless salarymen rush down Aioi-dori to their next meeting, casting a bloodshot eye toward the seedy bars of Nagarekawa as they pass. At first glance, it can be hard to imagine that anything out of the ordinary ever happened here.
Hiroshima was founded in 1589 on the delta formed by the Ota River, flowing out to the Seto Inland Sea. The warlord Mori Terumoto built a castle there, only to lose it eleven years later to Tokugawa Ieyasu after the Battle of Sekigahara, which marked the beginning of the Tokugawa shogunate. Control of the area was given to the Asano clan of samurai, who ruled without much incident for the next two and a half centuries. Their descendants embraced the rapid modernization of the Meiji period, and Hiroshima became the seat of government for the region, a major industrial center, and a busy port.
By
World War II
, Hiroshima was one of the larger cities in Japan, and a natural communications and supply center for the military. Forced laborers from Korea and China were shipped in by the tens of thousands, and local schoolchildren also spent part of their days working in munitions factories. Residents of the city must have felt curiously blessed for the first few years of the war, as Hiroshima had been left largely untouched by American bombing campaigns; that was, however, intended to ensure a more accurate measurement of the atomic bomb's effect on the candidate cities, which had been narrowed down to Hiroshima,
Kokura
,
Kyoto
,
Nagasaki
, and
Niigata
.
On 6 August 1945 at 08:15 the American B-29 bomber
Enola Gay
dropped an
atomic bomb
dubbed "Little Boy" on Hiroshima. It is estimated that at least 70,000 people were killed in the explosion and its immediate aftermath. Most of the city was built of wood, and fires raged out of control across nearly five square miles, leaving behind a charred plain with a few scattered concrete structures. Corpses lay piled in rivers; medical treatment was virtually non-existent, as most of the city's medical facilities had been located near the hypocenter, and the few doctors left standing had no idea what hit them. That evening, radioactive materials in the atmosphere caused a poisonous "black rain" to fall.
In the days ahead, many survivors began to come down with strange illnesses, such as skin lesions, hair loss, and fatigue. Between 70,000 and 140,000 people would eventually die from radiation-related diseases. Known as
hibakusha
, the survivors were also subject to severe discrimination from other Japanese, but have since been at the forefront of Japan's post-war pacifism and its campaign against the use of nuclear weapons.
Recovery was slow, given the scale of the devastation, and black markets thrived in the first few years after the war. However, the reconstruction of Hiroshima became a symbol of Japan's
post-war pacifism
. Today, Hiroshima has a population of more than 1.1 million. Automobiles are a major local industry, with Mazda's corporate headquarters nearby. There are three excellent art museums in the city center, some of Japan's most fanatical sports fans, and a wide range of culinary delights — most notably the city's towering contribution to bar cuisine, Hiroshima-style
okonomiyaki
.
Although many visitors, especially Americans, may feel apprehensive about visiting Hiroshima, it is a friendly, welcoming city, with as much interest in Western culture as anywhere else in Japan. Tourists are welcomed, and exhibits related to the atomic bomb are not concerned with blame or accusations. Bear in mind, though, that many
hibakusha
still live in the city, and even most of the young people in Hiroshima have family members who lived through the blast. As such, the average Hiroshima resident isn't likely to relish talking about it, although you needn't shy away from the topic if one of the chatty fellows around the Peace Park brings it up.
Climate
Unfortunately, most travelers experience Hiroshima during the worst weather of the year, in July and August, when days of heavy rain give way to brutal, muggy heat. Don't book accommodations without air conditioning if that's when you're planning to visit. Also note that in the latter half of September, warm and pleasant days are interspersed with typhoons powerful enough to wreck buildings (such as the one that nearly destroyed
Itsukushima Shrine
on
Miyajima
in 2004) and keep travelers locked up in their hotels.
October and November are ideal, with less rain and cool, refreshing temperatures. The winter months are fine for a visit — the weather is dry, with very little rain or snow, and the temperatures are rarely cold enough to keep you indoors. As elsewhere in Japan, though, a number of museums are closed from 29 Dec to 1 Jan (or 3 Jan).
April and May also have excellent weather. The cherry blossoms come out in early April, and the parks around
Hiroshima Castle
turn into a mob scene with
hanami
parties. For
sakura
with a bit more solitude, go for a hike on
Ushita-yama
, overlooking the north exit of JR Hiroshima Station (see
Recreation
).
Literature
Eleanor Coerr's Sadako and the Thousand Paper Cranes tells the true story of Sadako Sasaki, a young bomb victim who was inspired to fold cranes by a Japanese folk tale, which said that anyone who folds over a thousand cranes will have their wish come true. According to some versions of the story, Sadako completed more than a thousand before she died of leukemia at the age of twelve; in Coerr's book, she finished about 640 before died, and her schoolmates completed the rest in her memory.
John Hersey's Hiroshima is a short but gripping book that describes the experiences of six people — five Japanese citizens and a German priest — before and after the blast. It was first published as an issue-length article in The New Yorker in August 1946. Almost forty years later, Hersey returned to Hiroshima to write a follow-up article, which continues the survivors' stories in the post-war years, and it is included in new editions of the book.
Masuji Ibuse's Black Rain is a novel about the post-war experiences of a family of hibakusha as they face discrimination in post-war Japanese society for both employment and marriage, and cope with health problems from radiation poisoning, the consequences of which were barely understood by doctors of the time.
Keiji Nakazawa's Barefoot Gen is the most popular manga treatment of the atomic bomb story, based loosely on Nakazawa's own experience as a young boy in the days immediately after the blast.
Many Japanese people also associate Hiroshima with the yakuza, thanks to the classic 1971 Bunta Sugawara/Kinji Fukasaku gangster film Battles Without Honor and Humanity (also known as The Yakuza Papers) and its four sequels, which were set in the city.
Money
There is an international ATM in the lobby of the central
post office
, which is on your right as you exit the south side of JR Hiroshima Station. English menus should be available. International ATMs with English menus are also available at
7-Eleven convenience stores
, which are open 24 hours in plentiful quantities throughout the city.
If you need to change money, the bank across the street from the station — on the first floor of the Fukuya department store — can handle transactions to and from most major currencies.
Orientation
Most visitors arrive at
JR Hiroshima Station
, which is a 25 minute walk from the Peace Park. If you arrive by Shinkansen, you will be at the north side of the station. There is an underground pedestrian walkway leading to the main side of the station (south exit), where all other trains arrive. Take the pedway and head upstairs; you will see the taxis, trams, and buses that lead to the city center. If you continue on the underground walkway, you'll reach an escalator that exits by a major bridge, with the station now behind you; you can walk to the Peace Park from there, branching right on Aioi-dori.
There is a
tourist information office
on the first floor of the south side of the station, and another on the second floor of the north side. They are open 09:30-17:00 daily.
Other visitors may arrive at the
Hiroshima Bus Center
(
広島バスセンター
) on the third floor of the SOGO department store, which is just down the street from the Peace Park. Coin lockers are available at both the Hiroshima Bus Center and JR Hiroshima Station.
Generally speaking, addresses in
Minami-ku
(Minami Ward) are in the station area, while
Naka-ku
(Naka Ward) covers the Peace Park and its surroundings.
Get in
By plane
Buses connect the airport to JR Hiroshima Station (48 minutes, ¥1340) and the Hiroshima Bus Center (51-53 minutes, ¥1340). There are also buses from the airport to
Okayama
,
Onomichi
,
Iwakuni
,
Tottori
, and other spots in the
Chugoku
region. The departing frequency varies from 30 minutes to an hour.
By train
Hiroshima is a major station on the
JR West
Sanyo Shinkansen line. It is roughly 40 minutes from
Okayama
(¥5500) and 90 minutes from Shin-
Osaka
(¥9710).
Tokyo
is around 3 hr 50 min away via
Nozomi
(¥18040). These prices are for unreserved seats; reserved seats cost slightly more.
If you have a Japan Rail Pass, you cannot use the
Nozomi
, so if you are traveling from Tokyo or Nagoya you will have to take one of the two hourly
Hikari
trains and change at Shin-Osaka (alternatively at Shin-
Kobe
or
Himeji
) to the
Sakura
or
Hikari
. With these trains you can travel from Tokyo to Hiroshima in around 4 hr 30 min. There are a few
Hikari
departures from Nagoya in the morning that run directly to Hiroshima with no change of trains necessary. There is also a direct morning
Hikari
service that leaves Shin-
Yokohama
at 06:00 and reaches Hiroshima in 4 hours.
Traveling overnight by train from Tokyo, you can take the 22:00
Sunrise Izumo/Sunrise Seto
train to Okayama, then take a
Mizuho
train to Hiroshima, arriving just before 07:30. If you have a Japan Rail Pass, you can book a carpeted floor space on the overnight service at no charge. Otherwise you can travel in a compartment or room by paying the applicable room fee and surcharges. Once arriving in Okayama, Rail Pass holders must change to a
Hikari
at Okayama, arriving in Hiroshima just before 08:00.
Regular train services run through Hiroshima on the Sanyo Main Line (between
Kobe
and
Kitakyushu
), along with several local lines.
By bus
Long-distance buses arrive and depart from the north exit of JR Hiroshima Station, where there is a JR Bus counter, and the Hiroshima Bus Center in the city center. There is service to and from cities in
Kanto
,
Kansai
,
Kyushu
,
Shikoku
, and much of the rest of Japan.
The
New Breeze
overnight bus runs between
Tokyo
and Hiroshima. There are two nightly departures in each direction: departing from Tokyo at 20:00 and 21:00, with both buses arriving in Hiroshima at 08:00 the next day. The trip costs ¥11,600 one way, ¥21,200 round trip.
There are two overnight buses from
Osaka
— the
Sanyo Dream Hiroshima
from JR Osaka Station and the
Venus
from the Namba bus terminal. Each bus costs ¥5700 one way, ¥11,000 roundtrip. One overnight bus runs from
Kyoto
between JR Kyoto Station and Hiroshima at (¥6300 one way, ¥11400 round trip).
Daytime express buses run from Osaka (about five hours each way), with five departures daily (¥5000 one way, ¥9000 round trip) and two from
Kyoto
(5½ hours, ¥5500 one way, ¥10000 round trip).
Among the many discount bus carriers that ply these routes,
Willer Express
runs services from
Shinjuku
in Tokyo (from ¥6600 one way), and from Kyoto, Osaka and Kobe (from ¥3400 one way), with online booking in English available.
By ferry
Ferries dock at Hiroshima's
Ujina Port
, which also serves as terminus for several tram lines.
Ishizaki Kisen
operates daily service to and from
Matsuyama
in
Shikoku
, with some boats stopping in
Kure
along the way. The ride (known as "Superjet") takes 70-80 minutes to reach Matsuyama and costs ¥7100 each way. Slower ferries arrive in about 2½ hours at a much-reduced cost of ¥3600. The cost is reduced when a foreign passport is presented - the Superjet costs only ¥4970 and slower ferries ¥2520.
By car
From the San'yo Expressway, take exit 29 for Hiroshima. Heading southwest on National Highway Route 54 will take you to the center of town; Route 2 is the major east/west artery, south of the city center. Confirm in advance that your hotel offers parking — not all do, and public parking is both expensive and hard to find.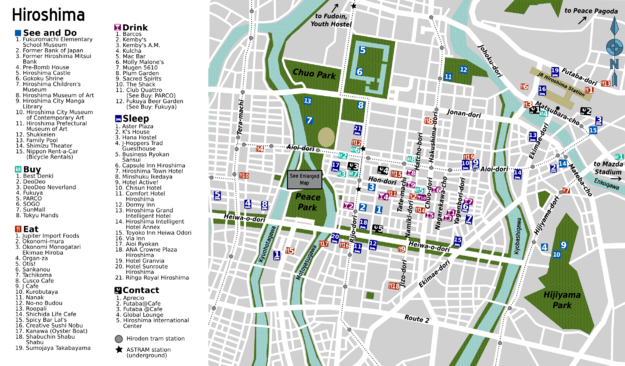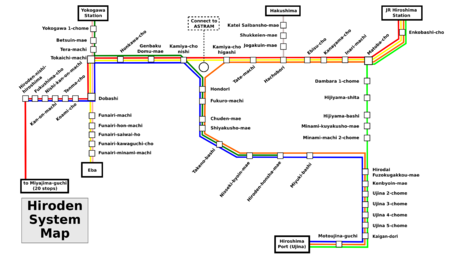 Get around
There is a
Visit Hiroshima Tourist Pass
that covers either 3-day or 5-day journeys inside the city or the prefecture. It could be obtained from the Information Center on the first floor of the airport, the JR station, the Hiroshima Bus Center, and other tourist locations. It is suitable for travelers seeking to use public transportation frequently during their trip in the city. The tourist pass is available only on the day or on the next day when you request the pass.
By tram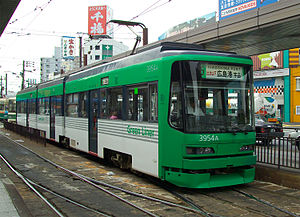 Hiroshima has an extensive tram (streetcar) network, which is operated by
Hiroden
(広電). It's a slow but reliable way of getting around. The trams themselves are a mix of old rattle-traps and sleek, new "Green Movers" — although they all run on the same lines for the same fares. There's no difference other than the smoothness of the ride. Because the trams were bought from other cities, you're getting a tour of Japanese transit history — some have been in service for more than fifty years, and that might be an old
Kyoto
tram taking you through Hiroshima. Trams 651 and 652, both of which survived the atomic bomb blast, are still sometimes used in regular service.
Most lines originate from JR Hiroshima Station, and run frequently during daytime and evening hours, approximately one tram every 10 minutes per line. Boarding and payment procedures vary by tram; however, the entrance and exit are clearly marked in English. (If in doubt, just follow the locals.) Pay as you exit. Change machines are usually available on board if you don't have exact change — check near the front or back of the car. Trips within the city are a flat ¥180, save for one line that runs between Hakushima and Hachobori for ¥110; trundling out all the way to Miyajima-guchi (to catch a ferry to
Miyajima
) will set you back ¥280. One-day passes are available from the tourist office for ¥600 (¥300 children), or ¥840 (¥420 children), which includes the ferry to Miyajima.
By bus
Bus lines run through Hiroshima and out to the suburbs. Generally speaking, these serve areas more likely to be used by locals than visitors. Signs include English, and buses depart next to the tram depot in front of JR Hiroshima Station. Japan Rail Pass holders can use a free sightseeing bus, which goes in a loop from and to Hiroshima station via all important sights in the city. There are three
meipuru-pu
bus lines operated under
Chugoku JR Bus Company
that circulates around the city's main tourist spots.
By metro
The modern
Astram
(アストラムライン) links the city center with the northern suburbs, although there aren't many tourist sights out that way. Trips range from ¥180-470 by distance, with departures every few minutes 06:00-00:00. The underground station at the end of Hon-dōri, near the Peace Park, is the terminus in the city center.
By bike
Hiroshima is a great city for cycling. Most of the sidewalks are fairly wide by Japanese standards; the paths along the branches of the rivers offer a very pleasant ride, and if you're looking to test your legs, head up to the hills around
Hijiyama Park
. Many hotels will be happy to arrange bike rentals.
phone: +81 82-264-0919

address: 3-14 Kojin-machi, Minami-ku

And rent-a-bicycle as well, with rates by the hour or the day.

phone: +81 82-513-3389

Hiroshima Convention & Visitors Bureau maintains a list of bicycle rental outlets around the city.
Tourist information centers in JR Hiroshima station keep a map of associated rent-a-cycle outlets within downtown Hiroshima. Most of the outlets have their rental desks located in the lobbies of major hotels. The price is ¥1000 per day for an electric-assist bike, and the bikes can be rented from and returned to any of the associated outlets.
See
Peace Memorial Park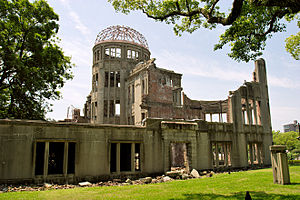 Most of the memorials related to the atomic bomb are in and around the
Peace Memorial Park
(平和公園
Heiwa-kōen
), reachable by tram line 2 or 6 to
Genbaku Dome-mae
. Coming from JR Hiroshima Station, you'll see the Peace Park on your left just before crossing the T-shaped
Aioi Bridge
, which is thought to have been the target of the bomb.
Once part of the busy
Nakajima
merchant district, this area was destroyed almost in its entirety by the bomb. Today, there are more than fifty memorials, statues, and other structures in the Park. Some will be obscure in their meaning; others are immediate and devastating. There is no entry fee, save for the Peace Memorial Museum, and access to the grounds is not restricted at night.
A-Bomb DomeIts skeletal remains of the are the most recognizable symbol of the atomic bombing in Hiroshima. In another lifetime, the building was one of the city's best-known sights for an entirely different reason; designed by Czech architect Jan Letzel in 1915, the Hiroshima Prefectural Commercial Exhibition Hall (and its fanciful green dome) had a bold European style in a grimy, crowded city with few modern flourishes. Because the explosion took place almost directly above the building, the walls remained largely intact, even as the dome shattered and the people inside were killed by the heat of the blast. Initially, as the city rebuilt, it was left alone simply because it was more difficult to demolish than other remains in the area; gradually, the A-Bomb Dome became the symbol it is today. The "Hiroshima Peace Memorial" was declared a UNESCO World Heritage site in 1996 amid some controversy — the United States and China both voted against the nomination for reasons related to the war. Today, the benches around the Dome are a favorite spot for Hiroshima natives to read, eat lunch, or simply relax.

HypocenterOne block east of the A-Bomb Dome (outside Shima Clinic) is a plaque which marks the exact point above which the bomb exploded.
Children's Peace MonumentLerennially draped in thousands of origami paper cranes folded by schoolchildren across Japan in the memory of the young bomb victim Sadako Sasaki (see Literature).

Memorial Tower to the Mobilized StudentsCommemorates the 6,300 students who were conscripted to work in munitions factories and killed in the atomic bomb. There are statues of doves scattered throughout its five levels; at the base is a beautiful Kannon statue, always draped with origami cranes.

Tens of thousands of forced laborers from Korea were working in Hiroshima at the time of the attack. But the Monument in Memory of the Korean Victims of the A-Bomb was erected outside the Peace Park in 1970, and only moved within its boundaries in 1999. Today, the turtle at the base of the monument — symbolically carrying the dead to the afterlife — tends to be draped in his fair share of colorful origami cranes and flowers.
The Peace Bell is engraved with a world map, drawn without borders to symbolize unity. The public are welcomed to ring the bell — not coincidentally, the log is aimed to strike an atomic symbol. (Ring the bell gently, so as not to damage it.)
The Atomic Bomb Memorial Mound holds the ashes of 70,000 bomb victims who were unidentified or had no living relatives to claim them. Services are held in their memory on the 6th of every month.
The Rest House was known as the Taishoya Kimono Shop at the time of the explosion. Only one employee, who was in the basement at the time, survived. However, the reinforced concrete building stayed mostly intact. (The interior has been entirely refurbished, but the preserved basement is possible to visit with advance request.) Today, it holds a gift shop, some vending machines, a helpful tourist information office, and — as the name would suggest — a place to rest.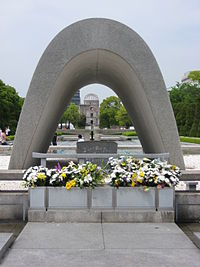 Inside the Cenotaph for the A-Bomb Victims is a stone chest with a registry that is intended to contain the names of every known person who died from the bombing, regardless of nationality. (Names are added as hibakusha pass away from diseases thought related to the radiation of the bomb.) The Japanese inscription reads, "Let all the souls here rest in peace, for the evil shall not be repeated." Note how the arch frames the A-Bomb Dome in the distance.
At the other end of the pond from the Cenotaph is the Flame of Peace (平和の灯 heiwa no tomoshibi). It is said that the fire will burn until the last nuclear weapon is gone from the earth.

Hiroshima National Peace Memorial Hall for the Atomic Bomb Victims

phone: +81 82-543-6271

address: 1-6 Nakajima-chō, Naka-ku

The Peace Memorial Hall is dedicated to collecting names and photographs of people who died in the blast. The entrance of the museum leads downward to a quiet hall for contemplation, and then back up again to a set of kiosks with compelling stories and recollections from survivors (in English and Japanese). Like the Cenotaph and the Peace Memorial Museum, it was designed by architect Kenzo Tange.

phone: +81 82-241-4004

address: 1-2 Nakajima-chō, Naka-ku

This heart-wrenching museum documents the atomic bomb and its aftermath, from scale models of the city "before" and "after" to melted tricycles and other displays and artifacts related to the blast. Some are extremely graphic, evocative, and quite disturbing. The rest of the museum describes the post-war struggles of the hibakusha and an appeal for the abolition of nuclear weapons in the world today. Be warned: a visit here, while absolutely worthwhile, will ruin your day. Allow plenty of time afterward to decompress.

International Conference Center

phone: +81 82-242-7777, +81 82-240-7887 (Restaurant)

address: 1-5 Nakajima-chō, Naka-ku

At the south end of the Peace Park, this complex of buildings has an International Exchange Lounge with English-language publications and city information; it also has the Restaurant Serenade (10:00-19:00).
The Statue of Mother and Child in the Storm, completed in 1960 by artist Shin Hongo, is among the most powerful works of art created in response to the atomic bomb. It depicts a woman shielding her child from the black rain. It's in front of the Fountain of Prayer just south of the Peace Memorial Museum.
The Gates of Peace were installed in 2005 on Heiwa-o-dori, just south of the Peace Park, by a pair of French artists. On the sidewalk and the surface of the gates, the word "peace" is written in 49 languages. The ten gates are meant to represent the nine circles of hell from Dante's Inferno, plus a new one: the hell created by the atomic bombing.
Outside the Peace Park
As you explore the city and outskirts, keep an eye out for maroon-colored marble historical markers such as the one outside the A-Bomb Dome or the one marking the Hypocenter, which have photographs and text in both Japanese and English. You'll come across markers as far as a few miles away from the Peace Park — which lends perspective to the distance and extent of the damage.

Honkawa Elementary School Peace Museum

phone: +81 82-291-3396

address: 1-5-39 Honkawa-chō, Naka-ku

Of the more than 400 students and teachers who were in the school when the bomb exploded, only one student and one teacher survived. After a new school was built, this section of the original structure was kept as a museum, housing a small collection of photos and artifacts.

Fukuro-machi Elementary School Museum

phone: +81 82-541-5345

address: 6-36 Fukuro-machi, Naka-ku

Like Honkawa, part of the original school building that remained standing after the atomic bomb has been converted into a museum. In the days after the explosion, survivors used the school's chalk to leave messages for lost friends and family members on its blackened walls.

former Bank of Japan

address: 5-16 Fukuro-machi, Naka-ku

After the A-Bomb Dome, the former bank is the best-known pre-bomb structure in Hiroshima. Built in 1936, the city's main branch of the Nippon Ginko was only 380 m from the hypocenter; although its exterior remained intact, all 42 people inside the bank were killed by the heat of the blast. Remarkably, the bank was back in service only two days after the bomb and continued operation until 1992, when it was acquired by the city. Occasional art exhibitions are now held there. Hours of access are irregular, but it's worth stopping by to check.
Somewhat incongruously, the 1925 Hiroshima Mitsui Bank at 7-1 Hon-dori, Naka-ku (Hon-dōri tram stop) also survived the blast, and now serves as home of a busy Andersen Bakery. The ground-level renovations and the ceiling of the Hon-dori arcade combine to obscure its age, but there's a historical marker on the corner. Stepping out of Hon-dori to the side street gives a better view of the building — and how the city rebuilt around it.
There is a fascinating, little-known pre-bomb house on the outskirts of Hijiyama Park. Walk up toward the park on the street branching upward from the Hijiyamashita tram stop. You'll see a temple on your left with a historical marker out front. Just past the temple is a set of stone steps, leading up to a small house and explanatory plaque. (Notice the vane at the top of the house, warped from the heat of the bomb.) Please note that while visitors are welcome in the front yard, the rest of the area is private property, including the house itself.
From the Shinkansen side of JR Hiroshima Station, you'll see an enigmatic silver tower on Futaba-yama, the mountain ahead. That's the Peace Pagoda (Busshari-to), built in 1966 in memory of those killed by the atomic bomb. To reach it, simply head uphill on the main street facing away from the station. You'll pass through a quiet, pleasant neighborhood of cafes and hillside houses, climb steps, and eventually reach Toshogu Shrine. Follow the road around the shrine and you'll reach the red lanterns and torii of Kinko Inari Shrine. Head through the gates and up the steps to reach the Peace Pagoda. It's an even more impressive sight from the top of the mountain; inside the Pagoda are two gifts containing ashes of the Buddha, which were a gift to Hiroshima from India and a group of Mongolia Buddhists, along with thousands of prayer stones. You'll also be able to see the whole jumble of the city below.
Chuo Park area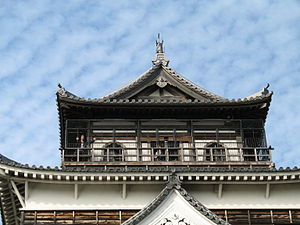 Chuo Park

address: Naka-ku

A big, sprawling green space in the middle of the city. Broadly defined, the park grounds include many of the attractions below, including the castle and the Carp's old baseball stadium (scheduled for demolition). But Chuo Park is worthy of note in its own right, with nice, long walking paths and athletic fields — there are quite a lot of open-invitation soccer, football, and ultimate frisbee games that are regularly held here, so don't be shy about showing up with athletic shoes and seeing if anyone needs an extra.

Hiroshima Castle

phone: +81 82-221-7512

address: 21-1 Moto-machi, Naka-ku

The original Carp Castle (Rijō) was built in the 1590s by Hideyoshi's warlord Terumoto Mōri, predating the city itself. It was destroyed by the atomic bomb, by which time it was serving as a military headquarters, and reconstructed in 1958. Some of the original stone foundations can still be seen. Today, the castle grounds are a nice place for a walk, and definitely Hiroshima's favorite place for hanami (cherry blossom parties), with more than 350 sakura trees. The five-story castle museum is an attractive reconstruction of the 16th century donjon, with interesting relics and armor to see (and try on), as well as some informative displays about the history of the castle and the city. The view from the top is worth the entrance fee all by itself. No elevators are available - visitors will be walking the five stories by stairs.

phone: +81 82-221-5590

address: 2-21 Motomachi, Naka-ku

Located on the castle grounds, this concrete shrine has great significance to locals, having been rebuilt after the atomic blast and now the center for most annual Shinto traditions in the city. But other than a historical marker, there's not much to see for travelers, other than festivals (especially New Year's Eve).

phone: +81 82-222-5346

address: 5-83 Motomachi, Naka-ku

Great fun for kids, with hand-on science exhibits and a planetarium on the top floor. There's also a library with a few shelves of English language books.

phone: +81 82-223-2530

address: 3-2 Motomachi, Naka-ku

Established by the Hiroshima Bank in 1978. The permanent collection covers European art from late Romanticism to early Picasso, including a couple of Japanese painters who painted in Western styles. There's at least one painting by every famous artist of the period, but no major works by any of them.
Hijiyama Park area
Hijiyama Park

address: Minami-ku

A huge park to the south of JR Hiroshima Station, between two branches of the river. (Follow Ekimae-dori from the station to the southeast, and you'll walk directly into it.) There are the usual areas for sitting in the sun (and rather a lot of stray cats), but much of the park remains refreshingly undeveloped forest, save for a futuristic tunnel to SATY, a neighboring shopping complex and movie theater.

phone: +81 82-261-0330

address: 1-4 Hijiyama-koen, Minami-ku

Around the corner from the Museum of Contemporary Art (below). The vast majority of the manga are in Japanese, of course, but they do have a selection of Western superhero comics.

Hiroshima City Museum of Contemporary Art

phone: +81 82-264-1121

address: 1-1 Hijiyama-koen, Minami-ku

Probably the most deserving of a visit among Hiroshima's art museums. There are a few famous Western names in its collection, including Andy Warhol and Frank Stella, but the real focus is on interesting modern Japanese artists working in their own styles, and the exhibition designers make creative use of the museum space. Special exhibitions cost extra. There is a sculpture garden outside that can be visited for free, and a decent city-view from the plaza near the museum's front steps.
Other sights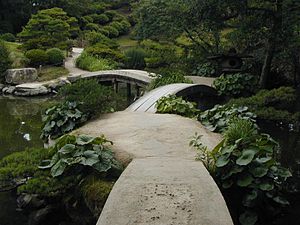 Do
Festivals
Recreation
phone: +81 82-223-2141

address: Mazda Zoom Zoom Stadium, 2-3-1 Minami-Kaniya, Minami-ku

The much-beloved and much-bemoaned Carp are Hiroshima's entry in the Central League of Nippon Professional Baseball. After more than fifty years in a stadium across the street from the Peace Park, the Carp moved to the new Mazda Zoom Zoom Stadium to begin the 2009 season. While the team doesn't win much, the enthusiasm of the fans can hardly be faulted, and Hiroshima is as good a place as any to witness the fervor of Japanese baseball fandom. Tickets range from ¥1800 to ¥3500. Ask for the Carp Performance (カープ パフォーマンス) tickets — that's where the drums, chants, and excitement are. Tickets are sold at the stadium starting at 10AM, the "Green Window" at JR Hiroshima Station, and a number of convenience stores.

phone: +81 82-233-3233

address: Big Arch Stadium, 5-1-1 Ozukanishi, Numata-cho, Asa-Minami-ku

Sanfrecce (Japanese/Italian for "three arrows", from a Japanese folk tale) are Hiroshima's entry in the J-League, although they date back to 1938 as a semi-pro team. Though coming off consecutive J-League championships, Sanfrecce struggle for attention in Carp-town, but the fans are great. 201
And if you're on a quest to complete the whole set of Hiroshima professional sports, visit the JT Thunders of the V-League (volleyball), who hold court at the Nekoda Kinen Gymnasium, and the Hiroshima Maple Reds of the Japanese Handball League, Women's Division, who play at the Hirogin no mori Gymnasium.

Family Pool

phone: +81 82-228-0811

address: 4-41 Moto-machi, Naka-ku

Open from 1 July-31 August, right when it's needed most, this huge, open-air pool/water park is a popular place for kids and families to beat the heat. And it's easy to find — in Chuo Park, right in the center of town.

phone: +81 82-222-1860

On the other hand, if you're a serious swimmer, Big Wave offers longer hours and Olympic-size 50 meter swim lanes from July to early September. Then, from November to April, it turns into an ice-skating rink. (Rental skates are available, although people with big feet may not manage.)

phone: +082-282-7121

If you want to take an onsen in Hiroshima, this hotel/restaurant/garden/onsen isn't bad. They have a good range of baths including a variety with jets, a "lap walking" bath, and a small outdoor area and a sauna. Not too remarkable as onsen go, but nice enough.

phone: +81 82-262-3636

address: 2-1-15 Matoba-cho, Minami-ku

Classical dramas alternate with classical bondage porn at this strange theater — check out the posters in the lobby for the range of shows they do. Performances are in Japanese only, with no English supplements available. The respectable side of the house performs two shows per day, excluding Sundays, from 12:00-15:00 (quite popular with old folks) and 18:00-21:00 after the shows, the performers (still clad in their rather impressive costumes and makeup) head out to the street to wave goodbye and pose for pictures with exiting audience members.

phone: +81 82-545-8910

address: 3-11 Tatemachi, Naka Ward, 730-0032

Bowling alley and entertainment center, popular with locals of all ages in Hiroshima (it is also present elsewhere in Japan). The first three floors consist of an expansive arcade, with racing games, classical arcade games, horror games, claw machines, and gambling/slot machines. The following four floors have bowling alleys, and the final floor has food, billiards, ping pong, and darts. Prices depend on what you're doing, and for how long.
Work
Hiroshima features the standard array of English teaching opportunities, with branches of major
eikaiwa
like
Geos
,
AEON
and
ECC
as well as small, niche language schools. The
Hiroshima International Center
(see
Connect
) is a good place to make inquiries, as is a Saturday night at
The Shack
or
Kemby's
(see
Drink
).
Mazda
is largest employer of foreign personnel in the area, due to their relationship with the Ford Motor Company in
Detroit
and their manufacturing plants in
South America
. Contract workers from
Southeast Asia
and the
South Pacific
are brought in by Hiroshima-based firms for industries such as shipbuilding, notably in the nearby city of
Kure
.
Some non-Japanese work illegally — or under-the-radar — as bartenders or sell jewelry in Nagarekawa, which motivates occasional visa crackdowns (see
Stay safe
).
Buy
Shopping in Hiroshima is dominated by a few huge department stores; in fact, trains deliver you directly into a fairly bland one called ASSE, which occupies the floors above the south exit of JR Hiroshima Station. Hon-dori (本通り), a covered shopping arcade in the city center, is the place to wander with a wallet you'd like to empty.
In terms of souvenirs, Hiroshima Carp memorabilia is the most widely found, although there's some spillover from the super-powered knick-knack engine that is
Miyajima
.
Eat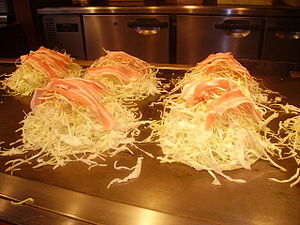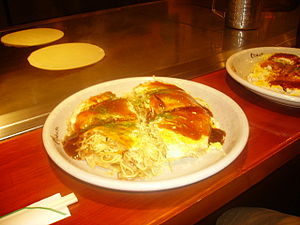 Hiroshima is famous for its style of
okonomiyaki
(お好み焼き), which literally means "cook it as you like it". Often (and somewhat misleadingly) called "Japanese pizza", it is better described as a type of savory pancake made with egg, cabbage, soba noodles, and meat, seafood or cheese. It is grilled in layers on a hot plate in front of you and slathered liberally with
okonomiyaki
sauce, with optional extras such as mayonnaise, pickled ginger, and seaweed. It sounds and looks like a mess, but is very tasty and filling. To give you a sense of the civic pride involved here, the Hiroshima tourist information office offers a map with a whopping
97
shops serving
okonomiyaki
within city limits, and reports have several hundred more in the area. Micchan (みっちゃん) is the most famous of the Hiroshima- style okonomiyaki restaurants with long histories. It has a few branches in and around the center of Hiroshima.
Hiroshima style and
Osaka
style are the two competing types of
okonomiyaki
, and if you raise the subject of
okonomiyaki
with a local, be ready to state your preference between the two! Basically, in Hiroshima the ingredients are layered and pressed together while cooking, while in Osaka the batter is mixed together first, and the ingredients do not include soba noodles. According to local legend, both dishes originate from a cheap snack called
issen yōshoku
(一銭洋食) or "one-cent Western meal", which consisted of a wheat and water pancake served with scallions and sauce. Representing the other side of the pancake divide, Tokunaga (徳永) is the bext-known Kansai-style okonomiyaki restaurant in Hiroshima.
A row of excellent, informal okonomiyaki restaurants has sprung up on the second floor of JR Hiroshima Station (the ASSE Dept. Store). If you don't know what to order, ask for "niku-tama soba" and that will be all they need to know. There are Japanese and American chain restaurants clustered near the station, including
Starbucks
on the third floor (south exit),
McDonald's
on both sides of the station, a
Lotteria
burger shop in the underground plaza between sides of the station, a couple of sushi shops past the okonomiyaki joints on the second floor (south exit), yet another okonomiyaki shop on the second floor (north exit, by the shinkansen gates), and an Indian restaurant on the sixth floor (south exit), among many others. Most will serve until 22:00, though McDonalds stays open later.
Hiroshima is also famous for its
oysters
(available between October and March) and a maple-leaf-shaped pastry called
momiji manjū
(もみじ饅頭). (
Momiji
is the leaf of a Japanese maple tree.) Momiji manjū are available with a variety of fillings, including the more traditional
anko
(あんこ), red bean and
matcha
(抹茶), or green tea; it's also available in cream cheese, custard, apple and chocolate flavors. Boxes of
momiji manjū
are considered the quintessential Hiroshima souvenir, but
Miyajima
is the best place to buy it fresh.
Budget
phone: +81 82-241-2210

address: 3-3 Nakamachi, Naka-ku

Three floors packed with no less than 27 okonomiyaki shops. This, indeed, is Hiroshima culinary nirvana. They all serve beer and okonomiyaki with some variations (kim-chee oysters, etc.), and they'll all start clamoring for your business as soon as you walk through the door. It's right behind PARCO, with a distinctive 'Okonomi-mura' arch out front.

phone: +81 82-295-1553

address: 1-4-32 Tokaichi-machi, Naka-ku (Morimoto Building, 2F)

If you and your companion have completely different tastes in mind, Organ-za offers dishes from India, Japan, Thailand, Vietnam, and others direct from the imagination of a capable and creative chef. English menus are available. There's also a full bar (tended sometimes by Chie from the late, lamented Alcoholiday) and frequent live music.

phone: +81 82-249-3885

address: 1-20 Kako-machi, Naka-ku

Serving Tex-Mex in Hiroshima for more than twenty years, Otis! is the most vegetarian/vegan/organic-friendly restaurant in town, with items clearly marked on their English menu. In addition to tacos, burritos, enchiladas, and nachos, they have a varied of made-from-scratch bakery items including muffins, brownies, and rye bread, as well as a handful of other items not easy to find in Japan such as jambalaya and lentil curry with brown rice. The atmosphere is more that of a small live house or indie cafe than a restaurant, with the walls covered in graffiti messages from passing musicians, and the corners stacked with audio equipment and unusual stringed instruments they also have a fairly busy schedule of live music, both Japanese and international.

address: 11-2 Ōsuga-cho, Higashi-ku

A tiny okonomi shop in a little back alley near the railroad tracks and beside Hiroshima Station. The shopkeep speaks English and is a friendly, enthusiastic young manga fan. He's decorated his shop with Gundam models, moe-moe figurines, manga posters and baseball and wrestling action figures. This shop serves okonomiyaki in the traditional method, directly on the hot griddle built into the table in front of you. Highly recommended for a visiting anime/manga nerd in search of true Hiroshima okonomiyaki (the same way Ukyo serves it in Ranma ½!)

Tachikoma

phone: +81 82-262-7635

address: 1-3-9 Dambara, Minami-ku

A tiny okonomoyaki shop where locals go, with very friendly owners. The okonomiyaki is quite good and filling, and there's beer to enjoy with it.
Mid-range
phone: +81 82-502-7366

address: 5-23 Hatchobori, Naka-ku

Spanish and Peruvian cuisine including paella and ceviche, plus a smattering of other dishes such as pizza and pasta. There's a pleasant, eclectic ambiance to the decor and the menu, and a full bar if you're not in a hurry.

phone: +81 82-2477471

address: Motoyasu-bashi, Ote-machi

Italian restaurant and cafe just next to Peace Memorial Park. Indoor seating for up to 30, but when the weather is not too hot or too cold there's a nice view of the Park and Motoyasu river outside on the terrace. Pasta and Drink set for ¥1280 is the most popular choice, but also offers 5-course dinners and wide selection of Italian food into the late evening. Menus in English, and there's usually some English speaking staff on hand.

No-no Budou

phone: +81 82-502-3340

address: 78-6 Moto-machi (Sogo-Pacela Credo Building, 7F)

A non-smoking, healthy "viking" buffet style restaurant with a wide selection of curries, tempura, and other Japanese dishes, some of which are made with locally-grown and organic ingredients. They have a great selection of juices, tea, and coffee, too.

phone: +81 82-264-1333

address: 14-32 Wakakusa-cho, Higashi-ku

Good food on the quieter Shinkansen side of JR Hiroshima station. A wide range of curries are on offer, and there is plenty to eat for vegetarians. The thali sets are good and filling. Comprehensive English menus are available, and it's kid-friendly to boot. If you're just arriving in Hiroshima on an empty stomach, you can't do much better than this.

phone: +81 82 243-3669

address: 4F Exa Bldg 6-4 Fukuromachi, Naka-ku

Yes - good Mexican food does exist in Japan. The owner and chef worked in San Diego for many years, and the food is tasty, traditional mixed with experimental, and they even have hot sauces. Open for lunch and dinner, English spoken. Large groups welcome, call ahead.

address: 2-1 Mikawacho

Range of quality Japanese and international steaks served on hotplates with corn. Some standing room, some tables, can get very busy.

Standing Sushi Restaurant

address: 2 Mikawacho

Standing room only at this good-value sushi bar. Start with a few here, then move next door for a steak!

phone: +81 82-569-6802

address: 〒730-0051, Naka Ward, Otemachi, 5 Chome−9−1F−RF

Popular with tourists, expats, and locals alike. This is likely because of the Obscure Coffee Roasters coffee they offer, or the unique fusion dishes on the menu, redefining traditional Hiroshima flavours, most notably the okonomiyaki "stick" (wrap) and an okonomiyaki donburi. There are also burgers, fish and chips, oysters, and various sweets and desserts (including a matcha ice cream + Momiji Manju). There's also a big screen for various Japanese sports games and events.
Splurge
phone: +81 82-241-7416

address: Moored across from the Otemachi Building, Naka-ku

Docked just south of the Peace Park, this floating restaurant offers some of the tastiest oysters in Hiroshima, along with lovely traditional decor and nice river views (more so at night). There's plenty of room aboard, but it does fill up, so reservations are suggested.
Drink
Nagarekawa
has the highest concentration of bars in Hiroshima — the good, the bad, and the hostess — but there are a number of good, quiet wine bars on Hakushima-dori, and plenty of foreigner-friendly pubs clustered around the giant PARCO building. Yagenbori-dori is full of bars and clubs that are spread across floors of the various high-rise buildings.
Sake enthusiasts should not miss the chance to visit the breweries of
Saijo
, particularly during the annual festival in October — see
above
.
phone: +81 82-246-5800

address: 7-9 Yagenbori-dori, Naka-ku (Sanwa Building, 2nd floor)

All races and creeds are in attendance on an average night at Barcos — from the locals to the international community (and not just English teachers), from fashionistas and lunkheads to lost souls and chatterboxes. If you come on a weekend or a holiday, be prepared for a massive crowd. The DJs play a wide range of music, including soul, techno, R&B, and Latin, but they're happy to take requests. Mambos Latin Bar, on the third floor of the same building and with the same owner, focuses on the Latin music, with dance classes in various styles in the early evening before things get rolling.

phone: +81 82-542-2280

address: 10-1 Hon-dori, Naka-ku (PARCO Building, 10F)

The biggest rock venue in town, Club Quattro hosts most of the major touring bands that deign to visit Hiroshima.

phone: +81 82-568-3111

address: 9-1 Matsubara-cho (11F)

Many of the department stores have beer gardens on their roofs, and this is a nice one, directly across from JR Hiroshima Station — just you and a few hundred of your closest friends under the stars, sharing a terrific city view. Regardless of the crowds, though, there's plenty of room and the lines are well-managed. Admission varies from ¥1000 to ¥2500 by day of the week and season, which includes all you can drink, some desserts, and a ton of Western and Japanese fried food.

phone: +81 82-249-6201

address: 2-9-13 Ote-machi, Naka-ku

A big, friendly bar that's a favorite with locals for watching major sporting events. There's plenty of seating, and pool & darts as well. The English menu offers enough food (mostly Italian and Mexican) to make this a valid dinner spot.

Mac Bar

phone: +81 82-243-0343

address: 6-18 Nagarekawa-cho, Naka-ku

A friendly, venerable hole-in-the-wall owned by a chatty fellow with a massive collection of rock CDs. He's happy to take requests or just talk about music.

phone: +81 82-244-2554

address: 1-20 Shintenchi, Naka-ku (Teigeki Building, 4F)

Another popular foreigner hang-out. It's a reliable source for rugby and soccer games, but arrive early if you want a good viewing spot. The Irish food is great (¥850-1800), and the desserts (¥700) are quite good with a beer.

phone: +81 82-240-7788

address: 1-3 Yagenbori-dori, Naka-ku (Atsuma Building, 2&3F)

Local and traveling DJs spin quality dubstep, reggae, and drum 'n bass with the aid of a great sound system. The two floors are split between a big dance space and a more laid-back bar area.
Some perspective for weary travelers
If you've lost your luggage, checked into a shoebox-sized business hotel that reeks of smoke, and had your stomach pumped after eating some bad eel, you still haven't had a worse trip than
Tsutomu Yamaguchi
did.
In August 1945, Yamaguchi was sent to Hiroshima on a business trip. With the job done, his co-workers left, but Yamaguchi realized that he had forgotten his personal seal for signing official documents, so he headed back into town to pick it up. That's when the atomic bomb was dropped on Hiroshima. Badly burned, deaf, and partially blind, he spent a night in the ruins of the city, and then found a railway station on the western edge of the city that was back in operation. He managed to catch a train home to
Nagasaki
, where — as Yamaguchi explained to his disbelieving boss what had happened in Hiroshima — the second atomic bomb was dropped.
In 2009, the Japanese government certified the still-living Tsutomu Yamaguchi as the first known person to have been at ground zero of both atomic blasts. A year later, Yamaguchi passed away from stomach cancer at the age of 93.
address: 5F 3-12 Yagenbori, Naka-ku, Hiroshima-shi

Small and modern bar on the top floor of an office building. Owned by a DJ, he performs there and brings in visiting acts from across the country. Cocktails are a speciality, and beer on tap costs about ¥600 a glass.
Sleep
Budget
For a short night before an early train, the cheapest digs in town will be to nap in the easy chairs at the two Internet cafes outside the south exit of JR Hiroshima Station (see
Connect
), or possibly a Nagarekawa karaoke box. You won't be the only one doing it, particularly on weekends. In particular, the brand new
WiP Internet cafe
on the southwest side of the station is a right gem, offering a 9 hour private booth nightpack for ¥2190, inclusive of shower usage and offers the rare option of staying in a
separate
non-smoking area.
phone: +81 82-247-8700

address: 4-17 Kako-machi, Naka-ku

City convention center with guest rooms on top two floors. Cable Internet access in rooms, coin-fed access available in lounges, coin laundry facilities on 7th floor. Front door locked at midnight.

phone: +81 82-568-7244

address: 1-8-9 Matoba-cho, Minami-ku

Part of the popular hostel chain. No curfew or lockout, free wifi, computers with Internet access available in the lobby for a small fee, and laundry facilities. Take the south exit from JR Hiroshima Station, then follow the tram tracks across the river. When they split, follow the tracks that go along the river, and look down the streets to your right. You should see a large K's House sign.

phone: +81 82-263-2980

address: 1-15 Kojin-machi, Minami-ku

A comfortable hostel. Every private room has a bathroom or a toilet/washstand. They offer free wifi with your laptop (¥100 per 30 min for hostel computers), and rental bikes at ¥500 per day. There's no curfew or lockout, and they're willing to hold luggage early or after check-out.

phone: +81 82-233-1360

address: 5-16 Dobashi-cho, Naka-ku

A lively hostel with English speaking staff. Every private room is Japanese style. They also offer free wifi with your laptop (¥100 per 30 min for hostel computers) and rental bikes (¥500 per day), with no curfew or lockout and held-luggage services.

phone: +81 82-293-9051

address: 4-16 Koami-cho, Naka-ku

Run by Kato-san and her family, this ryokan is quiet and clean, with breakfast available at ¥600. An excellent place to stay if you wish to practice your Japanese and mingle with the locals. Kato-san closes the doors at midnight.

phone: +81 82-546-0705

address: 6-20 Nishi Hiratuka-cho, Naka-ku

Sort of a hybrid of a business hotel and a love hotel, featuring a bewildering array of cheap rates from the 70 minute "shower" (¥2300) up to 20 hours (¥5900). It is clean, convenient, and comfortable.

Minshuku Ikedaya

phone: +81 82-231-3329

address: 6-36 Dobashi-cho, Naka-ku

The rooms at this minshuku are clean, bright, and pleasant. The staff speak enough English to get you checked in, although you may not see a trace of them afterward.
Mid-range
Splurge
Stay safe
Hiroshima has a rough reputation among Japanese people from other cities, thanks largely to the
yakuza
movies that were filmed in town. In reality, though, it's much safer than any large Western city. As with most places in Japan, petty theft is virtually non-existent. Nagarekawa, the nightlife district, does have its share of prostitutes, sex clubs, and rip-off hostess bars, but to no greater extent than
Tokyo
or
Osaka
.
There have been a few surprise police raids on bars that offer dancing after 01:00, in accordance with a semi-obscure local law about public immorality that Hiroshima occasionally feels compelled to enforce — probably in order to catch people who are in the country illegally. Japanese citizens are generally allowed to leave right away, but foreigners have been made to stand in line to have their paperwork checked. If you find yourself in one of these situations, just stay calm, show the police your passport, and you'll eventually be allowed to leave without any trouble.
Connect
Cope

Hiroshima is a safe and friendly city, accustomed to and eager to receive foreign visitors. The average English level among Hiroshima residents is relatively high for a Japanese city, particularly around the Peace Park. Directions to the major sights are clearly sign-posted in English throughout the city.
The Peace Memorial Park is a very popular school trip destination for Japanese students, and you may be accosted by kids working on school projects, asking you (in halting English) where you're from, what your name is, or whatever else their teacher has assigned them to ask. They travel in packs, so you should be able to see them coming from a distance and avoid (or engage) accordingly.
As mentioned above, visiting the sights related to the atomic bomb can be an intense experience. If you only have one day set aside for Hiroshima, you'll naturally wind up spending most of it at the atomic bomb memorials. For your own peace of mind, though, try to set aside time to relax and reflect in other parts of the city, such as Chuo Park or Shukkeien, both of which are only a short walk from the Peace Park.

Go next