Hluboká nad Vltavou
Hluboká nad Vltavou
(know just as "Hluboká") is a town in
South Bohemia
region, with around 5,000 inhabitants. Although known mainly for its beautiful château, it offers much more to the visitor.
Understand
The town itself is very old, dating back to the Bronze Age. There has been a castle at the place of today's chateau since 14th century. Today's Hluboká sees many international tourist thanks to its well-know chateau, but in Czech Republic and especially South Bohemia Region, it is also known as a centre for luxury holidays. That's the reason why you will find here many luxurious hotels, a large golf course and a small marina on the River Vltava. It is however popular among Czech tourists in general, as it offers great biking options, ponds with clear water and a nice zoo. Houses in the town often resemble small castles, as having a house in Hluboká is very popular among the richest people from nearby
České Budějovice
.
Get in
Because of its convenient location near the region capital, České Budějovice, it is very easy to reach Hluboká from almost anywhere in the country. To find a transportation, use
IDOS
. Do find the best station to exit the vehicle, use
mapy.cz
By bus
There are numerous local buses from České Budějovice. They all leave from the main bus station in České Budějovice. Just be sure to choose the right bus station in Hluboká, as there are many of them in the town.
By train
There are two railway stations in Hluboká, both of which are a little inconveniently located. More useful is probably
Hluboká nad Vltavou Zámostí station|alt=
, located 2 km from the castle by walking. The other station, is a bit further. Both station see a lots of regional trains from České Budějovice, but long distance trains do not stop here, so you will have to change a train at České Budějovice if going from further away. You can travel between these station, as one is on the railway to
Pilsen
and the other on the railway to
Prague
.
By bike
It is only 11 km when biking from České Budějovice. The route follows Vltava river, so it is easy for everyone. If done as a day trip from České Budějovice, bike is probably the best option.
By car
There are many roads to Hluboká, but it is difficult to park there. All the parking lots in the town are paid. The cheapest parking lot near Penny Market costs 50 Kč per day.
By boat
There is a regular boat service from České Budějovice. It leaves from Lannova Loděnice in České Budějovice, and has two stops in Hluboká - and . Humry is a bit further from the chateau and it takes 30 minutes more before the boat gets there, but you will see the chateau from the boat if you go all the way to Hamry. The ticket for the boat cost 150 Kč and it takes 90 minutes from České Budějovice to Kuki. The boat goes only from Friday to Sunday, detailed timetable is
here
Get around
Even tough there are not that many people living in Hluboká, it is quite large. That said, there are not many other options to get around than walking. From one side to another (from zoo to the château), it is 2.5 km walking. If you do not want to walk, you can use the same bus as is used to get in, as there are three bus stations.
phone: +420 387 966 164
See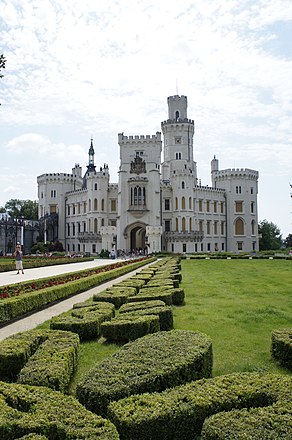 phone: +420387843911
Build in the 19th century in Tudor style and considered to be one of the most beautiful chateaux is all Czech Republic. The main sight is probably the château exterior, but the interior is also very nice. There are at least six different guided tours of the interior (only one in winter), costing from 100 Kč to 260 Kč, with some discounts for students, children and elderly. Guided tours are provided in many languages, including English, German, Russian and more. It is not possible to go into the interior without a guide.
phone: +420 387002219
Smaller, but very nice zoo. Specializes in local animals, such as deer, bears, wolf and lynxes, so it might be especially interesting if you are from far away.
phone: +420 387 967 120
A large art gallery located in former riding house next to the chateau. There is a permanent exhibition of medieval and modern art mixed together.
Church of Saint John of NepomukTown's main church, also build in Neo̠-Gothic Style.
Do
phone: +420 776 826 376
A golf club with 27 holes, 9 of them open to public
Sport and relax areal HlubokáA large free-time areal offering numerous attractions, such as net center, trampolines, baseball field, fishing and much more. Attractions are paid separately.
SwimThere are numerous ponds around Hluboká in which you can swim or even yacht. Most important of them is Bezdrev
Buy
You can get some souvenirs directly in the chateau, near the ticket office.
Penny MarketBiggest supermarket in town. You can buy some food here if you want to save money on restaurants. Also the parking lot is one of the cheapest in town
Eat
Hotels in town have their own restaurants, which are often expensive.

Drink
While Hluboká is a very popular among tourists, it is probably not a drinking destination. You can however get a beer in every restaurant in town.
Hluboká breweryA small local brewery. In addition to beer, they offer good food.
Sleep
There are numerous hotels and guesthouses in Hluboká. East of the chateau, in Zámostí part of the town, there are cheaper guesthouses, while in the western, older part of the town are bigger and more expensive hotels. Hluboká can probably offer the most luxurious hotels in whole South Bohemia. There are at least two camps near Hluboká, which allow you to build your own tent or rent a cheap chalet.

Connect
Free Wi-Fi is provided in the city. Also many restaurants and hotels have their own free Wi-Fi.

Go next