Hobart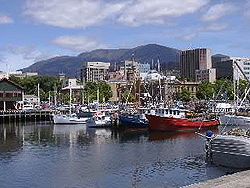 Hobart
is the capital city of the
Australian
state of
Tasmania
and is Australia's second oldest city, after
Sydney
. Hobart sits along the Derwent River and began humbly as a penal colony. Hobart is now a small and intimate city with a population of around 220,000 in the Greater Hobart area. The city is renowned for its many historic buildings, including the famous Salamanca Place, and is the gateway to
Southern Tasmania
. Hobart played a major role during the heroic age of Antarctic exploration and is one of the five gateway cities to
Antarctica
.
Understand
History
Founded in 1804 by Colonel David Collins, Hobart is the second oldest city in Australia. It grew out of the penal settlement on the island at Risdon Cove, 8 km upriver, which was founded in 1803 and abandoned five months later for the present site of Hobart.
In the first half of the 1800s, the whaling boom generated a surge in maritime support industries and infrastructure. Whaling ceased in the late 1800s, but Hobart never lost its boat-building, ship-chandlery and provedoring legacy. This made Hobart a logical staging post in the heroic age of Antarctic exploration. France's Dumont d'Urville, Australia's Douglas Mawson, England's James Clark Ross, and Norway's Carsten Borchgrevink and Roald Amundsen all paused in the Derwent on their way to Antarctica.
In December 1911, the Australasian Antarctic Expedition led by Mawson was given a rousing send-off from Hobart's Sullivans Cove. A few months later, Amundsen brought
Fram
into Hobart in order to send a telegram to the King of Norway with the news that his party had reached the South Pole. After sending the telegram, Amundsen publicly announced his feat from the Hobart General Post Office sandstone steps. A few months later, Mawson's Antarctic party sent the first wireless messages from Antarctica to the outside world – to a receiving station on Hobart's Queens Domain.
Climate
Hobart has a
mild temperate oceanic climate
owing to its fairly high latitude (42.88°S) and proximity to the Southern Ocean. As such, daily temperatures rarely reach above the low 20s, except during rare heat waves in summer. Nightly lows typically range around 10-12°C during summer and 4-5°C in winter, so cold weather gear is recommended all year round. It is not unheard of for temperatures to drop below zero during winter, with Hobart's lowest temperature on record being a chilly -2.8°C. Interestingly, Hobart has the second fewest daily hours of sunlight out of all Australian cities, at 5.9 hours on average for the year. However, during the summer it has the most hours of daylight of any Australian city, with 15.2 hours on the summer solstice.
Rainfall
is fairly similar year round, averaging 50 mm per month, occurring around 15 days a month during winter and 10 days a month during summer. Despite the cold weather and occasional rainfall you should not expect to see any snow within Hobart, although it is not unheard of. The city receives snowfall at sea level on average only once every 15 years, caused by cold masses arriving from
Antarctica
. More often, some outlying suburbs of Hobart at higher elevation can receive snowfall. The nearby Mount Wellington is often seen snowcapped year round, and its temperatures are much colder than Hobart — typically 10 degrees colder and easily reaching below zero during winter.
Visitor Centre
Tasmania Travel & Information Centre: Hobart

phone: +61 3 6238 4222

address: 20 Davey St

A great place to find information about Hobart and the rest of Tasmania. They can also help to book any activities or accommodation that you require.
Get in
By plane
Hobart International AirportThe primary airport serving southern Tasmania. Despite being called an international airport, there have been no scheduled international flights since 1998.
Airlines serving the airport include
Jetstar
,
Qantas
,
Tigerair Australia
and
Virgin Australia
with flights from:
Ground Transportation
options from Hobart Airport include an
airport shuttle
operated by
SkyBus
which meets every arriving flight and serves most accommodation within Hobart. Reservations are not necessary for Hobart bound trips on this shuttle, but are required for the return leg to the airport. A ticket costs $19/35 for Adults and $14/25 for Children or pensioners for one-way/return trips respectively. Those wanting a faster or more direct option should consider taking a
taxi
. Depending on traffic the journey should take around 20-25 minutes and cost approximately $38-45.
Car rental
is also available at Hobart Airport with rental companies including
Avis
,
Bargain Car Rentals
,
Budget
,
Europcar
,
Hertz
,
Red Spot
and
Thrifty
. All of the car rental offices are just past the arrivals gates on the way to the exit
Hobart has a small airport for the volume of passenger traffic it often accommodates. You'll have no problem finding the cafes, bars, and bookshops that are mandatory airport fare, and a souvenir shop. On the positive side you can expect to get your luggage quickly through onto the conveyor. On the negative side, there isn't enough seating in the departure lounge for a few full flights departing simultaneously. You'll still be walking across the tarmac to get on your flight.
By car
Hobart can be easily reached from all other cities and towns in Tasmania by car. Driving from
Launceston
via National Highway 1 takes around 2.5 hrs with car hire available from the airport or in the Launceston itself. You can also take a car from mainland Australia via
Devonport
, with a ferry departing nightly from
Melbourne
. The journey from Devonport takes around 4 hrs.
By ship
Hobart offers a beautiful deep-water port with cruise ship berths in the heart of the historic Salamanca area of the city. Large cruise ships dock at Macquarie Wharf. Volunteer greeters meet the cruise ships, answer questions, and point the way. The immediate area, which includes Constitution and Victoria Docks, offers shopping for art, crafts, clothing and souvenirs; light snacks and food; fishing boats; a yacht basin; and the maritime museum.
Hobart cruise ship calendar
By bus
230 Liverpool Street is where
Redline coaches
arrive from Devonport via Launceston, with one or two services most days.
is where
Tassielink
coaches arrive from Devonport via Launceston, East Coast, Port Arthur and the West coast.
Get around
By foot
Walking is the best way to explore the downtown area. It is easy to walk between the city centre, Salamanca, and the port/harbour area. If you are staying in the Salamanca area, you may not need any other form of transport. Between the City Centre and Sandy Bay via Battery Point is only half an hour to walk (although there are some hills).
By bus
Hobart has a sufficient public bus system. The main interchange is in front of the GPO (General Post Office). Ticket prices depend on the distance and start slightly above a dollar. Services are considerably less frequent on Sundays. Timetables are all available online from the
MetroTas website
.
By bicycle
Hobart is hilly any which way you choose to head, so bike riders should be prepared for hills. There is a poorly developed network of off-road cyclepaths, but Hobart drivers tend to be tolerant of cyclists, and most roads tend to be wide enough to accommodate them. One old railway line from the city as far as Claremont has been converted to a first-class cycle and walking path (take care from motor vehicles at intersections).
By car
To see areas further afield, a car is useful. Roads are generally not congested, although you can expect to pay for parking in the city areas. Avoid driving in the Salamanca area on a Saturday, due to road closures and traffic snarls due to the markets.
By boat
Numerous ferries, sightseeing harbour cruises and a water taxi service operate from the Hobart docks (Brooke St Pier) to outlying attractions including MONA at Berriedale. Some of these include dining on board, while others may terminate at a site with a restaurant such as Peppermint Bay and MONA.
See
Buildings and landmarks
As one of Australia's oldest cities, Hobart is home to a multitude of historical buildings that often showcase splendid examples of Georgian and Victorian architecture. In fact, over 90 buildings within Hobart are classified by the National Trust, with around 60 of these located along Macquarie St and Davey St alone. Many, but not all, of the historical buildings are located within or near Hobart's Central Business District (CBD) or around Battery Point.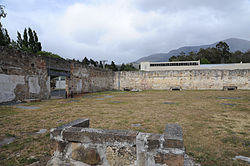 Battery PointOne of Hobart's oldest suburbs, the area is named after a battery of guns put on the point in 1818. Whilst the guns have long been removed this area still retains much of its historic charm. Many buildings are of historical value, with some constructed with golden sandstone that was quarried from the area. If you venture deep within Battery Point, you may stumble upon , a well-known steep laneway with superb views of the suburbs at the top and a whimsical sign to match its odd name.

phone: +61 3 6233 6656

address: 16 Degraves St

This site operated as a female factory between 1828 and 1856, which was intended to reform female convicts and segregate them from the "temptations" of Hobart. The ladies of this female factory were often completing many chores, such as needlework and laundry. The factory is now one of 11 penal sites that make up the Australian Convict Sites on the UNESCO World Heritage list. A daily Heritage tour runs several times daily and an additional show, title Her Story, runs daily at 11AM.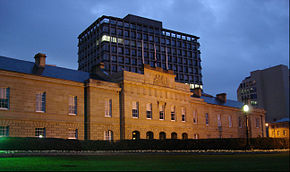 phone: +61 3 6212 2248

Built as a customs house, the Parliament House of Tasmania opened in 1840, but came to serve solely as the state's Parliament House in 1904. The building comprises 3 levels with various areas including the House of Assembly, Legislative Council, Parliamentary Library and Parliamentary Museum. Tours of the Parliament are available to the public which run on non-sitting days(See their website for non-sitting days) at 10AM or 2PM. Another option would be to sit in the public gallery during sitting days.

phone: +61 3 6231 0911

address: Cnr Brisbane St & Campbell St

This historic site was built as a chapel for male convicts, built with solitary confinement cells underneath the building and was converted into a supreme criminal court and prison chapel, complete with gallows and an execution yard. The site can only be visited by tours which run during the day, or a ghost tour that runs at night.

Salamanca PlaceNamed after the main street that this area runs along, Salamanca Place is home to rows of colonial style sandstone buildings that were once warehouses built to service the 19th-century whaling industry. Today this area has been converted into a precinct of restaurants, bars, galleries and craft shops. Make sure you venture behind the row of shops along Salamanca Place as there are lots to explore around this area. Salamanca Place is also home to the famous Salamanca Markets every Saturday.

phone: +61 3 6227 8885

address: Channel Hwy

This historic landmark boasts the titles of being the first shot tower in Australia and the tallest shot tower in the southern hemisphere. Built in 1870, the Shot Tower is 48 m tall and made from sandstone, just like many of Hobart's historic buildings. You can climb the 259 wooden steps to the top of the tower which pays off with exceptional views the Derwent Estuary and countryside.

Sullivan's CoveThis area is home to Hobart's main waterfront area and was the original landing point by European settlers in 1804. Most locals come here to sit, relax and, if hungry, enjoy some of Tasmania's finest seafood. Constitution Dock, within the cove, is particularly famous as it is the finishing point of the Sydney to Hobart Yacht Race which is held from Boxing Day (December 26) each year.

Government House. Next to the Botanic Gardens, Government House is a grand old building. Keep an eye out for one of the open days, as it is well worth a visit to the vice-regal residence.
Museums and art galleries
One of Hobart's biggest cultural drawcards is the multitude of museums and art galleries that are dotted around the city. Many of the exhibits, particularly in the museums, have a distinct
Antarctic theme
, a result of Hobart's long history of being a Gateway City to East Antarctica and the Southern Ocean. The Museum of Old and New Art (MONA) is among the best museums in Australia has and has fast become a Hobart icon.
phone: +61 3 6232 3209

address: 203 Channel Hwy

An institute that is part of the Australian Government, their role is to ensure Australia's Antarctic interests are best served. There is a visitor's centre onsite with exhibits that explore the history of Antarctic expeditions, the scientific research and logistical support that is required for Australia's Antarctic program. There is also an extensive library with books relating to all thing Antarctic.

Australian Army Museum Tasmania

phone: +61 3 6237 7160

address: Anglesea Barracks, Davey St

It's within the grounds of the historic Anglesea Barracks, which were established in 1811. This museum covers Tasmania's military history. While the barracks remain an active Australian Defence Force base it is open to the public, and has interesting displays of weapons and several historically significant monuments. These include the only war memorial to have been erected by the many British Army units which undertook garrison duties in colonial Australia. They also offer a guided tour of the barracks on Tuesday at 11AM.

phone: +61 3 6234 1427

address: 16 Argyle St

This museum houses the largest collection of maritime artefacts in Tasmania. Displays include information on the early maritime history of Tasmania, the role of lighthouses, the whaling industry, maritime trade, boat building and shipping.

phone: +61 3 6231 1518

address: 5a Morrison St

One of Hobart's newest attractions, this museum is a replica of the base stations constructed for Douglas Mawson's Australiasian Antarctic expedition of 1911. It features amenities and conditions that would have been experienced by those who first lived inside the huts.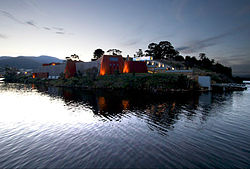 phone: +61 3 6277 9900

address: 655 Main Rd

This world-class museum of contemporary art has created a buzz in Hobart. Visitor opinions diverge from spectacular, to confronting to I just don't see what the fuss is about. The museum has a decidedly adult feel, so may not be the ideal place for kids. For those who don't get it, there are impressive views over the Derwent River along with a cafe and Morilla Winery on site. The building itself is quite interesting and is worth a look at. There are also some "traditional art" pieces, including some mummies. Ferries run at least five times a day from Brooke St Pier which offers a scenic journey along the Derwent River. Bookings for the ferry are required and cost $20 one-way or return. You can also drive to MONA, with limited parking, or go by bus.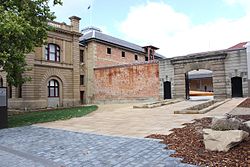 Tasmanian Museum and Art Gallery

phone: +61 3 6211 4134

address: Dunn Pl

Established in 1843 by the Royal Society of Tasmania, TMAG is an impressive natural history museum, art gallery and herbarium in one. It boasts various exhibits with Tasmanian, Australian and International themes. Displays include wildlife collections, the history of Tasmania, medal and coin collections, indigenous collections, contemporary art and classical art galleries. Islands to Ice is an exciting permanent exhibition of Antarctic natural history, exploration and science that also gives an insight to what it is like to live and work in some of the most inhospitable climates on earth. It is a must see for all Antarctic enthusiasts.
Nature and wildlife
phone: +61 3 6268 1184

address: 593 Briggs Rd

Established in 1981, this wildlife sanctuary aims to care for injured and orphaned wildlife, with all proceeds going to maintaining the park. The park is home to wildlife including kangaroos, wallabies, wombats, koalas, Tasmanian devils, and a more than 100-year-old cockatoo. A daily tour is held at 11:30AM and 2PM where they introduce you to the current residents of the sanctuary and lets you feed them. They also help discuss ways to help local wildlife if you ever spot one in danger or notice roadkill. Private tours are also available for those willing to pay, which are exceptional and allow for you to get up close and personal with the wildlife.

Mount Nelson

address: Nelson Rd

A lookout that is a great, but lower altitude, alternative to the more popular Mount Wellington, still with some impressive views of Hobart and the Derwent River. There is also a restaurant and a picnic area at the top so you can bask in the views while having a bite to eat. For those who enjoy a leisurely trek there are two walks to climb up or down the mountain that lead to Sandy Bay near Wrest Point Casino or through the Truganini Reserve to the Channel Highway.

phone: +61 3 6238 2176

address: Wellington Park

Situated within Wellington Park, Mt Wellington peaks at 1,270 m with breathtaking views of the Derwent River and Greater Hobart Region. At the top of the road up the mountain is the Pinnacle Observation Shelter, an indoor viewing area with binoculars. There are also several other lookouts on the way up to the peak. Your main options for heading up the mountain include taking your own car, going with a private tour operator or walking, if you are adventurous. Temperatures at the summit can range from 4-13°C in summer to -2-4°C in winter, so be sure to bring along warm clothes. It will often be 10-15° cooler at the top of Mt Wellington than it is in Hobart. There are multiple activities to do on the mountains, including cycling and hiking. See the Do section below for more information.

Queens Domain

address: Off Brooker Ave

Walk from the city a few blocks towards the Tasman bridge and you'll suddenly be out of the city and amongst greenery and trees on the Domain. (head towards the bridge from the city but once you see greenery head up the hill towards it) Of note is the fact that you can always be sure to see plenty of parrots in the trees. They are relatively tame so it's a superb opportunity to see some brightly coloured parrots up close.

Royal Tasmanian Botanical Gardens

phone: +61 3 6236 3076

address: Lower Domain Rd, Queens Domain

Established in 1818 within the grounds of The Domain. The Royal Tasmanian Botanical Gardens showcase 6,500 species, including over 400 Tasmanian species. One of the most popular displays here is the Subantarctic Plant House, which contains subantarctic plant species collected by staff from Macquarie Island and is climate controlled to mimic cold high latitude environments. Other collections include traditional Japanese and Chinese gardens, a rain garden, a lily pond and the Tasmanian Fernery.
The stars
Hobart is one of the most easily accessible places to view the
Southern Lights
or
Aurora Australis
. Your chances depend on the space weather, and to have a good chance of seeing the aurora you'll want a K-Index above 6. You can see the current K-Index (updated every 20 minutes) at the
Australia Space Weather Services
. They have forecasts there for space weather for the next several days.
Do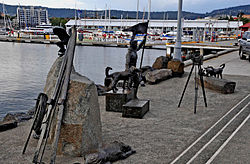 Polar Pathways - Historical walking tour and driving tour - allows visitors to explore some of Hobart's unique Antarctic and Southern Ocean sites and connections, such as life-size bronze statues commemorating the exploits of Antarctic explorers or Hadley's Hotel where Roald Amundsen stayed in March 1912 after returning from his journey to the South Pole. Go to the Tasmania Travel Information Centre and pick up a Polar Pathways brochure and map.
Cinema
phone: +61 3 6234 6318

address: 375 Elizabeth St

A local independent cinema that is over 100 years old and has witnessed many changes in its lifetime from silent black and white films through to the modern technology of today. This cinema specialises in a variety of movies including local, Australian and International film which tend away from the typical blockbuster and mainstream genres. Along with 8 theatres, a bar, a cafe and a bookshop there is also a rooftop cinema which is open during the warmer months.

phone: 1300 555 400 (local rate)

address: 181 Collins St

Village is an Australia-wide cinema that has several locations within Hobart, with the Collins St cinema being their main CBD outlet. They primarily screen mainstream and blockbuster movies.
Gambling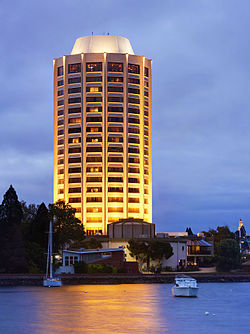 If you find gambling and betting entertaining then Hobart has a modest set of venues for you to explore. The most well known is Wrest Point Casino, which happens to be the very first legal casino built in Australia. Other options include the local racecourse for horse and hound racing along with various lotteries and statewide betting agencies.
phone: +61 3 6272 9492

address: 6 Goodwood Rd

The local racecourse that hosts horse racing and greyhound racing with around 102 race meeting and 210 trial days per year. The main yearly race event is the Hobart Cup, Tasmania's primary thoroughbred horse race held on in February each year.

phone: +61 3 6211 1750

address: 410 Sandy Bay Rd

Boasting the title of Australia's first casino, Wrest Point have been renovated several times but still feel like it is somewhat stuck in the 1970s. It still functions perfectly fine as a casino or for a drink. There are various restaurants and bars throughout the complex including a French cuisine inspired revolving restaurant at the top of the tower. On the gambling front, the offering is modest. Most of the gaming areas are poker machines (slot machines), and the table gaming floor is quite small and approachable.
Factory tours
address: 100 Cadbury Rd

At the Cadbury factory, you can no longer view their manufacturing areas. However, you do get to listen to talks about how the chocolate is manufactured and the history of Cadbury along with a small museum of Cadbury memorabilia. After this you are then free to explore the chocolate shop which has massive discounts compared to retail, the souvenir shop and also a cafe to perhaps get a hot chocolate. You will also have the chance to sample some of the chocolate varieties.

phone: +61 3 6224 1117

address: 140 Cascade Rd

Australia's oldest brewery offers two tours for you to enjoy. The Brewery Tour explores within the brewery where you learn about their primary beers and how they are produced before visiting the Woodstock Gardens. This tour includes 3 drink tokens to use during the tour and is only for people above 16 years old who do not require a walking aid. If taking the brewery tour note that visitors must wear flat covered shoes and long pants. The alternative Heritage Tour is for people of all ages and explores the surrounding area of the brewery including the gardens and the Cascade museum, with tastings of beers provided for those above the age of 18. Both tours run for around 1½ hours.

phone: +61 3 6277 9900

address: 76a Cove Hill Rd

This microbrewery specialises in making five types of beer: a Pilsner, a German-style Hefeweizen, a Belgian Pale Ale, an American Pale Ale and an American Dark Ale. The beer ingredients are kept simple and are unpasteurised, with no preservatives or additives. Their tour gives you a behind the scenes look at just how they make their beers along with samples. A complimentary bus operates from Brooke St Pier in the city at noon and stops at MONA to pick up any extra passengers around 12:30PM. There is also ample parking on-site if you wish to take your own car.
Scenic tours
Walk, The tourist information has a free booklet of walks in Hobart and up Mt Wellington. Kingston has a similar booklet

Mount Wellington DescentProvides downhill bicycle tours from the summit of Mt Wellington, with transport from Hobart included.

Mount Wellington Shuttle. Bus that takes you to the top of Mt Wellington and spend some time looking out over the city before bringing you back to the city centre. Includes a tour guide that provides information on the drive up.

phone: 1300 137 919 (local rate)

address: Brooke St Pier, Sullivans Cove

You start off in Hobart and board a passenger yacht (catamaran), which takes you for a cruise around the bay. On the way to Peppermint Bay the crew points out different sites like Salmon Farms, Local Sealife, and geographic wonders. When you arrive at Peppermint Bay you are treated to a Tasmanian clambake, of clam chowder, fish, and rock lobster. The restaurant decor includes rich hardwood floors and a wall that is completely made of glass so that you can enjoy the picturesque scenery.
Theatre & music
Hobart is fast becoming a cultural hub within Tasmania and boasts some well known theatres and music venues, including the famous Theatre Royal. Those looking for local music gigs should check out
The Dwarf Gig Guide
for Tasmania. The guide has information on all live music gigs for the next month in advance.
Wineries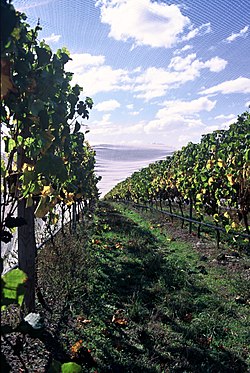 The Greater Hobart region is part of the
Southern Wine Route
in Tasmania. Owing to the cool climate this region is known for producing a superb range of cool-climate wines including cabernet sauvignon, chardonnay, gewurztraminer, pinot gris, pinot noir, riesling and sauvignon blanc. Hobart's primary wine growing region, Coal River Valley, lies just east of the Derwent River around Cambridge and
Richmond
. There are also other wineries around Hobart, including north around the
Derwent Valley
and west around the
Huon Trail
. Be sure to check out
Wine Tasmania
, which has further information on Tasmania's wine regions.
Wine tours
Due to the distances and lack of public transport to many of the wineries, the best way of visiting them is by car. There are also places that organised tours, usually on weekends, such as
Boutique Wine Tours
.
Buy
Malls
phone: +61 3 6231 2088

address: 49-51 Murray St

A renovated shopping mall that has fast become a premier shopping destination in Hobart, with many national Australian retailers now calling the Cat and Fiddle home. The mall has long been famous for an animated clock within the food court that acts out The Cat and the Fiddle nursery rhyme on the hour.

Elisabeth Mall

address: Elisabeth St

A pedestrianised street in the heart of Hobart's CBD that has become one of the main shopping strips of the city. There are also several connecting laneways and arcades that lead to other shopping venues, so don't be afraid to deviate from the main street.

phone: +61 3 6213 6100

address: 55 Murray St

A standalone of Australia's largest department store chain selling homewares, bedding, electronics, cosmetics, fashion, accessories, etc. On the fashion front at Myer they stock many popular Australian and International designer labels in addition to their own range of private brands.
Markets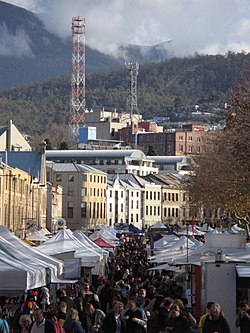 address: 52 Melville St

A fairly new Hobart market, located within the heritage listed Avalon Theatre. Stalls sell items such as Art, Books, clothing, crafts, games, food and wine. This is a great market to go to particularly if you wish to get away from the weather.

address: Cnr of Melville St & Elizabeth St

This outdoor market is brimming with fresh seasonal produce, dairy products, wine and other food items from around Tasmania. If you consider yourself a foodie then this is a must when visiting Hobart.

address: Salamanca Pl

A major Saturday morning attraction for locals and visitors. Situated in front of large sandstone warehouses which have been converted into a maze of craftsmen's workshops, giftshops, restaurants and other 'artsy-crafty' shops. Market stalls are one of the cheapest places to buy Tasmanian timber products.
Bookstores
phone: +61 3 6234 3800

address: 131 Collins St

Established in 1920, Fullers is a popular independent bookstore that is still running strong. Along with all the expected book genres there is also an excellent section on Tasmanian books. After you have made your purchase you can sit in the cafe area to read your book while having something to eat or drink.

phone: +61 3 6223 1803

address: 22 Salamanca Sq

A small but cosy feeling bookstore that is nearly overflowing with a whole range of books to choose from. They have a huge range of educational books and also have a Tasmanian book section. For any book purchases they offer complimentary gift-wrapping.

phone: +61 3 6234 6318

address: 373 Elizabeth St

Adjacent to the State Cinema (hence the name), this bookshop specialises in non-fiction, travel, art, fashion, architecture along with a range of fiction titles. They also have a great range of stationery items.
Providores
Sure you could head on over to one of the national supermarket chains, Coles and Woolworths, but why do that when Hobart is brimming with plenty of unique providores, delis and specialty food stores for you to sample some of Tasmania's finest food and produce.
Eat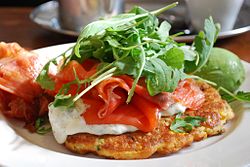 Hobart has a profusion of eating establishments ranging from the cheap to the luxuriously expensive. Freshly caught
seafood
is a specialty of the region, and there are several excellent seafood restaurants. Deep-sea Trevalla is unique to Tasmania and must be tried. Tasmanian lobster is also excellent. Scallop pie is also unique to Tasmania and can be easily purchased from the Salamanca Market food stalls. Restaurants are concentrated in the Salamanca and North Hobart areas.
Budget
Mid-range
Many of the establishments listed in the
Drink
section below also serve food.
phone: +61 3 6231 1999 (upper deck) or +61 3 6231 2121 (lower deck)

address: Victoria Dock

Mures has two sections: the upper deck is a stylish seafood restaurant (mains $20-30); the lower deck is a cafeteria style bistro (mains approx $10) and served mainly deep fried fish and the like. Reservations are usually required for the upper deck. Coffee and ice-cream is also available in a casual environment on the lower deck.
Splurge
phone: +61 3 6234 1903

address: 19 Old Wharf, Hobart Town

Wonderful restaurant close to Mures. The seafood platter is highly recommended. It is important to make a reservation as this is a popular restaurant.

address: 87 Salamanca Pl

Long established and very popular steakhouse.
Drink
Bars
phone: +61 3 6224 7557

address: 45 Salamanca Pl

Bar Celona is a combined wine bar and cafe. The decor is open and wood paneled: while it can get a bit noisy, it's a good place to escape some of the much more crowded bars on a busy weekend night, especially if you want to have a nice glass or two of wine.

address: 9 Murray St

The mildly witty name of this lounge bar across the road from parliament is a decent metaphor for the atmosphere. Colloquially known as 'lower' it is a pre-drinking venue of choice for a mostly young crowd. There is seating inside, as well as a reasonably large outside area. They do food, but it does get very crowded after about 10PM. Directly across the lane from Mobius.

Mobius Lounge Bar

address: 7 Despard St

Depending on who you ask, Mobius will be described as either the seediest or the best club in Hobart. The grumpy bouncers and reasonably seedy atmosphere though, can't detract from the fact that the DJs are clearly some of the best in Hobart and the dancefloor is regularly full. Generally plays more underground, electronic music. Recently quite enthused by dubstep.

phone: +61 3 6231 9088

address: 14 Davey St

The Lark Distillery is the first licensed distillery in Tasmania since 1839 and now operates as a bar, store and distillery in one. It produces fine single malt whiskey and other liqueurs. It provides free tastings of liqueurs and spirits and charges a small fee to taste their 3 types of whiskeys ($2 each tasting or $5 for all 3). Their bush liqueur also has a distinctive taste through the use of pepperberries. There are several live music performances a week. Entry is always free and students receive a 10% discount on drinks.

phone: +61 3 6223 7788

address: 47-51 Salamanca Pl

Modern feel with a mix of outdoor seating on the street, or a quieter secluded booth style seating at the back of the bar. Drinks are the usual fare; a selection of beers on tap, a good choice of wines and most spirits.

phone: +61 3 6294 6173

address: 201 Liverpool St

Hobart's only gay bar. This place is small and intimate and it goes off on Friday and Saturday night, especially during the summer months. They also put on a pretty wild New Year's Eve party.
Pubs
The New Sydney Hotel

address: 87 Bathurst St

One of the most popular inner-city pubs, the cosy New Sydney is home to Hobart's Irish community and offers an Irish pub atmosphere rather more authentic than that of an Irish theme pub (see Irish Murphy's, below). Large range of imported and local beers on tap.

phone: +61 3 6234 6954

address: 299 Elizabeth St North Hobart

In its day, the former Empire Hotel was one of Hobart's roughest pubs, hosting a shoot-out during the 1980s. Australian cricketer Max Walker grew up in the Empire, which was run by his parents. After a re-modelling and re-branding as the Republic Bar in the mid-1990s, it has become one of the State's most popular pubs. Today the Republic Bar is Tasmania's premier music venue, with live music 7 days. It hosts an award winning restaurant, art gallery and a large covered beer garden that is good all year round.

The Shipwright's Arms

phone: +61 3 62235551

address: 29 Trumpeter St

It's in Battery Point, one of Australia's oldest suburbs, the Arms opened in 1842. Cosy fires and Chesterfields is the atmosphere here and the nautical theme attracts participants in the Sydney-Hobart yacht race around the new year. A popular local pub, slightly off the tourist trail, the beer garden is an attractive place for a meal on summer evenings.

phone: +61 3 6223 1119

address: 21 Salamanca Pl

Irish Murphy's is a busy Irish pub on one of the prime nightlife strips. It has a young crowd dancing to pop hits from their childhood in a fake Irish franchise pub. The meals are quite good, and there's a fantastic view over the old warehouses at Salamanca.
Sleep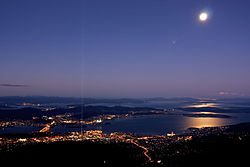 Budget
Alexandra on Battery

phone: +61 3 6225 2574

address: 3 Sonning Crescent, Sandy Bay

phone: +61 3 6234 4981

address: 67 Liverpool St

Great location a half block from the pedestrian mall on Elizabeth Street. Dorm rooms start at $23. Private en suite rooms start at $65. Big covered outdoor area in the back. Very nice bar and restaurant out front.

Dr Syntax Hotel

phone: +61 3 6223 6258

address: 139 Sandy Bay Rd

Sandy Bay. Pub-style accommodation.

address: 9 Argyle St

Hobart Central YHA is the most centrally located backpacker accommodation in Hobart, only a block from the city's waterfront.
Mid-range
Splurge
address: 25 Hunter St

Winner of a national award for luxury small hotels.

phone: +61 3-6220-2123

address: 321 Davey St

An amazing converted mansion built in 1874. Rooms are fantastic with a view of Mt Wellington and a garden. Public spaces inside the hotel have open fires, original art work and antique furniture. Service is excellent. Room rates can be negotiated, but don't expect cheap (from $400/night).

phone: +61 3 6232 3900

address: 20 Runnymede St

Battery Point. One of Hobart's most stylish boutique hotels. The rooms are very comfortable and well furnished with great views out on Battery Point and the waterfront.
Connect

The Service Tasmania & Parks and Wildlife office on Macquarie St. has free internet.
Hadleys Hotel foyer and Wrest Point Casino have free WiFi hotspot and excellent public bar for sheltering from the cold in comfort.
There are numerous internet 'cafes' in the city centre. Many coffee shops offer free wireless internet with a purchase.

Go next
Hobart is a good base for exploring
Southern Tasmania
and a great starting point if you plan to explore the rest of
Tasmania
. Many nearby destinations are close enough to allow for a day trip from Hobart or even a few days away if you wish.