Hoboken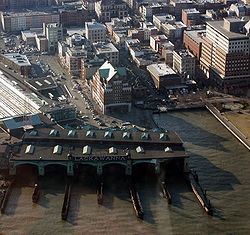 Hoboken
(HOH-boh-kən) is a small city on the Hudson River in northeastern
New Jersey
. Once known only as the birthplace of baseball and crooner Frank Sinatra and the site of Stevens Institute of Technology, Hoboken has become a party town, rich in bars and clubs, and a bedroom community for young, mostly twenty-something professionals who work across the river in
New York City
Get in
By plane
Newark Liberty International Airport
is the closest of metro New York three major airports. To get to downtown Hoboken take any New Jersey Transit train headed for New York to Secaucus Junction and change there to a train headed for Hoboken Terminal. During rush hour, some trains run directly to Hoboken from Newark Airport Station.
By car
From New Jersey: Take Route 3 East (Garden State Parkway exit 153, Turnpike exit 16E) to Route 495 East and exit on the "Last exit in New Jersey", then turn right at the bottom of the hill. Or take the NJ Turnpike to exits 14-14C and stay on I-78, then make a left at the traffic light. The same traffic light can also be reached from the Pulaski Skyway from Newark. Another option is taking the Paterson Plank Road from Route 3 where you would have to take this road all the way to the end. If you choose to take the Paterson Plank Road, you need to keep in mind that when you're on Route 3, the exit to take will be labeled as 'North Bergen'
From New York: Tune into 1010 WINS or WCBS 880 both on the AM (radio) dial to see whether the wait to get into New Jersey is shorter at the Lincoln Tunnel or the Holland Tunnel. If you're in Midtown or the wait is much shorter at the Lincoln Tunnel, take that. Keep right, and follow the signs for Hoboken. If you're downtown or the wait is much shorter at the Holland Tunnel, take that. When you get out of the tunnel, make the first right turn. You will soon find yourself in downtown Hoboken.
By rail
The terminus station is a major transportation hub for regional and commuter rail, mostly operated by
New Jersey Transit
. Connections with
Amtrak
can be made in Pennsylvania Station in
Newark
or New York Pennsylvania Station.
Train lines serving Hoboken:
Main Line
Bergen County Line
Pascack Valley Line
Morristown Line and Gladstone Branch of the Morris and Essex Lines
Montclair-Boonton Line
North Jersey Coast Line (limited service)
Raritan Valley Line (limited service)
PATH train
From New Jersey, go to Journal Square, or Grove Street and pick up a 33rd St. New York-bound PATH train and transfer to a Hoboken-bound PATH train at Newport. From Newark's Pennsylvania Station, and Harrison take a World Trade Center bound train to Exchange place and transfer to a Hoboken bound train. Newport and Exchange Place have trains bound for Hoboken.
From
Manhattan
in
New York City
, pick up a Hoboken-bound PATH train at 33rd & 6th Ave., 23rd & 6th Ave., 14th & 6th Ave., 9th & 6th Ave., Christopher St. & Hudson St., or the World Trade Center station.
Hudson-Bergen Light Rail
Hoboken Terminal is the terminus for two of the three Hudson-Bergen Light Rail services. The Hoboken Terminal-Tonnelle Avenue service to North Bergen and the 22nd Street-Hoboken Terminal service to Bayonne (including Bayonne Flyer service) both operate from the south end of the terminal concourse. The West Side Avenue-Tonnelle Avenue service bypasses Hoboken Terminal, requiring passengers from stations on the West Side Branch to transfer at stations between Pavonia-Newport and Liberty State Park. Hoboken also offers two more light-rail stops; 2nd Street and 9th Street. These stations are meant for those who want to access the western parts of the city or for those who want an easy way from Union City to Hoboken
By ferry
Hoboken has two ferry terminals,
Hoboken Terminal
(see By rail-section) and .
New York Waterway
runs ferries to and from World Financial Center Pier 11 and Manhattan Midtown.
By bus
From NJ: NJ Transit Buses serve Hoboken Terminal
22 to North Bergen via Bergenline Avenue
23 to North Bergen (limited service)
64 to Lakewood (limited service)
68 to Old Bridge (limited service)
85 to Secaucus - Harmon Meadow - Mill Creek
87 to Jersey City (Gates Avenue) via Journal Square
89 to North Bergen via Park Avenue
126 to Port Authority Bus Terminal in Midtown Manhattan via Lincoln Tunnel
181 to George Washington Bridge Bus Terminal
Coach USA
5 to Lincoln Harbor or Jersey City (on Washington Street)
144 to Staten Island (limited service)
Get around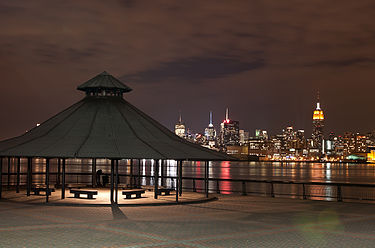 Walk! It is incredibly hard to find parking in Hoboken. Some places to find parking are Sinatra Drive by the Hudson River, or any street named after a president (besides Washington). The city-run parking garages on Hudson Street and elsewhere are also a good option if you're worried about getting booted. The parking garages generally range from $3-5 an hour and prices jump up if you leave the car overnight. Some of the parking garages are also either for Hoboken residents or available in monthly payments only so, read the signs and ask people at the parking garages to double check.
Besides walking, the
Hudson Bike Share
allows users to ride bikes and between bike stations in Hoboken and other towns nearby. The Frank Sinatra Park and the Hudson River Walkway are examples of nice places to bike. It is very important to mention that the system is
not
compatible with Jersey City's
Citibike
system. However, three HBS stations are planned in Jersey City to make the lives of residents and tourists who use the bike-sharing system easier.
If you
must
park, read the signs on the street. Make sure that you ARE allowed to park where you're leaving your car. Most streets have one side reserved for Hoboken Residents, that are marked clearly with a green background and white letters. These are Resident Only parking sides and you must have a resident permit to park there. Street cleaning restrictions are in effect as well as a time limit of 4 hours for non-residents - after that, you should move your car.
Finding a parking spot is so hard in Hoboken that they sell parking spaces for up to $40,000.
See
With a great assortment of prewar buildings (having great architectural features), Hoboken is a great place to wander on foot.
Join in holiday celebrations in Hoboken. The city is full of people and celebrations when the holidays come around. New Years and 4th of July are two of the biggest holidays pulling in enormous crowds. The crowds gather for the numerous bars in Hoboken and to watch the beautiful fireworks show over the water. The fireworks are set off in the city but spectacular views of the fireworks can be seen from Hoboken, especially Pier A (mentioned above). Another huge holiday celebrated in Hoboken is St. Patrick's Day. Every year they hold a city parade where masses of people gather and wandering down main roads to stop at all the bars.
The Hudson River Waterfront Walkway offers a great view of New York City (day or night). It is located on the waterfront (hence the name).
*
Of course, the gritty Marlon Brando film, On The Waterfront, was filmed in Hoboken. The parks on 4th & park and 11th & Hudson both were used as locations and can be easily recognized from the film even in their modern state. "I coulda' been a contender...."

Elysian Fields

address: 11th st at Washington St

Site of the first baseball game. In 1984, 100 years after the original ballpark closed, the Hoboken Industry and Business Association (HIBA) placed a plaque for the field's significance

Frank Sinatra's Birthplace

address: 415 Monroe St

Erie-Lackawanna TerminalConsidered the busiest train station in New Jersey, the Hoboken Terminal was built in 1907 and is owned by New Jersey Transit. The terminal was named after the now defunct Erie-Lackawanna Company, which had trains departing from this station that went as far as Illinois. The terminal (which has been used as a filming place for many music videos, movies and TV shows) was added to the National Register of Historic Places in 1976. Now, the trains that depart from this terminal go to many notable places in the area including Montclair State University, Newark's Penn Station, and, most significantly, New York City.

Sybil's CaveHidden cave along the Hoboken waterfront that was discovered in the 1830s and closed in 1880. You're not allowed to go inside the cave because it's gated

Point of Embarkation

address: Pier A Park

Before Pier A Park existed, Hoboken's terminal was twice its size and was a dock for ships for cargo and it was also the dock for ships that sent soldiers to Normandy, Somme and several other battle locations for World War I. The Point of Embarkation is a stone that was placed on the original location of the docks in 1975 while the docks were still there. The docks were transformed into a park in 1999.
Do
Walk down Washington Street, there are many shops and restaurants here.
Stop in Tunes and buy some music, a nice little music shop.
Walk/jog/rollerblade along the Hudson River.
If you ride skateboards or rollerblades, there is a small skatepark along the Hudson River (with spectacular Manhattan views) about 1 mile north of the PATH station.

Pier A ParkOffers great views of New York City. On a clear day the incredible panorama visible from the end of the pier stretches between the George Washington and Verrazano Narrows Bridges. In the summer months around 5-6PM, one can often see huge cruise ships sailing by on their way out to sea en route to Bermuda and Canada. If you are an early riser (or up very late) the views of sunrise silhouetting the city from Pier A is unforgettable. It is also the perfect place to view the "Tribute in Light" (if they continue to do it) remembering the anniversary of September 11. Hoboken lost more of its residents in September 11th than any city other than New York. A memorial grove and flame shaped memorial is set up on Pier A to remember their sacrifice. There are various parks spanning the waterfront from Pier A, all the way up to 15th Street. Maxwell Park is the newest addition on Sinatra Drive.
Eat
Sri Thai

address: 234 Bloomfield St

Thai restaurant

Illuzion

phone: +1 201-418-8833

address: 337 Washington St

Sushi restaurant.

phone: +1 201-533-1801

address: 328 Washington St

Italian

phone: +1 201-659-8197

address: 104 Washington St

Cuban restaurant. Great food, and it's BYOB, so your favorite bottle of wine for dinner.

Karma Cafe

phone: +1 201-610-0900

address: 505 Washington St

Indian

Marie's Bakery

phone: +1 201 963-4281

address: 138 Park Ave #1

Here, it's all about the bread! This little almost hidden bakery makes loaves and loaves of fresh bread in their brick oven daily. They are mostly known as a wholesale bakery but welcome guests daily to stop by the shop and purchase breads. They offer a wide variety of breads including rolls, baguettes, foccaccia, and pizza dough, and specialize is stuffed breads.

Benny Tudino's Pizzeria

phone: +1 201 792-4132

address: 622 Washington street

Known as the "Home of the largest slice". Zagat rated for best pizza in NJ. The slices here are not only large but also feature that thick-style NY pizza. Benny Tudio's also has classic Italian dishes as well.

Fiore's Deli

phone: +1 201 659-1655

address: 414 Adams Street

This old-school Italian deli is most recognized for their homemade Mozzarella cheese. Their other popular item is only sold on Thursdays - roast beef on "mutz". Fiore's takes orders as well and is willing to ship their deli products anywhere- call 888-513-6699 to place orders

Carlo's Bakery

phone: +1 201 659-3670

address: 95 Washington Street

A bakery located in Hoboken. Carlo's has become very popular and famous due to the show Cake Boss on TLC. The bakery focuses on specialties such as wedding and birthday cakes, but is busy almost every morning with crowds lining up for their freshly made pastries and cookies. Prices vary greatly so you will have to stop by the bakery.

phone: +1 201 656-1595

address: 257 14th Street

A great old-fashioned diner located in the heart of Hoboken. Serving that comfort diner food from Breakfast - Dinner. Most crowded late at night since its one of the only food restaurants open 24/7 in Hoboken. There is free parking for guests in the on-site parking lot.

phone: +1-201-792-4944

address: 806 Washington Street

Fully stocked Italian deli which makes sandwiches to order. Vito's is also known for its homemade Mozzarella cheese.

address: 342 Garden St
Drink
Hoboken has occasionally been called "Bartown" which is a well deserved nickname since it has more liquor licenses per capita than any other town in New Jersey. There is a huge range of lounges and bars in a very compact area.
Many Hoboken restaurants do not have liquor licenses, so they allow you to BYO wine and beer with no corkage fee. This can save you a considerable sum since a good bottle of wine can be purchased at nearby bottle shops for less than $10!
If you are looking for old school Hoboken, guys in hard hats, Aerosmith on the jukebox, and cheap draft beer, Wilton House on 1st just a few blocks from the PATH is a good place to start.
There are dozens of bars within a few minutes walk of the PATH station catering to every taste in boozing. Gay, straight, cover bands, pick up, meat market, stuffy, seedy, trendy, you name it.
Happy hours at many Hoboken establishments are a good deal. So if you want to get a buzz on the cheap, show up before 7PM or 8P
address: 333 Washington Street
Sleep
Incredibly, Hoboken has just one major hotel, and it is expensive (starting at $209 per night). Of course if you are hammered from a night of hitting the pubs, sleep on the train! Otherwise, head back to Route 3 by the Lincoln Tunnel approach for an assortment of fleabag motor inns, or go into the riverfront area of
Jersey City
just south of Hoboken for higher class accommodations like the Hyatt, Courtyard, etc.
phone: +1 201-253-2400

address: 225 River St

Upscale and expensive, but with great views of Hudson river and close to the train and ferry terminal.
Go next
Take the PATH (subway), Bus #126 or the Lincoln or Holland Tunnels (car) to
New York City
.
NJ Railways has numerous lines departing from Hoboken Terminal to places all over NJ and connecting to
Newark
Station, where you can connect to Amtrak and Newark Airport.