Hoensbroek
Hoensbroek
is a town in
South Limburg
, the southernmost region of the
Dutch
province of
Limburg
. It's part of the municipality of
Heerlen
but has a long, separate history and was an independent municipality until 1982. Hoensbroek's castle is one the most well-known castles in the country. Since there isn't much more to see or do for the average traveler, Hoensbroek castle is best visited as a day trip from one of the many destinations in the area. However, if you do find yourself staying the night here, there are a few options to eat, drink and sleep.
Understand
With over 20.000 inhabitants, Hoensbroek is a major part of Heerlen. Rather than being a district of that city, it's a town on itself and its people will tell you they live in Hoensbroek, not in Heerlen. Nevertheless, for outsiders it's somewhat hard to distinguish, as the two have grown together as one large built-up area.
Tourist information

address: Hoofdstraat 26

The Dutch tourist information office VVV has an information point in Peeters Tabak store. There's no VVV personal present, but you will find leaflets, maps and other basic information. Calling will connect you to the general VVV service for South Limburg.
Get in
Hoensbroek is well-connected by road, with the A76/E314 passing directly by. If you're getting in by
car
, follow the A76/314 and take exit 5 to
Nuth
/Hoensbroek. The Emmastraat connects the town directly to nearby
Brunssum
. There's a train station which is served by regional trains in the directions of
Sittard
and
Heerlen
. At least 8 different
bus
lines connect different parts of Hoensbroek to other destinations in the region. The main ones include:
Get around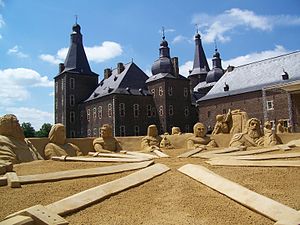 Hoensbroek's center is not very large and you can get around on foot or by bike. However, since the town has limited tourist attractions apart from the castle, it's convenient to have a car at hand to explore sights in nearby towns. There's a good bus network operated by Veolia in case you're headed for the outer parts of the town.
See
phone: +31 45-522 72 72

address: Klinkertstraat 118

One of the largest castle's in the Netherlands, Kasteel Hoensbroek with its towers and water-filled moat is an impressive sight. Although records exist of an even earlier stronghold on the site, the oldest parts of the current building date back to the mid 13th century. It was Sir Herman Hoen who became the towns first lord (in 1388) and gave the castle its name. Once a prominent stronghold on the busy travel roads between the northern regions of Brabant and the more southers cities of Maastricht, Aachen and Cologne, it is now a great museum where you can walk through the castle halls as they were in the 17th and 18th century. There are guided tours and workshops, including sword fighting, perfume making and shepherding sheep. Large and small events are organized regularly in and around the castle, previously including sand sculpture and knight festivals.
Do
phone: +31 45-523 2626

address: Gravin von Schönbornlaan 2

This local swimming pool isn't state of the art nor very large, but it's a fine place for a few hours in the water, especially with children. In summer, there's an outdoor pool and sun bathing field too.
Buy
Hoensbroek's town centre has a range of shops and supermarkets, but they clearly cater to daily needs of locals. Don't expect too much in the sense of shopping for fun, as there are only a few gift and speciality shops. While you're better of in Heerlen or Maastricht for a shopping spree, there are a dozen or so clothing stores and several drug stores. Most shops close on Sundays, although the Albert Heijn supermarket (Kouvenderstraat 100) is open from 10.00-18.00h.
On Friday mornings (08:00 - 12:30h) there's a small market on the market square.

Eat
Wok Paradiso

address: Markt 11

All you can eat stir-fry place on the market square. Food isn't great but also reasonably priced, with drinks (which you can take on your own) included.

address: Kouvenderstraat 200

The service in this place isn't always friendly and the interior is a bit clean, but it's still popular for its good Italian food. The menu isn't large but it changes monthly.

Bergrust

phone: +31 45-5241451

address: Schuureikenweg 115

Fiftheen minutes walk down the road from the castle, this place serves simple food as it is traditional in the Netherlands: a piece of meat, potatoes and vegetables. It's not a romantic place and there's little effort put in the decoration: Bergrust is mainly popular for a quick, cheap but pleasant bite.

Ilfu Rouge

phone: +31 45-5220349

address: Kouvenderstraat 165

Another Italian place, mostly for take-away or delivery, but you can eat you pizza there, too. Pizza's are nice, the "restaurant" of course isn't so much, but the service is friendly.
Sleep
address: Markt 9-10

Simple hotel with staff that can be unfriendly at times, but centrally located.

Huize Frederika

address: Monseigneur Lebouillestraat 25

A 4 pers. apartment in the town center.
Connect
Post office

address: Kouvenderstr 45